Gastblog door Vera – De laatste keer dat ik jullie vertelde over ons wedding-planning proces is inmiddels drie maanden geleden, dus het leek mij hoog tijd voor een update. Van jurk tot locatie en van vormgeving tot fotografie; vandaag praat ik je bij over hoe alles ervoor staat.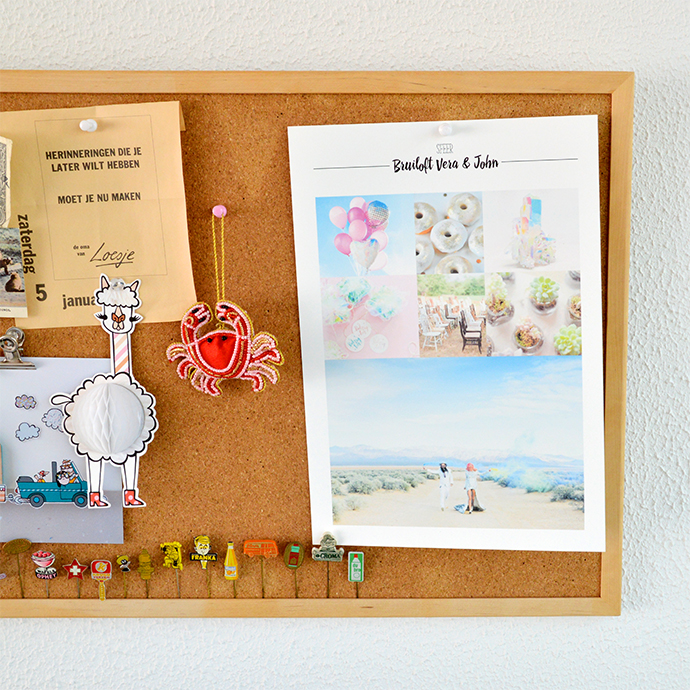 De datum

Onze trouwdatum hadden we vrij snel na het aanzoek al geprikt. Aangezien mijn zus volgend jaar ook gaat trouwen (hoe leuk is dat!), wilden we een datum die niet te dicht bij die van haar ligt. Al vrij snel waren we eruit. Ik houd hem nog even geheim, maar ik kan zeggen dat het een datum is die echt bij ons past.
De locatie
We wisten meteen dat we niet in het gemeentehuis willen trouwen, maar dat we alles op één plek willen doen. En daar is natuurlijk een mooie locatie voor nodig die bij ons past. We begonnen onze zoektocht met de zogenaamde 'open trouwlocatie route'. Dat is te vergelijken met een open huizen route, maar dan met trouwlocaties. We kozen drie locaties uit om te gaan bekijken op één dag en die zijn het alle drie niet geworden. Helemaal niet erg, want we wisten nu in ieder geval wat we niet wilden. Na deze dag bezochten we nog twee locaties op eigen gelegenheid en één van deze twee ligt inmiddels voor 90% vast. Dat is heel fijn, want de locatie bepaalt voor een heel groot deel hoe de rest van de dag eruit gaat zien. Nu we dat weten kunnen we daarop voortborduren.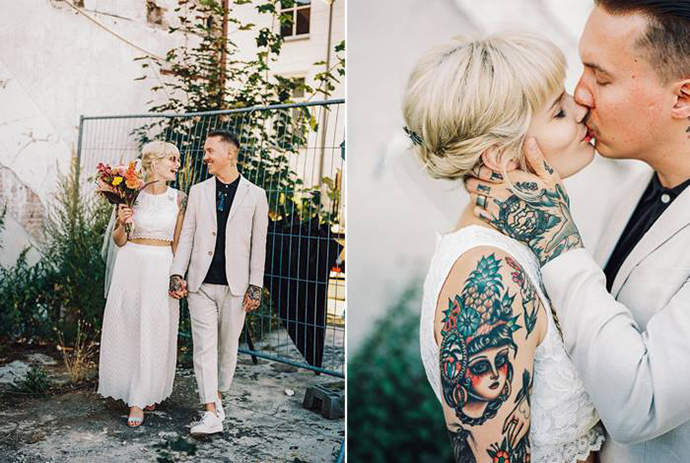 foto door Hanke Arkenbout
De fotografie
De fotografie is voor mij het allerbelangrijkste van mijn trouwdag. Waarom? De foto's zijn (wanneer je trouwdag eenmaal voorbij is) de enige tastbare herinnering die je hebt aan die dag. Op je gastenboek en eventuele photobooth-foto's na dan. En die foto's better be good. Want je doet het niet even over.
De fotografe die onze dag komt vastleggen stond bij mij en John al vast ver voordat we concrete trouwplannen hadden: Hanke Arkenbout. Hanke maakt de prachtigste (analoge!!) foto's en we willen niets liever dan met haar werk kunnen terugkijken op onze 'grote dag'. We hebben zelfs onze datum pas vastgezet toen we zeker wisten dat Hanke zou kunnen. Als zij die dag al afspraken zou hebben, dan zouden we een andere trouwdatum gekozen hebben.
De jurk
Dit klink wellicht raar, maar de jurk was/is hetgeen waar ik het meest tegenop zie om te regelen. Hoe dat komt? Deels door mezelf en deels doordat ik een bepaald soort 'druk' voel. Laat me dat laatste even uitleggen. Iedereen die ik vertel over het feit dat ik ga trouwen, of dat nu vrienden zijn of (overigens leuke en goedbedoelde!) comments op social media, iedereen zegt dingen tegen me in de trant van: 'ik ben toch ZO benieuwd wat jij aan gaat doen' of 'jij zult vast niet met een standaard witte jurk op de proppen komen'. Dit soort opmerkingen, hoe goed bedoeld ook, doen me soms denken dat ik in een bontgekleurd clownspak down the aisle moet lopen om de verwachtingen waar te maken. En hoewel ik weet dat ik alleen naar mezelf moet luisteren (iets wat ik overigens vreselijk moeilijk vind), voel ik toch een soort van druk om niet teleur te stellen.
Een paar weken geleden ben ik voor het eerst jurken gaan passen. Say yes to the dress style. En hoewel ik niet had verwacht dat ik bij de eerste passessie iets zou vinden (ik had alle opties nog open; van felgekleurde cocktailjurk tot broekpak), was ik blij verrast met wat ik daar heb aangehad. Tegelijkertijd was het ook compleet overwhelming; na tien jurken te hebben gepast weet je het echt even niet meer (hoewel sommige meteen een hele dikke 'nee' waren). Ik laat het allemaal even bezinken. Wellicht weet ik beter wat ik wil wanneer de rest van de dag wat meer vorm heeft gekregen.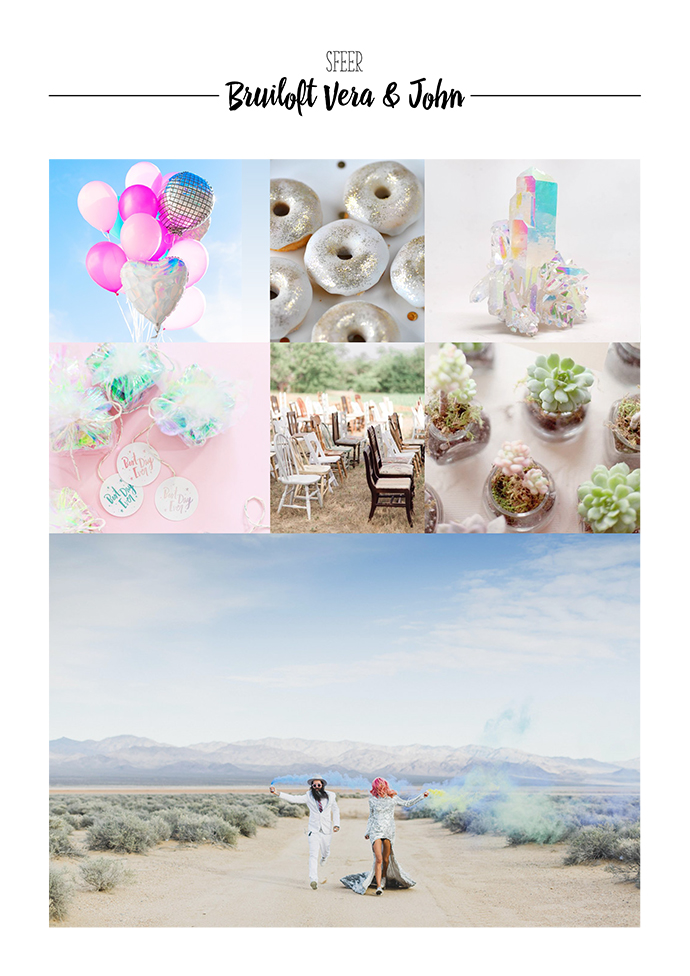 De vormgeving
Over vorm gesproken: ik heb natuurlijk ook wat de vormgeving van de bruiloft betreft niet stilgezeten. Ik ben begonnen met het maken van een sfeerkaart voor onze dag. Deze hangt nu boven mijn computer op een prikbord, zodat ik er elke dag naar kan kijken. Ik heb wekenlang een enorme drempel gevoeld voor het écht aan de slag gaan met de vormgeving. Om de een of andere reden is iets voor jezelf maken altijd vele malen moeilijker dan wanneer je iets voor een ander maakt. Maar nadat ik een brainstorm- en schetssessie deed samen met John ben ik echt begonnen. Van offertes aanvragen bij drukkers en enveloppen kiezen tot daadwerkelijk tekenen en vormgeven; ik zit er tot over mijn oren in!
Er zijn ook nog genoeg dingen waar we nog niet aan toegekomen zijn, zoals ringen, gastenboek (als we dat al willen) en bedankjes. Maar dat komt wel. Er gaat in ieder geval geen dag voorbij dat ik niet bezig ben met de bruiloft.
♥♥♥
Heb je nog tips voor me? Ik wil ze allemaal horen, dus laat ze gezellig achter in de comments!
♥♥♥
Vera blogt één keer in de vier weken voor teamconfetti.nl. Ze is illustrator, allround mooie dingen maakster en ze heeft haar eigen label: Franje Design!