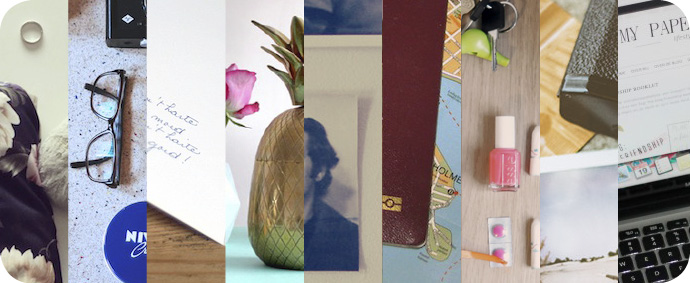 Een tijdje geleden had PSbyDila een artikel over kerstbomen met foto's van verschillende bloggers. Ik vond dat zo'n leuk idee dat ik aan een aantal bloggers heb gevraagd of zij hun meest waardevolle spullen op de foto wilden zetten. Dit omdat ik het een mooie weergave van iemands persoonlijkheid vind geven. Het heeft een fijn artikel opgeleverd!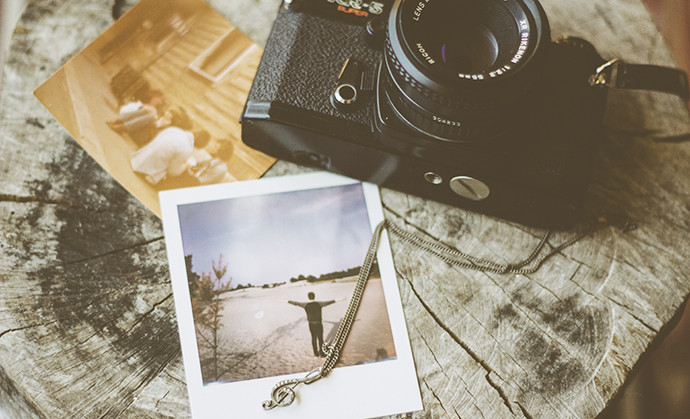 Bij waardevolle spullen denk ik meteen aan spullen met een hoge geldwaarde. Die heb ik genoeg, maar die laat ik even achterwege. Ik ben een enorme verzamelaar en diehard kringloopfan dus mijn huis puilt uit van favoriete spullen. Maar wat heeft dan écht een emotionele waarde? De fotocamera van mijn vader, waarmee mijn passie voor fotografie ooit is begonnen. De polaroid en de andere foto staan symbool voor álle foto's die ik heb. Zowel oud als nieuw. Foto's zijn enorm waardevol en zorgen voor reisjes naar het verleden. En tot slot, het kettinkje van mijn overleden moeder. Onvervangbaar.
*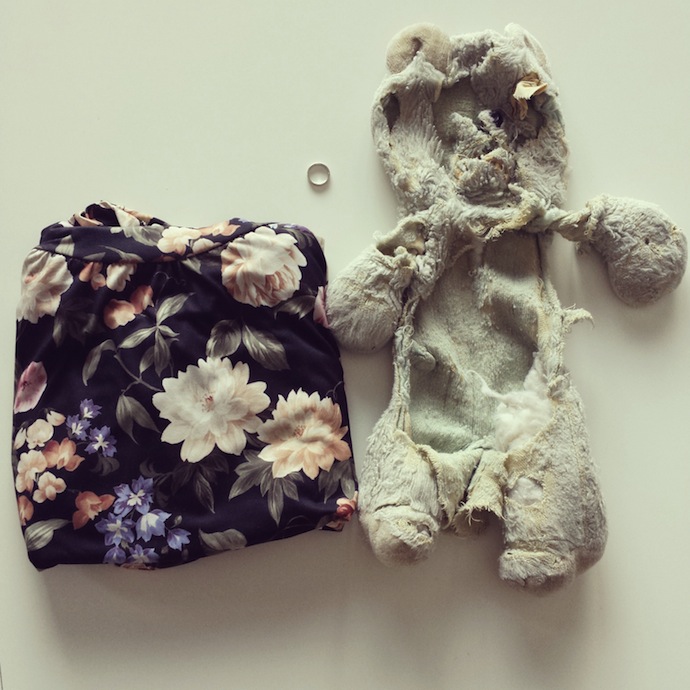 Of ik een foto wou maken van mijn meest waardevolle dingen. Goed, mailde ik. Komt helemaal voor elkaar. Maar wat bleek: ik had echt geen flauw idee wat mijn meest waardevolle spullen zijn.
Ik moest er in ieder geval heel hard over nadenken. Dat zag ik als een goed teken; het zou immers betekenen dat het mij niets uitmaakt want ik heb geen ding of "spul" wat ik echt waardevol vind. Ik zou makkelijk met heel weinig kunnen leven dus. Denk ik. Kijk, als er nou gevraagd zou worden: een foto van de meest waardevolle mensen om je heen. Tja, dan was ik wel even bezig.
Maar goed; een foto dus. Van dingen die ik waardevol vind. In ieder geval op nummer1: mijn trouwring. Ik heb die altijd om (soms de neiging om naar hem toe te gooien als hij weer voetbal international moet kijken). Het is ook meteen de enige sieraad die ik draag. Sieraden en ik gaan niet samen. Ik raak alles kwijt. Mijn man zei zelfs een maand nadat we getrouwd waren "ben je hem nog niet kwijt? Tis een wonder".
Wat nog meer dan? Ik dacht aan mijn Beer. Of nou ja; wat er van over is. Al vanaf mijn geboorte heb ik die, en het is vast aan hem te zien. Hij ligt nu op mijn nachtkastje, heel trots naar mij te kijken dat het me nu wel lukt om te slapen zonder hem.
Verder heb ik gekozen voor een jurkje. Niet zomaar een jurkje; een jurkje gekregen van mijn man. Ik ben namelijk gek op jurkjes, vooral als het een mooie print of opvallende kleur heeft. Mijn man moet namelijk regelmatig op zakenreis en hij neemt al-tijd een jurkje voor mij mee. Dat is ergens een groot risico natuurlijk: want wat nou als het niet de juiste maat heeft bijvoorbeeld? Maar mijn man weet precies wat ik mooi vind (of wat bij mij staat). Ondanks die eeuwige voetbal international dus, is dit dan weer een pluspunt van hem.
 *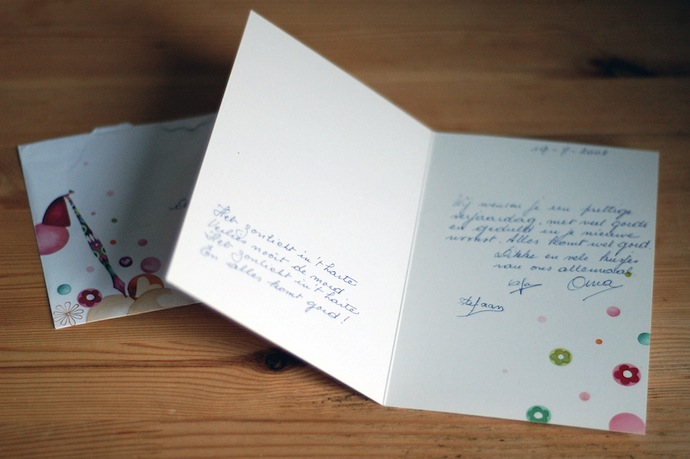 Eigenlijk hecht ik maar weinig waarde aan de meeste spullen tenzij ze van zeer grote emotionele waarde zijn zoals bijvoorbeeld dit kaartje. Een week na mijn 23ste verjaardag werd mijn oma aangereden door een auto en stierf ze een dag later aan haar verwondingen. Dit is het verjaardagskaartje dat ik van mijn oma kreeg voor mijn 23ste verjaardag. Ik stak het kaartje én de briefomslag in een kadertje en dat kadertje staat nu al jaren in mijn naaikamer. Iedere keer als ik de boodschap en het gedichtje lees op dat kaartje, dan voel ik dat ze er toch nog altijd is. Ergens. 
"Heb zonlicht in 't harte
Verlies nooit de moed
Heb zonlicht in 't harte
En alles komt goed"
*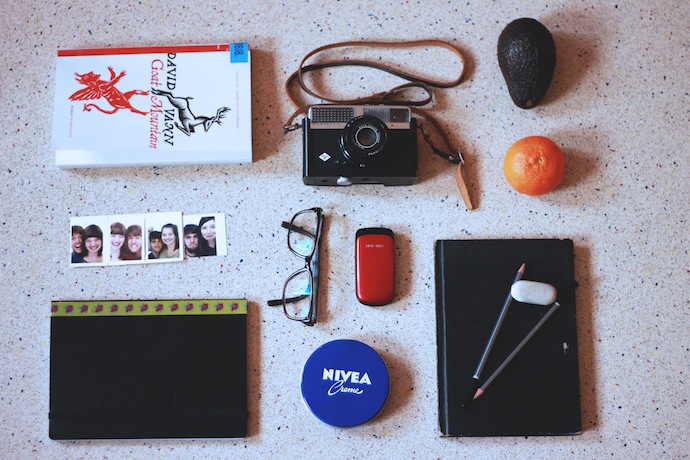 Van links naar rechts, vanboven beginnend:
– Een boek. Ik lees altijd, al-tijd. Al sinds ik vijf jaar ben, het is nooit gestopt. Er is nooit een periode dat ik geen boek aan het lezen ben. Ik heb verhalen nodig waarin ik kan verdwalen, waarin ik mezelf kan herkennen of net niet. Verhalen en personages die me verzwelgen en ontvoeren naar een andere wereld. Momenteel lees ik Goat Mountain van David Vann.
– Een fototoestel. Fotografie is mijn grootste passie, ik kan niet zonder. Ik wil kleine dingen vastleggen, of belangrijke momenten. Ik wil al het schoons in de wereld tonen aan anderen. Fotografie is mijn blik naar de wereld, het verhaal dat ik vertel. Normaal fotografeer ik vooral digitaal, maar met mijn digitale toestel nam ik deze foto, dus gebruikte ik één van mijn analoge toestellen om bij mijn waardevolle spullen te leggen.
– De natuur, en alles wat ervan afkomstig is. Zoals boswandelingen, of zonsondergangen, of ongerepte stranden en duinen. Maar die kon ik moeilijk op de foto zetten, daarom koos ik voor fruit en groenten. Zoals een avocado en een mandarijn. De natuur geeft me energie, op die energie leef ik.
– De foto's die mijn vriend en ik elk jaar in september maken in een fotohokje. We begonnen ermee in 2010, en het is een traditie die we willen volhouden tot het niet meer gaat. Mijn vriend Pieterjan is eigenlijk mijn meest waardevolle voorwerp, maar ik wilde hem niet op deze foto zetten. Dan maar de fotootjes die ik altijd bij mij draag in mijn portefeuille, ons fotohokjes-project.
– Mijn bril. Omdat mijn ogen niet zo goed meer scherp willen stellen bij afstanden groter dan enkele meters. En omdat ik toch graag zie hoe de wereld eruitziet. Daarom mijn bril. Zonder bril zie ik niet alles tot in detail, zonde.
– Mijn gsm. Omdat het de voornaamste manier is om voor mij contact te houden met Pieterjan en mijn vrienden en familie. Ik ben niet zo een Facebook-mens, dus sms'en en telefoneren is voor mij mijn favoriete manier om anderen te bereiken. En dat via mijn oldschool gsm.
– Mijn agenda. Omdat ik een autistisch kantje heb, en een druk leven, en ik dus graag alles in mijn agenda schrijf. Maar ook schrijf ik er lijstjes in (boeken die ik las, films die ik zag) en is het een overzicht van leuke dingen die ik deed tijdens het jaar. Mijn agenda heb ik altijd bij mij.
– Een potje zalf. Omdat ik een heel slechte huid heb (met huidziekte, en eczeem, en roodheid en branderig gevoel). En omdat zalf de enige manier is om die huid te helpen. Jammer genoeg.
– Tot slot: mijn tekenboek en mijn potloden. Ik ben een creatieve geest, ik wil altijd dingen maken. Fotograferen, tekenen, schrijven, bakken, … Tekenen is daar één van. Ik ben niet bijster goed, maar ik doe het graag. En dat is het belangrijkste.
 *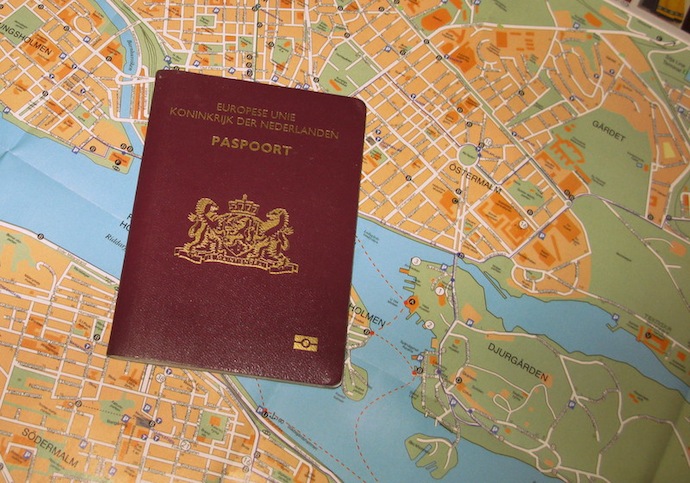 Toen Meike vroeg naar mijn meest waardevolle spullen moest ik even nadenken, maar al snel kwam ik op mijn favoriete voorwerp uit: mijn (Westers) paspoort!  En dan niet het paspoort zelf, maar meer de vrijheid die je erbij krijgt. Ik ben geboren in een land dat officieel niet meer bestaat, het 'nieuwe' land is bijna 20 jaar aan het heropbouwen en met hun paspoorten kun je niks. Elke keer als ik me bedenk wat mijn familie en vrienden allemaal moeten doen voor een visum ben ik dankbaar dat Nederland mij dit heeft gegeven zodat ik vrij ben om te gaan en staan waar ik wil (hier en daar een paar uitzonderingen).
*
Meike

 teamconfetti.nl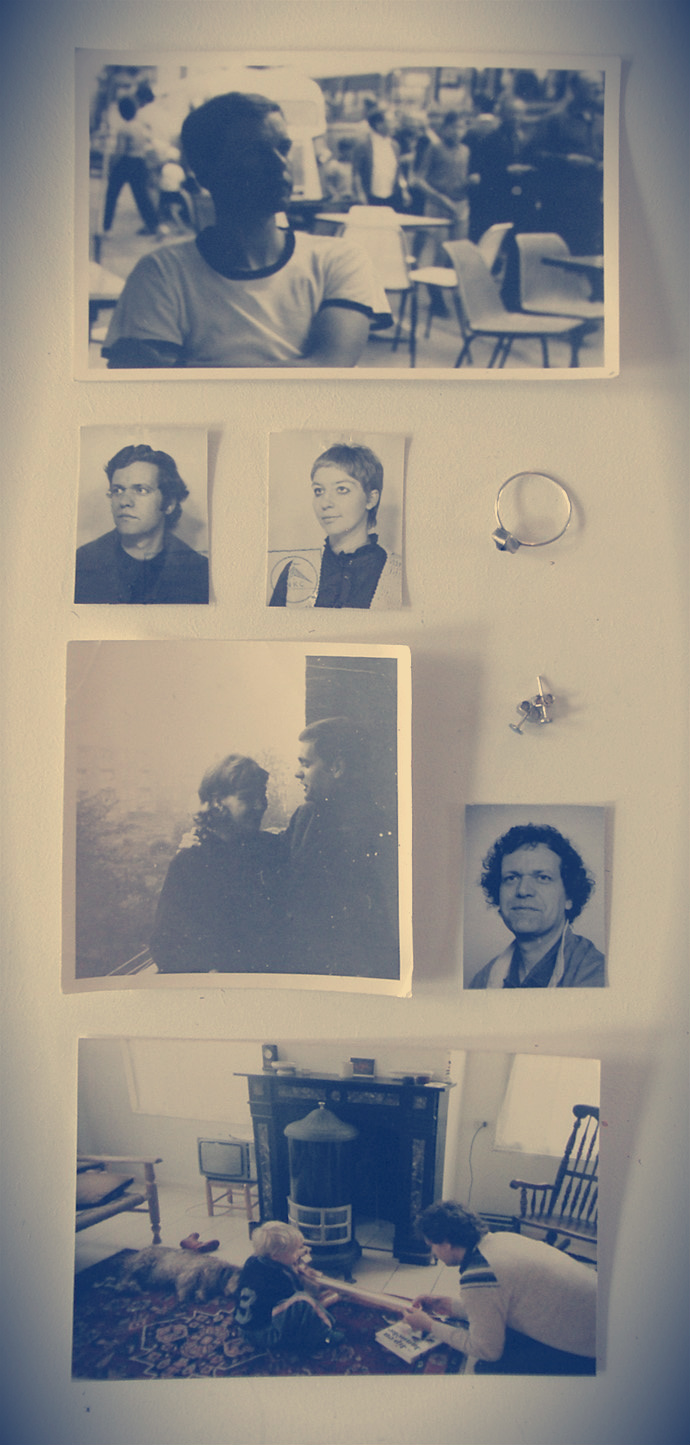 Mijn meest waardevolle bezittingen zijn; foto's van mijn vader, hij is overleden toen ik 16 was en het is ontzettend fijn om zijn gezicht nog te kunnen zien. Daarbij foto's van mijn moeder en vader, omdat ik dankzij hen besta en het is mooi de liefde te zien die er tussen hen was.
Ook ligt er een ring van mijn moeder die ze ooit bij een tweedehands zaakje heeft gekocht, ze is net zo'n sneuper als mij! En als laatste de hartjes oorbellen die ik van mijn vader heb gekregen, lange tijd was ik er 1 kwijt, maar gelukkig heb ik 'm toch nog terug gevonden!
 *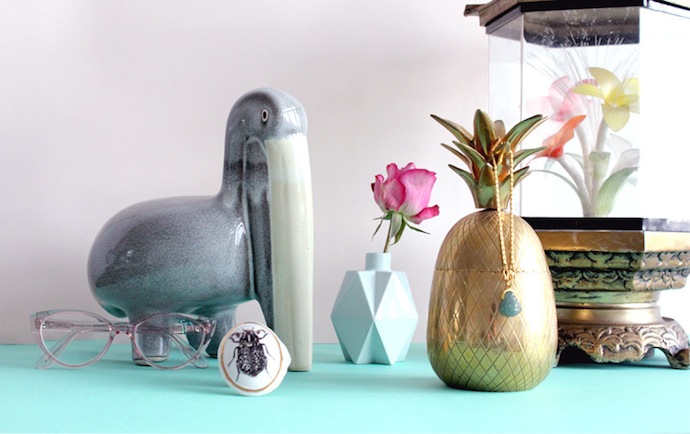 Toen Teamconfetti aan mij vroeg wat mijn meest waardevolle/favoriete spullen zijn, moest ik even nadenken. Omdat ik het gewoonweg niet wist heb ik de vraag veranderd naar – Wat neem je mee uit je brandende huis? -.
Mijn roze bril – zonder mijn bril ben ik zo blind als een mol. Ketting met een jaden boeddha – van mijn moeder gekregen. 
En meer heb ik eigenlijk niet nodig. Niettemin heb ik een heleboel favoriete spullen. Het wisselt nogal omdat ik een verwoed kringloop snuffelaar ben en altijd op zoek naar iets moois. Maar mijn favorieten van dit moment zijn o.a. een gouden ananas. Ja, een gouden ananas! Klein vaasje van Lenneke Wispelwey. Een grappig beeld van een pelikaan – eenvoudig mooi. Een porseleinen broche van Lammer&Lammers gekregen van mijn lief. Ik draag het niet zo vaak omdat ik bang ben dat ik het laat vallen – stom eigenlijk. En een Chinese pagoda lamp met ronddraaiende bloemen die ook nog afwisselend rood, geel, oranje en wit licht geeft. Ik zocht heel lang naar zo'n lamp en heb hem eindelijk gevonden op een rommelmarkt.
*
Olga

 teamconfetti.nl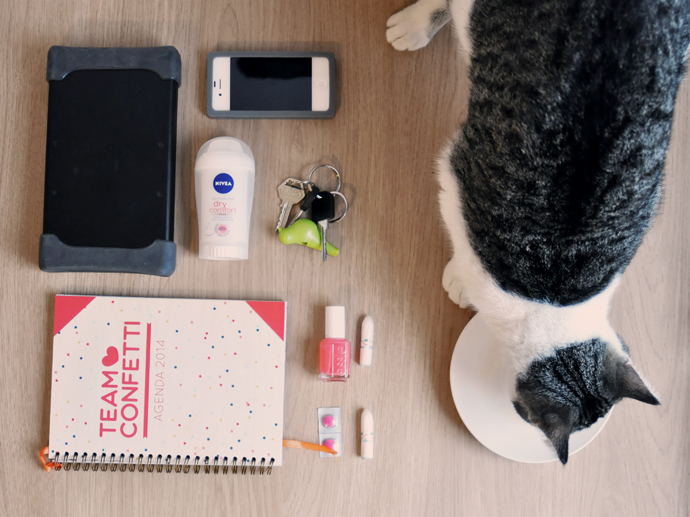 Toen Meike me vroeg om een foto te maken van mijn meest waardevolle bezit wist ik me eerst geen raad. Hoe moest ik dit te gaan determineren?! Ik heb er een aantal standaard vragen op los gelaten en toen ging het een stukje makkelijker.
Wat ik mee zou nemen uit een brandend huis: De kat (die andere was al buiten, vandaar dat ik alleen Tetkees mee hoef te nemen). Ik houd zielsveel van mijn katten. Mijn hele leven al bloei ik op als ik een kat zie/aai/op mijn schoot heb. Wat de meeste mensen hebben met baby's, dat ze er raar van gaan praten, dat heb ik met katten. Tetkees zei dat hij zijn kattenmelk mee zou nemen uit het brandende huis, daarom staat die er ook op (en niet omdat hij anders niet met de andere spullen op de foto wilde, heus).
Ik zou ook mijn externe harde schijf meenemen. Hier staat alles op wat ik ooit heb gemaakt en alle foto's die ik heb. Mijn hele leven staat op dat ding. Dus die moet wel mee.
Wat ik mee zou nemen naar een onbewoond eiland: deodorant. Beetje gekke keuze, ik weet het. Maar het is het allereerste wat in me op kwam. Ik vergat mijn deo laatste op te doen en voelde me de hele dag ongemakkelijk. Deodorant gaat blijkbaar gepaard met zelfvertrouwen.
Wat zit er altijd in mijn tas: Mijn agenda. Al mijn afspraken, adressen en verjaardagen staan erin. Ik kan er fysiek dingen in afvinken, ik hou van dat ding.
Telefoon: sinds ik een smartphone heb ben ik verknocht aan dat ding. Het leukste vind ik dat ik nu altijd en overal een foto kan maken (en versturen).
Mijn sleutels: praktisch en symbolisch tegelijkertijd. Het zijn de sleutels van mijn huis, daar zijn Tom en de katten en het bed waar ik het lekkerst in slaap. Ook zitten mijn fietssleutels eraan waarmee ik overal in de stad kan komen.
Tampons en ibuprofen: helaas kan ik zonder deze dingen niet van huis. Mijn baarmoeder vindt namelijk dat een keer per maand ongesteld zijn niet genoeg is en dat 24/7 ongesteld beter is. Er hebben zich een hele hoop dokters mee bemoeid maar ze kunnen er niks op verzinnen. Dus heb ik mij erbij neergelegd en besloten dat het een gek trekje is wat nu eenmaal bij mij hoort. 
Omdat het kan: nagellak. Mijn favoriete kleurtje. Ik word er gewoon vrolijk van!
*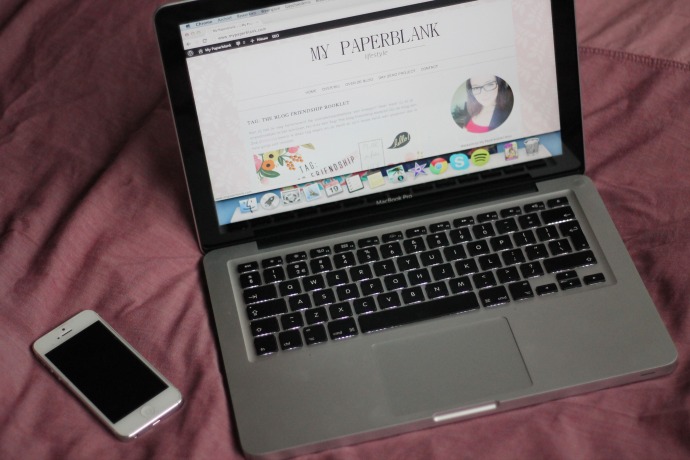 Ik heb er heel lang over nagedacht wat voor mij mijn meest waardevolle spullen zijn. Maar ik moet zeggen dat eigenlijk alles weer te vervangen is. Ik probeer dan ook zo min mogelijk te hechten aan materialen. 
Nou geld dat natuurlijk ook voor een laptop en een telefoon maar niet voor de foto's en berichten die er op staan. Vroeger zou ik als eerst de fotoalbums hebben gepakt, want dat zijn herinneringen die ik graag mee neem. Maar tegenwoordig staat dat allemaal op mijn laptop en op mijn telefoon. Het liefst zou ik een foto mee sturen van mijn liefste  vrienden en familie, want die zijn mij het meest waardevol.
****
Blogdames, heel erg bedankt voor jullie mooie foto's!!!
****
Reminder: Je kunt nog steeds meedoen aan de winactie voor een cadeaubon van Budgetlover.nl ter waarde van 10,- euro! Klik hier voor meer info.