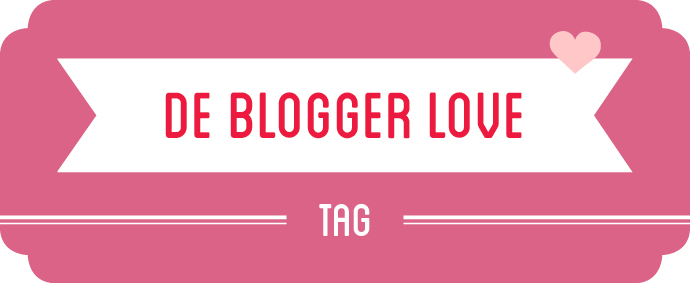 I was tagged by Kelly to do the Blogger Love TAG. Let's share some love!
Een paar weken geleden werd ik getagd door Kelly voor de Blogger Love TAG. Een geweldige TAG om alle lieve bloggers die ik ken in het zonnetje te zetten! Let's get started!
Wat was de eerste blog die je ooit tegenkwam?
Ik volg al een hele tijd blogs en ik weet eigenlijk niet eens hoe ik er ooit terecht ben gekomen. Het begon met Amerikaanse lifestyle blogs als A Beautiful Mess en Little Chief Honeybee (heet nu The Clueless girl's guide).  De creatieve artikelen en mooie fotografie inspireren me nu nog steeds.
***
Favoriete blogs:
De blogs waarbij ik in mijn hoofd 'yess, nieuw artikel van…' zijn die van Aline, Tea, Iris en Sophie. Alle vier hebben ze een geweldig gevoel voor humor en ik moet vaak (glim)lachen om hun leuke stukjes. Ik houd blijkbaar het meest van persoonlijke blogs waarbij ik het gevoel heb dat ik de schrijfsters echt goed ken.
***
Best blogging friends:
Mijn allerbeste blogvriendinnetje is natuurlijk Meike, dat is logisch. Verder heb ik nog niet zo heel veel bloggers ontmoet, maar zou dat wel graag willen! De bloggers die ik tot nu toe ontmoet heb zijn: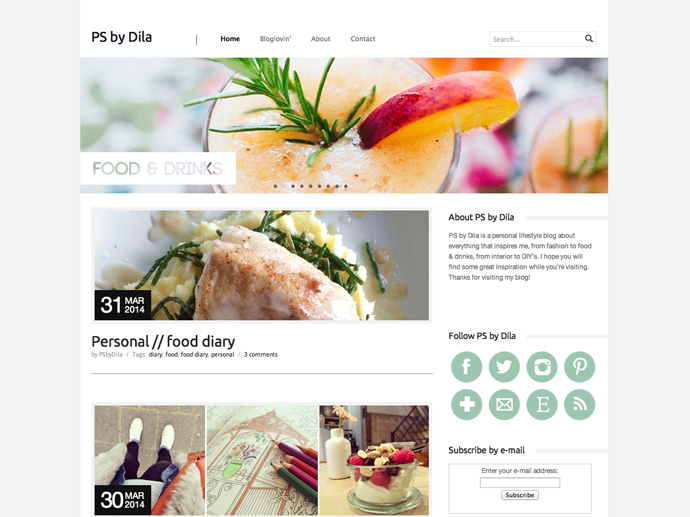 Dilek (PSbydila). Ze tipte me voor de webwinkelvakdagen in Utrecht waar ze zelf ook heen ging.  We hebben heel veel gekletst over bloggen en zijn uit eten geweest na de beurs. Het was heel bijzonder om iemand anders tegen te komen die met zoveel toewijding met haar blog bezig was en er net zolang over kon babbelen als ikzelf.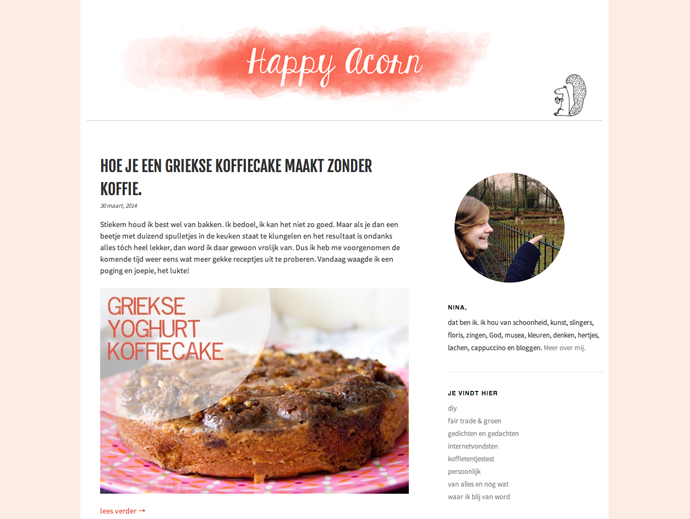 Nina (happyacorn). Nina had de ballen om me een email te sturen voor een koffiedate. Gewoon, omdat het haar leuk leek. Het was ontzettend gezellig en is zeker voor herhaling vatbaar!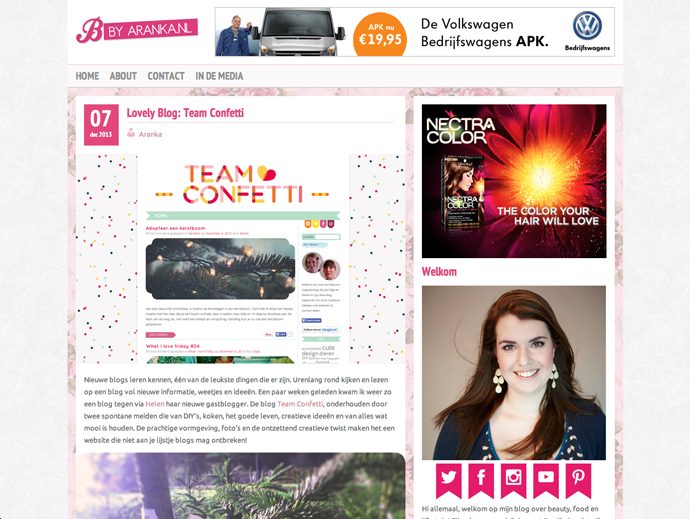 Aranka (ByAranka).  Toen ik voor Helen naar het Hema Persevent ging, vroeg ik Aranka of ze het leuk vond om samen met mij op te reizen naar Amsterdam. Ze nam me mee op sleeptouw en gaf me een hoop blogtips. Ook heeft Aranka een tijdje terug een ontzettend lief en uitgebreid artikel over Team Confetti geschreven!
***
Noem een blog die je dingen/producten laat kopen:
Volgens mij ben ik mijn eigen grootste verleider. Elke keer als ik een nieuwe collectie tegenkom en er een uitgebreid artikel over schrijf, steek ik mezelf aan. Ik probeer me in te houden en dat lukt vaak, maar vaak ook niet:
De kommetjes en kussenslopen van de Ikea Brakig collectie.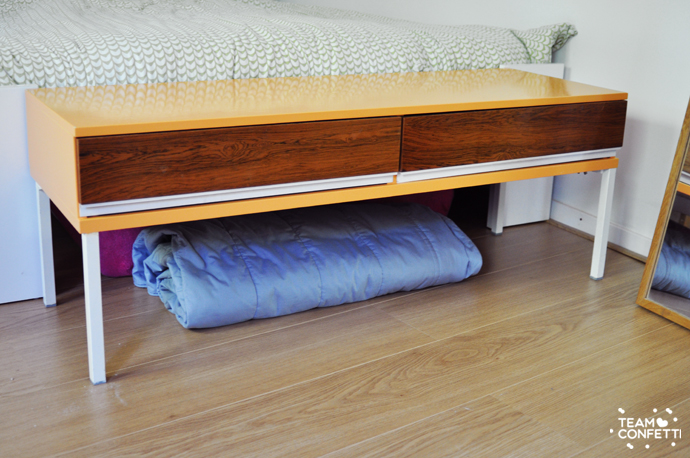 Een bijzettafeltje dat ik tegenkwam toen ik een 'Marktplaatsjuweeltjes' artikel schreef.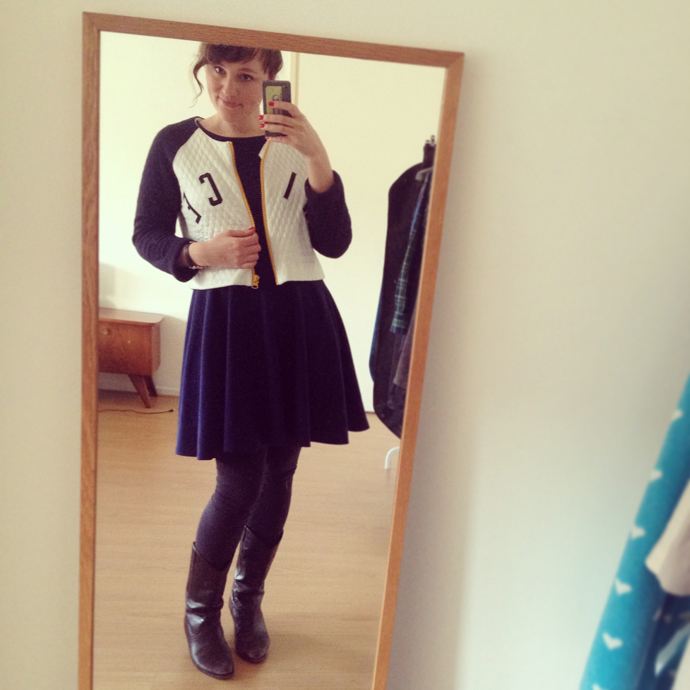 Een jasje van Zara, ontdekte ik tijdens het maken van een artikel over de nieuwe lentecollectie  van Zara.
***
5 blogs die iedereen moet lezen:
Naast de blogs van eerder genoemden, kan ik de volgende blogs ook echt aanraden: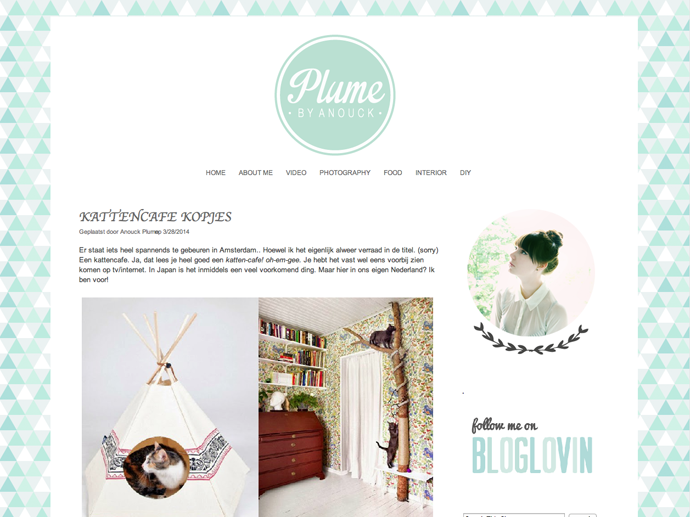 Anouck Plume
Recepten, DIY's en nog veel meer. Altijd lief en luchtig, ik word altijd vrolijk van haar fijne artikelen.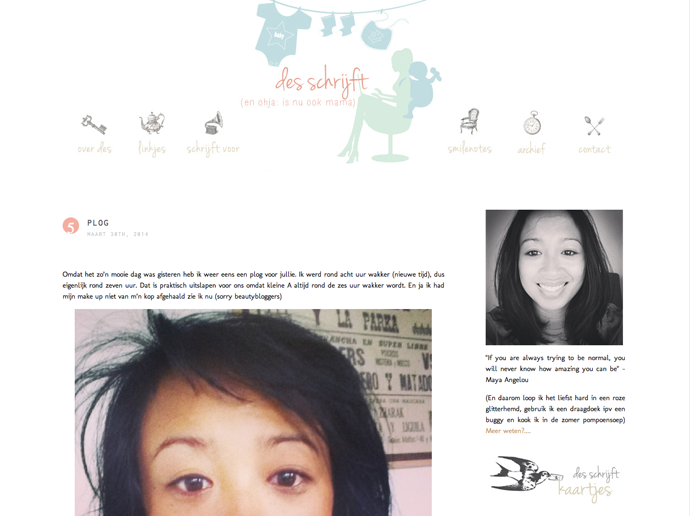 Des schrijft
Woont net als wij in Groningen, is mama en heeft veel zelfspot en een heerlijke manier van schrijven. Ze is niet gelikt maar gewoon eerlijk en dat vind ik zo fijn aan haar.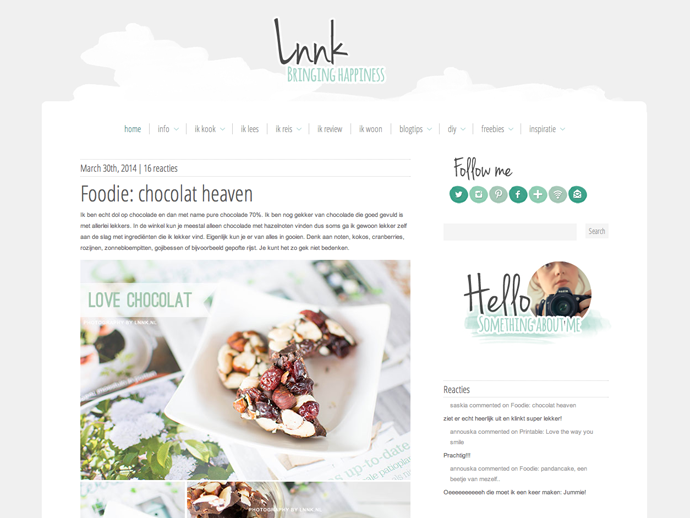 Lnnk
Bij Lonneke is het altijd lente. In haar foto's lijkt dat in ieder geval wel zo te zijn. Altijd fris, kort en krachtig en met heel veel liefde gemaakt.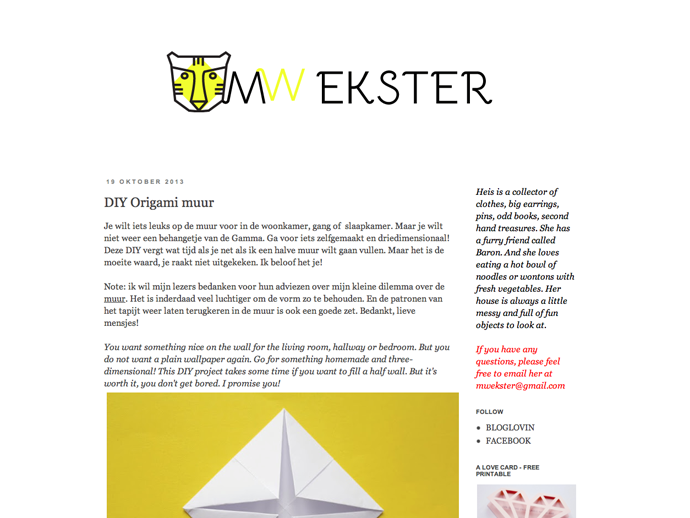 Mejuffrouw Ekster
Heis heeft een huis waar ik zo in zou trekken als het mocht. Ze heeft een ontzettend goed oog voor mooie (kringloop)items en is altijd zichzelf.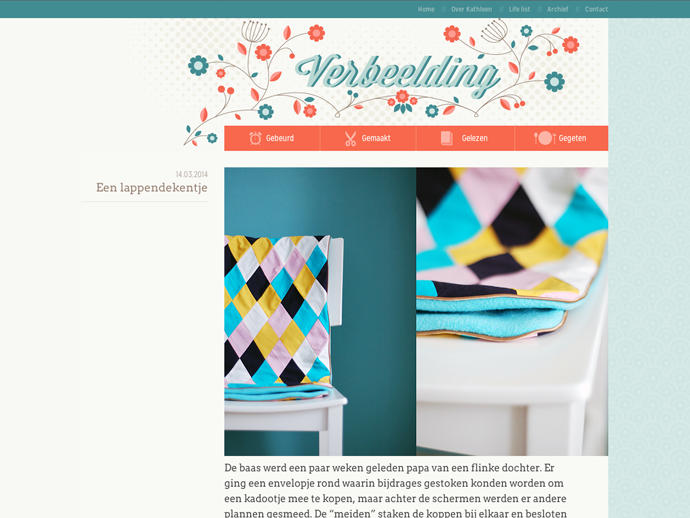 Verbeelding
Kathleen is Vlaams en voor een echte kaaskop als ik zijn haar stukjes daardoor altijd extra grappig. Ik zou haar vocabulair graag willen overnemen en haar illustratietalent stiekem ook!
Je favoriete manier om blogs te lezen:
Op mijn telefoon of Ipad. Blogs lezen is echt pure ontspanning voor mij, dus het liefst op de bank, onder een dekentje met een kopje thee. En dat gaat lastig met een desktop computer ;)
***
Bloggers die je inspireren:
Ik kan met een gerust hart zeggen dat alle bloggers die ik hierboven heb genoemd me inspireren op hun eigen manier. Ze doen allemaal waar ze lekker zelf zin in hebben en dat levert de mooiste dingen op!
***
Favoriete blog design: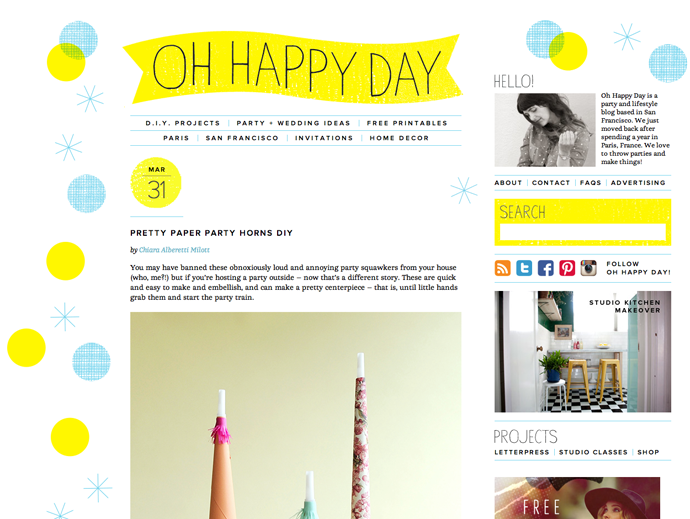 Deze layout vind ik heel erg mooi. Hij is heel erg vrolijk en speels maar toch rustig en overzichtelijk. Ik zou onze layout ook graag iets minder druk maar niet minder vrolijk zien, lastig hoor!
*** 
Je favoriete onderwerp om over te bloggen:
Het verandert steeds. Ik vind elke week mijn Photo Diary in elkaar zetten heel leuk. Je vergeet zo snel wat je allemaal hebt gedaan en wat voor leuke dingen je mee maakt. Ik vind het echt heel leuk voor mezelf om al die foto's op een rijtje te zien. En door de Photo Diary leg ik alles vast, dat deed ik anders nooit. Win win dus :)
Ook vind ik het leuk om recepten te laten zien en Hotspots te fotograferen. Ik ben absoluut geen pro en vind het daarom ook heel spannend om te doen. Maar het is een erg leuke manier om contacten te leggen met ondernemers die ik een warm hart toe draag.
***
Neem je deze tag over of heb je door mij een nieuwe blogger ontdekt, laat het me weten bij de comments :)
Warning: preg_match(): Compilation failed: invalid range in character class at offset 4 in /customers/a/8/1/teamconfetti.nl/httpd.www/wp-content/plugins/pinterest-pin-it-button/includes/simple_html_dom.php on line 1364 Warning: preg_match(): Compilation failed: invalid range in character class at offset 4 in /customers/a/8/1/teamconfetti.nl/httpd.www/wp-content/plugins/pinterest-pin-it-button/includes/simple_html_dom.php on line 1364 Warning: preg_match(): Compilation failed: invalid range in character class at offset 4 in /customers/a/8/1/teamconfetti.nl/httpd.www/wp-content/plugins/pinterest-pin-it-button/includes/simple_html_dom.php on line 1364 Warning: preg_match(): Compilation failed: invalid range in character class at offset 4 in /customers/a/8/1/teamconfetti.nl/httpd.www/wp-content/plugins/pinterest-pin-it-button/includes/simple_html_dom.php on line 1364 Warning: preg_match(): Compilation failed: invalid range in character class at offset 4 in /customers/a/8/1/teamconfetti.nl/httpd.www/wp-content/plugins/pinterest-pin-it-button/includes/simple_html_dom.php on line 1364 Warning: preg_match(): Compilation failed: invalid range in character class at offset 4 in /customers/a/8/1/teamconfetti.nl/httpd.www/wp-content/plugins/pinterest-pin-it-button/includes/simple_html_dom.php on line 1364 Warning: preg_match(): Compilation failed: invalid range in character class at offset 4 in /customers/a/8/1/teamconfetti.nl/httpd.www/wp-content/plugins/pinterest-pin-it-button/includes/simple_html_dom.php on line 1364 Warning: preg_match(): Compilation failed: invalid range in character class at offset 4 in /customers/a/8/1/teamconfetti.nl/httpd.www/wp-content/plugins/pinterest-pin-it-button/includes/simple_html_dom.php on line 1364 Warning: preg_match(): Compilation failed: invalid range in character class at offset 4 in /customers/a/8/1/teamconfetti.nl/httpd.www/wp-content/plugins/pinterest-pin-it-button/includes/simple_html_dom.php on line 1364 Warning: preg_match(): Compilation failed: invalid range in character class at offset 4 in /customers/a/8/1/teamconfetti.nl/httpd.www/wp-content/plugins/pinterest-pin-it-button/includes/simple_html_dom.php on line 1364 Warning: preg_match(): Compilation failed: invalid range in character class at offset 4 in /customers/a/8/1/teamconfetti.nl/httpd.www/wp-content/plugins/pinterest-pin-it-button/includes/simple_html_dom.php on line 1364 Warning: preg_match(): Compilation failed: invalid range in character class at offset 4 in /customers/a/8/1/teamconfetti.nl/httpd.www/wp-content/plugins/pinterest-pin-it-button/includes/simple_html_dom.php on line 1364 Warning: preg_match(): Compilation failed: invalid range in character class at offset 4 in /customers/a/8/1/teamconfetti.nl/httpd.www/wp-content/plugins/pinterest-pin-it-button/includes/simple_html_dom.php on line 1364 Warning: preg_match(): Compilation failed: invalid range in character class at offset 4 in /customers/a/8/1/teamconfetti.nl/httpd.www/wp-content/plugins/pinterest-pin-it-button/includes/simple_html_dom.php on line 1364 Warning: preg_match(): Compilation failed: invalid range in character class at offset 4 in /customers/a/8/1/teamconfetti.nl/httpd.www/wp-content/plugins/pinterest-pin-it-button/includes/simple_html_dom.php on line 1364 Warning: preg_match(): Compilation failed: invalid range in character class at offset 4 in /customers/a/8/1/teamconfetti.nl/httpd.www/wp-content/plugins/pinterest-pin-it-button/includes/simple_html_dom.php on line 1364 Warning: preg_match(): Compilation failed: invalid range in character class at offset 4 in /customers/a/8/1/teamconfetti.nl/httpd.www/wp-content/plugins/pinterest-pin-it-button/includes/simple_html_dom.php on line 1364 Warning: preg_match(): Compilation failed: invalid range in character class at offset 4 in /customers/a/8/1/teamconfetti.nl/httpd.www/wp-content/plugins/pinterest-pin-it-button/includes/simple_html_dom.php on line 1364 Warning: preg_match(): Compilation failed: invalid range in character class at offset 4 in /customers/a/8/1/teamconfetti.nl/httpd.www/wp-content/plugins/pinterest-pin-it-button/includes/simple_html_dom.php on line 1364 Warning: preg_match(): Compilation failed: invalid range in character class at offset 4 in /customers/a/8/1/teamconfetti.nl/httpd.www/wp-content/plugins/pinterest-pin-it-button/includes/simple_html_dom.php on line 1364 Warning: preg_match(): Compilation failed: invalid range in character class at offset 4 in /customers/a/8/1/teamconfetti.nl/httpd.www/wp-content/plugins/pinterest-pin-it-button/includes/simple_html_dom.php on line 1364 Warning: preg_match(): Compilation failed: invalid range in character class at offset 4 in /customers/a/8/1/teamconfetti.nl/httpd.www/wp-content/plugins/pinterest-pin-it-button/includes/simple_html_dom.php on line 1364 Warning: preg_match(): Compilation failed: invalid range in character class at offset 4 in /customers/a/8/1/teamconfetti.nl/httpd.www/wp-content/plugins/pinterest-pin-it-button/includes/simple_html_dom.php on line 1364 Warning: preg_match(): Compilation failed: invalid range in character class at offset 4 in /customers/a/8/1/teamconfetti.nl/httpd.www/wp-content/plugins/pinterest-pin-it-button/includes/simple_html_dom.php on line 1364 Warning: preg_match(): Compilation failed: invalid range in character class at offset 4 in /customers/a/8/1/teamconfetti.nl/httpd.www/wp-content/plugins/pinterest-pin-it-button/includes/simple_html_dom.php on line 1364 Warning: preg_match(): Compilation failed: invalid range in character class at offset 4 in /customers/a/8/1/teamconfetti.nl/httpd.www/wp-content/plugins/pinterest-pin-it-button/includes/simple_html_dom.php on line 1364 Warning: preg_match(): Compilation failed: invalid range in character class at offset 4 in /customers/a/8/1/teamconfetti.nl/httpd.www/wp-content/plugins/pinterest-pin-it-button/includes/simple_html_dom.php on line 1364 Warning: preg_match(): Compilation failed: invalid range in character class at offset 4 in /customers/a/8/1/teamconfetti.nl/httpd.www/wp-content/plugins/pinterest-pin-it-button/includes/simple_html_dom.php on line 1364 Warning: preg_match(): Compilation failed: invalid range in character class at offset 4 in /customers/a/8/1/teamconfetti.nl/httpd.www/wp-content/plugins/pinterest-pin-it-button/includes/simple_html_dom.php on line 1364 Warning: preg_match(): Compilation failed: invalid range in character class at offset 4 in /customers/a/8/1/teamconfetti.nl/httpd.www/wp-content/plugins/pinterest-pin-it-button/includes/simple_html_dom.php on line 1364 Warning: preg_match(): Compilation failed: invalid range in character class at offset 4 in /customers/a/8/1/teamconfetti.nl/httpd.www/wp-content/plugins/pinterest-pin-it-button/includes/simple_html_dom.php on line 1364 Warning: preg_match(): Compilation failed: invalid range in character class at offset 4 in /customers/a/8/1/teamconfetti.nl/httpd.www/wp-content/plugins/pinterest-pin-it-button/includes/simple_html_dom.php on line 1364 Warning: preg_match(): Compilation failed: invalid range in character class at offset 4 in /customers/a/8/1/teamconfetti.nl/httpd.www/wp-content/plugins/pinterest-pin-it-button/includes/simple_html_dom.php on line 1364 Warning: preg_match(): Compilation failed: invalid range in character class at offset 4 in /customers/a/8/1/teamconfetti.nl/httpd.www/wp-content/plugins/pinterest-pin-it-button/includes/simple_html_dom.php on line 1364 Warning: preg_match(): Compilation failed: invalid range in character class at offset 4 in /customers/a/8/1/teamconfetti.nl/httpd.www/wp-content/plugins/pinterest-pin-it-button/includes/simple_html_dom.php on line 1364 Warning: preg_match(): Compilation failed: invalid range in character class at offset 4 in /customers/a/8/1/teamconfetti.nl/httpd.www/wp-content/plugins/pinterest-pin-it-button/includes/simple_html_dom.php on line 1364 Warning: preg_match(): Compilation failed: invalid range in character class at offset 4 in /customers/a/8/1/teamconfetti.nl/httpd.www/wp-content/plugins/pinterest-pin-it-button/includes/simple_html_dom.php on line 1364 Warning: preg_match(): Compilation failed: invalid range in character class at offset 4 in /customers/a/8/1/teamconfetti.nl/httpd.www/wp-content/plugins/pinterest-pin-it-button/includes/simple_html_dom.php on line 1364 Warning: preg_match(): Compilation failed: invalid range in character class at offset 4 in /customers/a/8/1/teamconfetti.nl/httpd.www/wp-content/plugins/pinterest-pin-it-button/includes/simple_html_dom.php on line 1364 Warning: preg_match(): Compilation failed: invalid range in character class at offset 4 in /customers/a/8/1/teamconfetti.nl/httpd.www/wp-content/plugins/pinterest-pin-it-button/includes/simple_html_dom.php on line 1364 Warning: preg_match(): Compilation failed: invalid range in character class at offset 4 in /customers/a/8/1/teamconfetti.nl/httpd.www/wp-content/plugins/pinterest-pin-it-button/includes/simple_html_dom.php on line 1364 Warning: preg_match(): Compilation failed: invalid range in character class at offset 4 in /customers/a/8/1/teamconfetti.nl/httpd.www/wp-content/plugins/pinterest-pin-it-button/includes/simple_html_dom.php on line 1364 Warning: preg_match(): Compilation failed: invalid range in character class at offset 4 in /customers/a/8/1/teamconfetti.nl/httpd.www/wp-content/plugins/pinterest-pin-it-button/includes/simple_html_dom.php on line 1364 Warning: preg_match(): Compilation failed: invalid range in character class at offset 4 in /customers/a/8/1/teamconfetti.nl/httpd.www/wp-content/plugins/pinterest-pin-it-button/includes/simple_html_dom.php on line 1364 Warning: preg_match(): Compilation failed: invalid range in character class at offset 4 in /customers/a/8/1/teamconfetti.nl/httpd.www/wp-content/plugins/pinterest-pin-it-button/includes/simple_html_dom.php on line 1364 Warning: preg_match(): Compilation failed: invalid range in character class at offset 4 in /customers/a/8/1/teamconfetti.nl/httpd.www/wp-content/plugins/pinterest-pin-it-button/includes/simple_html_dom.php on line 1364 Warning: preg_match(): Compilation failed: invalid range in character class at offset 4 in /customers/a/8/1/teamconfetti.nl/httpd.www/wp-content/plugins/pinterest-pin-it-button/includes/simple_html_dom.php on line 1364 Warning: preg_match(): Compilation failed: invalid range in character class at offset 4 in /customers/a/8/1/teamconfetti.nl/httpd.www/wp-content/plugins/pinterest-pin-it-button/includes/simple_html_dom.php on line 1364 Warning: preg_match(): Compilation failed: invalid range in character class at offset 4 in /customers/a/8/1/teamconfetti.nl/httpd.www/wp-content/plugins/pinterest-pin-it-button/includes/simple_html_dom.php on line 1364 Warning: preg_match(): Compilation failed: invalid range in character class at offset 4 in /customers/a/8/1/teamconfetti.nl/httpd.www/wp-content/plugins/pinterest-pin-it-button/includes/simple_html_dom.php on line 1364 Warning: preg_match(): Compilation failed: invalid range in character class at offset 4 in /customers/a/8/1/teamconfetti.nl/httpd.www/wp-content/plugins/pinterest-pin-it-button/includes/simple_html_dom.php on line 1364 Warning: preg_match(): Compilation failed: invalid range in character class at offset 4 in /customers/a/8/1/teamconfetti.nl/httpd.www/wp-content/plugins/pinterest-pin-it-button/includes/simple_html_dom.php on line 1364 Warning: preg_match(): Compilation failed: invalid range in character class at offset 4 in /customers/a/8/1/teamconfetti.nl/httpd.www/wp-content/plugins/pinterest-pin-it-button/includes/simple_html_dom.php on line 1364 Warning: preg_match(): Compilation failed: invalid range in character class at offset 4 in /customers/a/8/1/teamconfetti.nl/httpd.www/wp-content/plugins/pinterest-pin-it-button/includes/simple_html_dom.php on line 1364 Warning: preg_match(): Compilation failed: invalid range in character class at offset 4 in /customers/a/8/1/teamconfetti.nl/httpd.www/wp-content/plugins/pinterest-pin-it-button/includes/simple_html_dom.php on line 1364 Warning: preg_match(): Compilation failed: invalid range in character class at offset 4 in /customers/a/8/1/teamconfetti.nl/httpd.www/wp-content/plugins/pinterest-pin-it-button/includes/simple_html_dom.php on line 1364 Warning: preg_match(): Compilation failed: invalid range in character class at offset 4 in /customers/a/8/1/teamconfetti.nl/httpd.www/wp-content/plugins/pinterest-pin-it-button/includes/simple_html_dom.php on line 1364 Warning: preg_match(): Compilation failed: invalid range in character class at offset 4 in /customers/a/8/1/teamconfetti.nl/httpd.www/wp-content/plugins/pinterest-pin-it-button/includes/simple_html_dom.php on line 1364 Warning: preg_match(): Compilation failed: invalid range in character class at offset 4 in /customers/a/8/1/teamconfetti.nl/httpd.www/wp-content/plugins/pinterest-pin-it-button/includes/simple_html_dom.php on line 1364 Warning: preg_match(): Compilation failed: invalid range in character class at offset 4 in /customers/a/8/1/teamconfetti.nl/httpd.www/wp-content/plugins/pinterest-pin-it-button/includes/simple_html_dom.php on line 1364 Warning: preg_match(): Compilation failed: invalid range in character class at offset 4 in /customers/a/8/1/teamconfetti.nl/httpd.www/wp-content/plugins/pinterest-pin-it-button/includes/simple_html_dom.php on line 1364 Warning: preg_match(): Compilation failed: invalid range in character class at offset 4 in /customers/a/8/1/teamconfetti.nl/httpd.www/wp-content/plugins/pinterest-pin-it-button/includes/simple_html_dom.php on line 1364 Warning: preg_match(): Compilation failed: invalid range in character class at offset 4 in /customers/a/8/1/teamconfetti.nl/httpd.www/wp-content/plugins/pinterest-pin-it-button/includes/simple_html_dom.php on line 1364 Warning: preg_match(): Compilation failed: invalid range in character class at offset 4 in /customers/a/8/1/teamconfetti.nl/httpd.www/wp-content/plugins/pinterest-pin-it-button/includes/simple_html_dom.php on line 1364 Warning: preg_match(): Compilation failed: invalid range in character class at offset 4 in /customers/a/8/1/teamconfetti.nl/httpd.www/wp-content/plugins/pinterest-pin-it-button/includes/simple_html_dom.php on line 1364 Warning: preg_match(): Compilation failed: invalid range in character class at offset 4 in /customers/a/8/1/teamconfetti.nl/httpd.www/wp-content/plugins/pinterest-pin-it-button/includes/simple_html_dom.php on line 1364 Warning: preg_match(): Compilation failed: invalid range in character class at offset 4 in /customers/a/8/1/teamconfetti.nl/httpd.www/wp-content/plugins/pinterest-pin-it-button/includes/simple_html_dom.php on line 1364 Warning: preg_match(): Compilation failed: invalid range in character class at offset 4 in /customers/a/8/1/teamconfetti.nl/httpd.www/wp-content/plugins/pinterest-pin-it-button/includes/simple_html_dom.php on line 1364 Warning: preg_match(): Compilation failed: invalid range in character class at offset 4 in /customers/a/8/1/teamconfetti.nl/httpd.www/wp-content/plugins/pinterest-pin-it-button/includes/simple_html_dom.php on line 1364 Warning: preg_match(): Compilation failed: invalid range in character class at offset 4 in /customers/a/8/1/teamconfetti.nl/httpd.www/wp-content/plugins/pinterest-pin-it-button/includes/simple_html_dom.php on line 1364 Warning: preg_match(): Compilation failed: invalid range in character class at offset 4 in /customers/a/8/1/teamconfetti.nl/httpd.www/wp-content/plugins/pinterest-pin-it-button/includes/simple_html_dom.php on line 1364 Warning: preg_match(): Compilation failed: invalid range in character class at offset 4 in /customers/a/8/1/teamconfetti.nl/httpd.www/wp-content/plugins/pinterest-pin-it-button/includes/simple_html_dom.php on line 1364 Warning: preg_match(): Compilation failed: invalid range in character class at offset 4 in /customers/a/8/1/teamconfetti.nl/httpd.www/wp-content/plugins/pinterest-pin-it-button/includes/simple_html_dom.php on line 1364 Warning: preg_match(): Compilation failed: invalid range in character class at offset 4 in /customers/a/8/1/teamconfetti.nl/httpd.www/wp-content/plugins/pinterest-pin-it-button/includes/simple_html_dom.php on line 1364 Warning: preg_match(): Compilation failed: invalid range in character class at offset 4 in /customers/a/8/1/teamconfetti.nl/httpd.www/wp-content/plugins/pinterest-pin-it-button/includes/simple_html_dom.php on line 1364 Warning: preg_match(): Compilation failed: invalid range in character class at offset 4 in /customers/a/8/1/teamconfetti.nl/httpd.www/wp-content/plugins/pinterest-pin-it-button/includes/simple_html_dom.php on line 1364 Warning: preg_match(): Compilation failed: invalid range in character class at offset 4 in /customers/a/8/1/teamconfetti.nl/httpd.www/wp-content/plugins/pinterest-pin-it-button/includes/simple_html_dom.php on line 1364 Warning: preg_match(): Compilation failed: invalid range in character class at offset 4 in /customers/a/8/1/teamconfetti.nl/httpd.www/wp-content/plugins/pinterest-pin-it-button/includes/simple_html_dom.php on line 1364 Warning: preg_match(): Compilation failed: invalid range in character class at offset 4 in /customers/a/8/1/teamconfetti.nl/httpd.www/wp-content/plugins/pinterest-pin-it-button/includes/simple_html_dom.php on line 1364 Warning: preg_match(): Compilation failed: invalid range in character class at offset 4 in /customers/a/8/1/teamconfetti.nl/httpd.www/wp-content/plugins/pinterest-pin-it-button/includes/simple_html_dom.php on line 1364 Warning: preg_match(): Compilation failed: invalid range in character class at offset 4 in /customers/a/8/1/teamconfetti.nl/httpd.www/wp-content/plugins/pinterest-pin-it-button/includes/simple_html_dom.php on line 1364 Warning: preg_match(): Compilation failed: invalid range in character class at offset 4 in /customers/a/8/1/teamconfetti.nl/httpd.www/wp-content/plugins/pinterest-pin-it-button/includes/simple_html_dom.php on line 1364 Warning: preg_match(): Compilation failed: invalid range in character class at offset 4 in /customers/a/8/1/teamconfetti.nl/httpd.www/wp-content/plugins/pinterest-pin-it-button/includes/simple_html_dom.php on line 1364 Warning: preg_match(): Compilation failed: invalid range in character class at offset 4 in /customers/a/8/1/teamconfetti.nl/httpd.www/wp-content/plugins/pinterest-pin-it-button/includes/simple_html_dom.php on line 1364 Warning: preg_match(): Compilation failed: invalid range in character class at offset 4 in /customers/a/8/1/teamconfetti.nl/httpd.www/wp-content/plugins/pinterest-pin-it-button/includes/simple_html_dom.php on line 1364 Warning: preg_match(): Compilation failed: invalid range in character class at offset 4 in /customers/a/8/1/teamconfetti.nl/httpd.www/wp-content/plugins/pinterest-pin-it-button/includes/simple_html_dom.php on line 1364 Warning: preg_match(): Compilation failed: invalid range in character class at offset 4 in /customers/a/8/1/teamconfetti.nl/httpd.www/wp-content/plugins/pinterest-pin-it-button/includes/simple_html_dom.php on line 1364 Warning: preg_match(): Compilation failed: invalid range in character class at offset 4 in /customers/a/8/1/teamconfetti.nl/httpd.www/wp-content/plugins/pinterest-pin-it-button/includes/simple_html_dom.php on line 1364 Warning: preg_match(): Compilation failed: invalid range in character class at offset 4 in /customers/a/8/1/teamconfetti.nl/httpd.www/wp-content/plugins/pinterest-pin-it-button/includes/simple_html_dom.php on line 1364 Warning: preg_match(): Compilation failed: invalid range in character class at offset 4 in /customers/a/8/1/teamconfetti.nl/httpd.www/wp-content/plugins/pinterest-pin-it-button/includes/simple_html_dom.php on line 1364 Warning: preg_match(): Compilation failed: invalid range in character class at offset 4 in /customers/a/8/1/teamconfetti.nl/httpd.www/wp-content/plugins/pinterest-pin-it-button/includes/simple_html_dom.php on line 1364 Warning: preg_match(): Compilation failed: invalid range in character class at offset 4 in /customers/a/8/1/teamconfetti.nl/httpd.www/wp-content/plugins/pinterest-pin-it-button/includes/simple_html_dom.php on line 1364 Warning: preg_match(): Compilation failed: invalid range in character class at offset 4 in /customers/a/8/1/teamconfetti.nl/httpd.www/wp-content/plugins/pinterest-pin-it-button/includes/simple_html_dom.php on line 1364 Warning: preg_match(): Compilation failed: invalid range in character class at offset 4 in /customers/a/8/1/teamconfetti.nl/httpd.www/wp-content/plugins/pinterest-pin-it-button/includes/simple_html_dom.php on line 1364 Warning: preg_match(): Compilation failed: invalid range in character class at offset 4 in /customers/a/8/1/teamconfetti.nl/httpd.www/wp-content/plugins/pinterest-pin-it-button/includes/simple_html_dom.php on line 1364 Warning: preg_match(): Compilation failed: invalid range in character class at offset 4 in /customers/a/8/1/teamconfetti.nl/httpd.www/wp-content/plugins/pinterest-pin-it-button/includes/simple_html_dom.php on line 1364 Warning: preg_match(): Compilation failed: invalid range in character class at offset 4 in /customers/a/8/1/teamconfetti.nl/httpd.www/wp-content/plugins/pinterest-pin-it-button/includes/simple_html_dom.php on line 1364 Warning: preg_match(): Compilation failed: invalid range in character class at offset 4 in /customers/a/8/1/teamconfetti.nl/httpd.www/wp-content/plugins/pinterest-pin-it-button/includes/simple_html_dom.php on line 1364 Warning: preg_match(): Compilation failed: invalid range in character class at offset 4 in /customers/a/8/1/teamconfetti.nl/httpd.www/wp-content/plugins/pinterest-pin-it-button/includes/simple_html_dom.php on line 1364 Warning: preg_match(): Compilation failed: invalid range in character class at offset 4 in /customers/a/8/1/teamconfetti.nl/httpd.www/wp-content/plugins/pinterest-pin-it-button/includes/simple_html_dom.php on line 1364 Warning: preg_match(): Compilation failed: invalid range in character class at offset 4 in /customers/a/8/1/teamconfetti.nl/httpd.www/wp-content/plugins/pinterest-pin-it-button/includes/simple_html_dom.php on line 1364 Warning: preg_match(): Compilation failed: invalid range in character class at offset 4 in /customers/a/8/1/teamconfetti.nl/httpd.www/wp-content/plugins/pinterest-pin-it-button/includes/simple_html_dom.php on line 1364 Warning: preg_match(): Compilation failed: invalid range in character class at offset 4 in /customers/a/8/1/teamconfetti.nl/httpd.www/wp-content/plugins/pinterest-pin-it-button/includes/simple_html_dom.php on line 1364 Warning: preg_match(): Compilation failed: invalid range in character class at offset 4 in /customers/a/8/1/teamconfetti.nl/httpd.www/wp-content/plugins/pinterest-pin-it-button/includes/simple_html_dom.php on line 1364 Warning: preg_match(): Compilation failed: invalid range in character class at offset 4 in /customers/a/8/1/teamconfetti.nl/httpd.www/wp-content/plugins/pinterest-pin-it-button/includes/simple_html_dom.php on line 1364 Warning: preg_match(): Compilation failed: invalid range in character class at offset 4 in /customers/a/8/1/teamconfetti.nl/httpd.www/wp-content/plugins/pinterest-pin-it-button/includes/simple_html_dom.php on line 1364 Warning: preg_match(): Compilation failed: invalid range in character class at offset 4 in /customers/a/8/1/teamconfetti.nl/httpd.www/wp-content/plugins/pinterest-pin-it-button/includes/simple_html_dom.php on line 1364 Warning: preg_match(): Compilation failed: invalid range in character class at offset 4 in /customers/a/8/1/teamconfetti.nl/httpd.www/wp-content/plugins/pinterest-pin-it-button/includes/simple_html_dom.php on line 1364 Warning: preg_match(): Compilation failed: invalid range in character class at offset 4 in /customers/a/8/1/teamconfetti.nl/httpd.www/wp-content/plugins/pinterest-pin-it-button/includes/simple_html_dom.php on line 1364 Warning: preg_match(): Compilation failed: invalid range in character class at offset 4 in /customers/a/8/1/teamconfetti.nl/httpd.www/wp-content/plugins/pinterest-pin-it-button/includes/simple_html_dom.php on line 1364 Warning: preg_match(): Compilation failed: invalid range in character class at offset 4 in /customers/a/8/1/teamconfetti.nl/httpd.www/wp-content/plugins/pinterest-pin-it-button/includes/simple_html_dom.php on line 1364 Warning: preg_match(): Compilation failed: invalid range in character class at offset 4 in /customers/a/8/1/teamconfetti.nl/httpd.www/wp-content/plugins/pinterest-pin-it-button/includes/simple_html_dom.php on line 1364 Warning: preg_match(): Compilation failed: invalid range in character class at offset 4 in /customers/a/8/1/teamconfetti.nl/httpd.www/wp-content/plugins/pinterest-pin-it-button/includes/simple_html_dom.php on line 1364 Warning: preg_match(): Compilation failed: invalid range in character class at offset 4 in /customers/a/8/1/teamconfetti.nl/httpd.www/wp-content/plugins/pinterest-pin-it-button/includes/simple_html_dom.php on line 1364 Warning: preg_match(): Compilation failed: invalid range in character class at offset 4 in /customers/a/8/1/teamconfetti.nl/httpd.www/wp-content/plugins/pinterest-pin-it-button/includes/simple_html_dom.php on line 1364 Warning: preg_match(): Compilation failed: invalid range in character class at offset 4 in /customers/a/8/1/teamconfetti.nl/httpd.www/wp-content/plugins/pinterest-pin-it-button/includes/simple_html_dom.php on line 1364 Warning: preg_match(): Compilation failed: invalid range in character class at offset 4 in /customers/a/8/1/teamconfetti.nl/httpd.www/wp-content/plugins/pinterest-pin-it-button/includes/simple_html_dom.php on line 1364 Warning: preg_match(): Compilation failed: invalid range in character class at offset 4 in /customers/a/8/1/teamconfetti.nl/httpd.www/wp-content/plugins/pinterest-pin-it-button/includes/simple_html_dom.php on line 1364 Warning: preg_match(): Compilation failed: invalid range in character class at offset 4 in /customers/a/8/1/teamconfetti.nl/httpd.www/wp-content/plugins/pinterest-pin-it-button/includes/simple_html_dom.php on line 1364 Warning: preg_match(): Compilation failed: invalid range in character class at offset 4 in /customers/a/8/1/teamconfetti.nl/httpd.www/wp-content/plugins/pinterest-pin-it-button/includes/simple_html_dom.php on line 1364 Warning: preg_match(): Compilation failed: invalid range in character class at offset 4 in /customers/a/8/1/teamconfetti.nl/httpd.www/wp-content/plugins/pinterest-pin-it-button/includes/simple_html_dom.php on line 1364 Warning: preg_match(): Compilation failed: invalid range in character class at offset 4 in /customers/a/8/1/teamconfetti.nl/httpd.www/wp-content/plugins/pinterest-pin-it-button/includes/simple_html_dom.php on line 1364 Warning: preg_match(): Compilation failed: invalid range in character class at offset 4 in /customers/a/8/1/teamconfetti.nl/httpd.www/wp-content/plugins/pinterest-pin-it-button/includes/simple_html_dom.php on line 1364 Warning: preg_match(): Compilation failed: invalid range in character class at offset 4 in /customers/a/8/1/teamconfetti.nl/httpd.www/wp-content/plugins/pinterest-pin-it-button/includes/simple_html_dom.php on line 1364 Warning: preg_match(): Compilation failed: invalid range in character class at offset 4 in /customers/a/8/1/teamconfetti.nl/httpd.www/wp-content/plugins/pinterest-pin-it-button/includes/simple_html_dom.php on line 1364 Warning: preg_match(): Compilation failed: invalid range in character class at offset 4 in /customers/a/8/1/teamconfetti.nl/httpd.www/wp-content/plugins/pinterest-pin-it-button/includes/simple_html_dom.php on line 1364 Warning: preg_match(): Compilation failed: invalid range in character class at offset 4 in /customers/a/8/1/teamconfetti.nl/httpd.www/wp-content/plugins/pinterest-pin-it-button/includes/simple_html_dom.php on line 1364 Warning: preg_match(): Compilation failed: invalid range in character class at offset 4 in /customers/a/8/1/teamconfetti.nl/httpd.www/wp-content/plugins/pinterest-pin-it-button/includes/simple_html_dom.php on line 1364 Warning: preg_match(): Compilation failed: invalid range in character class at offset 4 in /customers/a/8/1/teamconfetti.nl/httpd.www/wp-content/plugins/pinterest-pin-it-button/includes/simple_html_dom.php on line 1364 Warning: preg_match(): Compilation failed: invalid range in character class at offset 4 in /customers/a/8/1/teamconfetti.nl/httpd.www/wp-content/plugins/pinterest-pin-it-button/includes/simple_html_dom.php on line 1364 Warning: preg_match(): Compilation failed: invalid range in character class at offset 4 in /customers/a/8/1/teamconfetti.nl/httpd.www/wp-content/plugins/pinterest-pin-it-button/includes/simple_html_dom.php on line 1364 Warning: preg_match(): Compilation failed: invalid range in character class at offset 4 in /customers/a/8/1/teamconfetti.nl/httpd.www/wp-content/plugins/pinterest-pin-it-button/includes/simple_html_dom.php on line 1364 Warning: preg_match(): Compilation failed: invalid range in character class at offset 4 in /customers/a/8/1/teamconfetti.nl/httpd.www/wp-content/plugins/pinterest-pin-it-button/includes/simple_html_dom.php on line 1364 Warning: preg_match_all(): Compilation failed: invalid range in character class at offset 4 in /customers/a/8/1/teamconfetti.nl/httpd.www/wp-content/plugins/pinterest-pin-it-button/includes/simple_html_dom.php on line 684 Warning: Invalid argument supplied for foreach() in /customers/a/8/1/teamconfetti.nl/httpd.www/wp-content/plugins/pinterest-pin-it-button/includes/simple_html_dom.php on line 691 Warning: preg_match_all(): Compilation failed: invalid range in character class at offset 4 in /customers/a/8/1/teamconfetti.nl/httpd.www/wp-content/plugins/pinterest-pin-it-button/includes/simple_html_dom.php on line 684 Warning: Invalid argument supplied for foreach() in /customers/a/8/1/teamconfetti.nl/httpd.www/wp-content/plugins/pinterest-pin-it-button/includes/simple_html_dom.php on line 691
Dit vind je vast ook leuk: