Een tijdje terug werd ik gevraagd door Maris van haremaristeit.nl om de Gewoon Nederlands Tag te doen. De oorspronkelijke tag werd bedacht door Gewoon Marieke en er zitten echt ontzettend leuke vragen tussen!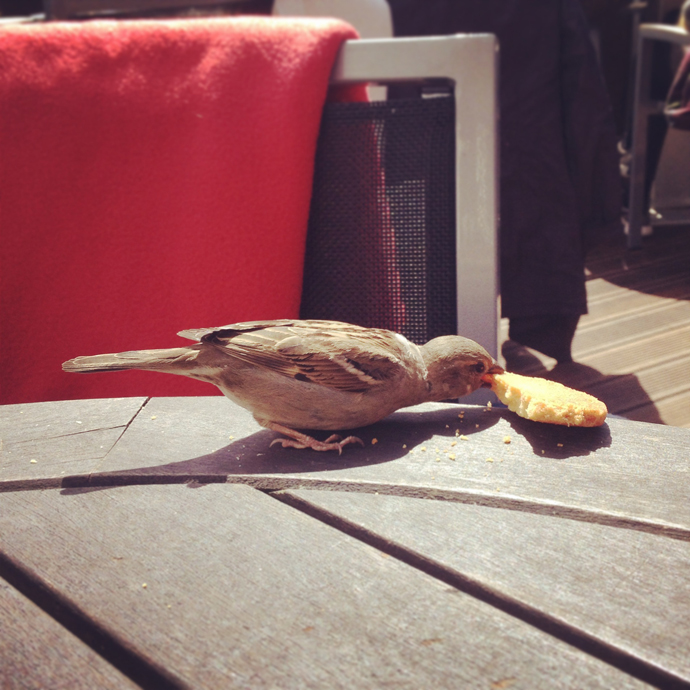 1. EÉN OF MEER KOEKJES BIJ DE THEE?
Meerdere. Ik doe niet aan maar een koekje. Ik doe ook niet aan tien, maar minstens twee. Mijn favoriete Nederlandse koekjes zijn bokkepootjes, mergpijpjes, kletskoppen en krakelingen. Van die verpakte koekjes die je bij de koffie of thee krijgt, gaan ook altijd op. En meestal krijg ik die van mijn tafelgenoten ook nog naar me toe geschoven. Ja, Olga en koekjes zijn dikke vriendjes.
2. WAT IS JE FAVORIETE STAMPPOT?
Alhoewel ik gek ben op ouderwetse stamppot boerenkool en andijvie (hutspot ben ik niet zo van) is mijn favoriete stamppot, stamppot rucola. Ik ben sowieso verkikkerd op rucola, dus dan is dat niet meer dan logisch. In mijn stamppot rucola gaat: aardappelpuree, rucola, yoghurt, mosterd, walnoten, feta, eventueel worst en jus.
In Edinburgh hebben we laatst heerlijke aardappelpuree met worst gegeten bij Mums comfort food (je kreeg je eigen kannetje jus, heaven!). Niet echt stampot, maar de aardappelpuree was in meerdere smaken te verkrijgen en was heel inspirerend (je kunt echt overal stamppot van maken). Als dat concept in Nederland zou bestaan, zou ik er elke regenachtige, koude dag gaan eten. :)
3. WELKE NEDERLANDSE FEESTDAG VIND JIJ HET LEUKST?
Ok, het is officieel geen nationale feestdag, maar Nederlandser dan Sinterklaas wordt het niet. Ik hou van Sinterklaas. Ik hou van het snoepgoed dat erbij hoort, van pepernoten tot chocoladeletters en suikermuizen. De intocht kijk ik nog steeds op televisie (vorig jaar zelfs in het echt, hij kwam aan in Groningen) en pakjesavond is vooral bij Tom's familie een groot feest. Voor mijn gevoel zijn er elk jaar duizenden pakjes en gedichten. De voorbereidingen duren weken en Tom's mama kookt heerlijk Spaans (want daar woont Sinterklaas immers). Ik hou ervan dat ik in december overal zwarte pieten tegen kan komen (of moet ik nu gewoon pieten zeggen, het wordt anders toch?). Het is een feestdag/periode die met je meegroeit. Eerst is het een sprookje en daarna mag je lekker geheimzinnig gaan doen met lootjes en gedichten, ondertekend door Sint & Piet. I love it!
4. WAT IS VOLGENS JOU HET LEUKSTE PLEKJE IN NEDERLAND?
Ik hou van Groningen. Ik hou ervan dat ik er zo goed de weg weet, het is overzichtelijk en niet ontzettend duur. Groningen is creatief, er zijn mooie festivals en men weet wat lekker eten is. En het mooiste plekje IN Groningen is dan weer het Noorderplantsoen. En alle dingen die ik net opnoemde over Groningen, zijn ook van toepassing op het Noorderplantsoen. Het is er altijd gezellig, er zijn heuveltjes, eendjes, leuke plekjes om neer te strijken met een kleedje. Je kunt er pizza's laten bezorgen en er rijden in de zomer ijskarretjes doorheen. Mijn favoriete festival van het hele jaar, Noorderzon, is er elk jaar. Het is er door alle mooie tenten en lampjes nog mooier dan anders. Het is zeker niet het mooiste, bijzonderste of geweldigste parkje van Nederland, maar ik kom er verschrikkelijk graag.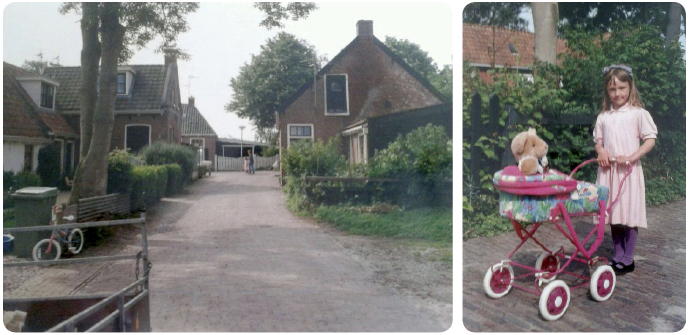 5. WAT IS JOUW FAVORIETE ACCENT EN DOE EEN STUKJE NA.
Nederland is ontzettend klein, maar elke kilometer die je noord, oost, zuid, of west gaat, hoor je weer wat anders. Bizar vind ik dat! Ik word altijd heel vrolijk als ik mensen Twents hoor praten, maar veel verder dan 'cohlaaaaa' kom ik niet. En dus deel ik mijn top 3 favoriete Friese woorden/uitspraken (want daar kom ik vandaan, zie foto hierboven). En nee, Fries is GEEN accent, of dialect, I KNOW! Friezen zijn hier erg gevoelig over…
1. Lekker rûkersguod. Vrij vertaald betekent dat: lekker ruikspul. En het is dus parfum. Grapjassen.
2. De knynen los yn it hok. Letterlijk betekent dat: de konijntjes los in 't hok. En daarmee bedoelt men dat een vrouw geen bh aan heeft. Hilarisch vind ik dat. Wie verzint daar nou een metafoor voor? De Friezen, that's who!
3. Earmtakke en knibbel. Dit zijn Tom's favoriete woorden in het Fries. Zijn oren stonden te klapperen toen hij de eerste paar keren mee op visite ging naar mijn Friese familie. 'He? Je wat?! Hahahahaha.' Zei hij toen we het over een elleboog en later over een knie hadden. 
6. WELK WOORD IS VOOR JOU TYPISCH NEDERLANDS?
Ik moet zeggen dat ik daar niet meteen een antwoord op heb. Ik heb er ook nog nooit over nagedacht. Wel moest ik meteen denken aan de keer dat ik met Tom, Tea en Jason in Londen bier zat te drinken in het cafe van een bioscoop. We kwamen er al kletsend achter dat het woord 'gunnen' niet bestaat in het Engels. Jason zocht het zelfs op in een online woordenboek, maar nee. En wat waren wij drie Nederlanders daar toch trots op! Hahaha.
Ook vind ik het altijd grappig om te horen hoe in er elk land een ander woord is voor tijdens het nadenken. In Nederland verzuchten we dan 'uuuuuh' terwijl ze in het Engels vaak 'ehm' of 'ihm' zeggen. Het is niet echt een woord, meer een klank. Maar omdat je er niet echt over nadenkt, vind ik het toch grappig dat het wel echt is aangeleerd. Anders zouden we allemaal wel hetzelfde geluidje maken als we ergens niet opkwamen.
7. WELK TYPISCH NEDERLANDS GEBRUIK VIND JIJ HET LEUKST?
Ik heb hier een tijdje over nagedacht, maar ik kan eigenlijk niks leuks verzinnen. Ik vind het leuk dat een pannenkoek een volwaardige avondmaaltijd is. Volgens mij kun je dat in andere landen alleen als ontbijt eten. Maar verder…
8. WAT IS JE FAVORIETE NEDERLANDSE GEZEGDE?
Komt tijd komt raad (=als er genoeg tijd overheen gaat, komt de oplossing vanzelf).
Dit is een gezegde dat ik alleen nog maar uit de mond van oude mensen heb horen komen (meestal zeggen ze het ook twee keer achter elkaar, met een zucht in het midden). En dat is logisch, want hoe ouder, hoe wijzer. Ik vind dit op de een of andere manier ontzettend geruststellend. Het is een antwoord op een vraag, waarvan je het antwoord niet weet. 'Komt het allemaal wel goed?' 'Komt tijd, komt raad.' En dat is vaak waar. Soms is er tijd nodig om beslissingen te nemen en er is tijd nodig om te kunnen reflecteren. Ik heb niet altijd evenveel geduld en ik vind het moeilijk om dilemma's niet meteen op te kunnen lossen. Ik ga me voornemen om dit vaker tegen mezelf te zeggen. Twee keer. Met een zucht in het midden.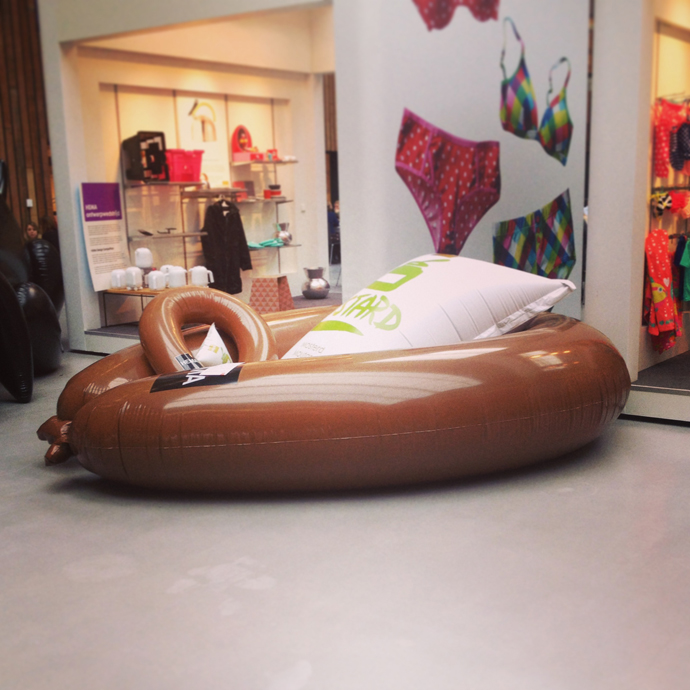 9. WAT IS JE FAVORIETE WINKEL, VAN NEDERLANDSE BODEM?
Hier is maar een antwoord mogelijk, en dat is Hema. En ik gok dat 99% van alle mensen die deze tag in gaan vullen, Hema zeggen. Een hele tijd geleden zag ik een aflevering van het Jeugdjournaal waar ze mensen (volwassenen en kinderen) die geëmigreerd waren, hadden gevraagd wat ze het meeste misten aan Nederland. De exacte volgorde weet ik niet meer, maar wat wel is bijven hangen, is dat mensen Hema meer misten dan vrienden of familie. En dat zegt genoeg toch?
10. WIE IS JOUW FAVORIETE BN'ER?
En nu ga ik alweeeeeer vals spelen. Want ik noem er niet een, maar vier. De Jeugd van Tegenwoordig. All the way. Ze zijn ontzettend grappig en droog, werken erg hard en maken overal een feestje van. Ik kwam er net achter dat er een documentaire is gemaakt over het viertal (hoe heb ik dat kunnen missen?!) Waarin Willie Wartaal zegt: 'Samen zijn we gewoon vervelend. En lastig. Maar ook geniaal. Haha.' En zo is het. Ik ga de documentaire vanavond nog kijken! Hier een voorproefje:
***
Wil je deze tag ook overnemen? Vergeet dan niet de credits voor deze leuke tag aan Marieke te geven!