I went a little overboard with my glitterpolish and created these crazy harlequin nails.
Ik had gisteravond twee leuke glitterkleurtjes en een rolletje plakband uit de kast gepakt. Ik had niet echt een plan en knutselde maar wat aan. En toen gebeurde er dus dit…
Nr. 05 of The Soft Touch Satin Collection by Bellaoggi.
Ik begon met een lakje dat mijn moeder voor me mee nam toen ze op vakantie was in Italië. Het is nr. 05 van de Soft Touch Satin collectie van Bellaoggi. Het is een kersenroze glitterlak met goud erdoorheen. Fantastisch op zichzelf, maarja, er moest natuurlijk nog wat bij (je kent me).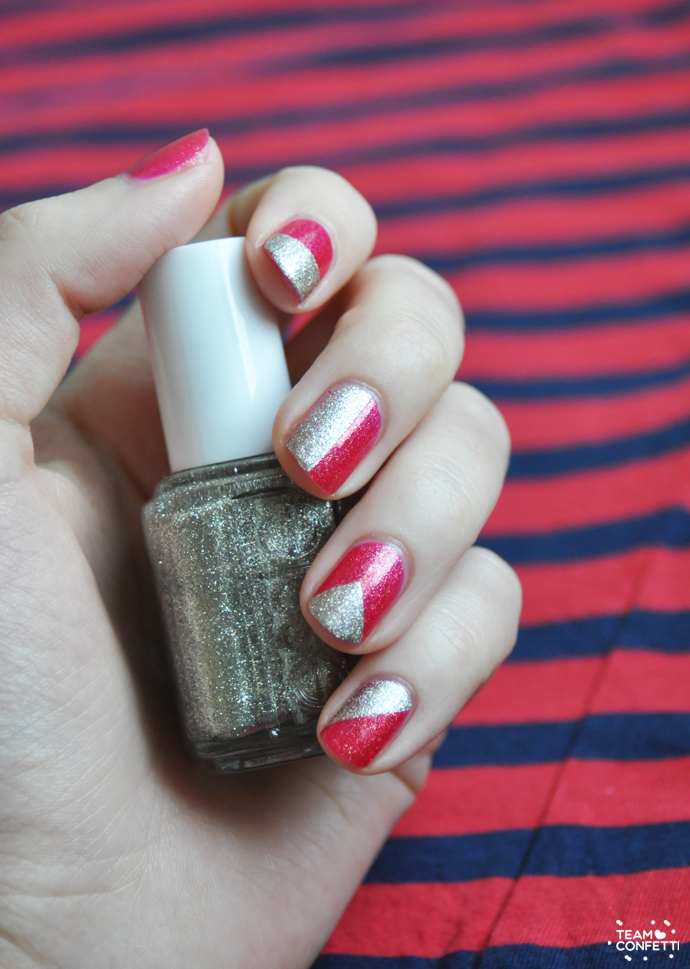 243 Beyond Cozy by Essie.
Ik plakte eerst mijn ringvingernagel af met plakband en maakte een driehoekje met Essie's Beyond Cozy. Maar ik begon voor mijn gevoel een beetje in herhaling te vallen met het driehoekje en plakte daarom mijn pink diagonaal af. Ach, dacht ik bij mezelf, die middelvinger kan er ook nog wel bij, en daar ging ik alweer met de plakband. En toen was  alleen mijn wijsvinger nog alleen roze, dat stond een beetje gek. Dus hup! Plakband erop en gaan.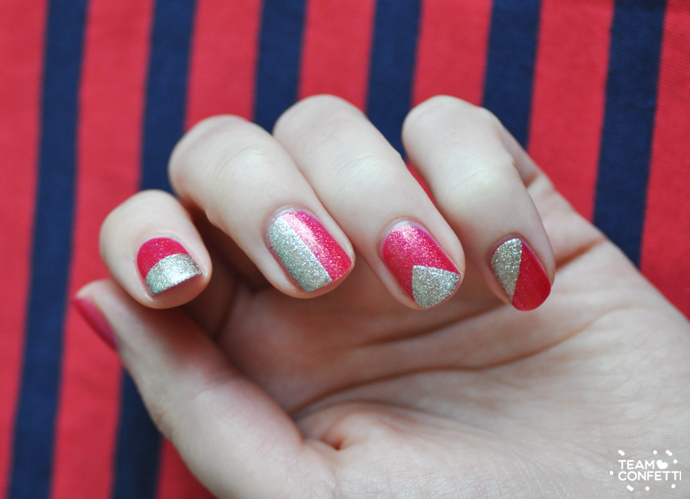 The results of mucking about with nail polish and scotch tape.
En dit is het resultaat van een avondje besluiteloos knoeien. Ik vind het een beetje hectisch, maar ook wel weer grappig. De lakjes die ik heb gebruikt zijn trouwens echt favoriet. Ze glitteren als een gek, dekken goed en zijn heel makkelijk aan te brengen.
***
De Soft Touch Satin lakjes van Bellaoggi kosten € 3,90 en zijn te koop in Italië. Essie nagellakken kosten €9,99 en zijn verkrijgbaar bij de meeste filialen van Etos en DA. Beyond Cozy zat in een kerstcollectie van een paar jaar geleden, dus is helaas niet meer verkrijgbaar.
***
Wat heb jij liever op je nagels? Lekker simpel of lekker crazy all over the place?
What do you like best on your nails, simple or crazy?