Jahaaa, Team Confetti maakt ook websites! Olga maakte onlangs een website voor desdraagt.nl (inderdaad, dezelfde Des als desschrijft.nl) en laat vandaag zien hoe ze te werk ging!
Olga: Een tijdje geleden las ik op desschrijft.nl (een van mijn favo blogs, Des is zo leuk) dat Des van plan was een cursus draagconsulente te gaan doen (alsin je baby in een doek dragen in plaats van met een buggy slepen). En ook graag een website wilde hebben waar ze draag-wannabees kon informeren en waar diezelfde draag-wannabees een draagconsult konden boeken bij haar. Of er iemand was die een website voor haar wilde maken? Ik stuurde een emailtje, ze stuurde weer wat terug en als snel zaten we middenin een website ontwerp.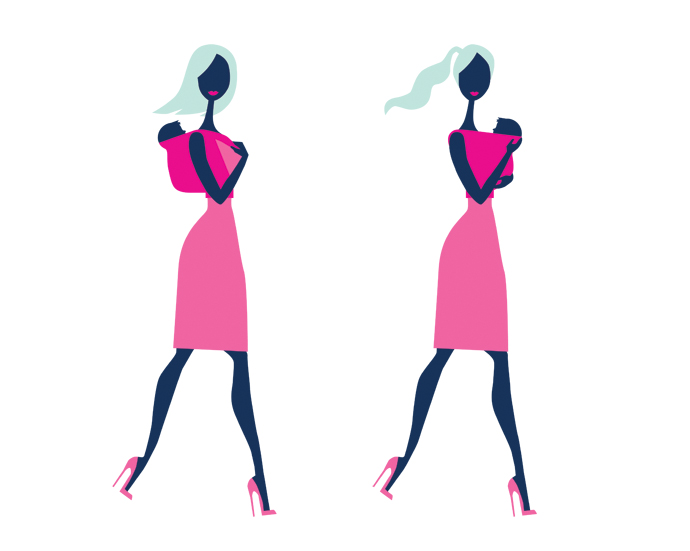 Des wist wat ze wilde, maar gaf me ook ontzettend veel bewegingsvrijheid op ontwerp gebied. Waar ze echt haar zinnen op had gezet was een illustratie die ze omschreef als: "lekker van nu, lekker zelfstandig, onafhankelijk, in een jurkje en pumps met mooie draagdoek en een baby op de rug". Zo gezegd zo gedaan.
Ik storte me uiteraard ook op een achtergrondpatroontje (want ik heb een patroontjesobsessie). Het begon heel vrolijk en speels met leuke vormpjes, maar dat bleek veel te overheersend. Ook in het blauw kwam het niet helemaal uit de verf. Omdat ik niet te letterlijk wilde gaan en iets wilde maken wat niet zo snel zou gaan vervelen, maakte ik een patroontje wat de stof van de draagdoek moest voorstellen. Niet te letterlijk, maar het heeft wel een connectie en heeft een strakke maar toch comfortabele uitstraling.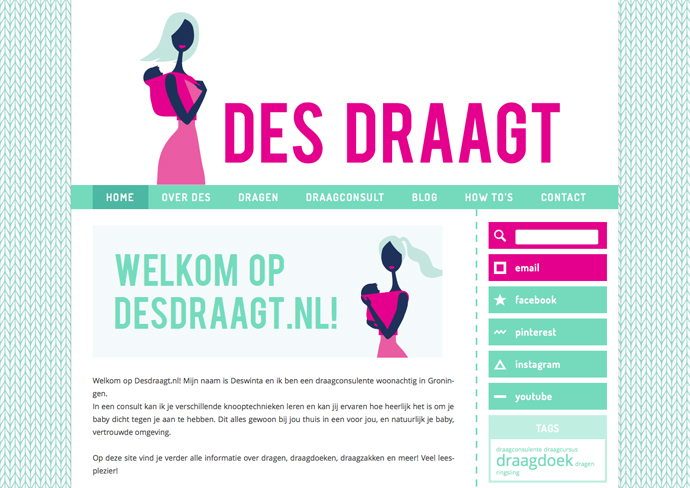 Ik bedacht een layout, een kleurenpalet, zocht leuke fonts uit en maakte een paar knoppen. En dan is dit het resultaat (klik hier om naar desdraagt.nl te gaan, dan kun je hem wat beter bekijken). Ik deed dus de vormgeving, Des gaf feedback en Tom zette de website in elkaar. Het was een erg leuk project en het was fijn te merken dat Tom en ik goed op elkaar zijn ingespeeld en we er veel lol in hadden samen. Fijn is ook dat hij niet maar wat doet, hij heeft Kunstmatige Intelligentie gestudeerd en mag met recht een ubernerd genoemd worden ;)
***
Wil jij ook graag een nieuwe website of heeft je website of blog een kleine make-over nodig in de vorm van een nieuwe banner /  logo / achtergrond of iets anders? Meike en ik zijn afgestudeerd grafisch ontwerpers en zijn altijd op zoek naar leuke opdrachtjes en projecten.
Neem contact met ons op (info@teamconfetti.nl) voor meer info. Wil je mij een vraag stellen, dat kan ook via olga@teamconfetti.nl.