Ja jongens, ik was erbij. Blog rolmodellen (dit gaan ze ontkennen, maar ze zijn het lekker wel, heus waar) Jamie en Merel presenteerden hun boek De Groene Meisjes in Beter & Leuk Amsterdam. En het was te gek. Want VEEL vegan taart, VEEL vegan limonade en VEEL bloggers die ape trots waren op die groene meiskes. Benieuwd hoe dit bescheiden feestje vol liefde eruit zag en bovenal, hoe HET BOEK eruit ziet? Kijk dan mee!
Ten eerste werden we getrakteerd op een vegan lunch. En het mooie (en tegelijkertijd zo logische) was, dat de lekkere hapjes allemaal terug te vinden zijn in het boek. We aten dus eigenlijk een stukje boek. Er was taart, soep, brood, humus, wraps en hun famous banana bread. Allemaal heerlijk. Ondertussen werd er gelachen, gekletst, gefotografeerd en limonade uitgedeeld. Het was een beetje een hectische boel, maar o jongens, wat was het GEZELLIG.
En op een gegeven moment hadden Merel en Jamie het niet meer, het boek moest uitgedeeld. Jazeker, we kregen allemaal ons eigen boek:
Iedereen dook zijn boek in terwijl Jamie en Merel zenuwachtig rondschuifelden. 'En? En? EN?!' 'Jaaaaaaa! Goooooooed!' 'Oh, gelukkig!'. Haha. Als echte #fangirl wilde ik natuurlijk een krabbeltje in mijn boek. En dus staan er nu twee kleine verhaaltjes voorin mijn boek. Iets met dat ik de creatiefste blogger van de wereld ben en superleuk dat ik gekomen was. No biggie. :D
Aangezien ik de halve wereld was afgereisd (zo reageerde iedereen in elk geval toen ze erachter kwamen dat ik uit Groningen was gekomen) had ik geen haast om te vertrekken en ben lekker lang blijven hangen. Uiteraard moest er nog een kiekje gemaakt worden met de meisjes en de taartjes moesten nog op. Na iedereen tien keer een dikke knuffel gegeven te hebben en een roze goodiebag in mijn handen gedrukt te krijgen, was het tijd om te gaan.
In de trein naar huis had ik zeeën van tijd om het boek lekker door te bladeren en mijn favoriete stukjes uit te kiezen. 'Want waar gaat dat boek nou eigenlijk over?' Hoor ik jullie denken.
Eigenlijk is dit boek een soort gids. Voor mensen die bewuster willen leven, maar niet weten waar ze moeten beginnen. Of die al lekker bezig zijn en nieuwsgierig zijn naar waar ze nog meer op kunnen letten.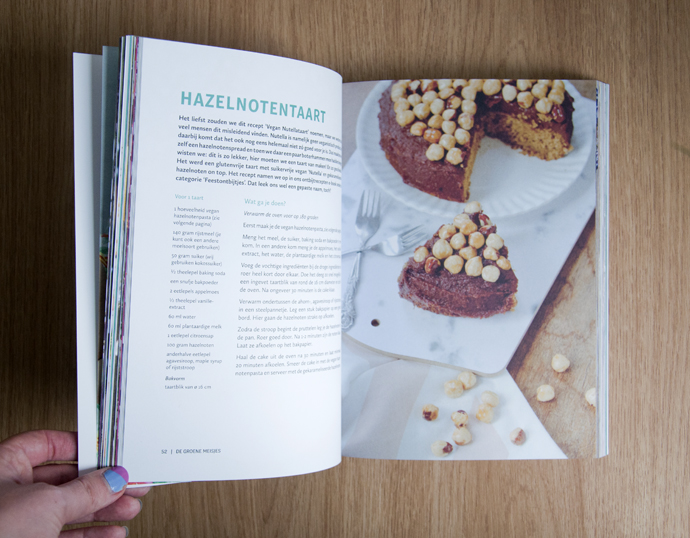 Uiteraard gaat een groot deel over vegan eten en leven. Jamie en Merel vertellen over hoe zijn erin zijn gerold en delen recepten en tips voor iedereen die zich hier bezig mee wil houden.
Andere hoofdstukken gaan over kleding, reizen en wonen. Een van mijn favoriete pagina's was de spread met tips van lezers. Het gaf een gevoel van gezelligheid en community. De tips waren klein, makkelijk en logisch. Ook de positiviteit in het boek werkt aanstekelijk. In plaats van huilen over alle narigheid op de wereld, vieren de Groene Meisjes liever de komst van een nieuw merk vegan chocolade. Vergis je niet, deze dames zijn heel goed op de hoogte, maar ik kan me voorstellen dat zo'n bewuste levensstijl je ook heel erg bitter kan maken. En bitter zijn ze allesbehalve. Ook wordt er benadrukt dat iedereen moet doen wat hij kan en dat mag all the way gaan, maar dat hoeft niet (als je het liever wat kleiner wil houden).
Ik ben geen vegan. Ik ben niet eens vegetariër. En toch is de blog van de Groene Meisjes (en dus ook hun boek) een die ik heel erg graag lees. Want van hen hoef je niet alles om te gooien. Doe wat bij je past en wat je aankan. Voor mij is dat regelmatig vegetarisch eten, me bewust zijn van het vlees dat ik wel eet en me bezighouden met fair/tweedehands kleding. Dit is voor mij al mega. En mede dankzij Jamie en Merel heb ik die kleine stappen genomen. En met deze roze/groene feelgood do better bijbel op mijn nachtkastje, zijn er nog wel een paar babysteps die ik kan gaan zetten.
GROENE MEISJES BOEK SIGNEER SESSIE IN GRONINGEN!
De Groene Meisjes gaan op signeer-tour en de eerste stad die ze bezoeken is, (jawel) Groningen! Morgen 16 oktober tussen 16.00 en 18.00 komen ze boeken signeren in WAAR aan de Vismarkt. Dus alle Groningers die dit boek op hun verlanglijstje hebben staan, morgen is HET moment om er eentje te gaan halen. Ik weet als geen ander hoe lief de berichtjes zijn die ze  voorin hun boeken krabbelen (ik bedoel, ik bloos nog) en kan het van harte aanbevelen. <3 
P.s. ik kom ook zeker nog even langs om ze nog een keer te high fiven. ;)
♥♥♥