Gastblog door Ingrid – Wauw you guys, we zitten alweer in december en dat betekent dat dit mijn laatste Teamconfetti gastblog is van dit jaar. Ik vond het écht een feestje om mijn creatieve spinsels met jullie te mogen delen en wat waren jullie reacties overweldigend leuk en positief, dikke bedankt daarvoor! Om mijn laatste gastblog van 2015 te vieren én de start van deze feestmaand goed te beginnen, heb ik dit keer een reuze leuk recept uitgeprobeerd. Het is alweer bijna Sinterklaas en daarna kunnen we gaan aftellen tot kerst. Hoog tijd dus om je bak-skills uit de kast te halen en eens wat nieuws te proberen: pretzels maken! Hier in Nederland geen standaard feesthapje maar wel eentje die zorgt voor een instant wintergevoel.
Iedereen die mij een beetje kent, weet dat ik een enorme hekel heb aan Nederlandse prutsneeuw. Des te doller ben ik op de metershoge, zachte poedersneeuw op wintersport en alles wat daarmee te maken heeft. Sinds een paar jaar gaan we jaarlijks naar Oostenrijk om te genieten van de sfeer, de natuur, de sneeuw, de gezellige skihutten en natuurlijk de pretzels! In Duitsland en Oostenrijk zie je ze veel hangen in stalletjes en worden ze geserveerd in eettentjes. Voor degene die het niets zegt: pretzels zijn een soort grote, gevlochten krakelingen van broodachtig deeg. Van de buitenkant zijn ze donker en vaak bezaaid met korrels grof zeezout. Van binnen zijn ze heerlijk wit en zacht. Je maakt mij op wintersport niet gelukkiger dan chillen bij een haardvuur met een grote pretzel en een kop warme choco met slagroom. Eigenlijk raar dat ik ze thuis nog nooit heb gemaakt, tijd om daar verandering in te brengen!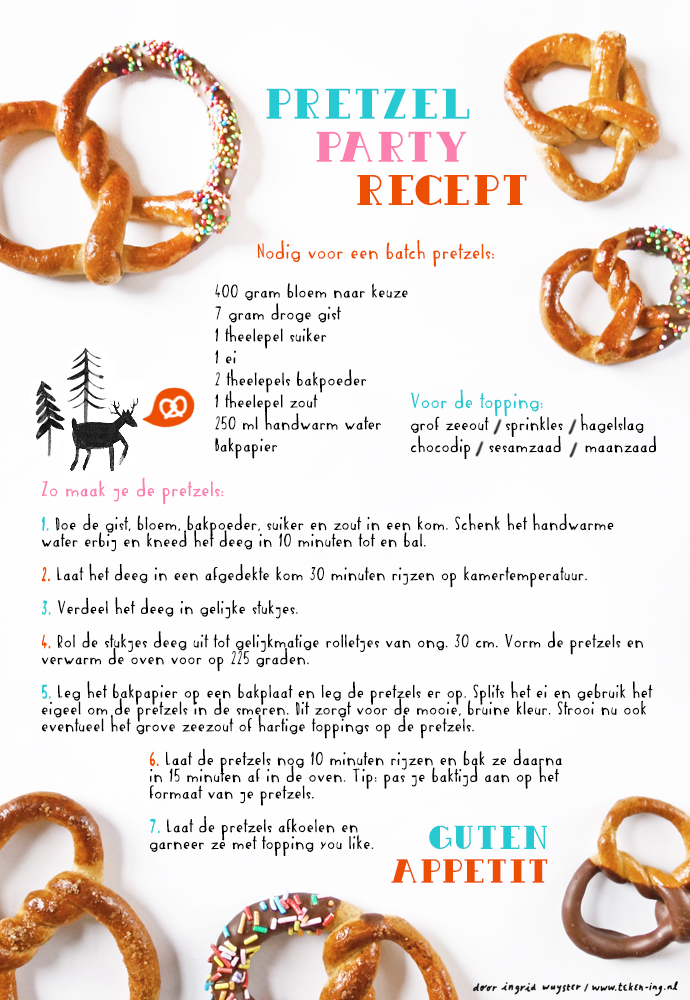 Wat je moet weten vooraf:
Dit recept werkt het beste bij wat grotere pretzels (van een rolletje deeg van ongeveer +/- 30-40 cm en +/- 1 cm dikte). Je kunt het formaat van de pretzels al naar gelang aanpassen en vergeet hierbij niet de baktijd aan te passen!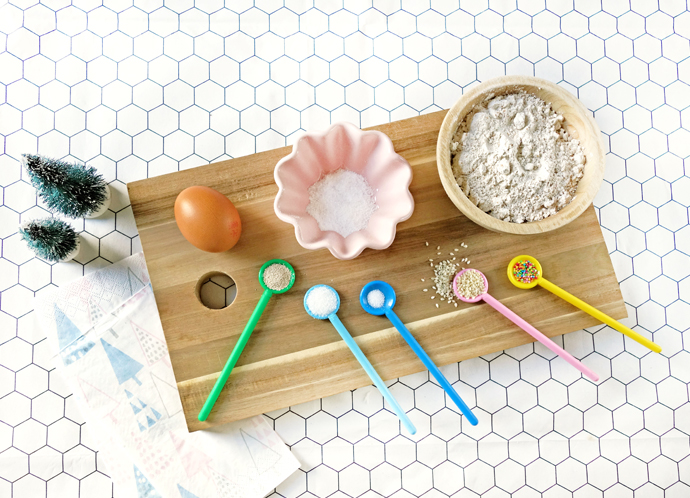 Dit heb je nodig voor een batch pretzels:
♥ 400 gram bloem
♥ 7 gram droge gist (1 zakje)
♥ 1 theelepel suiker
♥ 1 ei (alleen het eigeel)
♥ 2 theelepels bakpoeder
♥ 1 theelepel zout
♥ 250 ml handwarm water
♥ bakpapier
Voor de topping:
♥ grofzeezout
♥ chocodip
♥ sprinkles / hagelslag
♥ sesam- en/of maanzaad
♥ hartige topping zoals zongedroogde tomaat, olijfjes, kruiden etc.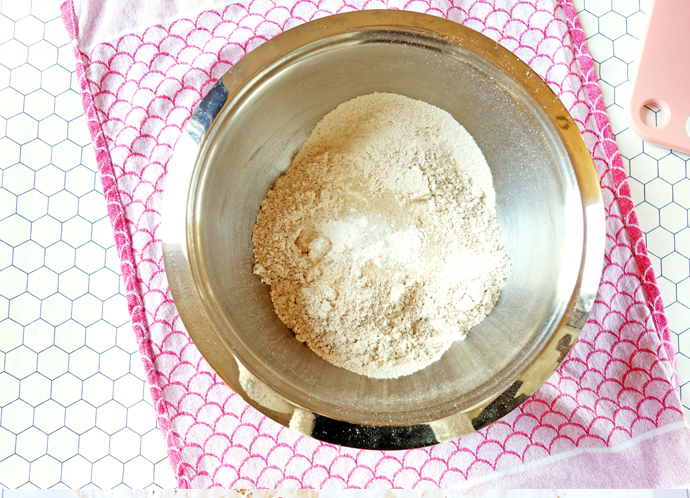 Zeef de bloem en doe dit samen met de gist, suiker, bakpoeder en het zout in een grote kom. Zorg ervoor dat de gist en het suiker/zout zo min mogelijk met elkaar in aanraking komen en doe bij voorkeur de suiker en zout pas als laatste in de kom. Hussel de boel door elkaar en maak een kuiltje in de massa. Giet in dit kuiltje 250 ml handwarm water.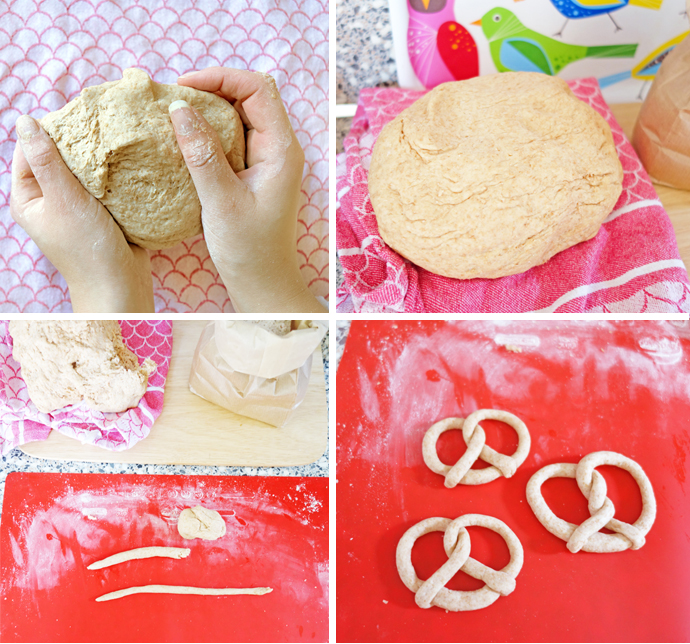 Kneed met je handen het beslag in ongeveer 10 minuten tot een deeg tot een bal. Het deeg blijft een beetje plakkerig en je kunt als het deeg te droog voelt een klein beetje handwarm water toevoegen. Als het een mooie bal is geworden laat je het deeg in de kom met een theedoek erover 30 minuten rijzen. Na het rijzen kun je van het deeg gelijke stukken maken. De grootte van deze stukken is afhankelijk van het formaat van je pretzels. Je kunt dit netjes afwegen om evengrote pretzels te krijgen. Ik heb gewoon van het deeg geplukt en de pretzels in verschillende formaten gemaakt om uit te testen wat het beste werkt.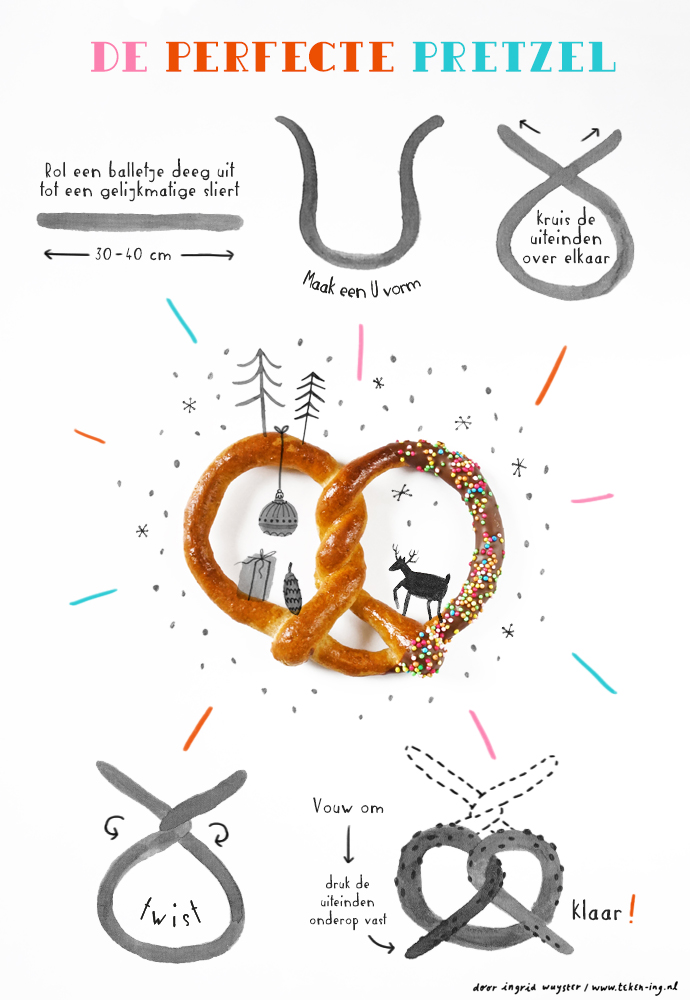 Rol de stukjes deeg uit tot gelijkmatige rolletjes van het gewenste formaat en vouw ze in de bekende pretzelvorm. Tip: het is beter om de stukjes deeg één voor één uit te rollen en te vouwen tot pretzels. Als je eerst alle stukken uitrolt en dan pas gaat vouwen kan je deeg te droog worden en lukt het vouwen niet meer zo goed. Hierboven lees je de vouwinstructie voor  het krijgen van de perfecte pretzel!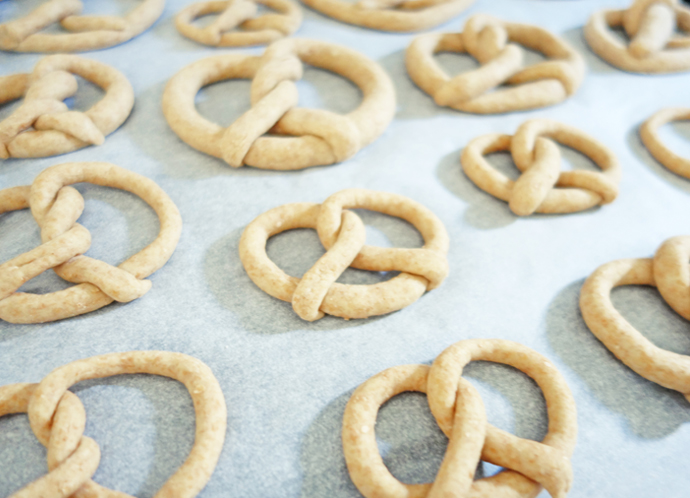 Leg de pretzels op een bakplaat bekleed met bakpier en duw zo nog even in de juiste vorm. Splits nu het ei en gebruik alleen het eigeel om de pretzels te bestrijken. Het eigeel zorgt straks voor hun karakteristieke donkere kleur! Nu kun je ook de hartige toppings toevoegen zoals het grove zeezout, sesam- of maanzaad of iets anders. Dit kan gewoon meegebakken worden. Laat de pretzels nog even 10 minuutjes rijzen en verwarm de oven alvast voor op 225 graden.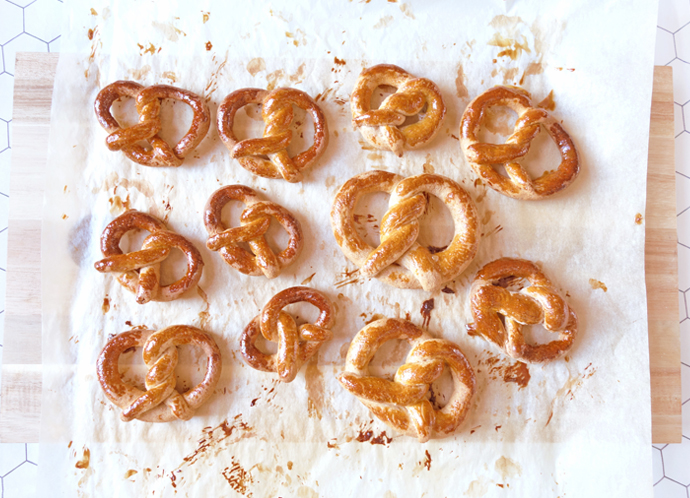 Bak de pretzels in 15 minuutjes af in de oven. Werk je met 2 bakplaten? Zorg dan dat je halverwege de baktijd even de bakplaten omwisselt zodat alle pretzels gelijkmatig gebakken worden. Wanneer de pretzels klaar zijn kun je degene die geen hartige topping hebben versieren met zoete toppings. Naast mijn varianten met grof zeezout, ging ik all out met chocodip, disco sprinkles en gekleurde hagelslag, yay!
Dit ziet er toch uit als een feestje? Je kunt ze serveren op een mooie schaal maar ik vond het ook een supertof idee om de kleinere pretzels als alternatieve kerstkransjes in mijn (hysterische roze) kerstboom te hangen, gezelligheid!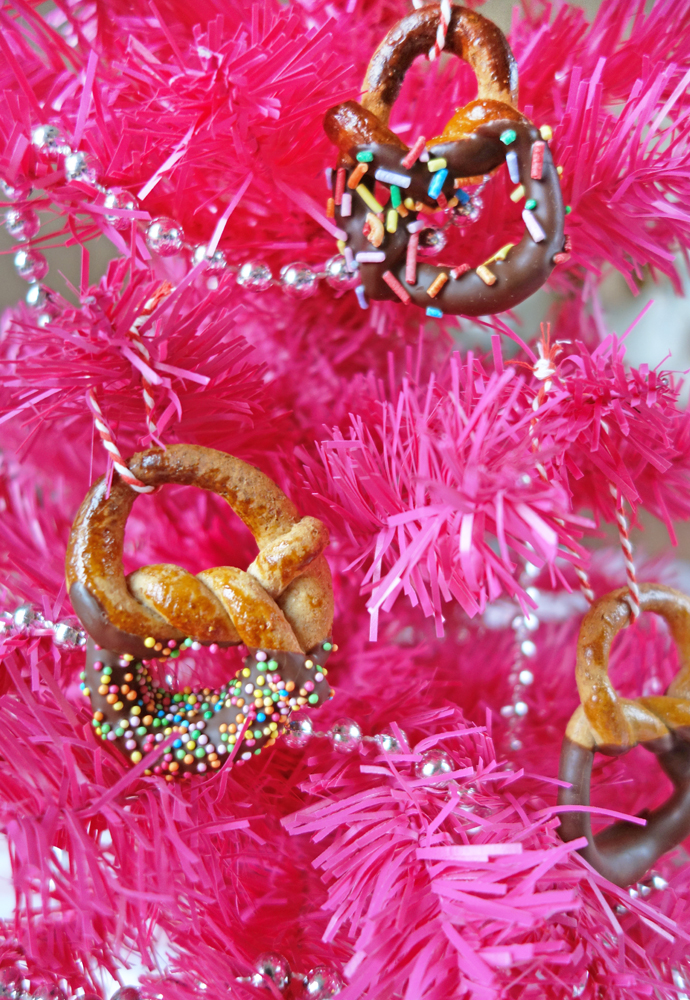 Heb jij al eens pretzels gemaakt? Het was de eerste keer dat ik dit recept maakte en ik ga het zeker nog eens doen om het te fine-tunen. Ik heb gemerkt dat dit recept het beste werkt met wat grotere pretzels, deze waren zacht van binnen en hadden de taaie bite van een pretzel. Bij kleinere formaten moet de baktijd en/of temperatuur aangepast worden anders gaan ze veel te hard, dat is een beetje uitproberen. Het maken en vouwen van de pretzels was al super toll dus ik zou zeggen probeer het uit en Guten Appetit! En oja: alvast hele fijne feestdagen natuurlijk voor jullie allemaal! Tot snel in 2016 want dan zet ik het feestje hier op Teamconfetti gewoon weer voort :)
♥♥♥
Ingrid Wuyster is illustrator / ontwerper en maakt veel moois onder de naam Teken-ing.
Eén keer in de vier weken blogt ze voor teamconfetti.nl.