Gastblog door Ingrid – Als illustrator en fanatieke DIY-er, ben ik de hele dag door creatief bezig. Met mijn handen maar ook in mijn hoofd. Ik zou het maar een saaie boel vinden als ik mijn creativiteit niet had. Wat zou ik moeten zonder? Het stroomt door mijn aderen, ik ben ermee opgegroeid en ik ben zelfs zo'n lucky bird dat ik er mijn werk van heb gemaakt, yay! Regelmatig hoor ik dan ook mensen zeggen: 'Wat lijkt me het toch fijn om zo creatief te zijn'. Of: 'Wat knap dat je dat kan bedenken'. Vaak direct gevolgd door een excuus: 'Zelf ben ik zo creatief als een ei'. Of: 'Ik kan nog niet eens recht knippen'. Nu hoor ik je denken: jij hebt makkelijk praten met je aanleg en je hebt er nog voor gestudeerd ook! Toch denk ik dat iedereen kan leren creatief te denken (en dus te worden).
Het heeft niet alleen te maken met wat je daadwerkelijk maakt, maar ook hoe je naar dingen kijkt, hoe je situaties aanpakt en hoe open je durft te zijn. Natuurlijk helpt een beetje talent en je moet zeker niet bang zijn voor een uitdaging. Ook moet je je ervan bewust zijn dat creativiteit een proces* is, waarbij je moet oefenen en groeien. Maar het allerbelangrijkste is dat je enorm veel lol moet hebben in het creatief** bezig zijn, want anders wordt het waarschijnlijk niks.
* (~ Pro·ces: verloop, ontwikkelingsgang. De weg naar het worden van een pro, keep that in mind!)
**(Spreek uit als: kre·jaa·tief, hierin zit de klank 'JA'!)
Daarom heb ik vandaag (en omdat ik mijzelf toch een beetje aan het ontpoppen ben als de zelfhulp-goeroe van Teamconfetti) mijn tips in woord én beeld, voor jullie op een rijtje gezet. Voor iedereen die wel wat meer creativiteit kan gebruiken of als je de aanwezige creativiteit een powerboost wilt geven!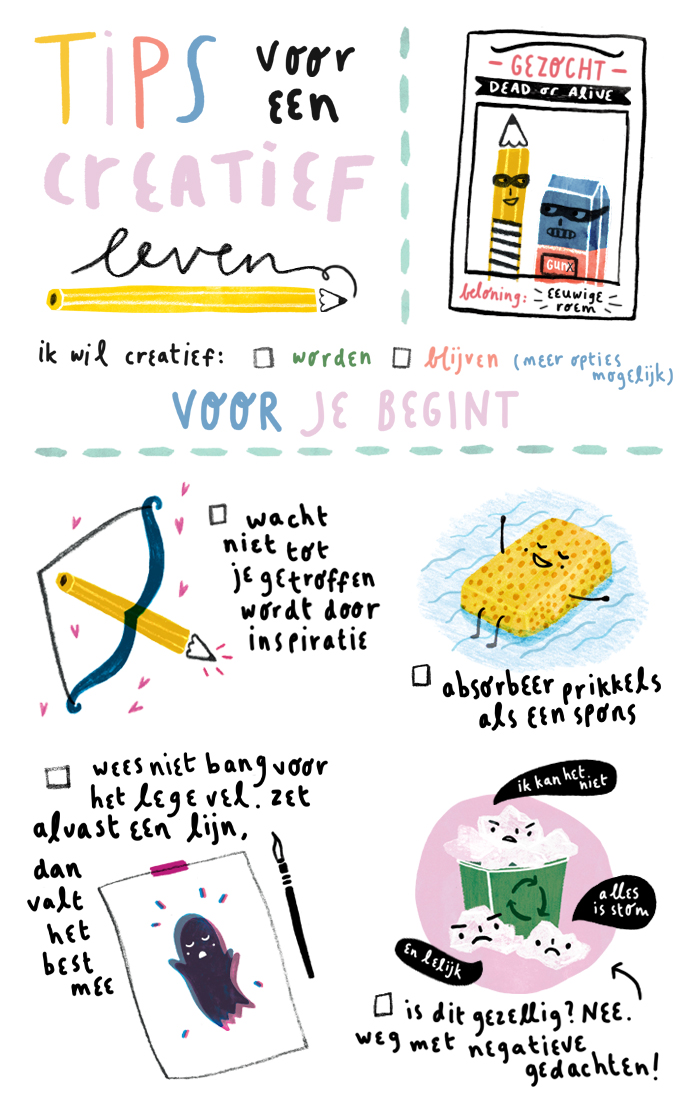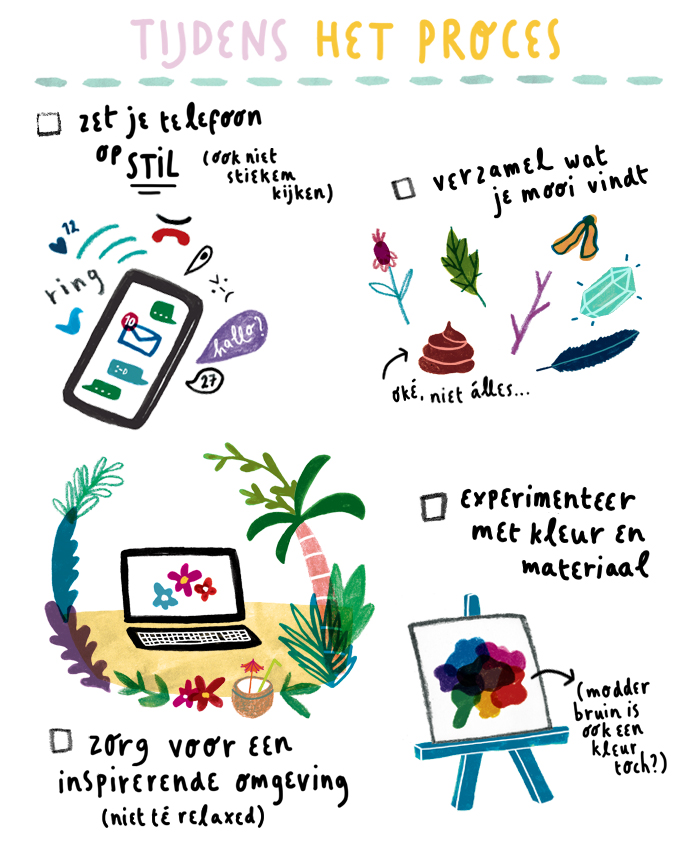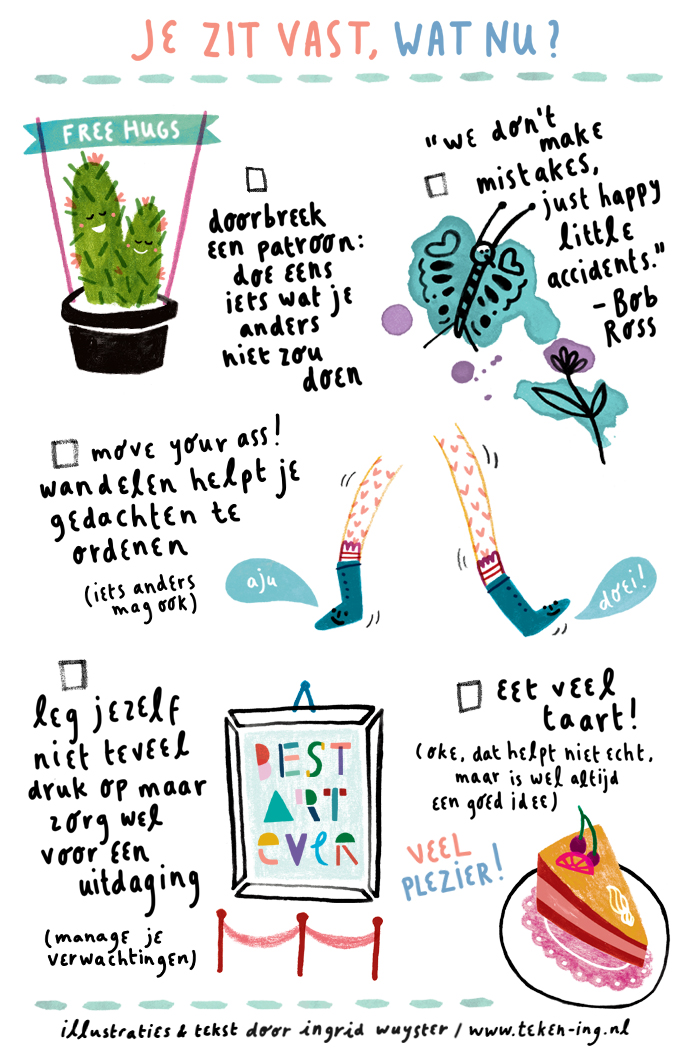 Zelf zou ik wat vaker moeten wandelen om mijn creativiteit te deblokkeren. En ja, eigenlijk zou ik mijn telefoon uit moeten zetten tijdens het werken, want oh die afleiding!
Wat helpt jou om je creativiteit te laten stromen?
♥♥♥
Ingrid Wuyster is illustrator / ontwerper en maakt veel moois onder de naam Teken-ing.
Eén keer in de vier weken blogt ze voor teamconfetti.nl.