Gastblog door Ingrid – We zitten er weer midden in, die zomervakantie-aftermath. Het is bijna half september en iedereen is alweer volop aan het werk of naar school, right? Hoewel ik deze zomer een echte 'staycation' had en niet echt weg ben geweest, kan voor mij de Indian Summer (kaarsjes, fluffy sweaters, mooie natuur en laarsjes, yay!) niet snel genoeg beginnen. Het einde van de zomer is altijd even doorbijten, maar het is ook weer het begin van veel frisse, leuke dingen. Met deze nieuwe blog sluit ik een heuse werk-zomer af die voor mij bomvol zat met toffe opdrachten. Waaronder deze opdracht voor Teamconfetti zelf! Vandaag onthul ik de (voorlopige) Teamconfetti agenda 2016 omslag en laat ik mijn inspiratiebronnen zien.
Want met het verstrijken van de zomer komt ook de release van de nieuwe Teamconfetti agenda steeds dichterbij. Olga is al een hele tijd bezig met het vormgeven en jullie hebben zelf mee ontworpen aan de patroontjes voor de bladzijdes (and they are looking good by the way). Supertof vond ik het dan ook dat Olga mij vroeg om een illustratie te maken voor de omslag! Ik wil jullie niet langer in spanning houden, hierrrrrr is ie dan!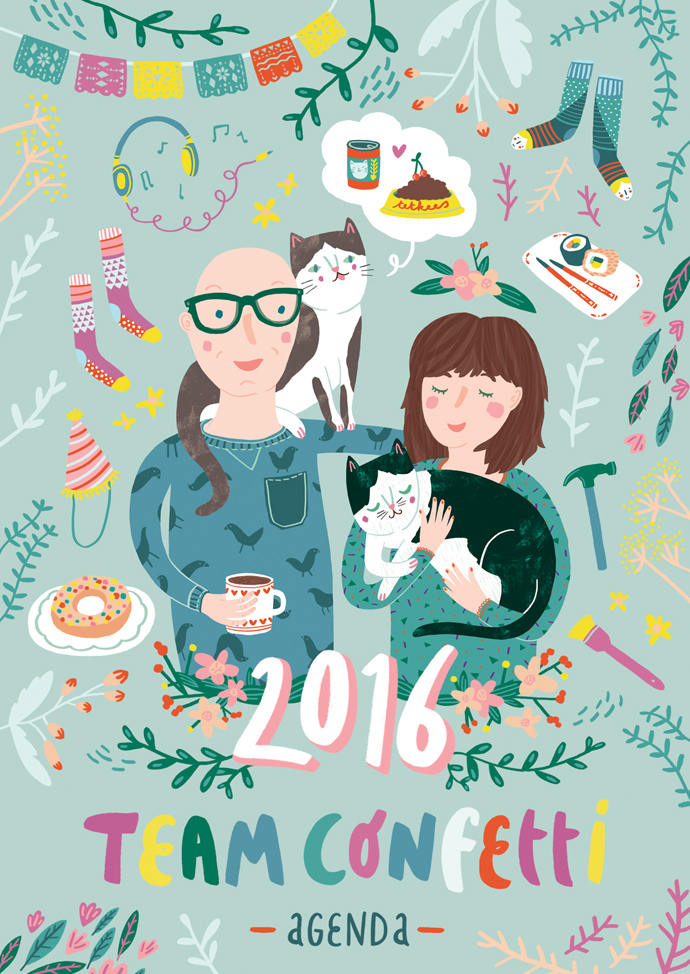 Olga vertelde dat ze al een hele tijd fantaseerde over een getekend portretje van de hele Teamconfetti famliy en dat dit haar erg leuk leek voor de agenda cover. Het enige waar ik rekening mee hoefde te houden is dat Tom, Mo en Tetkees er in voor kwamen en dat Olga zelf niet werd afgebeeld als een olifant (haar woorden :)). Naast editorial en educatieve opdrachten maak ik geregeld persoonlijke illustraties in mijn eigen handschrift. Deze illustratie is volledig digitaal uitgewerkt zodat 'ie goed past bij de uitstraling van Teamconfetti. Ik heb dus iets minder texturen gebruikt dan ik normaal zou doen maar ik heb wel gewerkt met een losse 'brush' om toch de handgemaakte sfeer te krijgen. En natuurlijk is ook de typografie met de hand gemaakt!
Nu ken ik Olga en Tom inmiddels persoonlijk, maar om een goed beeld te krijgen van Tom, Olga en de katten heb ik natuurlijk het alle Confetti soaps en Photo diaries doorgespit naar inspiratie. Ook vroeg ik Olga om een aantal steekwoorden en kenmerken die bij hen passen aan mij door te geven. Met al dit verzamelde materiaal ben ik vervolgens aan de slag gegaan met schetsen.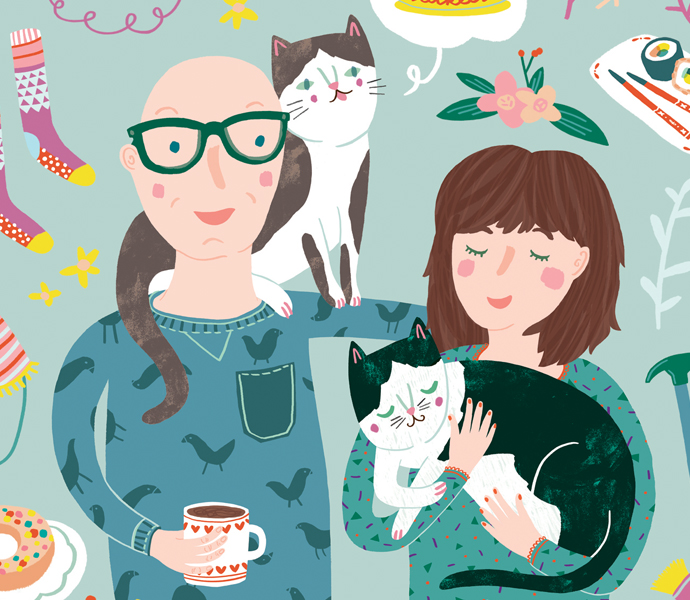 Het was even zoeken naar de juiste compositie en hoe de katten afgebeeld zouden worden. Katten (en fietsen) tekenen is echt het moeilijkste wat er is. Maar dit is aardig gelukt! Ik heb er voor gekozen om Tom en Olga naast elkaar af te beelden, waarbij Tom zijn arm om Olga slaat. Tetkees zit op de schouder van Tom en denkt zoals altijd alleen maar aan eten. Mo ligt heerlijk te slapen in de armen van Olga.
Tom draagt zijn hippe bril, favoriete trui (met vogels) en heeft een kopje thee in zijn hand. Olga sprankelt met haar kenmerkende pony, rode nagellak en blosjes op de wangen. Grappig is dat ik geheel onbewust bij Olga precies die comfy blouse heb getekend, waar ik destijds verliefd op ben geworden toen Olga en ik samen de nieuwe collectie van Who's That Girl gingen bekijken in Amsterdam.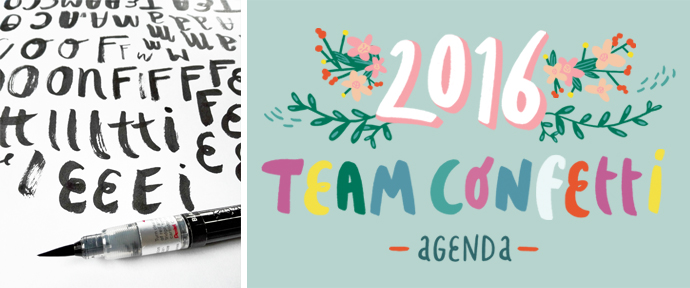 De tekst heb ik digitaal getekend nadat ik eerst met een brushpen wat lettering inspiratie heb gemaakt. Vervolgens heb ik deze letterschetsjes ingescant en heb ik deze gebruikt voor de uiteindelijke letters.
Ik ben gek op het tekenen van objecten, plantjes en kleine decoraties. Het leek mij dan ook leuk om een echte Teamconfetti backdrop te maken. Gevuld met allerlei elementen die jullie hopelijk zullen herkennen van het blog en die persoonlijk goed aansluiten bij Tom en Olga.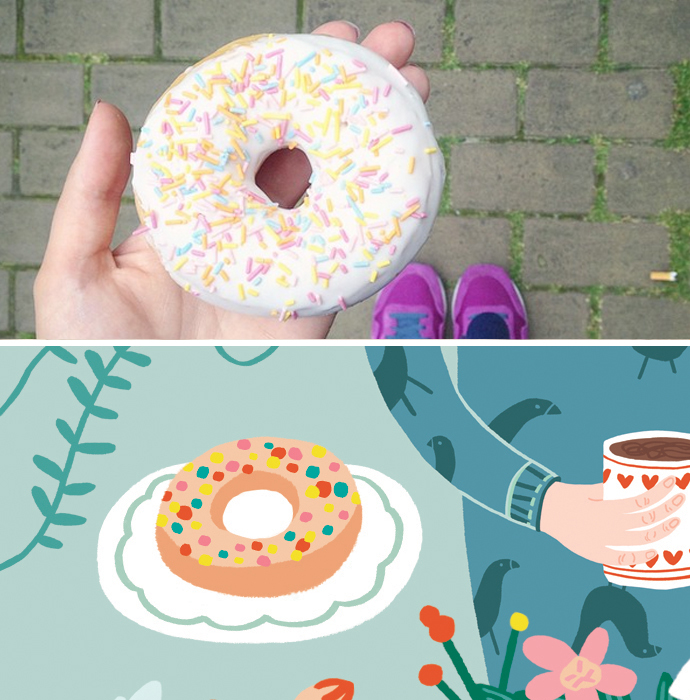 De confetti donut. Geen uitleg nodig, onlosmakelijk verbonden met Olga en Teamconfetti.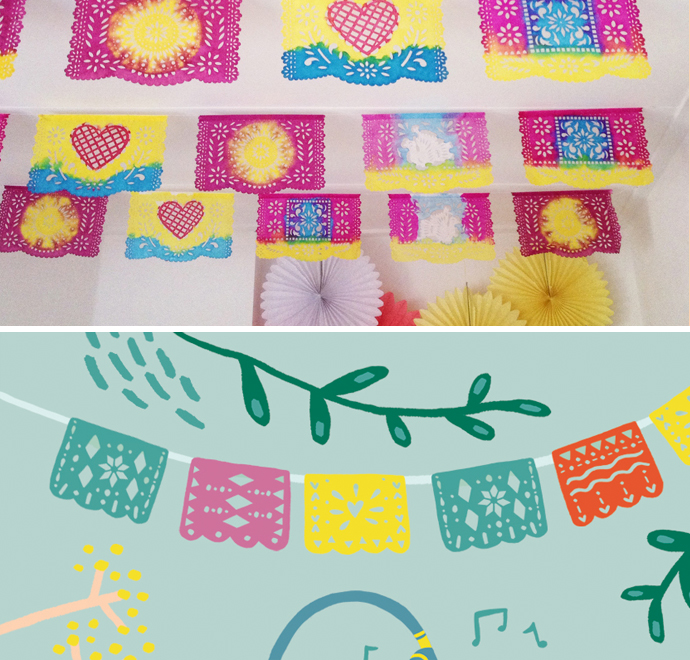 De mexicaanse vlaggetjes van Kitsch Kitschen waar Olga gelijk verliefd op was vormen de eyecatcher in de Teamconfetti Headquaters, instant vrolijkheid!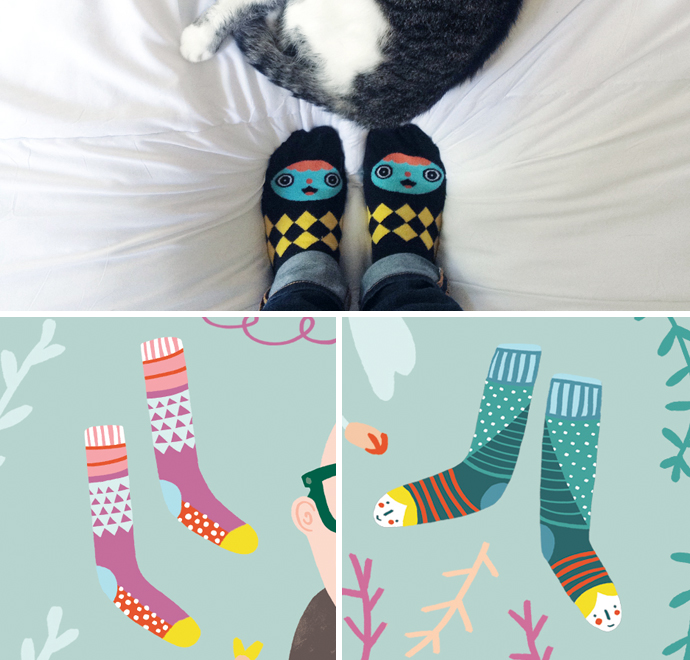 Zowel Tom als Olga dragen allebei vaak sokken met kekke gezichtjes, afbeeldingen of patroontjes. Olga droomt zelfs van een eigen sokkenimperium, no doubt dat er sokken in de illustratie zitten!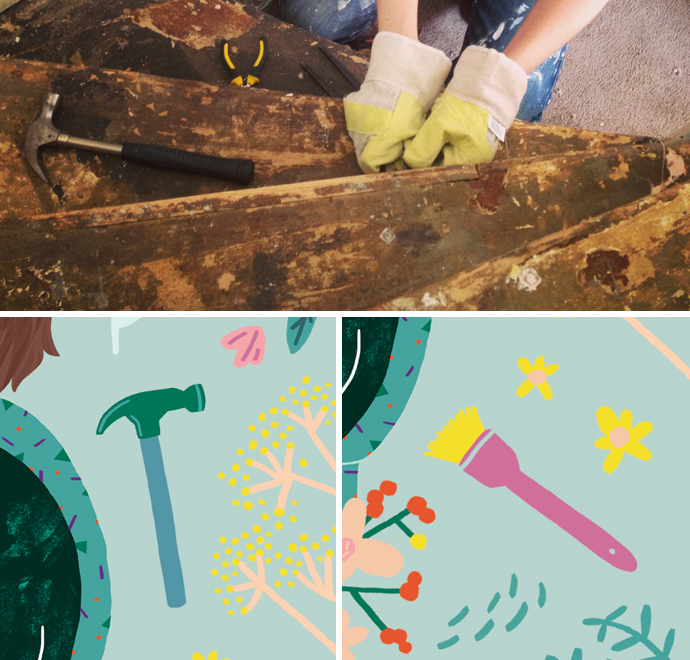 Wie geniet er niet van de afleveringen Eigen Huis en Balkon van Teamconfetti? Ik in ieder geval wel en Olga en Tom klussen heel wat af in hun huis, dat is wel duidelijk.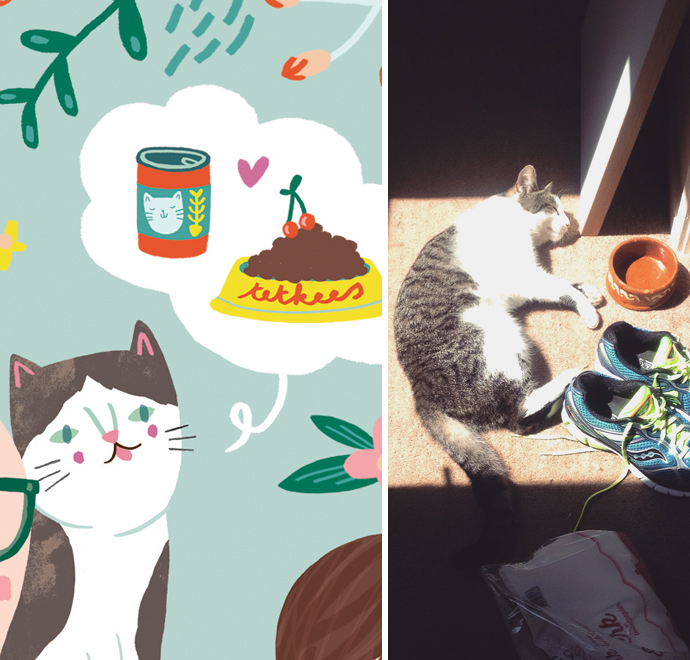 Terror Tetkees is altijd met eten bezig. Staat hij niet te bleren om eten dan denkt hij wel aan zijn volgende maaltijd.
Een paar objecten en decoraties hebben de 'cut' helaas niet gehaald, maar wie weet zijn deze in de toekomst nog een keer te bewonderen op de blog… dus stay tuned!
Er zal her en der nog wat aan de illustratie gesleuteld worden voor 'ie defintief is maar hier zie je alvast een mock-up van hoe het er uit zou komen te zien: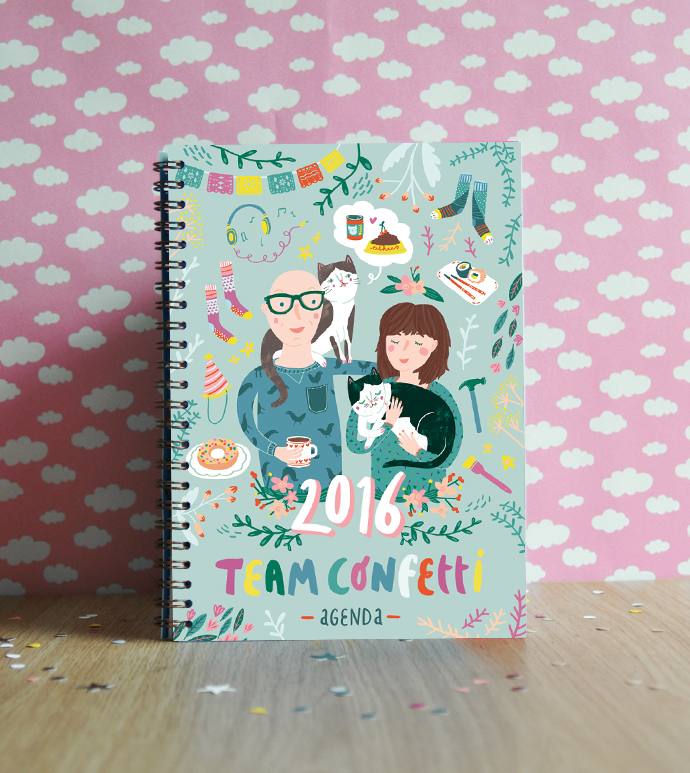 Olga en ik zijn erg benieuwd wat jullie vinden van deze illustratie voor op de cover van
de Teamconfetti 2016 agenda!
♥♥♥
Ingrid Wuyster is illustrator / ontwerper en maakt veel moois onder de naam Teken-ing.
Eén keer in de vier weken blogt ze voor teamconfetti.nl.