Ik hou van mooie dingen. Dat weten jullie. Alles met een mooi patroontje of illustratie is welkom in mijn huis. En dat geldt ook voor (of misschien juist wel) servies. Wij hebben bijna niks dubbel in onze keukenkastjes, we hebben alleen maar lievelingskopjes en bordjes in ons huis. En sinds kort hebben wij er een paar favorieten bij: een serviesset van Iittala!
Voor een samenwerking met Iittala mocht ik een serviessetje uitzoeken voor mezelf en… voor een Team Confetti bezoeker! Hieronder laat ik heel graag zien hoe dat setje eruit ziet, hoe het makkelijk te combineren is met je eigen servies en hoe je heel simpel je tafel heel feestelijk kunt dekken. En natuurlijk hoe je al dat moois kan winnen…

Hierboven zie je alle drie de onderdelen van mijn Iittala set: Bord Tanssi (met de vossen), diep bord Taika en mini schaal Sarjaton. Mijn hart was direct gestolen door het dansende vosjes bord en ik hoef niet uit te leggen waarom toch? Look at it! Ik wist meteen: mijn tafel krijgt een feestelijk bosdiertjes thema tijdens de feestdagen. En alhoewel elk item uit een andere collectie komt, matchen ze perfect.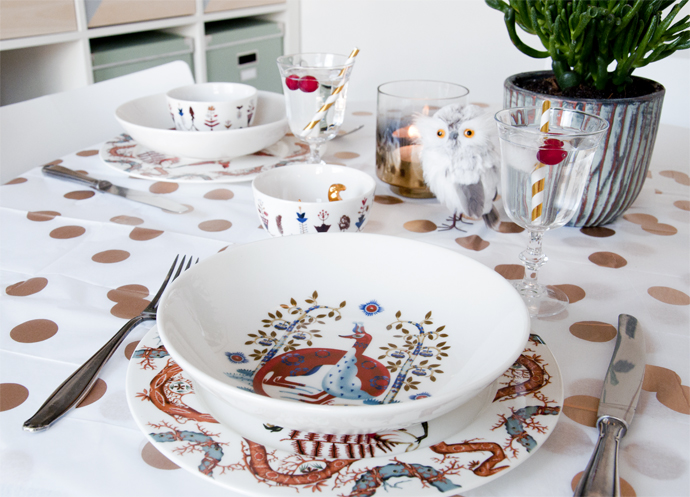 Er zitten veel warme kleuren in de bordjes en kommetjes van mijn setje verstopt. Maar ook donkerblauw en grijs. En dat maakt het combineren met elkaar heel makkelijk, maar ook matcht het met mijn eigen favoriete bordjes, kijk maar: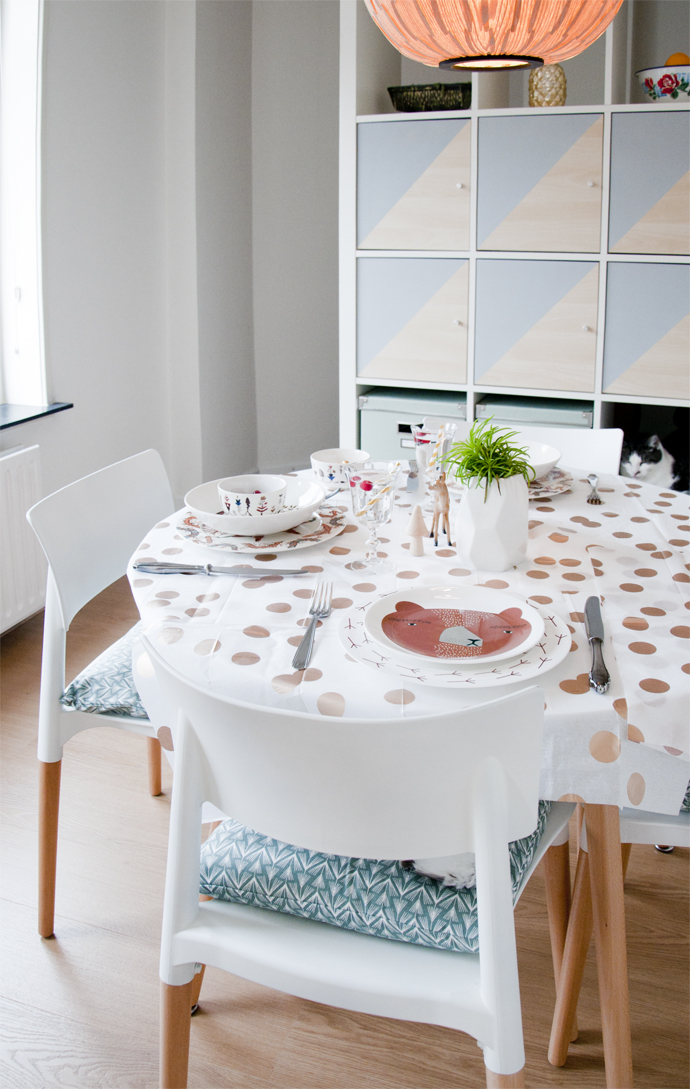 Het bordje met de beer en die met de vogelpootjes had ik zelf al in huis en matchen heel mooi met het Iittala setje! Ik vind dit erg handig omdat ik me niet wil beperken tot maar één servies. Ja, het staat heus heel netjes, alles hetzelfde. Maar ik 'spaar' mijn servies liever. Elke keer als ik een nieuw bordje of kopje vind waar ik verliefd op word, gaat het mee naar huis. Als ik dubbele setjes in huis hebt, dan komt het omdat ik het heb gekregen voor mijn verjaardag (of omdat mijn moeder het niet kon laten).
Ik ben een budget-queen (you guys know), maar voor een prachtig designbordje dat ik elke dag kan gebruiken, geef ik met liefde wat meer uit. Als grafisch ontwerp-nerd kan ik echt 'fan' zijn van een merk en gillen als een Belieber als ik het in een winkel tegenkom, hihi. En omdat ik er jaren over doe en niet in één keer een heel servies aanschaf (wat ik misschien na een jaar weer beu ben), is een designmerk als Iittala eigenlijk dus heel budget-proof. Ze doen heel hard hun best om de kleuren en illustraties op hun servies een tijdloze uitstraling te geven en altijd met elkaar te laten matchen. Zo kun je tien jaar lang elk jaar een nieuw bordje kopen en toch past het bij elkaar. Slim hoor!
Nog even over het tafeldekken straks met de feestdagen: wat mij betreft hoeft het allemaal niet zo donker meer met veel rood, goud en groen. Een vrolijk papieren tafelkleed en een pakje glimmend gouden rietjes en je 'every day' servies is genoeg. Mix & match is veel gezelliger! Dus krijg je opeens je hele familie op bezoek straks en maak je je zorgen of 'alles wel bij elkaar past'? Don't! Kijk wat je hebt en koop er desnoods een paar bordjes bij die er een beetje bij passen. Het vossenbord past bij alles toch? Vind ik wel. #treatyoself
WINACTIE!
Zoals ik eerder al zei: niet alleen ik mag genieten van een mooi nieuw Iittala setje, maar ik mag ook nog één van jullie blij maken met precies hetzelfde setje. Het vossenbord, het diepe bord en het lieve kleine schaaltje kunnen dus binnenkort van jou zijn!
Wil jij kans maken op net zo'n mooi setje als in dit artikel? Verzin en maak dan een leuke tafeldecoratie om de tafel nog gezelliger te maken. Deel deze via Instagram onder de hashtag #IittalaNL en tag mij @teamconfetti daarin.  Je hebt t/m 15 december de tijd om mee te doen. Op 16 december kies ik een winnaar uit en die krijgt van mij een emailtje. Heel veel succes!