Woop! Woop! Nederland is door naar de finale van het Songfestival! En dus ging ik aan de bak (zoals beloofd) om nieuwe bingo kaarten voor morgenavond te maken…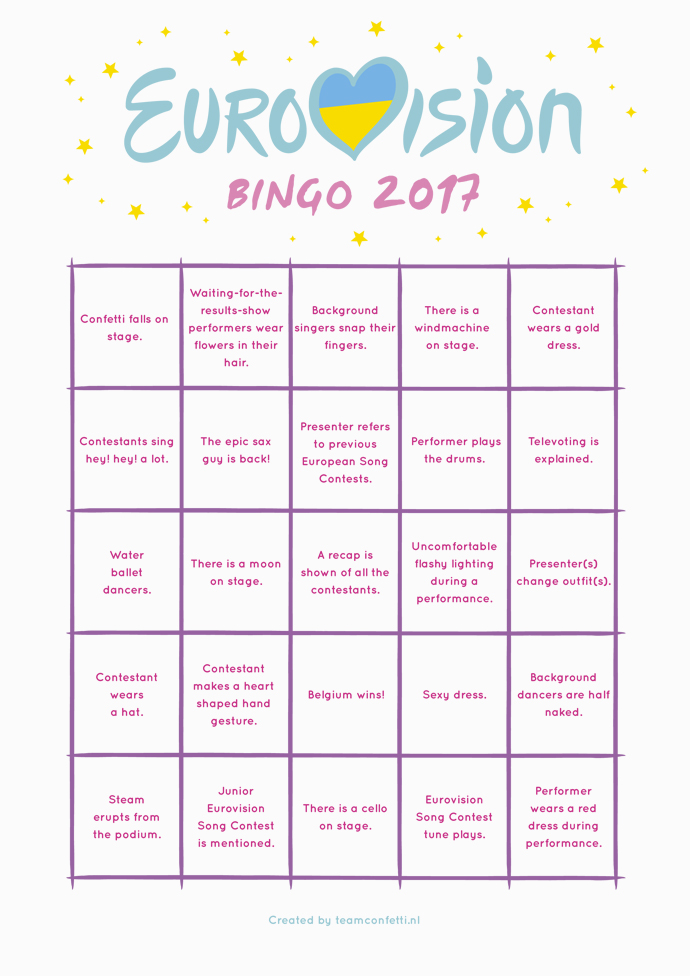 Wegens tijdgebrek heb ik de bingo-kaarten van de 2e semi final hergebruikt, aangepast en alle notities erin verwerkt die ik maakte tijdens het kijken van de twee halve finales deze week. Heb je donderdag de bingo kaarten al gebruikt, dan kan het dus zijn dat je wat dingen herkent. Pak in dat geval een andere kaart dan die je donderdag had en je merkt er niks van!
Ook zijn er dit keer zes kaarten in plaats van tien (again, tijdgebrek) maar dat zal voor de meeste eurovision kijk-feestjes meer dan voldoende zijn.
En nou ga ik ophouden met excuses maken, want potverdorie wat heb ik toch een mooi bingo spel voor jullie in elkaar gezet. Ik zou zeggen, download, print en geniet ervan:
CLICK HERE TO DOWNLOAD THE EUROVISION FINAL 2017 BINGO CARDS
O en vergeet morgen niet de regenboog pizza, de pastel popcorn en de disco dip aardbeien te maken. Ze zijn supersimpel en bij mij thuis waren ze een GROOT succes. Vooral de pastel popcorn werd met veel enthousiasme opgesmikkeld!