Aankomende zaterdag is er in het Noorderplantsoen in Groningen een leuke actie waar ik graag wat meer over wil vertellen: Het Damn Food Waste evenement. Damn Food Waste is een organisatie die meer aandacht voor het verspillen van eten in Nederland wil. En daarom doen ze dit jaar een tour langs verschillende steden in Nederland om daar een gratis lunch te organiseren met voedsel wat anders weggegooid zou worden.
Toen ik enthousiast aan Tom vertelde dat ik dit een mooi initiatief vond en zaterdag wel graag een kijkje wilde gaan nemen, zei hij: 'ieuw, moeten we dan bedorven voedsel eten?'. En ik denk dat er meer mensen zijn die zo zouden reageren. Het gaat er natuurlijk niet om dat je bedorven eten op eet, maar dat je het op eet voooordat het bederft en niet weg gooit omdat het er niet meer zo lekker uit ziet.
Omdat ik wel heel erg benieuwd was naar dit onderwerp, heb ik op de website van Damn Food Waste een paar vervelende feitjes en een paar handige tips opgesnord:
DE VERVELENDE FEITJES
– Hoe meer eten we weggooien, hoe hoger de kosten zijn voor afval beheer.
– Je gooit ook de energie die in teelt, verpakking, transport, koeling en bereiding van voedsel is gestoken weg. Met elke kilo voedsel die je weggooit, gooi je eigenlijk 1,3 liter benzine weg.
– Omdat wij zulke hoge standaarden aan ons voedsel stellen, wordt er al heel erg veel eten weggegooid voordat het bij ons in de winkels ligt. Als iets een plekje heeft of er gek uitziet, kopen we het liever niet.
– Gemiddeld gooien consumenten ongeveer 14% van het gekochte voedsel weg per persoon per jaar. Dit komt neer op ongeveer 50 kg voedsel.
– 58% van de mensen inspecteert het product na het verstrijken van de datum om te beslissen of het nog bruikbaar is. 16% gooit het direct weg, zonder er naar te kijken.
– De meest verspilde producten (exclusief dranken) zijn: Melk en melkproducten, brood, groenten, fruit, sauzen, oliën en vetten.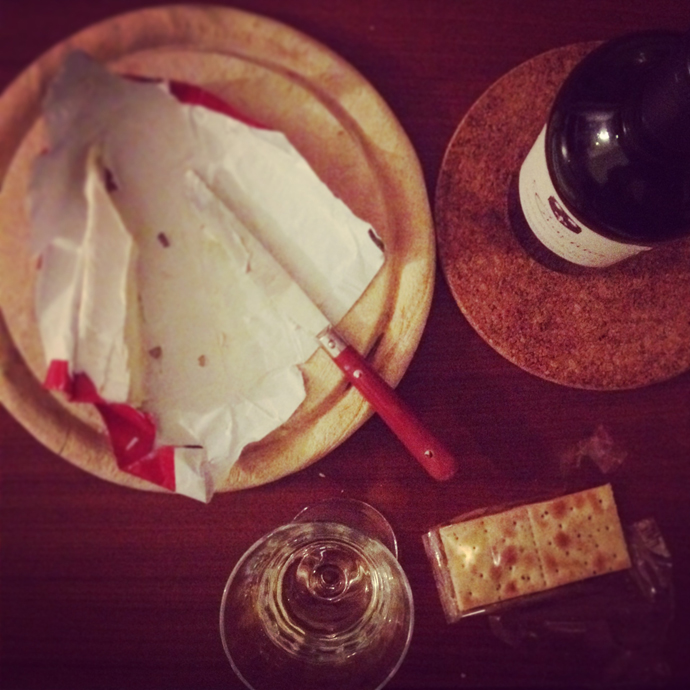 Zo'n laatste beetje brie terug stoppen in de koelkast en het na een week weggooien, niet meer doen!
TIPS & TRICKS
– Een goed trucje om de goede hoeveelheid eten in te kopen is het maken van een boodschappenlijstje. Vergeet niet te checken wat je al in huis hebt en bedenk welke maaltijden je deze week wil eten. Koop de verse producten niet al te ver van te voren in en koop niet te veel bederfelijke (bijv. voorgesneden) producten.
– Serveer kleinere porties & hergebruik restjes.
– Ken het verschil tussen 'ten minste houdbaar tot'-data (THT-data) en 'gebruiken voor'-data:
THT-data geven slechtst de kwaliteit van het product aan. Dit betekent dat het na de THT-datum nog prima te eten is, alleen wordt de kwaliteit na deze datum minder. 'Gebruiken voor'-data zijn voor veiligheid aangegeven. Deze producten moeten opgegeten of ingevroren worden voor het einde van de houdbaarheidsdatum. Daarnaast is een aantal houdbaarheidsdata niet goed vermeld. Volgens de Voedsel- en Warenautoriteit kun je meel, droge koekjes, muesli, cornflakes, pindakaas, hagelslag, chips, zoutjes, pinda's,  olie, frituurvet, instant poeder, vet,  fritessaus, mayonaise, ketchup en gesteriliseerde melk tot twee maanden na de houdbaarheidsdatum nog eten. De volgende producten kun je zelfs één tot negen jaar bewaren na de houdbaarheidsdatum: kauwgom, frisdranken, zout, suiker, pasta's, koffie, thee, rijst, kruidenmix,  stroop, hard snoep, vruchtensap en volconserven in blik of glas (groenten, fruit, soep, vlees, vis)  koffiemelk, jam.
– Lees verder goed op de verpakking hoe je het voedsel moet bewaren en check of je koelkast niet te warm of te koud is afgesteld waardoor producten sneller kunnen bederven. Zet de koelkast dus op 4°C.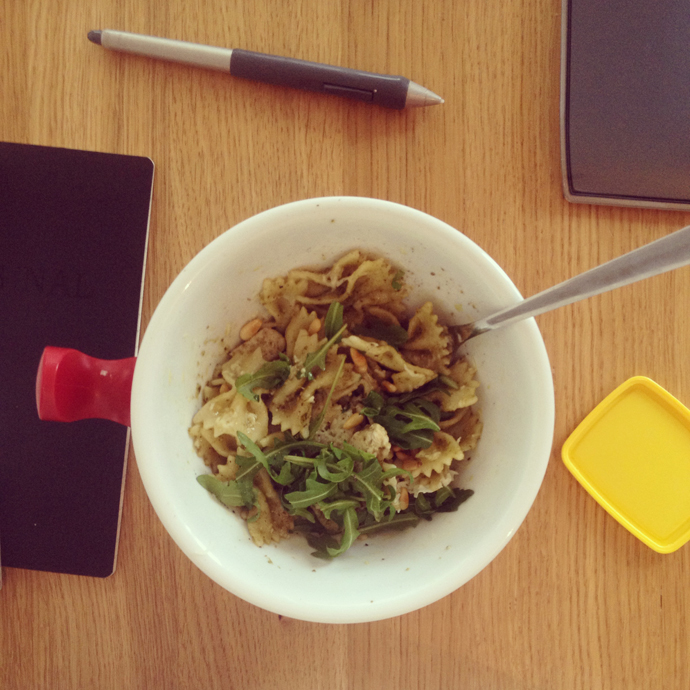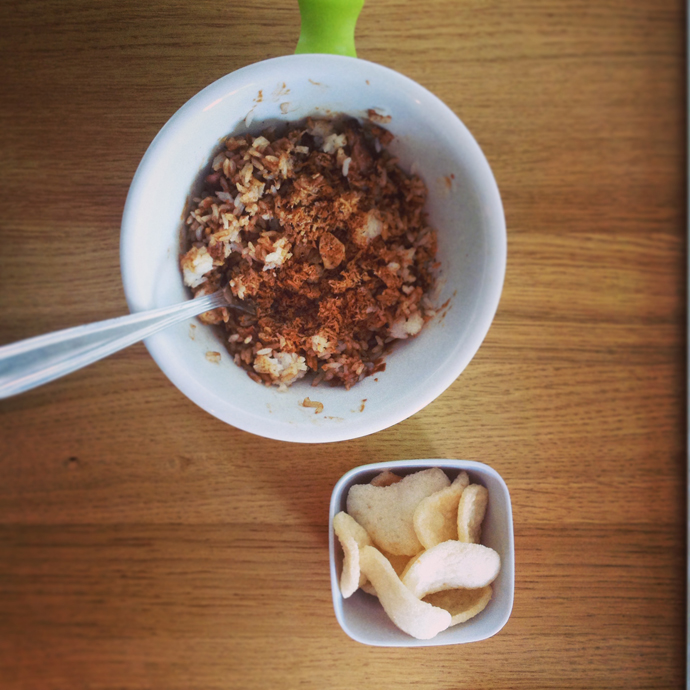 Leftovers for lunch: pasta en rijst, jum!
ZELFREFLECTIE
Ik dacht dat ik op het gebied van eten weggooien wel aardig ging, maar het blijkt dat ik nog veel beter kan opletten. Ik gooi zelf te vaak brood, groenten, fruit en restjes verse kruiden weg omdat ik ze te lang heb laten liggen en ze beschimmeld zijn. We zijn gek op rucola, maar zo'n zak in de koelkast bederft ontzettend snel, het komt bijna niet voor dat we niet het laatste beetje weggooien.
Dingen die wel goed gaan zijn kleine porties, restjes opeten voor lunch of later, de houdbaarheidsdatum niet te serieus nemen en boodschappen doen met een boodschappenlijstje.
WAT IK ZELF GA ONDERNEMEN
We hebben onlangs ons balkon opgeknapt en er bakken met verse kruiden en rucola neer gezet. We hebben niet de groenste vingers maar tot nu toe gaat het goed. Het plan is om nog een bak met rucola neer te zetten zodat het tijd heeft om te groeien en we niet alles in een keer opeten. Ik ga de koelkast op 4°C zetten en lelijke groenten kopen die anders blijven liggen in het schap.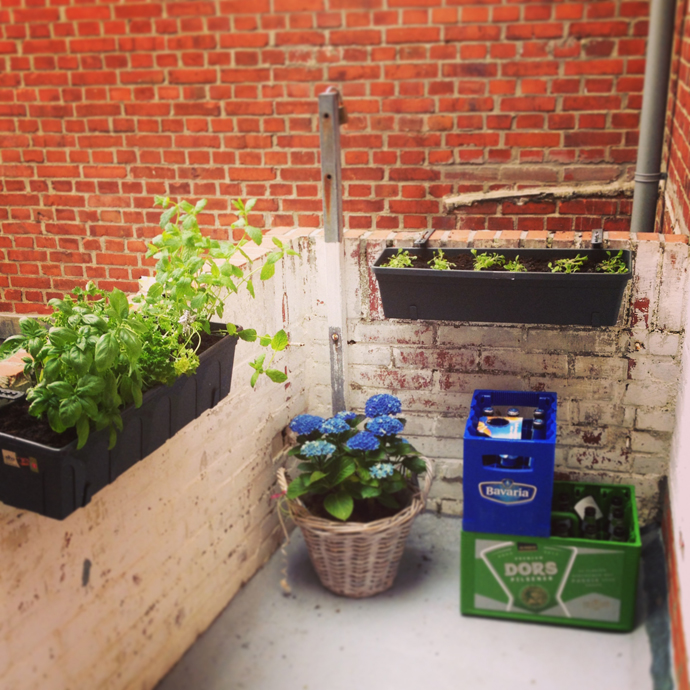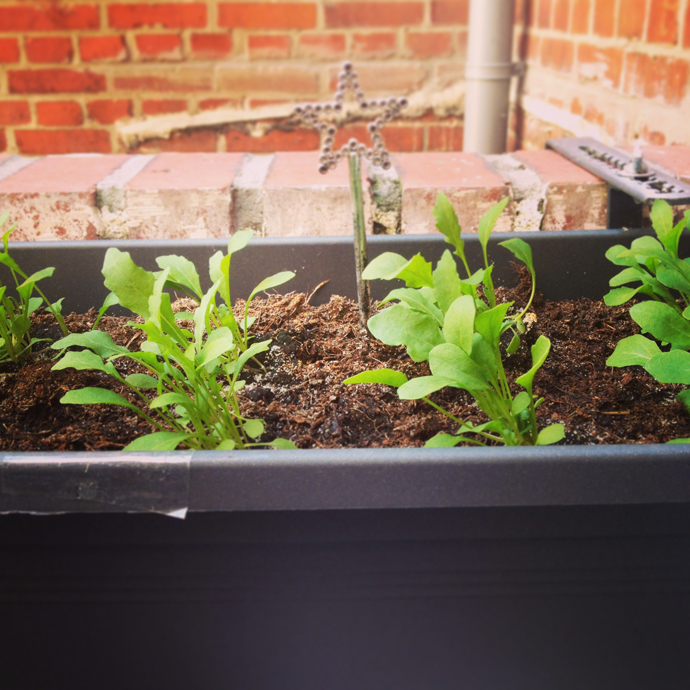 Nooit meer rucola weggooien, yay!
DAMN FOOD WASTE EVENEMENT:
Terug naar het evenement. Op aanstaande zaterdag 28 juni 2014 tussen 12.00 en 16.00 kun je langskomen in het Noorderplantsoen op de speelweide. Daar kookt het Damn Food Waste Team een gratis mega lunch voor 1500 personen van groenten die normaal in de prullenbak belanden. Daarnaast zijn die middag allerlei andere maatschappelijk initiatieven rondom voedselverspilling aanwezig met een kraam op de markt. Ik ben in ieder geval van de partij, ik ben erg benieuwd!
Voor meer info (ook voor andere steden) ga naar damnfoodwaste.com.
Hieronder een video van hetzelfde evenement, vorig jaar in Amsterdam. Je zou bijna niet zeggen dat het over Food Waste gaat, het ziet er gewoon superlekker en gezellig uit!
Heb jij nog een goede tip om Food Waste tegen te gaan?