Voor januari is dit misschien een wat apart recept. Want we moeten nu toch juist allemaal gezonde dingen in ons lijf stoppen? Ja, dat is allemaal leuk en aardig, maar soms heb je gewoon je chocolate fix nodig. Am I right? En daarbij komt, het zijn MINI cakejes. Geniet met mate en het komt allemaal goed. Dit recept is snel klaar, je kunt het beslag een paar dagen bewaren en bij de eerste hap val je al van de bank van genot. True story…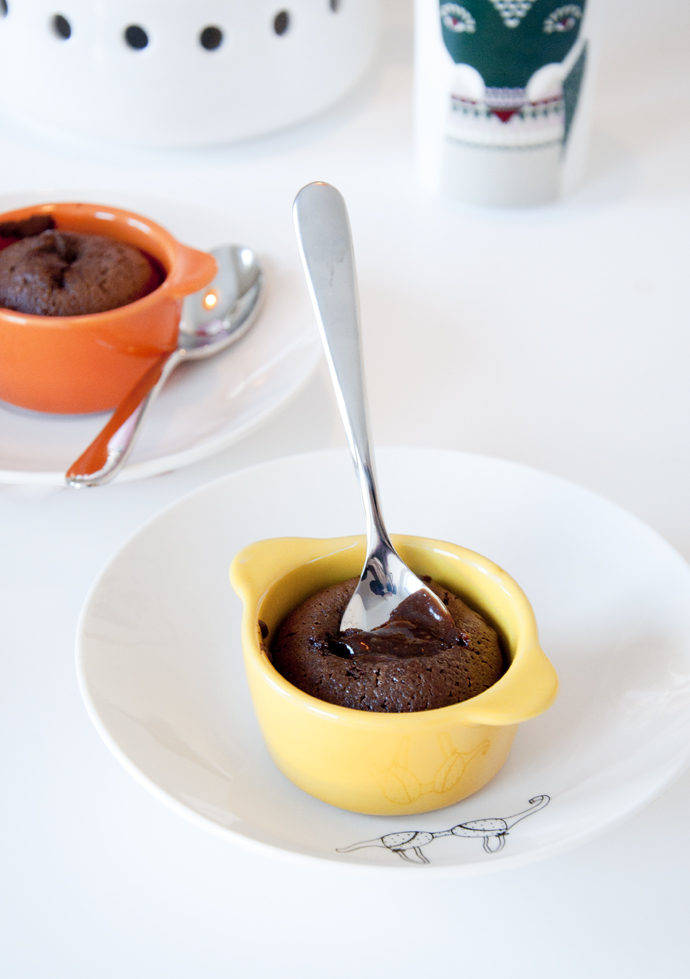 Dit is waar we het allemaal voor doen. Kijk nou! De chocolade lava loopt eruit!
INGREDIENTEN (voor zes stuks)
150 gram chocolade (ik nam 100 gram melk, 50 gram puur)
1eetlepel nutella
25 gram zachte boter
1 lepel suiker
2 eieren
25 gram bloem
een snuf zout
Weeg de chocolade af en laat het smelten in de magnetron. Twee keer een minuut met tussendoor even roeren. Je kunt ook ingewikkeld doen met au bain marie, maar dit gaat veel sneller (dus waarom zou je?).
Verwarm de oven voor op 200C.
Mix de boter met de suiker en zout in een kom met een elektrische mixer. Mix vervolgens de eieren en daarna de bloem erdoorheen. Als laatst gaat de (afgekoelde) chocolade en de nutella erdoorheen. Mix tot een glad beslag.
Pak de kleinste ovenschaaltjes die je hebt. Misschien dat espresso kopjes of eidopjes (van keramiek) de hete temperatuur ook wel overleven, maar daar durf ik mijn hand niet voor in het vuur te steken. In mijn bakjes past 60 ml, daar gaan we maar even vanuit. Vul de schaaltjes voor driekwart en zet ze acht minuten in de oven. De lengte van de baktijd hangt af van de hoeveelheid beslag die in je bakje past. Ik zou zeggen: begin bij acht minuten en neem dan een kijkje. De zijkanten moeten gerezen en gaar zijn, maar in het midden mag (nee, moet eigenlijk) het nog vloeibaar zijn.
Heerlijk bij een kopje thee of als mini dessert. Het is misschien een beetje vroeg om al te roepen, maar ik denk dat ik deze badboys op tafel gezetten na het kerstdiner. Ach, je kan niet vroeg genoeg beginnen met recepten verzamelen toch?
♥♥♥
Zeg me eens, wie zit er vanavond met een gesmolten lava cake op schoot?
Het is bijna weekend, geniet ervan!