I had two leftover eggwhites and decided to make meringue! And it was goooooood…
Toen ik afgelopen week pasta carbonara maakte met twee eidooiers, leek het me leuk om met de overgebleven eiwitten iets lekkers te maken. Mijn beste vriend Hessel (aka de geweldige chef die laatst een zeven gangen diner voor me bereide) vertelde dat hij altijd meringe maakte van overgebleven eiwitten. Dat moest ik ook een keertje proberen! En nu ben ik verslaafd…
Ik ben zwaar Masterchef Australia verslaafd en daar maken ze maar wat graag meringue. Altijd als ik ze bezig zag, dacht ik dat mij zoiets vast nooit zou lukken. Bij mij zou het vast en zeker een waterig papje blijven en het zou zeker niet verstandig zijn om de kom op zijn kop boven mijn hoofd te houden (opgeklopte eiwitten zijn zo stevig dat ze niet meer uit de kom kunnen vallen).
Ik heb mijzelf verbaasd, want het lukte in een keer! Tijd om mijn fool proof recept met jullie te delen:
JE HEBT NODIG:
– Eieren, ik gebruikte er twee.
– Citroensap.
– Suiker (15-20 gram per eiwit).
– Mixer.
– Keukenpapier.
– Bakpapier.
– Twee kleine kommetjes.
– Een grote kom.
– Een oven.
WHAT YOU WILL NEED:
– Two eggs.
– Lemon juice.
– 40 grams of sugar.
– Mixer.
– Kitchen towels.
– Baking paper.
– Two little bowls.
– One large bowl.
– An oven. 
Verwarm de oven voor op 120 graden. Laat het ovenrekje/plaatje uit de oven en bekleed met bakpapier. Maak vervolgens de grote kom, de twee kleine kommetjes en de mixgardes vetvrij met een beetje citroensap. Veeg met een stukje keukenpapier alles droog. Hierdoor schijn je grotere pieken te krijgen. En grote pieken, daar draait het vandaag om.
Preheat the oven at 120 degrees. Clean all the bowls and the mixer blades with lemon juice. Dry off with kitchen towels.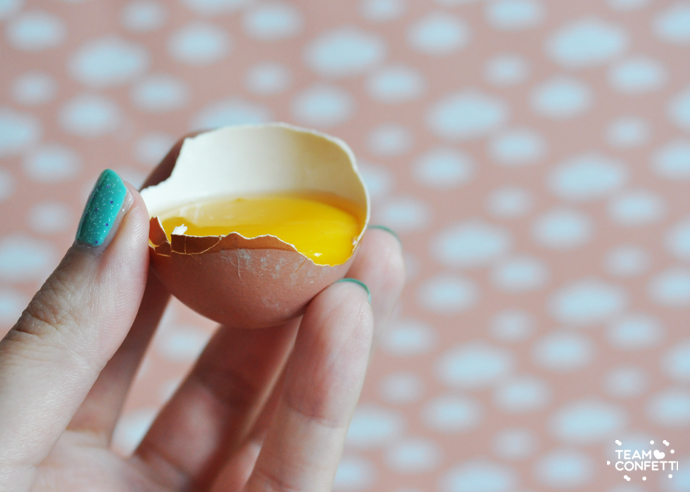 Splits de twee eieren. Dit doe je door het ei te breken boven een klein kommetje en de eidooier voorzichtig heen en weer te wippen in de eierschalen. Al het eiwit druipt in het kleine kommetje. Doe de eidooier in het andere kleine kommetje en giet het eiwit in de grote kom. Als je per ongeluk de tweede eidooier in de kleine kom laat vallen, is het eerste eiwit nog veilig. Snappie 'm  nog? Anyway, dit weten jullie vast wel als jullie ooit tien minuten naar Rudolphs Bakery hebben gekeken ;).
Split the eggs using the two little bowls.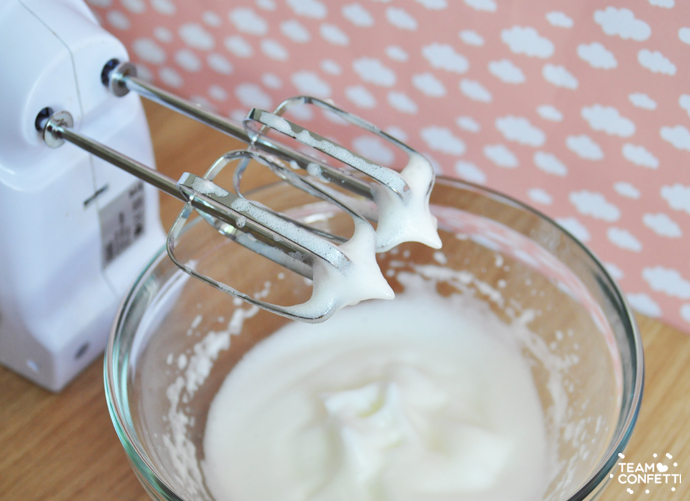 Doe de twee eiwitten in de grote kom en voeg nog een beetje citroensap toe (again, piekbevorderend). Mix de eiwitten totdat ze wit en schuimig zijn. Dit is het zogenaamde 'zachte pieken stadium'. Doe steeds een paar schepjes suiker bij de eiwitten en mix totdat ze gemengd zijn. Herhaal totdat alle suiker door de eiwitten zit. Mix nog even flink totdat het er zo uitziet:
Put the two egg whites and a little bit of lemon juice in the large bowl and mix them until soft peaks form. Slowly add the sugar and mix well until it looks like this: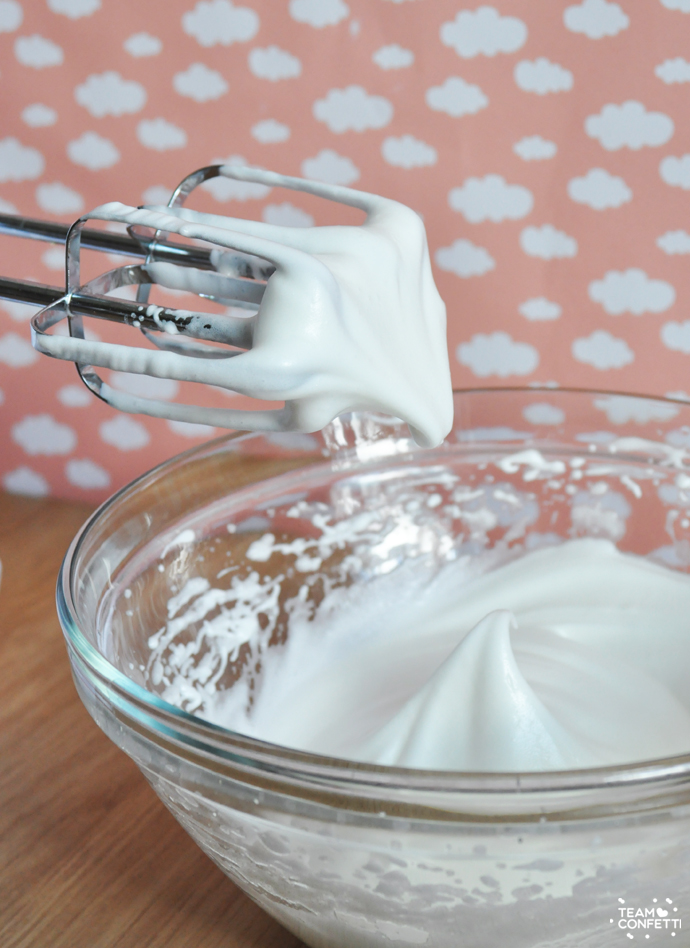 Glanzend en stevig. Als het goed is kun je nu de kom ondersteboven boven je hoofd houden zonder dat het eruit druipt. Toe dan! Probeer het dan! Goedzo ;)
Tijd om deze wolkjes op je ovenrekje/plaatje te scheppen. Je kunt er een grote hoop van maken, het in een spuitzak stoppen en er keurige toefjes van maken of gewoon met een eetlepel hoopjes op de plaat scheppen. Ik ging voor het laatste. Dat is makkelijker uitdelen… De meringue moet een uur tot anderhalf uur in de oven.
Spoon the meringue on to the baking sheet and put in the oven for an hour and a half.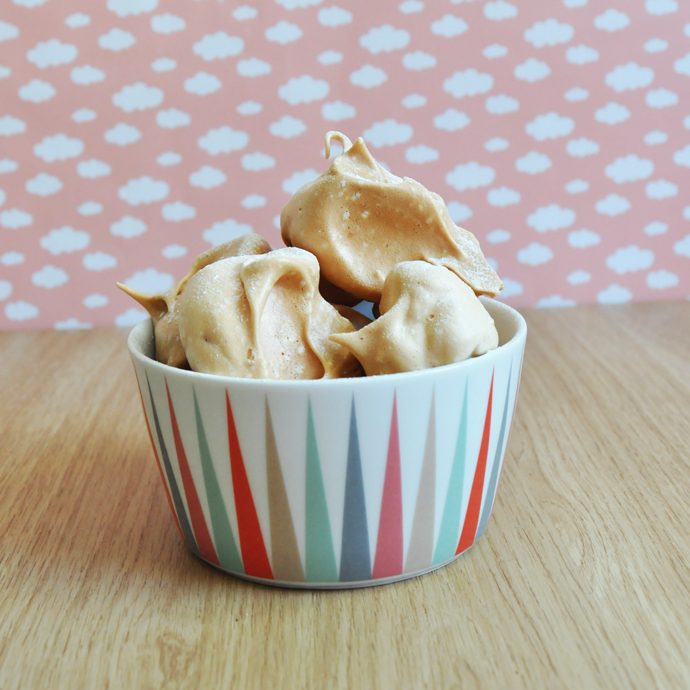 Als het goed is zijn je meringues nu lichtbruin en nog zacht van binnen. En als ik de smaak zou moeten omschrijven: aan de buitenkant smaakt het als suikerspin en binnen als een marshmallow. Ze zijn heerlijk en niet te vergelijken met die dingen die je in de supermarkt kan kopen… Echt een aanrader dus!