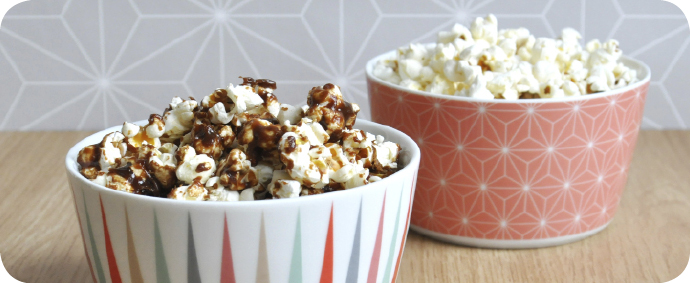 Today I'm going to show you how to make delicious and easy caramel popcorn!
Als ik een film ga kijken, thuis of in de bioscoop, maak ik altijd mijn eigen popcorn. Het is leuk om te maken, ontzettend goedkoop, je kunt zelf het zout (of de caramel) doseren, de korrels zijn heel lang houdbaar en het is vers en dus lekkerder!
Even een side-note over hoeveel geld je bespaart als je je eigen popcorn maakt ten opzichte van kopen bij de bios. Ik ben een ontzettende krent en word dus heel blij van dit soort rekensommetjes:
Een zakje popcornmais kost €0,89 (Jumbo). Hier kun je minstens vijf grote pannen popcorn uithalen. Een mega portie popcorn kost als je het thuis maakt dus zo'n €0,18. Diezelfde portie popcorn kost in de bioscoop rond de €5. Cra-zy! Genoeg gerekend, tijd om popcorn te gaan bakken!
JE HEBT NODIG
VOOR DE POPCORN
– Zakje popcornmais, ik koop de mijne bij Jumbo.
– Hapjespan met glazen deksel.
– Tafelzout.
– Scheutje (zonnebloem)olie.
VOOR DE CARAMEL
– 50 Gram boter.
– 75 Gram suiker. Ik gebruik donkere basterdsuiker, maar lichte basterdsuiker of gewone suiker doen het ook prima, wat je maar in huis hebt!
– Een halve theelepel zout.
– Een eetlepel honing.
INGREDIENTS
– Popcorn corn.
– Pan with glass lid.
– Sunfloweroil.
– 50 grams of butter.
– 75 grams of brown or caster sugar.
– Half a teaspoon of salt.
– A tablespoon of honey.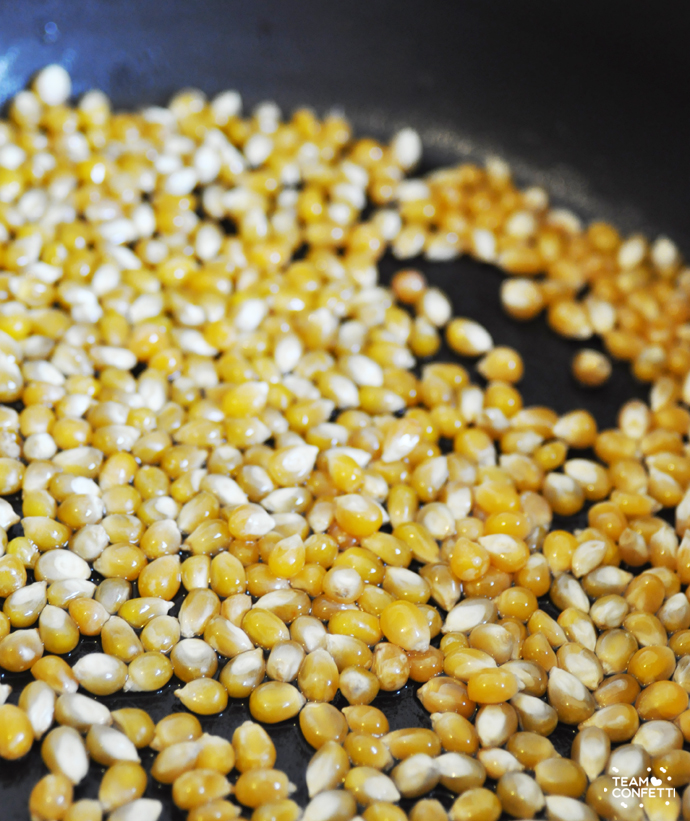 We beginnen met de basis, popcorn! Zet de pan op medium vuur. Doe een scheutje olie in de pan. Er moet een dun laagje in de hele pan liggen. Doe de maiskorrels erbij totdat de hele bodem van de pan precies bedekt is. Minder mag natuurlijk ook.
Pour a tablespoon of oil in the pan and cover the bottom of the pan with corn.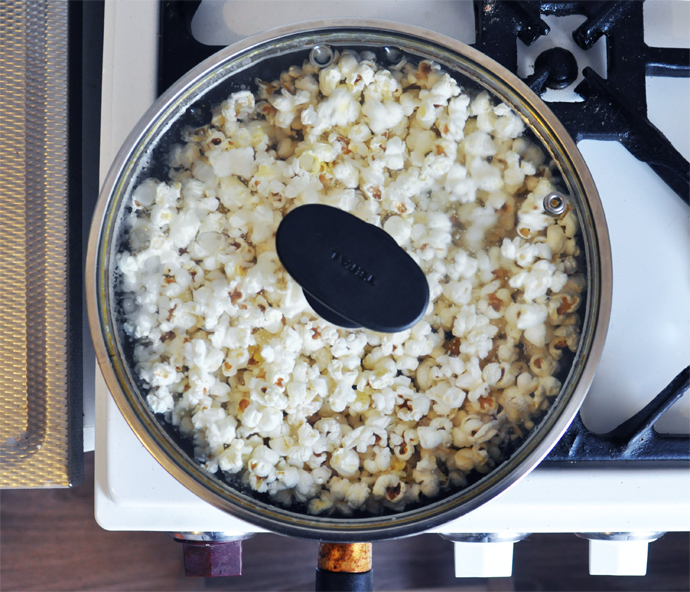 Deksel op de pan en even wachten totdat het ploppen begint. Zodra de popcorn begint te ploppen, schud je af en toe kort met de pan zodat alle korrels weer netjes middenin de pan liggen. Zorg ervoor dat je de pan dicht bij het vuur houdt als je schudt, anders verlies je teveel warmte. Na een tijdje zit je pan vol popcorn en wordt het ploppen minder. Wanner er een paar seconden tussen het ploppen in zit, draai je het vuur uit. Wacht even totdat het ploppen echt is gestopt en haal de deksel van de pan.
Put the lid on the pan and put on medium heat. Shake every once in a while when the corn starts tot pop. Once your pan is full and the popping sound is very little, turn the heat of.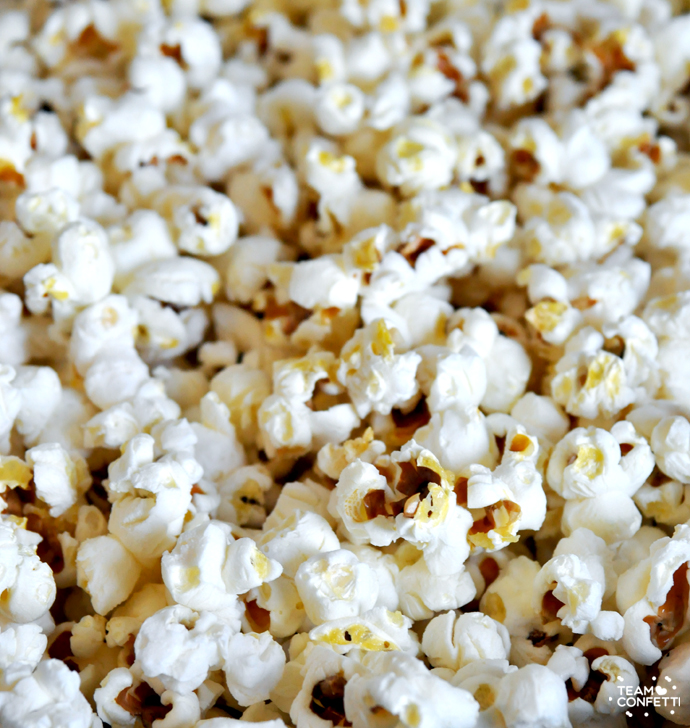 Als je zoute popcorn wil maken, ben je nu zo goed als klaar. Doe de popcorn in een grote schaal en strooi er wat tafelzout overheen. Even goed schudden, proeven en eventueel wat meer zout toevoegen.
Ik gebruikte de ene helft van de pan om zoute popcorn van te maken en de andere helft om caramel popcorn van te maken. Voor de zoete popcorn heb je dus een halve pan popcorn nodig. Wil je van de hele pan popcorn, caramel popcorn maken? Verdubbel dan alle ingrediënten van het caramel recept.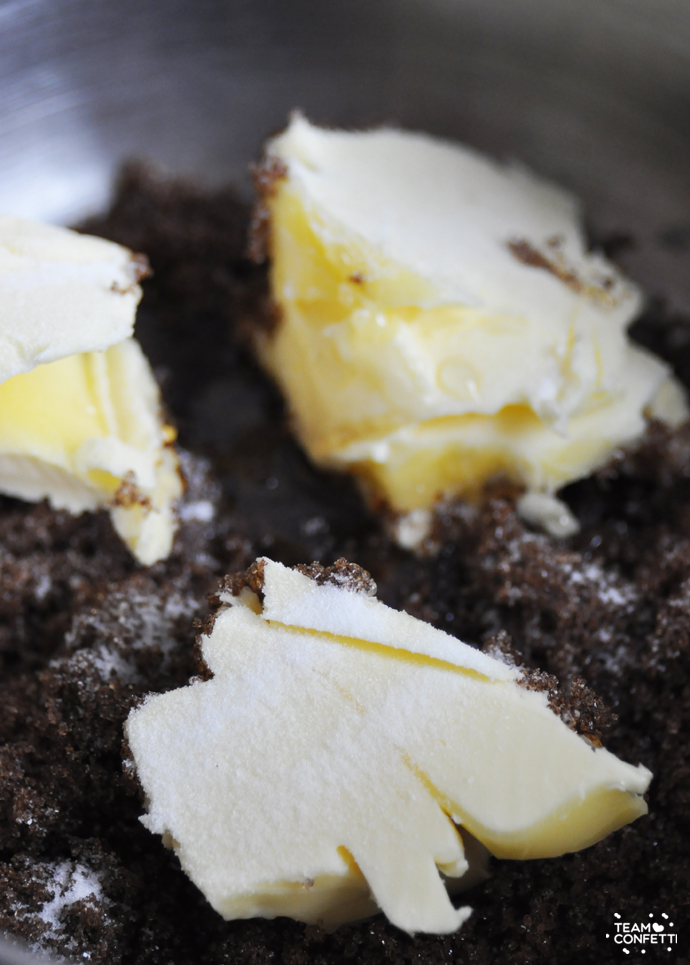 Doe de boter, suiker, honing en zout in een klein pannetje en zet op een laag vuurtje. Houd het goed in de gaten. Roer af en toe in het pannetje en laat het zo'n vijf minuten pruttelen.
Vet tijdens het pruttelen vet een kom of schaal in met een drupje olie en doe de halve pan popcorn erbij. Zo blijft de caramel niet plakken aan de schaal.
To make the caramel, put the sugar, salt, butter and honey in a small pan. Stir regularly and let it simmer for about five minutes.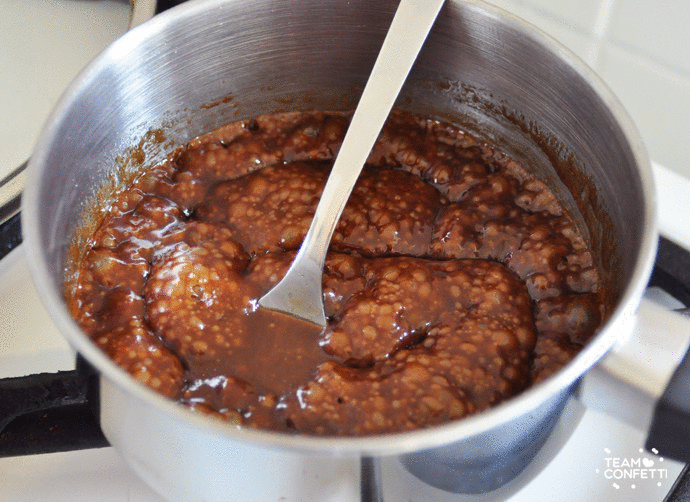 Als alle suikerkorrels zijn opgelost, is de caramel klaar. Dit kun je zien als je in de pan roert en een beetje over de bodem schraapt.
Once the sugar is dissolved, your caramel is ready.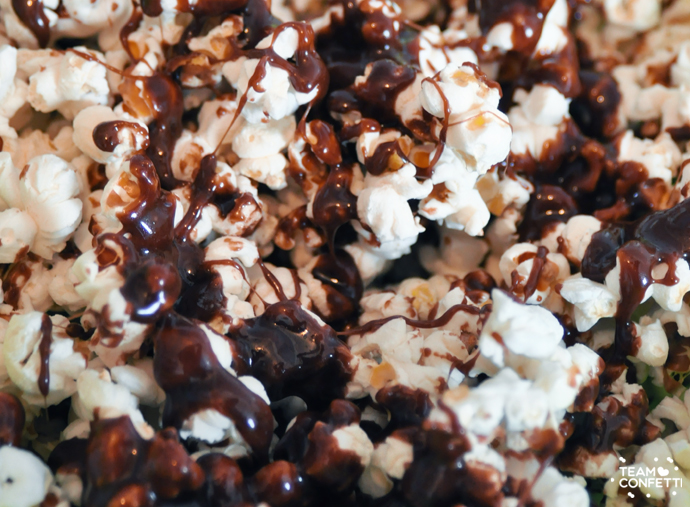 Giet de helft van de caramel over de popcorn en roer goed door elkaar. Herhaal met de tweede helft van de caramel, zo kun je het wat beter verdelen. De caramel plakt als een bezetene en er vormen zich snel grote hompen popcorn. Probeer met een lepel de grote klompen in kleine stukjes te hakken als het nog een beetje warm is. Het is een beetje klooien, maar niet heel moeilijk. Laat tien minuutjes afkoelen.
Pour the caramel over the popcorn and start mixing it in so all the pocorn is somewhat covered in caramel. Stir and chop so the popcorn doesn't cling together. Cool for ten minutes.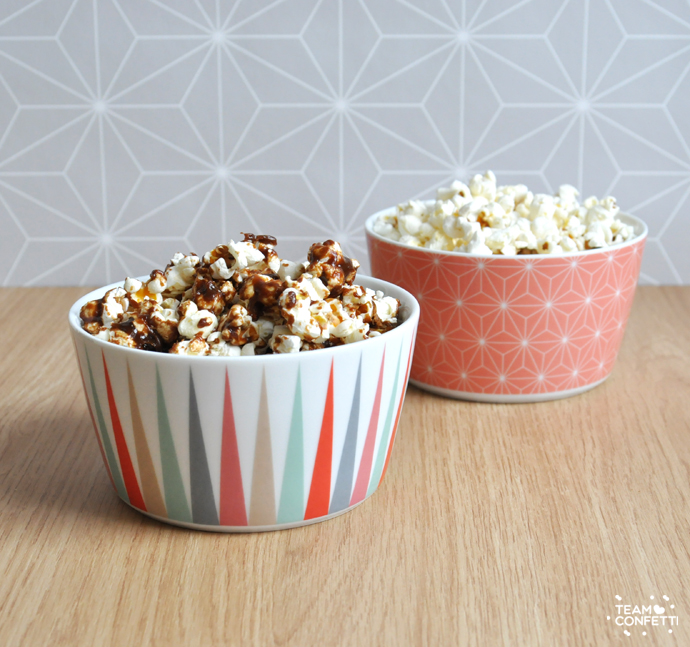 And that's it! Je popcorn is klaar! De zoute popcorn is ouderwets lekker, maar de caramel popcorn is echt to die for. Lekker boterig en zoet. Ze doen me denken aan toffee's!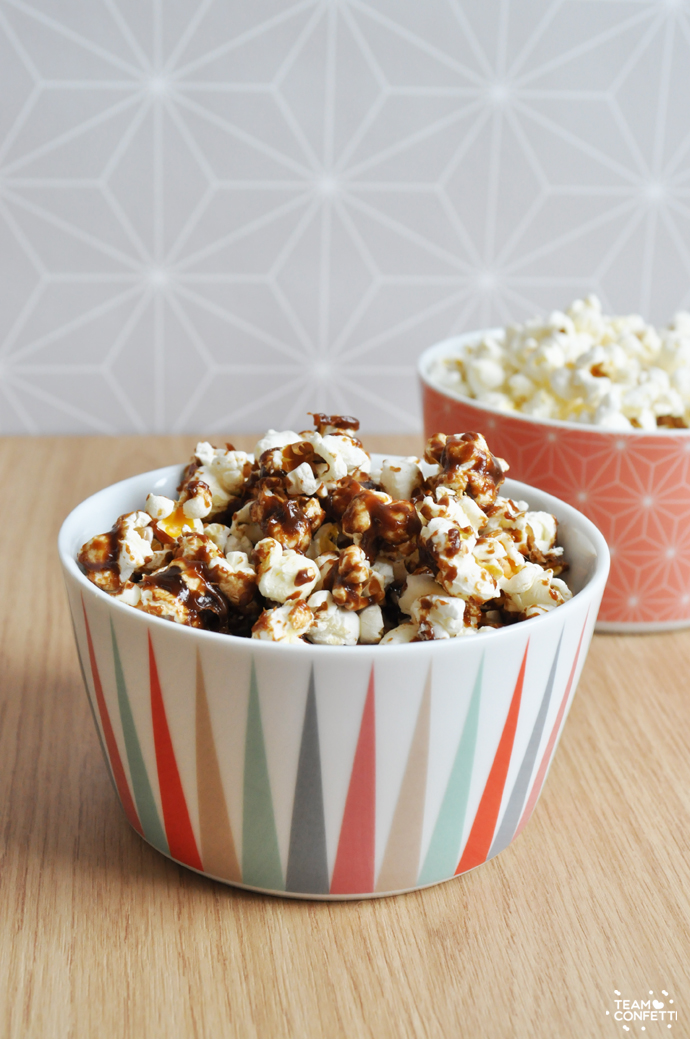 Ik nam de verse popcorn mee naar vrienden voor een filmavondje en er werd de volgende ochtend om een recept gevraagd, hij heeft dus ook in de praktijk een goede beurt gemaakt.
***
Veel pop-plezier en klik hier voor nog meer lekkere recepten!