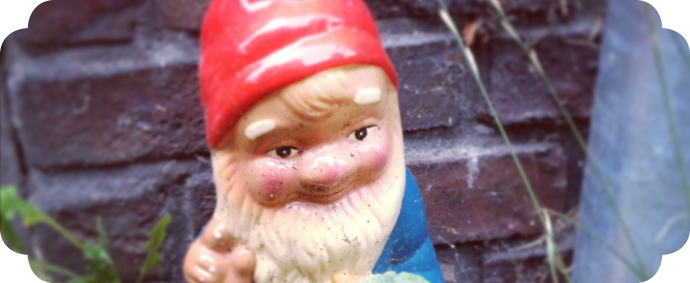 De eerste twee weken van september waren nog lekker zomers. Ik ben naar een festival gegaan en heb vooral lekker veel food foto's gemaakt.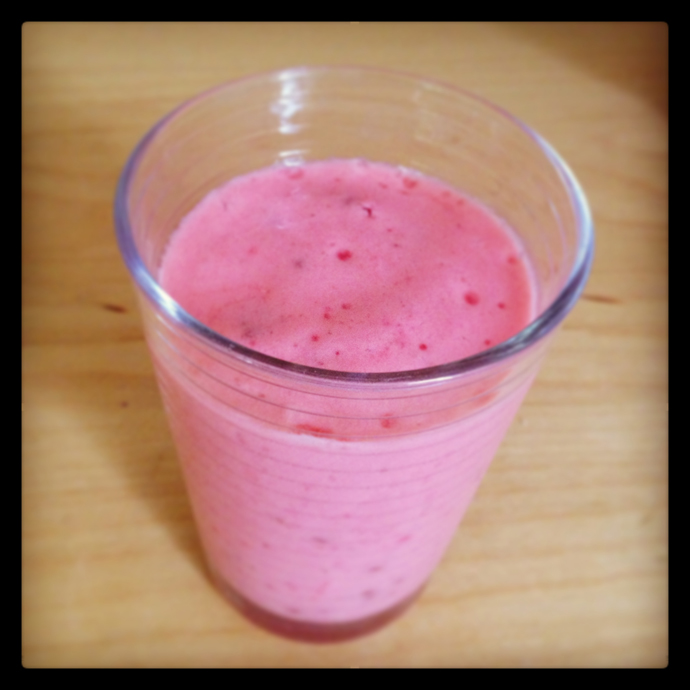 Smoothies maken! We hebben het een tijdje bijna elke ochtend gedaan. De avond ervoor fruit snijden en in de vriezer stoppen, volgende ochtend blenden! In deze smoothie zit yoghurt, rode besjes en honing.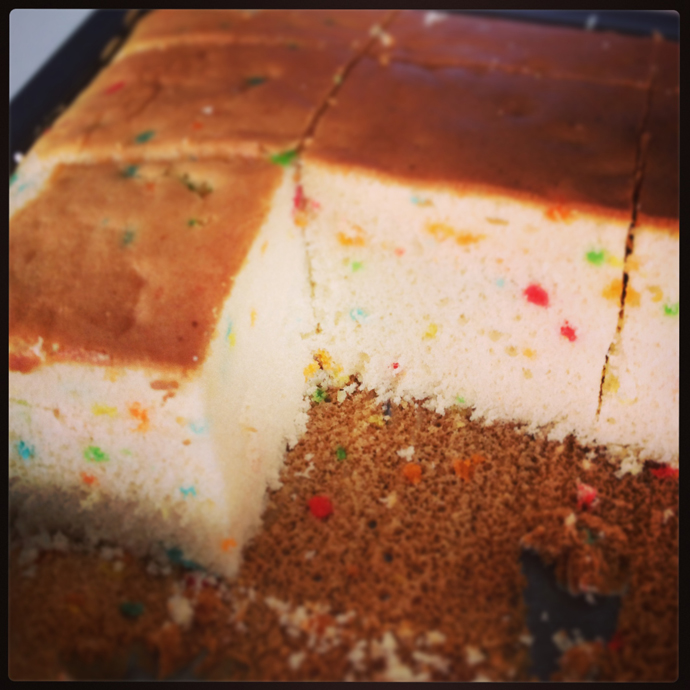 Het was mijn laatste werkdag bij mijn vaste baan. Helaas pindakaas, er was niet genoeg werk meer om alle ontwerpers aan te houden. Ik was de laatste die er bij kwam en daarom de eerste die moest vertrekken. Jammer, maar ook tijd voor iets nieuws!
Ik bakte een confetti-cake voor mijn collega's.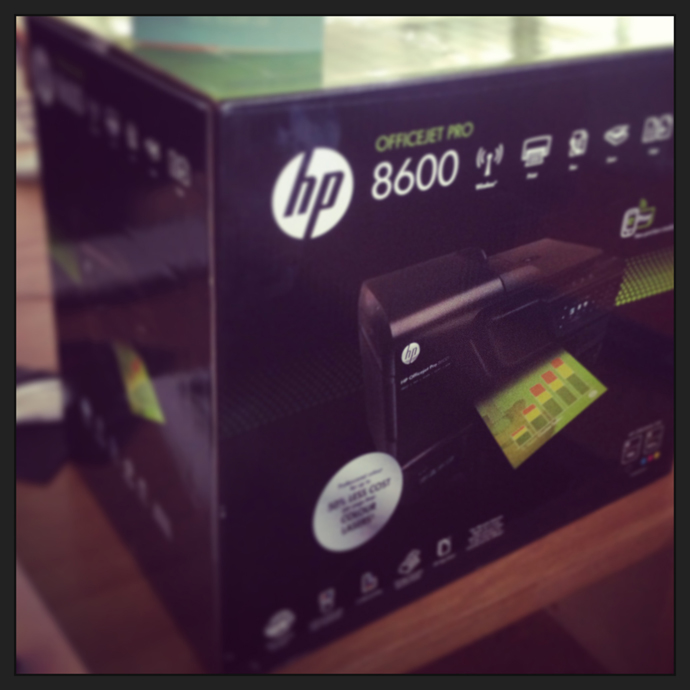 Mijn lieve collega's hadden een afscheidscadeau voor me geregeld. Een superdeluxe profi printer! Ik ben er zo blij mee! Dat wil ik al zo lang. Achteraf bleek Tom ook in het complot te zitten… Sneaky!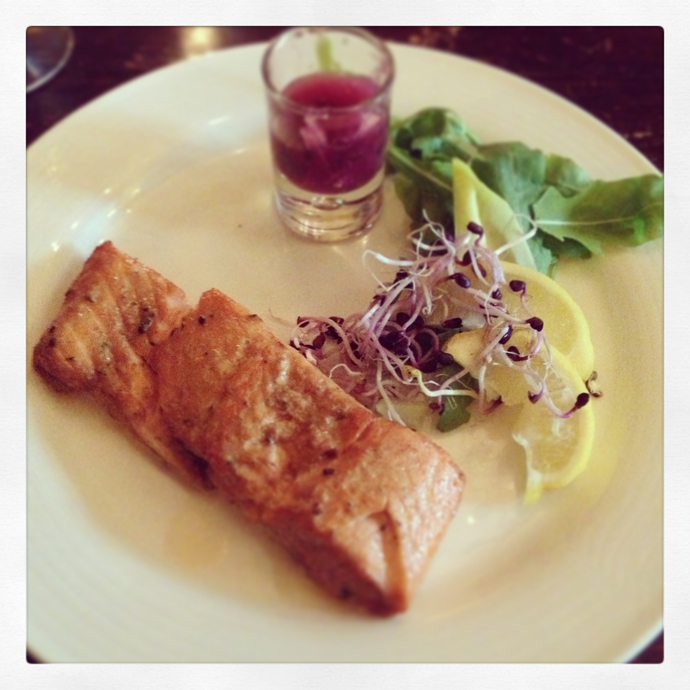 Na mijn laatste werkdag ging ik samen met nog wat collega's wat eten bij De Groene Weyde, een van mijn favoriete restaurants in Groningen. Niet duur en ontzettend lekker! Ik had de zalm met rode uien marmelade, jum!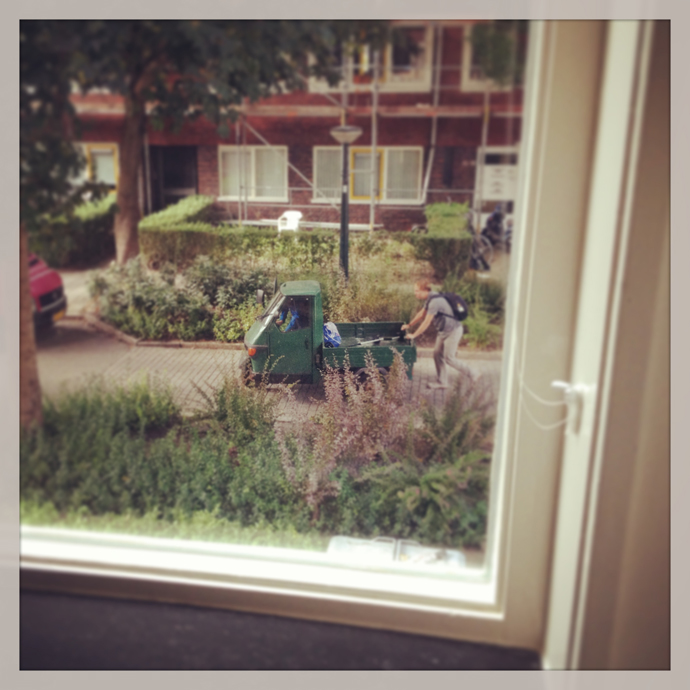 Mijn overbuurjongen heeft zo'n teeny tiny autootje op drie wielen. Hij moet het eerste stukje altijd aangeduwd worden, ander start hij niet. Ik vind het altijd zo'n leuk gezicht.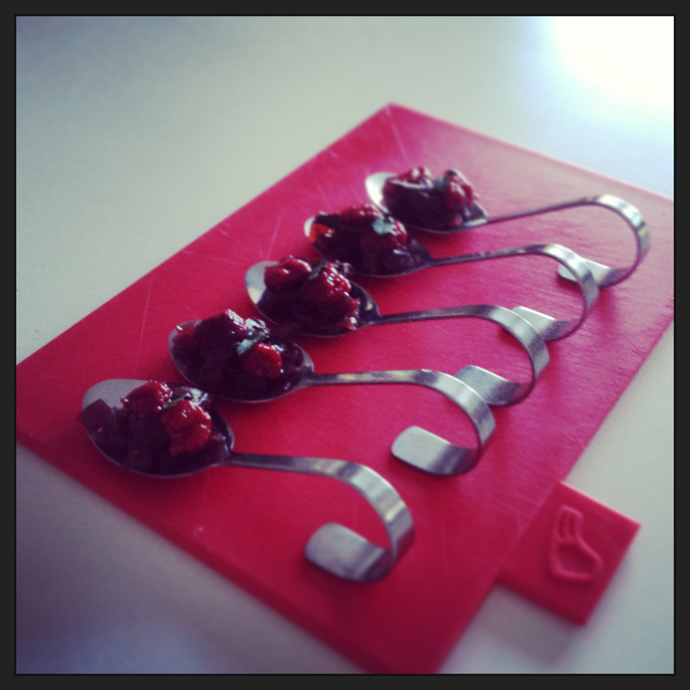 Mijn beste vriend Hessel was jarig. Hij nodigde ons uit om lekker bij hem te komen eten. Het bleek een viergangen diner te zijn dat hij helemaal zelf had gemaakt!
Dit was de amuse van framboos, jelly en chocolade.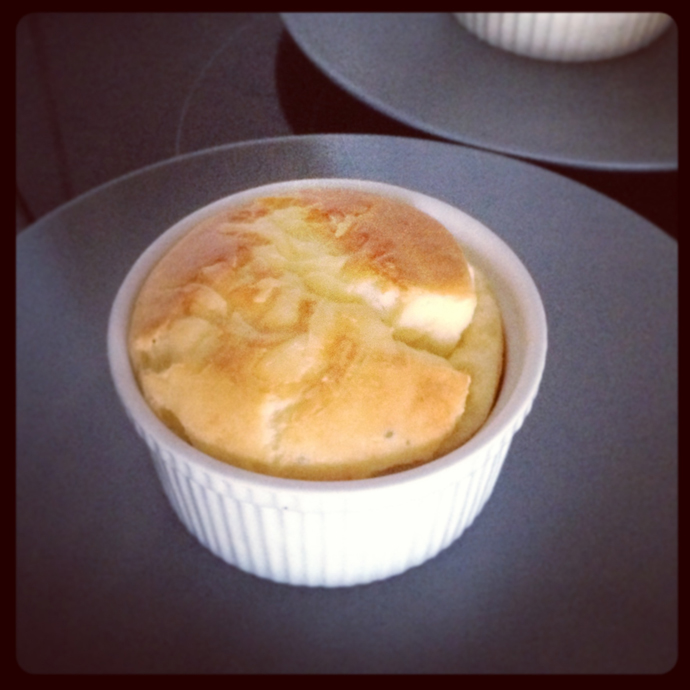 Vervolgens kregen we een heuse kaas soufflé. Hij heeft een open keuken, dus terwijl wij aan tafel zaten, stond hij een meter verder te koken, heel gezellig!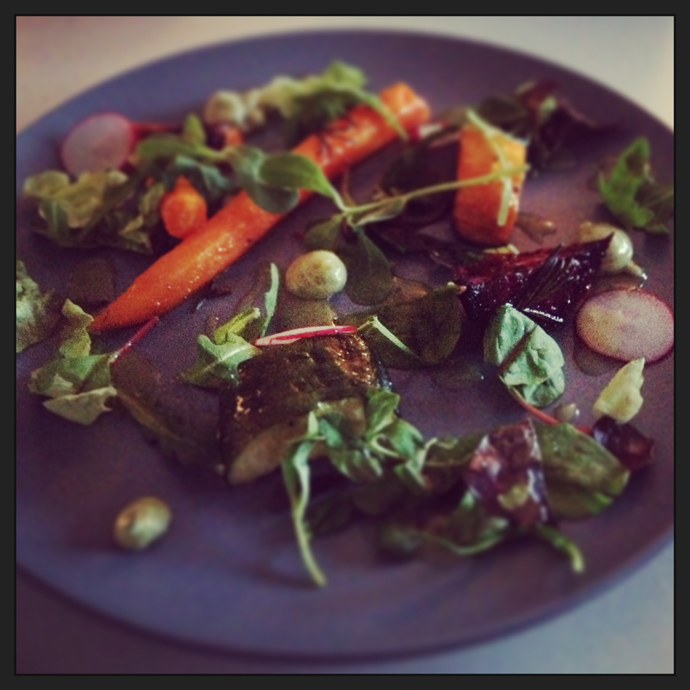 Omdat er ook een vegetarier mee at, was het hele diner zonder vlees. En ik heb er eerlijk gezegd niets van gemerkt. Deze geroosterde groentes met verschillende sausje en drie keer bereide frieten (niet op de foto) waren heerlijk!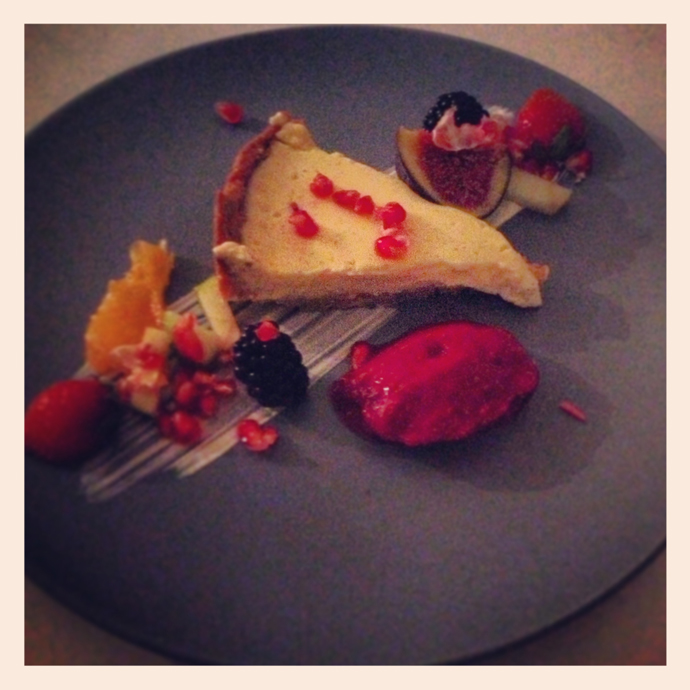 Het toetje was ook fantastisch. Het was net alsof we in een heel chic restaurant hadden gegeten. Ik vind het zo knap dat hij dit kan.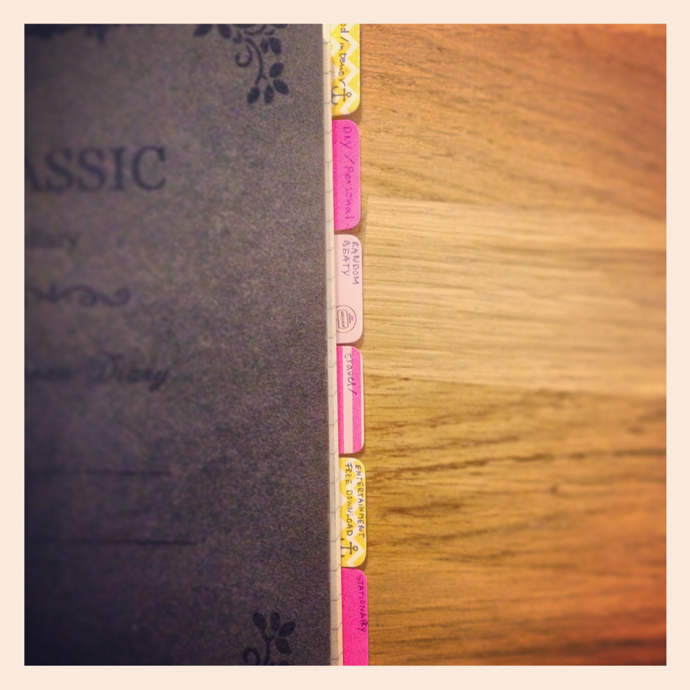 Mijn geliefde blog-notitieboekje met tabjes van Hema. Ik ben het op dit moment kwijt en ik voel me een beetje verloren zonder. Ik hoop dat hij snel weer opduikt!
Breakfast!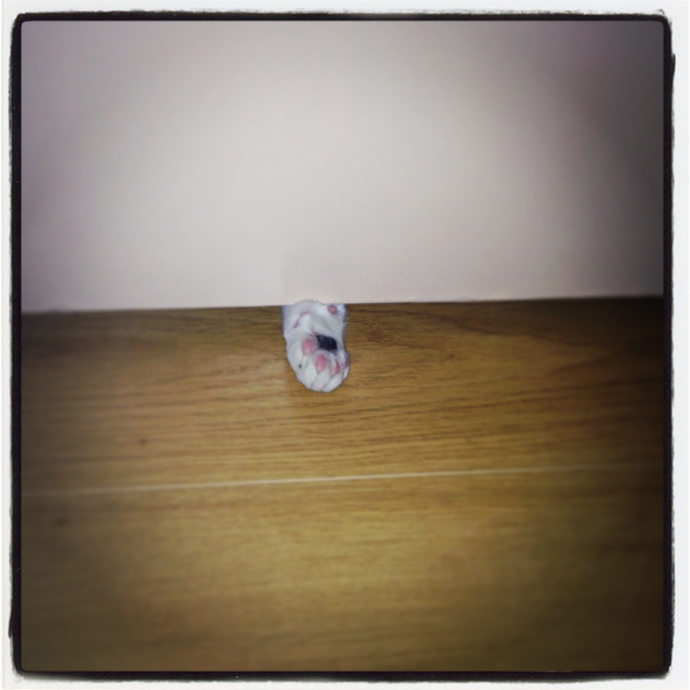 Als de poesjes veranderen in 'the kittens of mass destruction' zoals wij ze dan liefkozend noemen, moeten ze op de gang. Mo heeft zijn manieren om ons schuldgevoel aan te spreken en legt zijn pootje net zo lang onder de deur totdat we open doen. Works every time…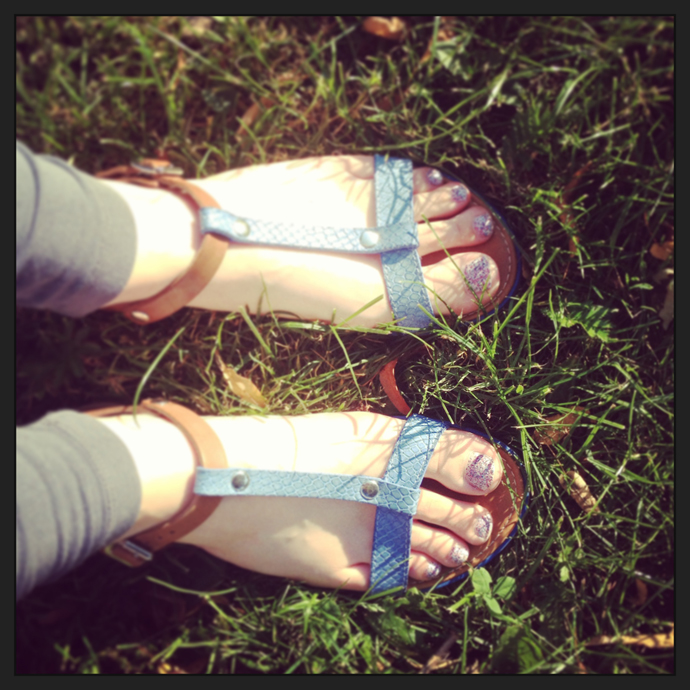 Met mama winkelen. Ik kreeg deze sandaaltjes van haar. Jammer dat ik ze nu niet meer aan kan, maar des te blijer ben ik volgend jaar als ik de zomerschoenen weer van stal mag halen.
Food art door Tom. We spelen nog graag met ons eten…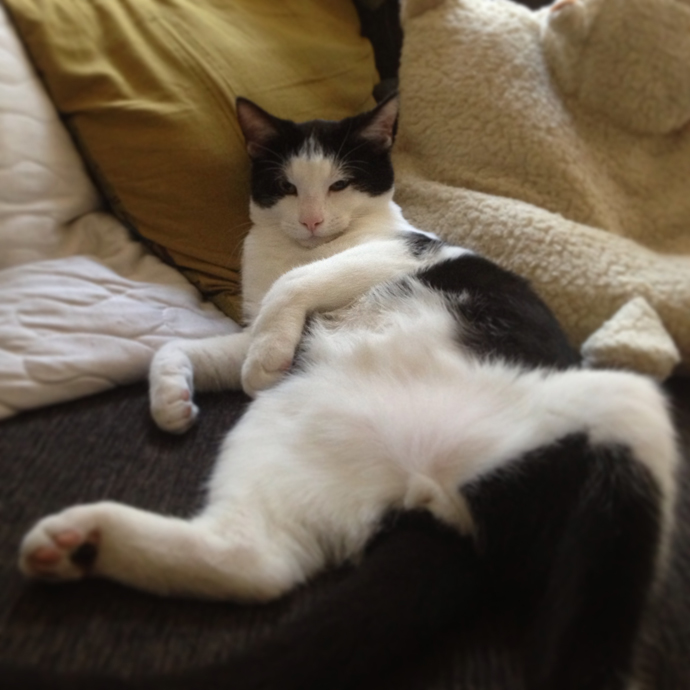 Papzak Mo.
Into the great wide open festival. Het was geweldig.
Ik schreef er al een artikel over.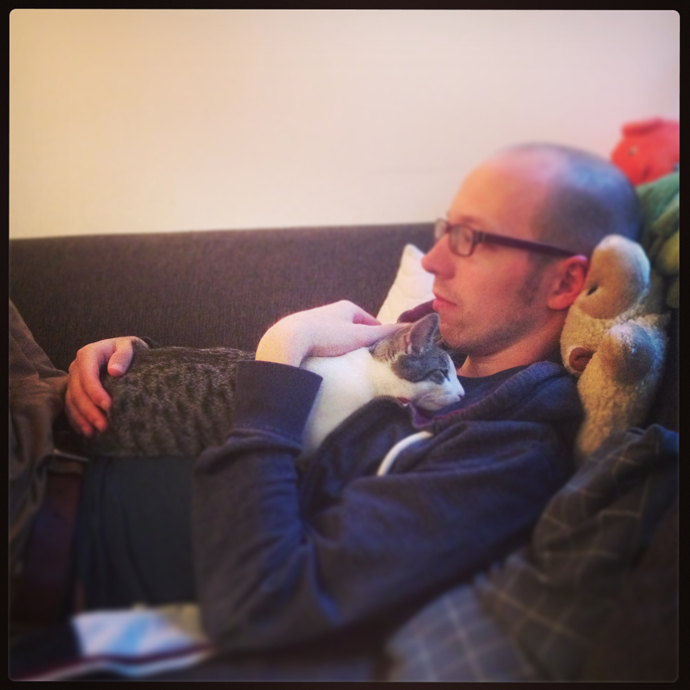 Sinds we de poesjes hebben zijn we nog nooit zolang van huis geweest. Tetkees was zo blij dat we weer thuis waren!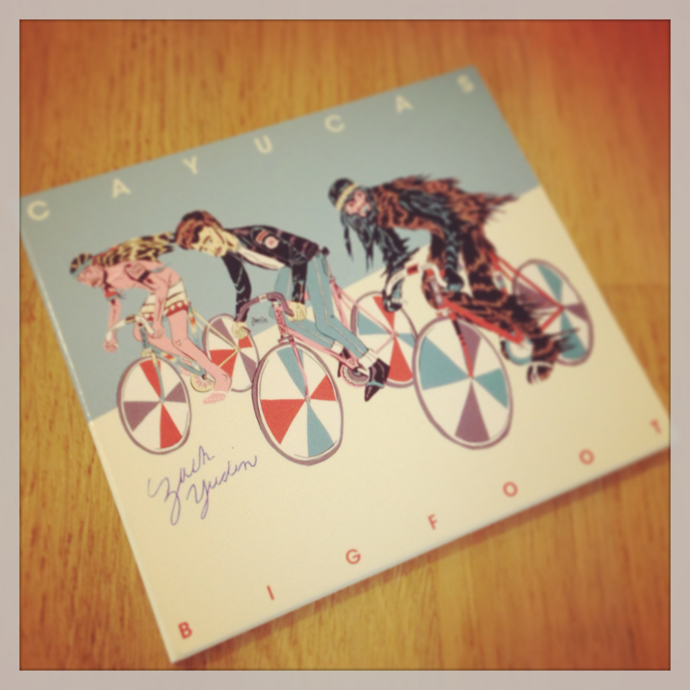 De CD van Cayucas die werd gesigneerd op de boot terug van het festival. Ik heb hem al een keer of honderd geluisterd (ook omdat ik te lui ben om een andere CD op te zetten).
Spinaziequiche met salade.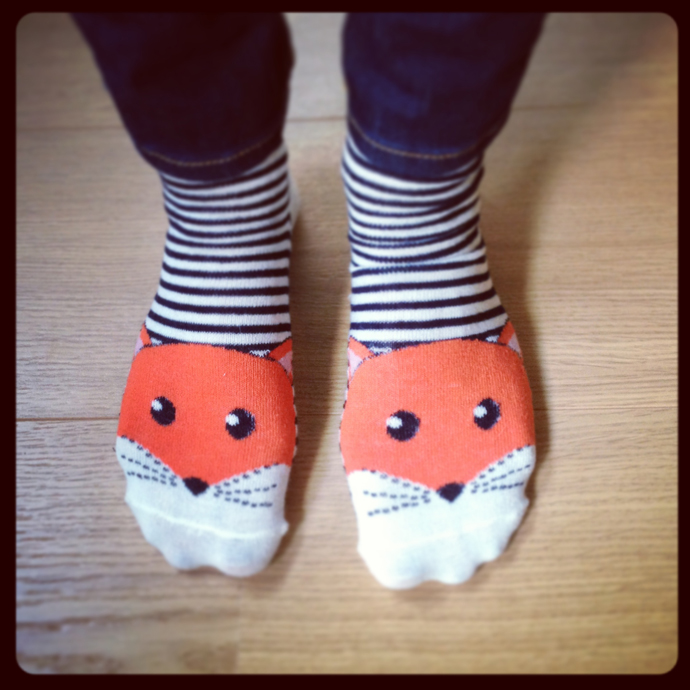 Ik winkelde online bij Forever 21 en schreef er een artikel over.
Deze sokjes waren erg geliefd door veel bloglezers :)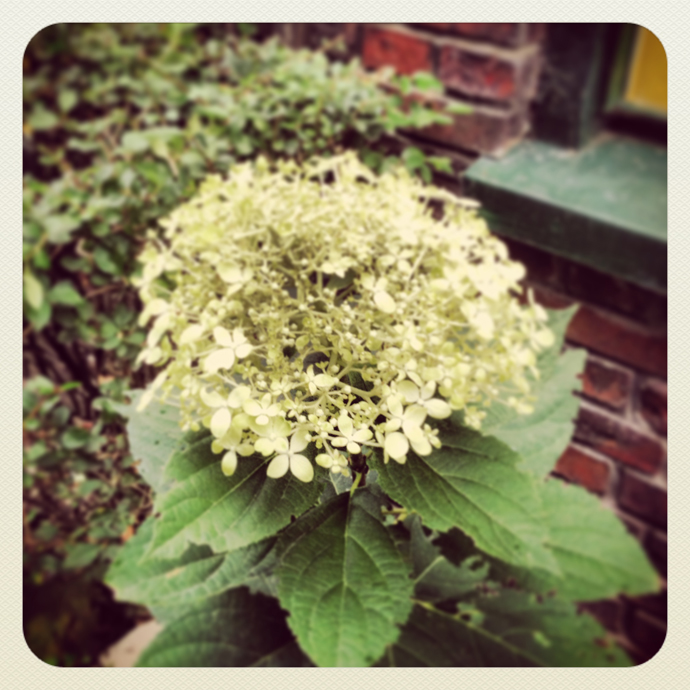 Iedereen bij ons in de straat heeft struiken vol mooie hortensia's. In ons tuintje stond maar een stengel met wat blaadjes eraan. Tom was er van overtuigd dat het gewoon onkruid was. Maar nee! Er is toch nog een mooie bloem aan onze stengel gekomen :)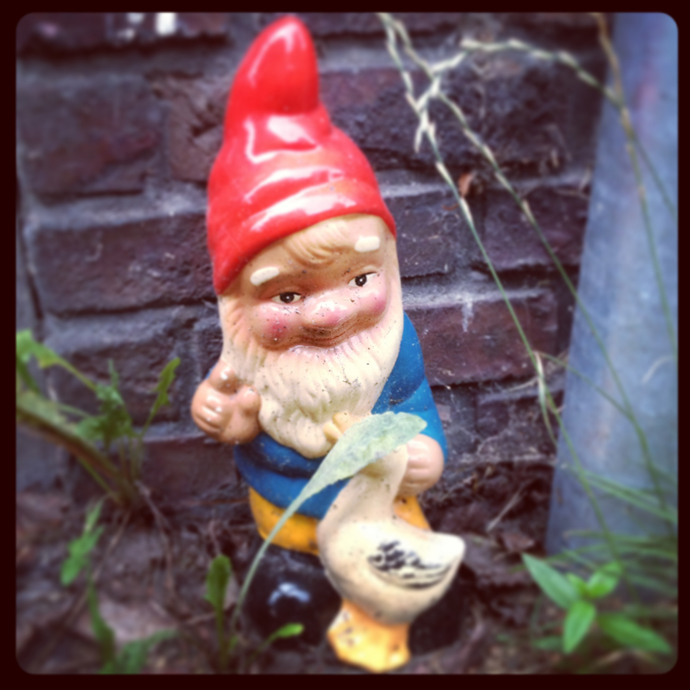 Ook hebben we een pracht van een tuinkabouter (ja toch?). Gekregen van vrienden toen we verhuisden. Ik zette hem in de tuin, maar was bang dat hij de volgende dag al gestolen zou zijn. Maar hij staat er nog steeds, jeej!
Tom had bij Hugo Boss een erg mooi pak gezien. Hij gaat DJ-en op een bruiloft van een vriend waarbij alle mannen in pak moeten. Fancy! Ik vroeg hem of dat die winkel was met die big-ass kroonluchter aan het plafond. 'Neuh'. Kon hij zich er niks van herinneren. Toen ik mee ging om het pak goed te keuren (wilde hij graag, de schat) wees ik hem op het gigantische glinsterende ding boven zijn hoofd. 'Oja, goh…'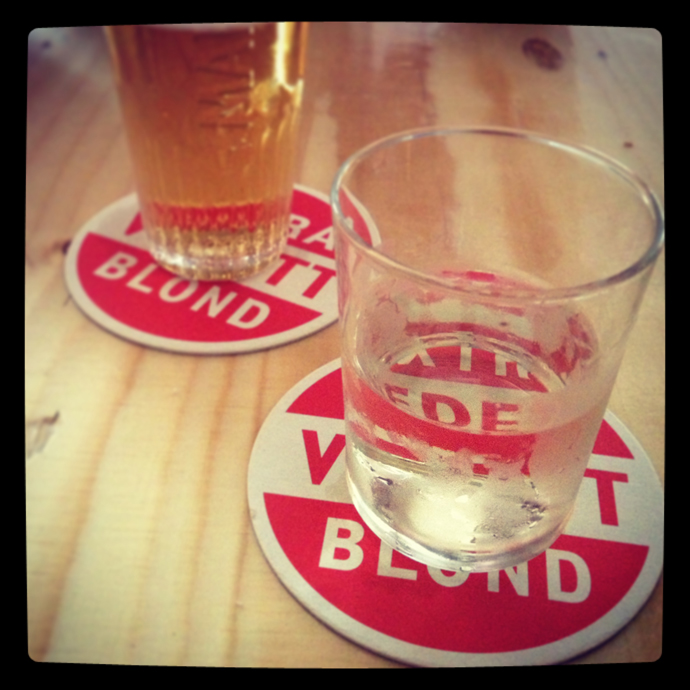 Na Hugo Boss gingen we nog even wat eten bij ons nieuwe favoriete plekje Het Concerthuis. De witte wijn is erg lekker! (ik heb geen verstand van wijn, ik weet alleen van 'lekker' 'vies' en 'ok')
Lekkere hapjes gedeeld. Echt zo'n perfect concept voor ons. We zijn ontzettend kleine eters, maar willen wel veel proberen. De zalmnuggets op foto 1 waren niet zo'n succes, teveel sesam en sausje was saai. De rosbief op foto 2 en de tempura op foto 3 waren wel erg lekker.
Als toetje een latte en een stukje huisgemaakte taart. Tom de limoen cheese-cake en ik de carrotcake.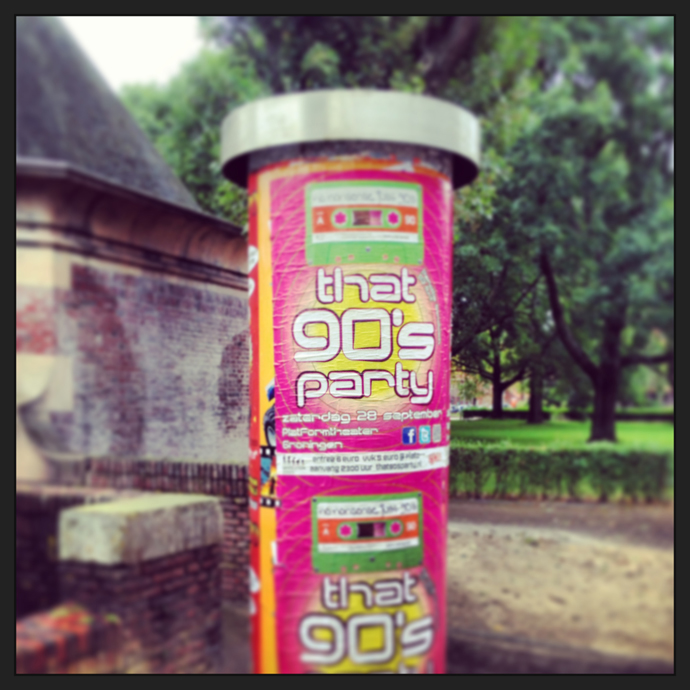 Ik ben hier al een keer of drie heen geweest. Super leuk! Zoveel jeugdsentiment!
Dat waren mijn avonturen, klein en groot, van de afgelopen twee weken.
Over twee weken weer een nieuwe photo diary!