Every week I show you guys what me and my cats have been up to.
Deze week genoot ik van het zonnetje, hing Mo de held uit, ging ik even (window)shoppen en scoorde ik weer een ontbijtje van €1.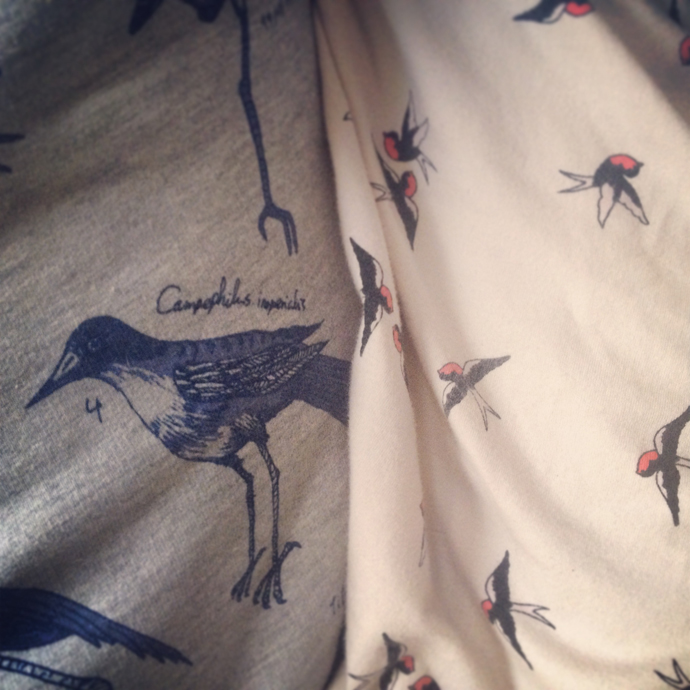 Bird outfit match!
Tom en ik hadden allebei vogeltjeskleren aan, hij een trui en ik een jurkje, match!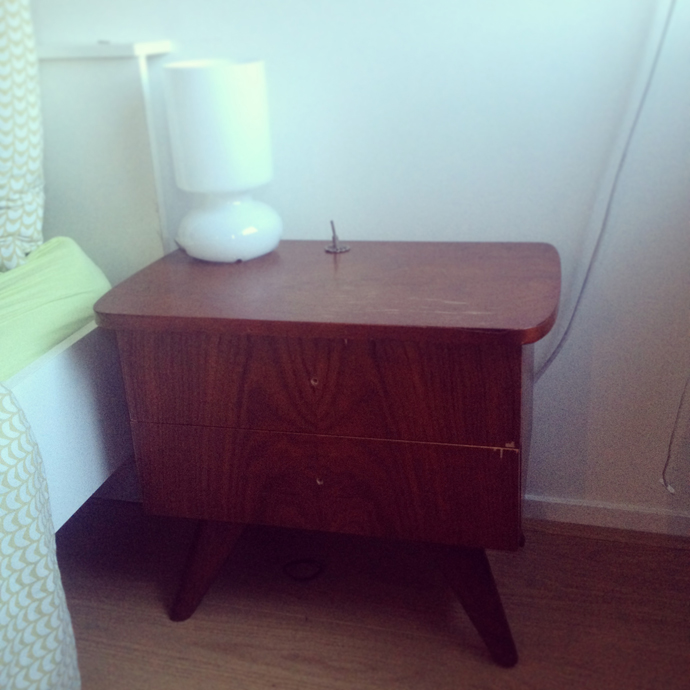 Secondhand night stands ready for a makeover.
We kochten op marktplaats twee leuke nachtkastjes voor €5. Er moet nog wel een likje verf overheen en ik zoek nog drie leuke knopjes (het andere kastje heeft een klepje ipv twee lades).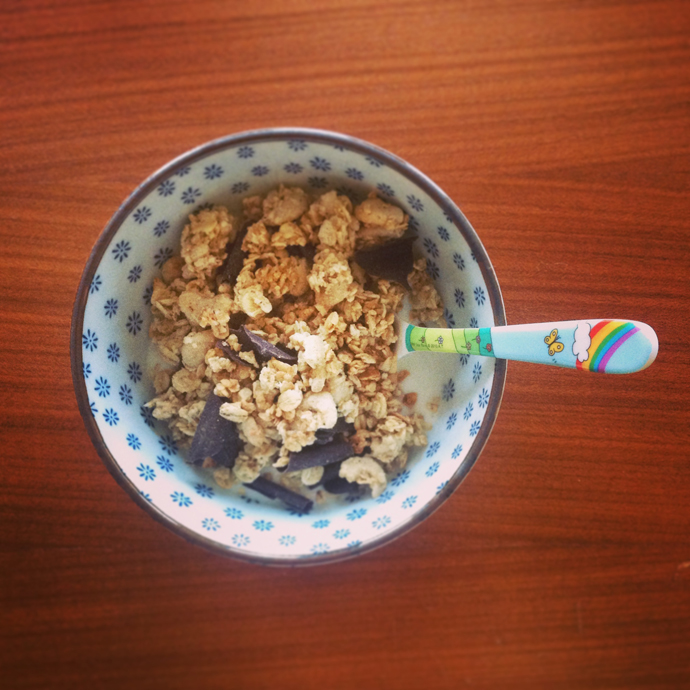 Cruesli with dark chocolate.
Ik heb een nieuwe ontbijtliefde: cruesli met stukjes donkere chocolade…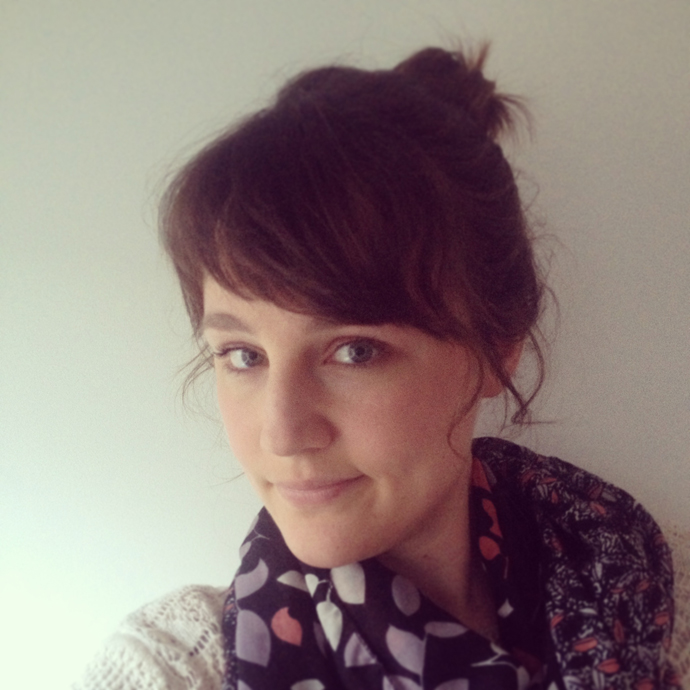 Happy with my bangs.
Nog steeds blij met mijn zelfgeknipte pony :)
Cute stuff in the shops.
Ik ging de stad in en zag heeeeeeel veel leuke dingen. Ik hield me in, alleen dit leuke jekkie van Zara ging mee naar huis. Ik merk trouwens dat het heel goed werkt om van leuke dingen die je wel zou willen kopen, maar eigenlijk niet nodig hebt, een fotootje te maken. Zo neem je het toch mee naar huis zonder dat je het koopt en het eenmaal thuis overbodig blijkt te zijn. Blijft het na twee weken nog in je hoofd zitten, kun je het dan alsnog gaan halen. Ik merk dat een fotootje van een hebbedingetje al genoeg is om te hebben en dat ik geen behoefte meer heb aan het fysieke ding (of klinkt dat echt heel raar?).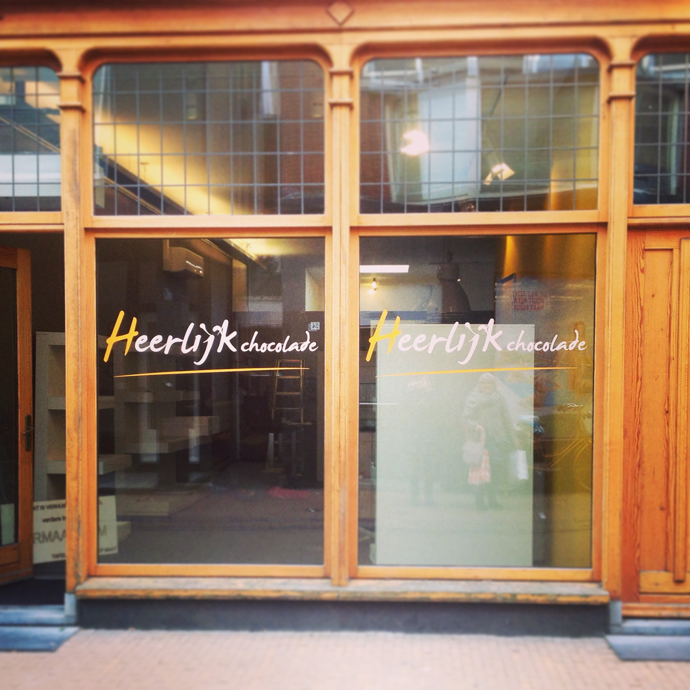 There is a chocolate store coming in Groningen…
In Groningen zag ik ook deze winkel die binnenkort open gaat. Heeeeeeeel interessant, als het zover is maken we misschien wel een hotspotartikel, iemand voor?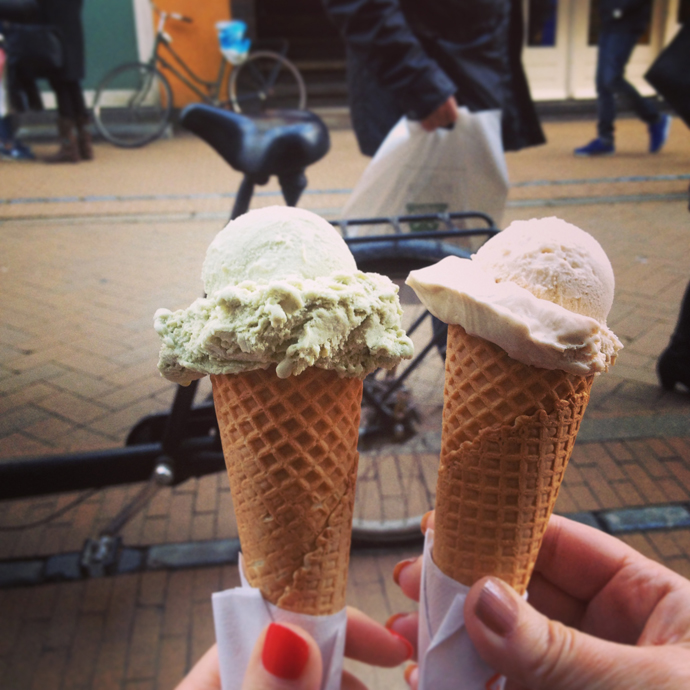 Eating ice cream with mom!
IJsje eten met mijn mama!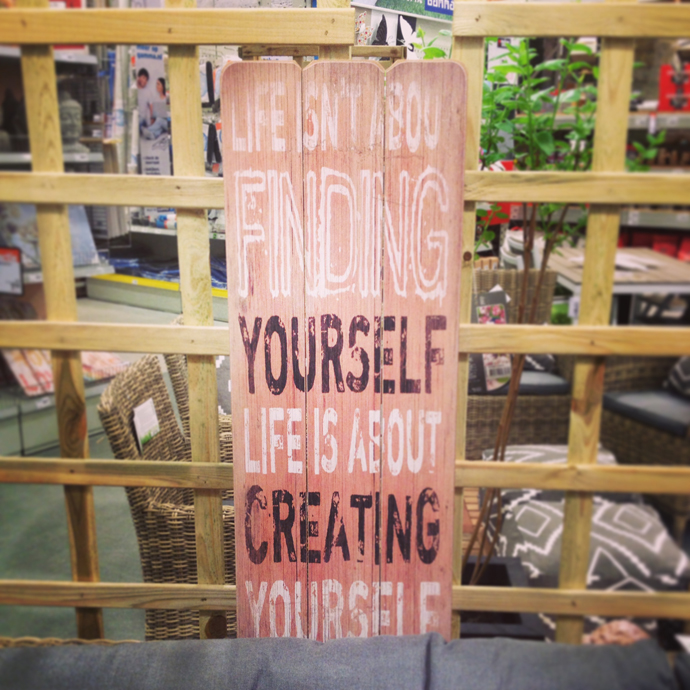 Actually I don't really like inspirational quotes…
Donderdagavond moesten we iets terugbrengen naar de Gamma en zag ik een 'inspirerende quote' voor aan een schutting hangen. Ik ben die Pinterestige, hipsterige Engelse quotes een beetje zat. Ik zie overal DIY inspiratie quotes voor aan de muur, in een lijstje of op een poster. Ik vind het over het algemeen ontzettend onpersoonlijke en lege woorden snap niet zo goed dat het zo'n rage is geworden. Ik vind een quote alleen mooi als hij een persoonlijke waarde heeft of typografisch er prachtig uit ziet, maar van die random schuttingborden krijg ik een beetje kriebels… Ben ik hier alleen in (en moet ik mijn zure mond houden) of herkent iemand zich hier ook in?
Food and cacti at Tuinland.
Van de Gamma gingen we door naar de Tuinland, want Mo was zijn bandje buiten kwijt geraakt en moest een nieuwe. Het was inmiddels al aardig laat, we hadden honger en besloten een kijkje te nemen in het uitgestorven restaurantje van de Tuinland. Ze hadden basic Hema happen (gehaktbal op brood, uitsmijters en sateh) waar ik als ik honger heb heel tevreden mee kan zijn. De gehaktballen waren op en daarom gingen we voor een bordje sateh en een uitsmijter. En het was goed te pruimen! Lekker veel, vers en goed bereid, dikke prima!
O, en we zagen een bananencactus, superleuk! Ik begin een liefde voor grappige cactussen te ontwikkelen, misschien moet ik met eentje beginnen en kijken hoe dat gaat. We hebben nul planten omdat we vergeten ervoor te zorgen en ze dan altijd doodgaan. Misschien is het tijd voor een oefencactus…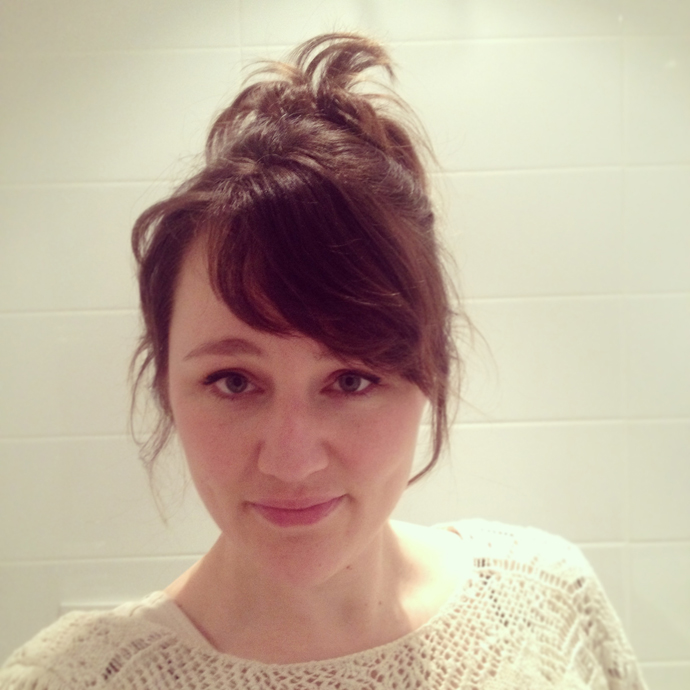 Pineapple hair.
Ik vond dat mijn haar na een lange dag de vorm van een ananas had aangenomen, maar dat komt volgens mij niet helemaal over…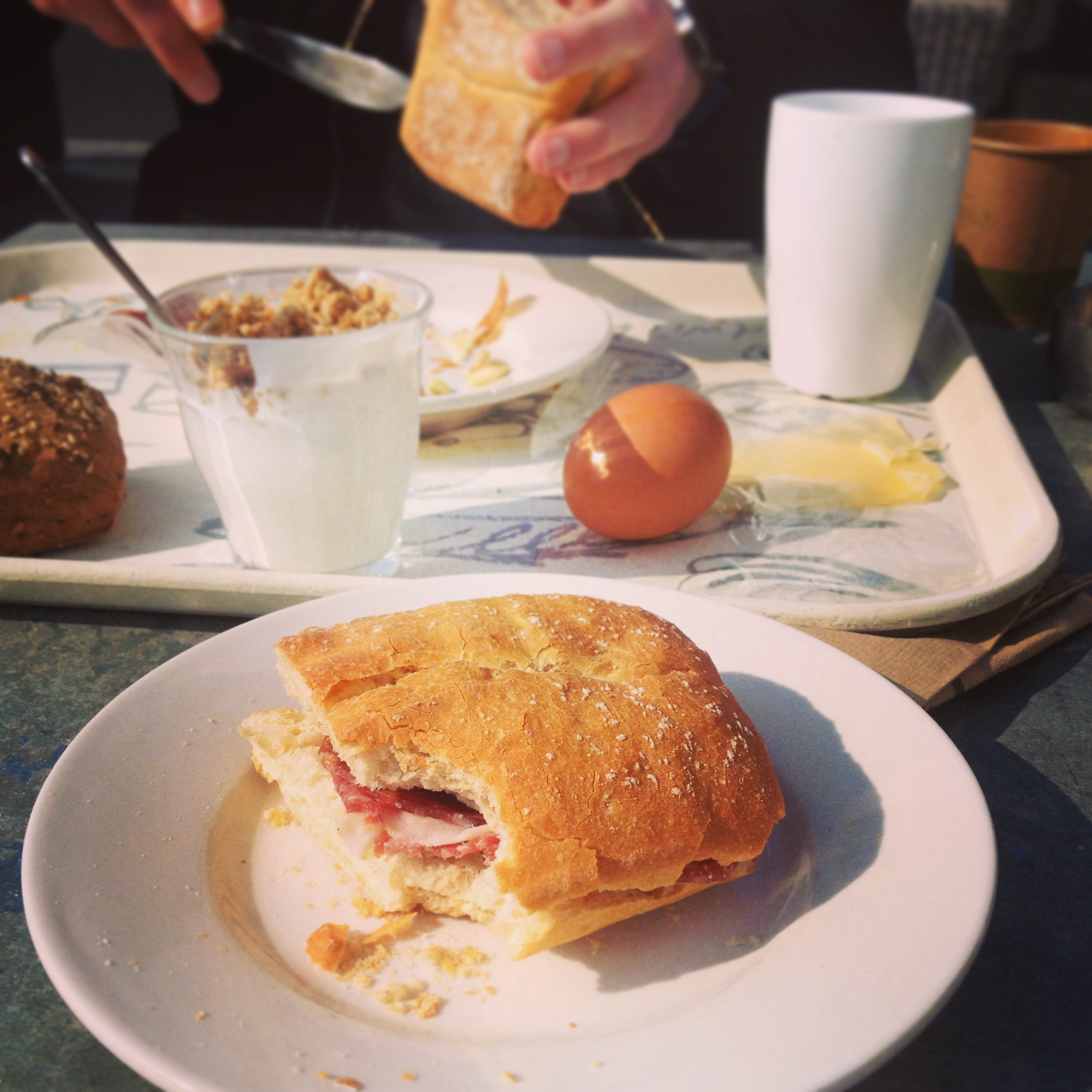 Breakfast for only €1 at V&D Prijzencircus.
Vriendinnetje Ellen vroeg ons mee te gaan naar het ontbijt voor €1 bij V&D prijzencircus te gaan. MAAR NATUURLIJK! We moesten een tijdje in de rij staan en toen we uiteindelijk bij het buffet kwamen waar we vijf dingen mochten uitkiezen (keuze uit broodjes, vlees, kaas, jam etc.) werden we door de rij gedwongen om door te lopen en was het dus vrij hectisch graaien en op ons dienblaadje gooien. Iets langer kijken wat we konden kiezen was wel fijn geweest, maar we hebben heerlijk zitten smullen op het buitenterras in het zonnetje. Jup, groot fan van het €1 ontbijt :D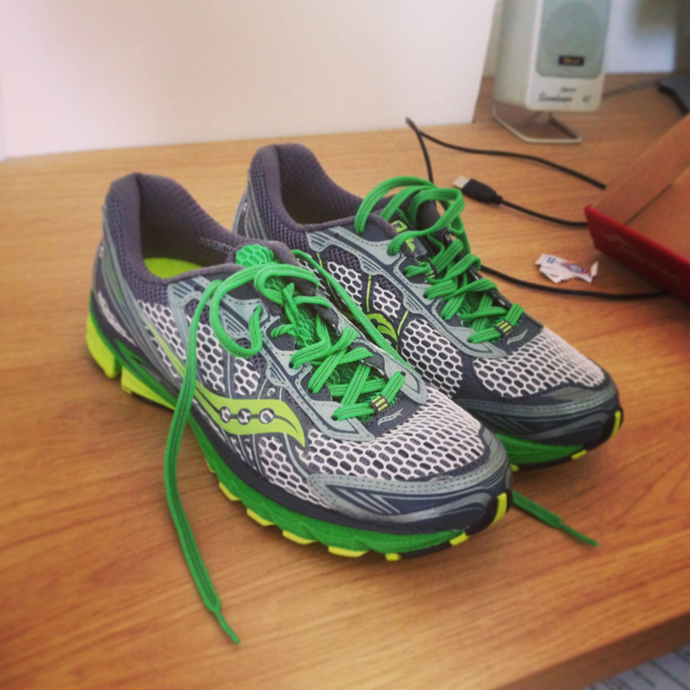 New running shoes.
Tom en ik gingen EINDELIJK goede hardloopschoenen kopen. We deden het helemaal volgens het boekje. Naar zo'n winkel, een filmpje laten maken en op verschillende schoenen de winkel doorhobbelen. Uiteindelijk werd mij bovenstaand paar schoenen geadviseerd. Uiteraard vroeg ik welke kleuren ze nog meer hadden, gifgroen is nou niet bepaald mijn lievelingskleur. 'Ze zijn alleen verkrijgbaar in deze kleur, maar de kleur maakt toch helemaal niet uit, het gaat er toch om dat ze goed voor je voeten zijn? Zal ik ze maar naar de kassa brengen dan?'. 'Eh, ok.' Eenmaal op de fiets met de schoenen in mijn tas baalde ik een beetje dat ik niet brutaler was geweest. Natuurlijk is het het belangrijk dat de schoenen goed zitten, maar het oog wil toch ook wat? Thuis keken we op internet bij een webwinkel, en ja hoor, de schoenen waren er ook in roze (!!!) met grijs en bovendien een stuk goed goedkoper dan dat we in de winkel hadden betaald. Ik belde de winkel op of ik de schoenen terug mocht brengen en of ik dan mijn geld terug kreeg. Maar nee, ik zou alleen een tegoed krijgen, geen geld. Dus zit er niks anders op dan een liefde voor gifgroen te gaan ontwikkelen en de volgende keer me niet te laten intimideren door het winkelpersoneel…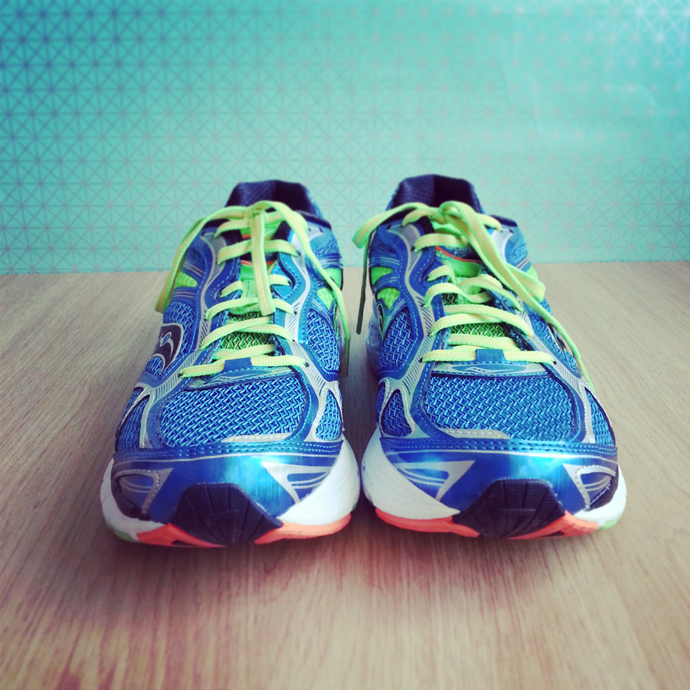 Tom's new running shoes.
Dit zijn de schoenen die Tom aangemeten kreeg, veeeeeeeeeel leuker! Mazzelaar…
KATTENBONUS!
Mo the tree cat and Tetkees the stay-at-home cat.
Mo de avonturier in de boom achter ons huis. Tom nam de foto's toen hij zijn fiets in het schuurtje zette. Op de eerste foto lijkt het net alsof hij zwaait: 'Hoooooooi baas!'.
En Tetkees, de binnenkat die de inhoud van mijn winkeltasjes inspecteert.
***
Nog een hele fijne zondag en tot volgende week!

Vind je het leuk om te volgen wat Meike en ik de hele week uitspoken? Volg ons dan op instagram. Wil je liever weten wat de katjes de hele week doen? Volg dan Mo en Tetkees op instagram.

Liked what you saw? Follow us on instagram or Follow Mo and Tetkees on instagram.