Afgelopen week genot ik van het lekkere weer, reisden Meike en ik af naar Rotterdam voor ons eerste persevent en uiteraard gingen er een aantal lekkere hapjes mijn  mond in…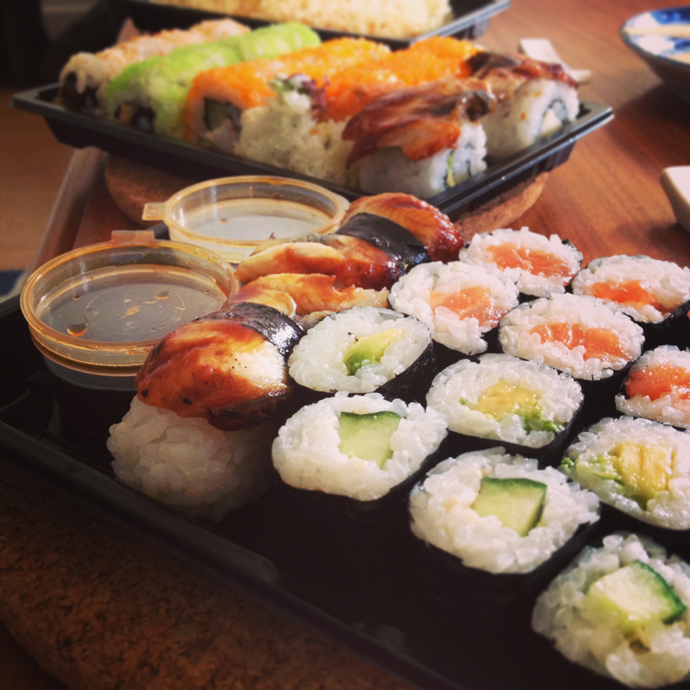 Vorige week zondag was Tom jarig en mocht hij uitkiezen wat hij mocht eten (blijft leuk). Hij ging voor sushi, wat we thuis lieten bezorgen. Het was heerlijk en precies genoeg, we bestelden bij Okami, waar we al eerder in het restaurant aten. Echt een aanrader, de sushi was verrukkelijk (en de eigenaresse is een schatje)!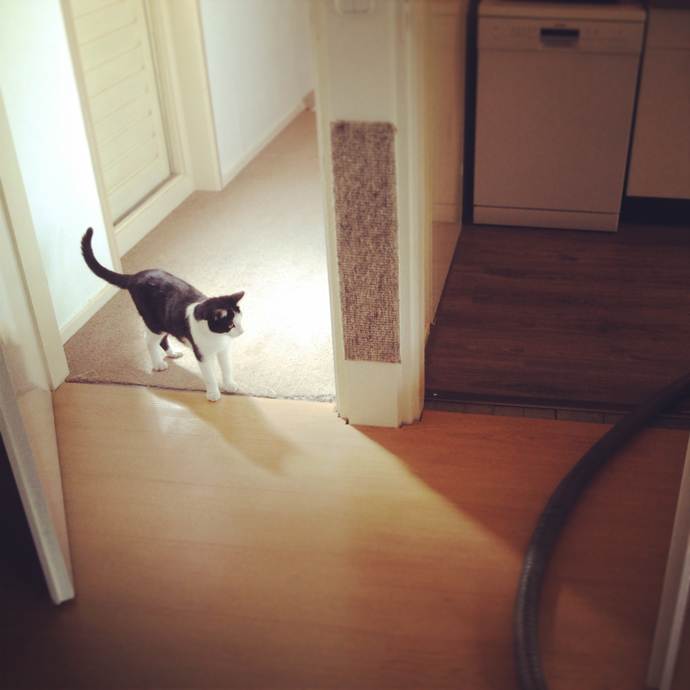 Er was een buis verstopt in de keuken. Er kwam een mannetje om de boel te fixen. Het was een flinke toer en er kwamen enorme apparaten aan te pas, maar ons water loopt weer goed door. Wel rook het vreselijk vies na afloop. Tip: het handdoekje dat is gebruikt om het rioolwater mee op te dweilen moet je WEGGOOIEN en niet in de was gooien. Alle 'schone' was rook vervolgens naar het vieze handdoekje en er moest een kookwas aan te pas komen om de geur een beetje uit de was te krijgen. Mo is hier trouwens het gigantische apparaat aan het checken. Hij is nergens bang voor…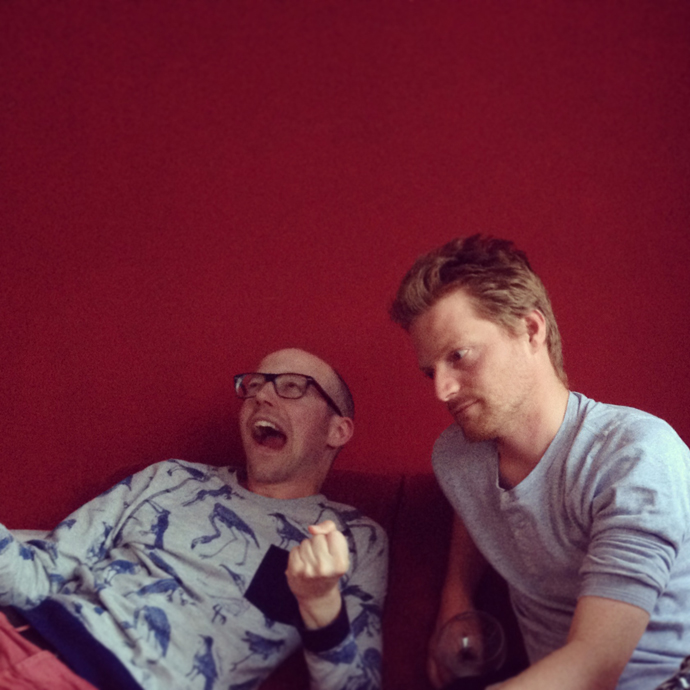 Maandagavond keken we Game of Thrones en dit was de reactie nadat de aflevering was afgelopen. Ik zeg verder niks…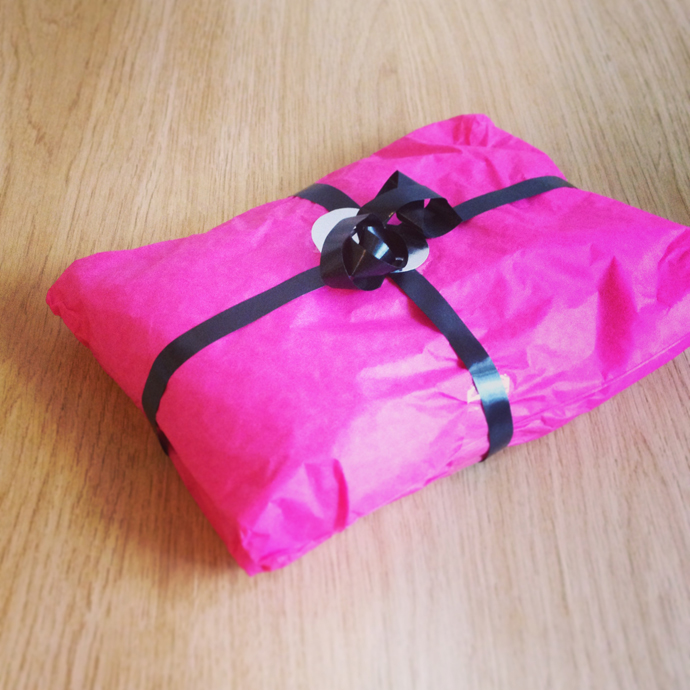 Ik kreeg meerdere perspakketjes binnen, deze was zo mooi ingepakt!
Deze week laat ik zien wat er in zat ;)
De poezen verliezen hun bandjes sneller dan dat je 'kwijt' kunt zeggen en daarom stonden Tom en ik donderdagavond weer eens bij de Tuinland. Helemaal niet erg hoor, na de IKEA mijn favoriete megawinkel. Even bij de schattige konijntjes kijken en we kochten een paar kruidenplantjes en baby rucola plantjes voor op ons balkon. Ook zag ik een kussen (eigenlijk voor buiten) dat echt mee MOEST. Als jullie me een beetje kennen, begrijpen jullie waarom ;). Hij past perfect bij het Brakig kussen.
Meike en ik waren uitgenodigd door Miss Publicity (persbureau) om een tochtje te komen maken op een luxe bootje. Eh, ok! Dit trok ik aan. Confetti: represent!
Dit was ons allereerste pers-event en de toon is gezet: een prachtige locatie, verwend tot op het bot en na afloop niet een maar TWEE goodiebags. We voelden ons net blogprinsesjes. Woensdag vertel ik er wat uitgebreider over, so stay tuned :)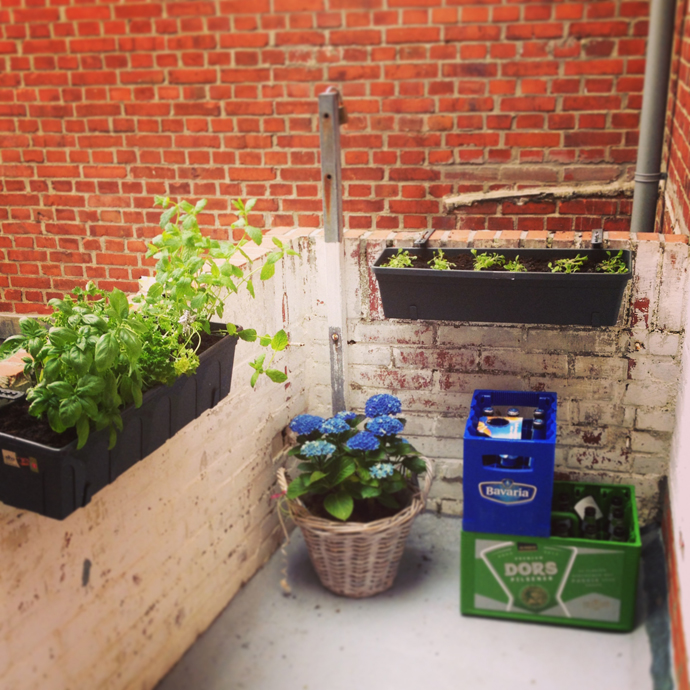 Zaterdagmiddag gaven Tom en ik ons balkonnetje een opknapbeurt. Je kunt er nu weer zijn. Alle troepjes zijn weg en de plantenbakken hebben weer frisse plantjes. De hortensiaplant kreeg Tom voor zijn verjaardag van mijn ouders. Mijn vader merkte op dat hij perfect bij de bierkratten kleurt. Ja, wij zijn echt balkon-stylisten ;)
Nadat ons balkonnetje klaar was, trakteerden Tom en ik onszelf op een late lunch / vroeg diner (liner? of dunch?) bij Café De Biechtstoel en een witbiertje. Heerlijk eten en heel mooi weer, betere combinatie bestaat niet :)
KATTENBONUS!
***
Nog een hele fijne zondag en tot volgende week!

***
Vind je het leuk om te volgen wat Meike en ik de hele week uitspoken? Volg ons dan op instagram.