Afgelopen week was een hele leuke! Ik bezocht een foodfestival in Amersfoort, reisde af naar Hoofddorp om bij Sanoma lezingen bij te wonen en sloot de week af met een zeven (!) gangen diner bij beste vriend Hessel.
Vorige week zondag gingen we naar het Foodfestival Lepeltje-Lepeltje in Amersfoort. Tom's broer Koos en zijn vriendin Delana wonen er sinds kort, dus een family reunion en lekkere hapjes werden gecombineerd. We aten verse pizza, frietjes en vier verschillende soorten gehaktballetjes. Eigenlijk allemaal fastfood, haha. Maar alles werd vers gemaakt met biologische ingrediënten en met lekker veel frisse sla. Heerlijk! Naast veel food kraampjes en wagens was er ook een markt vol kraampjes met leuke spulletjes. Ik probeerde een zonnebril van Bar&Glasses, maar hij was me toch iets te funky, hihi.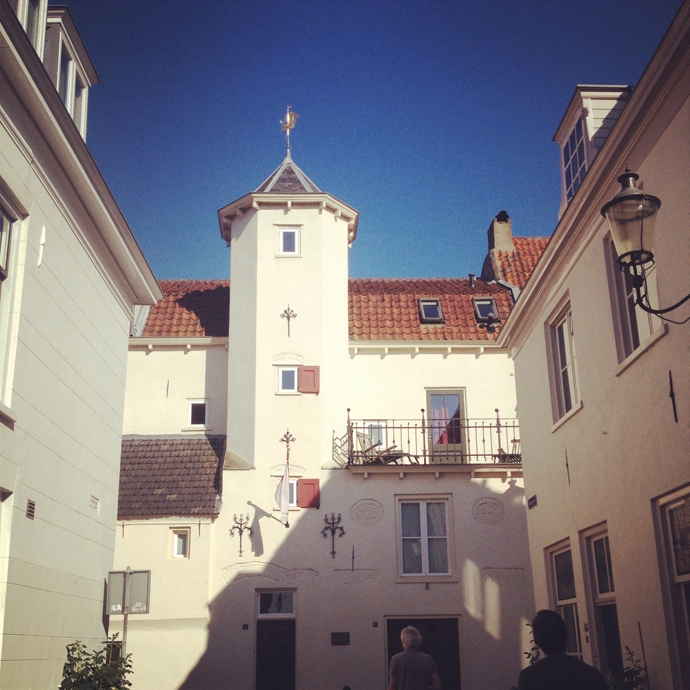 Om alle hapjes een beetje te laten zakken, sjokten we lekker een rondje door Amersfoort en in de volle zon leek het af en toe net alsof we door Frankrijk liepen. Kijk nou! Ik vind Amersfoort echt een prachtige historische stad, iets wat ik eigenlijk niet had gedacht…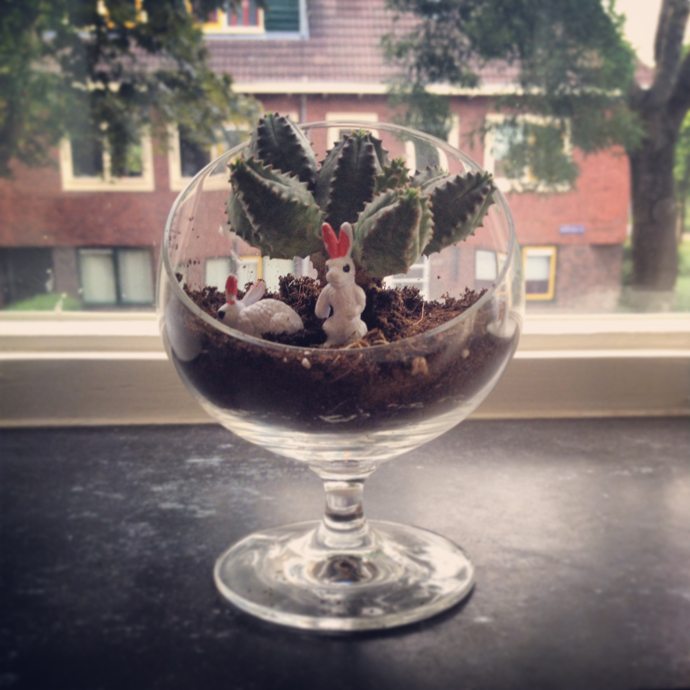 Een tijdje geleden kocht ik dit grappige glaasje bij de kringloop en ik heb er eindelijk een mini plantje voor gekocht. Een mini cactus! En hij wordt bewaakt door een stoer konijn…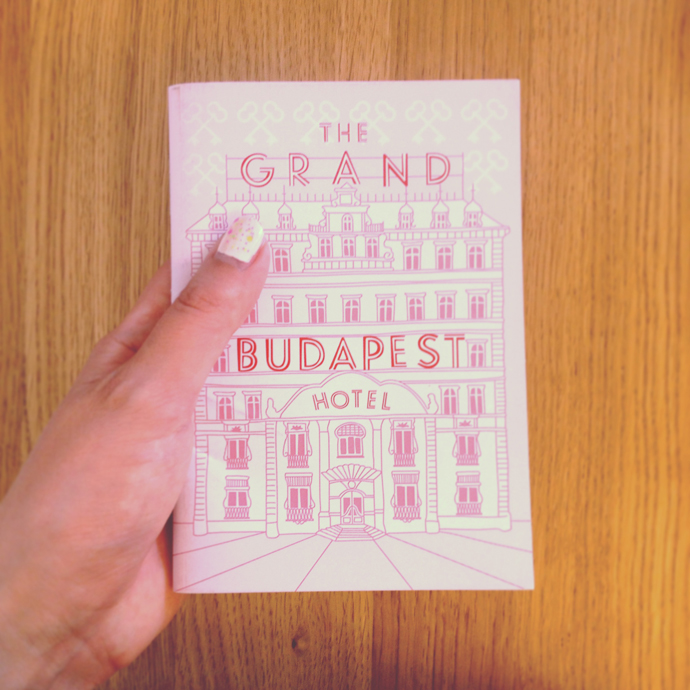 Ik deed mee met de winactie van Tea van The Four Oh Seven en won! Dit schattige notitieboekje van The Grand Budapest Hotel viel deze week op mijn deurmat. En hij kwam helemaal uit London, extra leuk!
Woensdag ging ik naar Hoofddorp om lezingen bij te wonen bij Sanoma. De tip kreeg ik van Dilek (PsbyDila) die ook aanwezig was. Ik sleepte mijn moeder ook mee en met zijn drieën hebben we geluisterd, geluncht en geborreld. Jammer dat het vanuit Groningen zo'n pokke end is om in het westen te komen…
Er kwamen leuke en inspirerende onderwerpen voorbij en ik heb me voorgenomen om beter op te letten of dit soort lezingen of beurzen ook in het noorden zitten.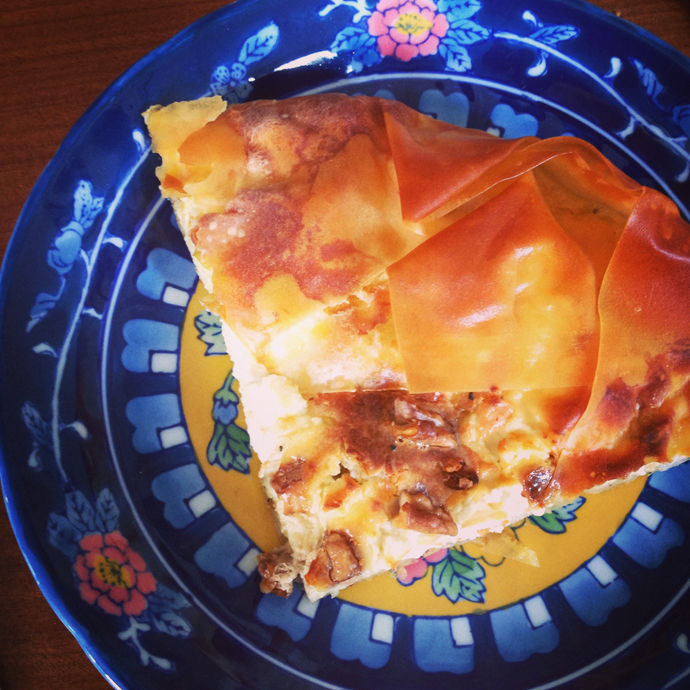 Ik bakte vorige week ook een geitenkaas/bosui taart met walnoten en filodeeg. Bij geitenkaas hoort honing vonden wij en dat gooiden we er dus ook nog overheen. Cake for dinner!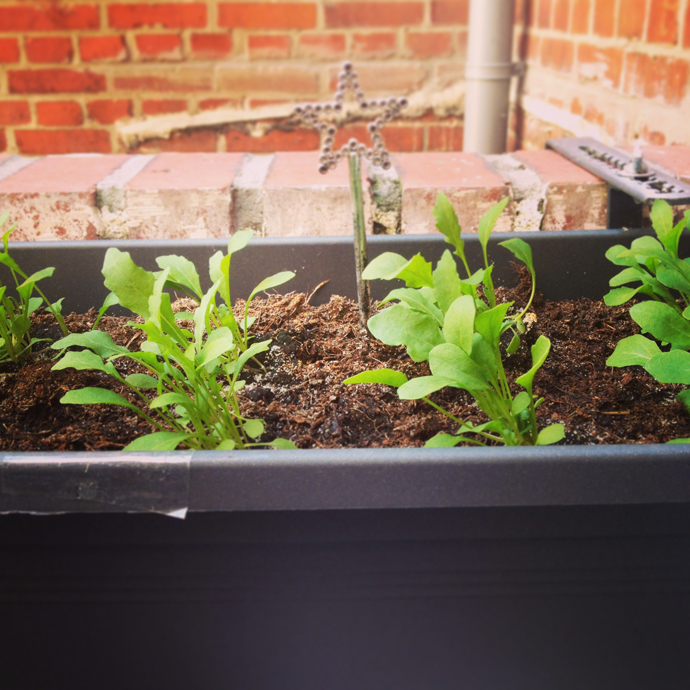 Rucola baby update! Ze zijn een klein beetje gegroeid… :D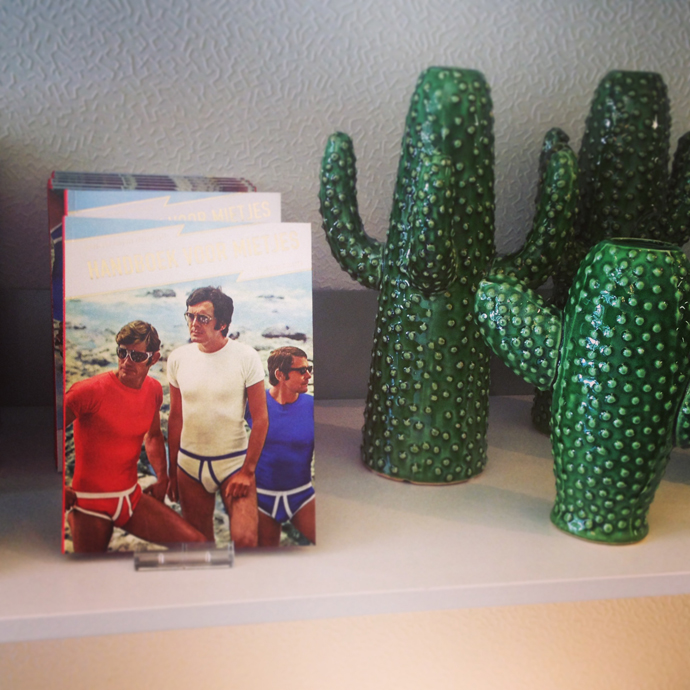 Zaterdag ging ik met Tom eventjes de stad in om een cadeautje te kopen voor een jarige, toen ik in designwinkel Nul50 in Groningen mijn Handboek voor Mietjes naast deze geweldige cactus vazen zag staan. Ik blijf toch altijd glimmen van trots als een winkel mijn boekje zo prominent in het zicht zet :)
Zaterdagavond vertrokken Tom en ik naar mijn beste vriend Hessel in Zwolle om daar volledig in de watten te worden gelegd met een zeven gangen diner. Hij had de HELE dag in de keuken gestaan en de meest waanzinnige gerechtjes in elkaar gezet. De eetbare groentetuin (gang drie), de varkenshaas met bloemkoolpuree en uienmarmelade (gang 5) en het dessert waren mijn absolute favorieten (de rest was ook to die for hoor). Hier kan menig restaurant een puntje aan zuigen. AMAZING!
KATTENBONUS!
Mo klom heel hoog in een boom (check instagram voor de video) en kwam later in de week helemaal geschaafd en zielig thuis. Hij had er op de een of andere manier flink van langs gehad. Hij is inmiddels weer een beetje aan de beterende hand. Tetkees vond een zakje Catisfactions in de vensterbank en heeft hem HELEMAAL opgegeten, de boef! Hij was die dag erg tevreden en slaperig…
***
Nog een hele fijne zondag en tot volgende week!

***
Vind je het leuk om te volgen wat Meike en ik de hele week uitspoken? Volg ons dan op instagram.