Every week I show you guys what me and my cats have been up to.
Deze week maakte ik een monster van een hamburger, ging op een date met Tom en maakten we ons huisje weer een beetje mooier…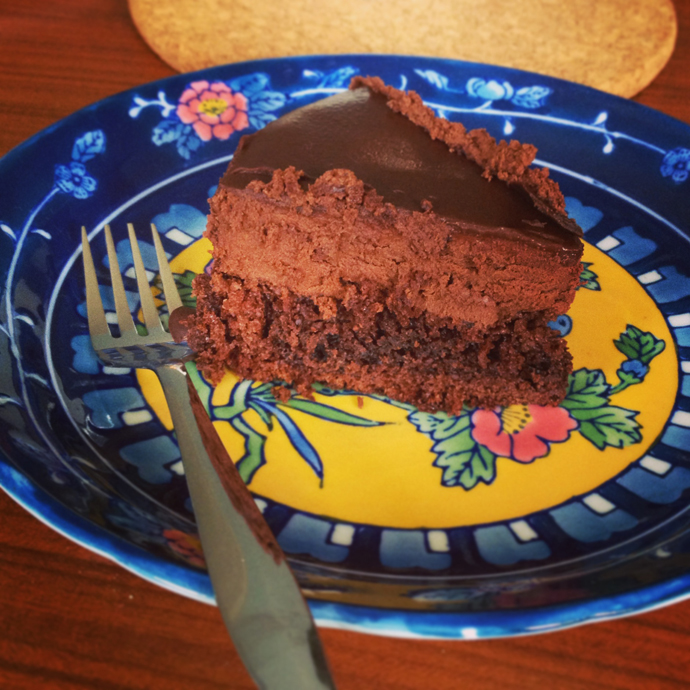 Chocolate cake.
Vorige week zondag kwamen mijn ouders langs en namen ze een lekker chocoladetaartje mee. Heb ik echt NIKS op tegen.
Watching Game of Thrones with Tetkees and celebrating a new job of a friend!
Maandag gingen we met vrienden de eerste twee afleveringen van het nieuwe seizoen van Game of Thrones kijken, Tetkees zat ook al klaar ;). En er was wat te vieren, een vriendinnetje had haar droombaan gekregen na eeuwen solliciteren, echt te gek! We dronken bubbles zonder alcohol en ik moet zeggen, hij was net echt. Wel fijn, ik kan idioot slecht tegen alcohol, doordeweeks drink ik bijna nooit alcohol omdat ik dan meteen moeite heb om mijn ogen open te krijgen de volgende dag…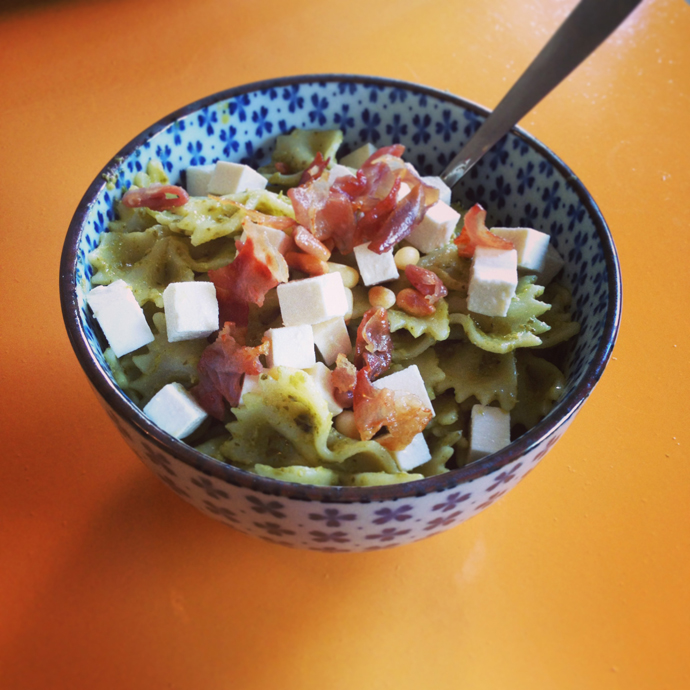 Pasta pesto for lunch.
Jummy lunch: pasta pesto met stukjes gebakken ham, witte kaas en pijnboompitjes.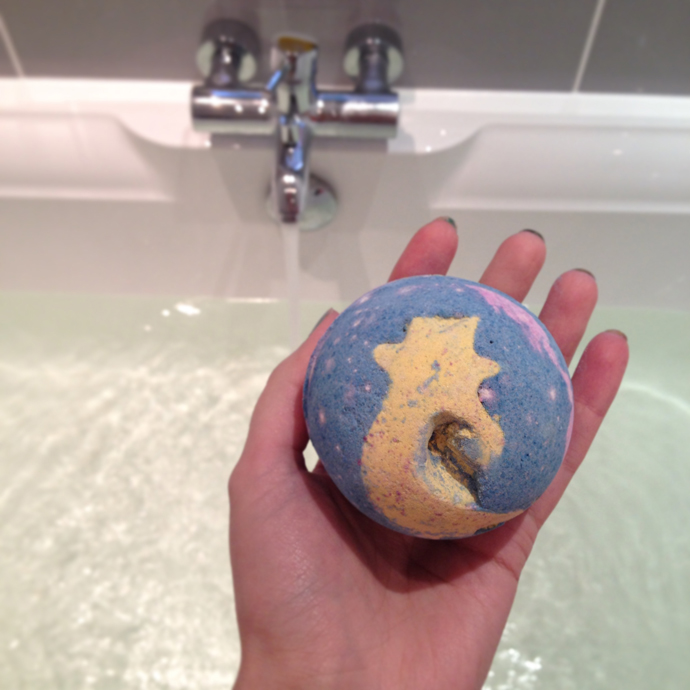 Lush bath bomb.
Lekker relaxen met een bruisbal van Lush. Ik heb er nog een paar liggen van de kerstcollectie, daar doe ik nu toch al bijna een kwartaal mee, dat valt me mee. Ik dacht dat ze veel sneller op zouden gaan…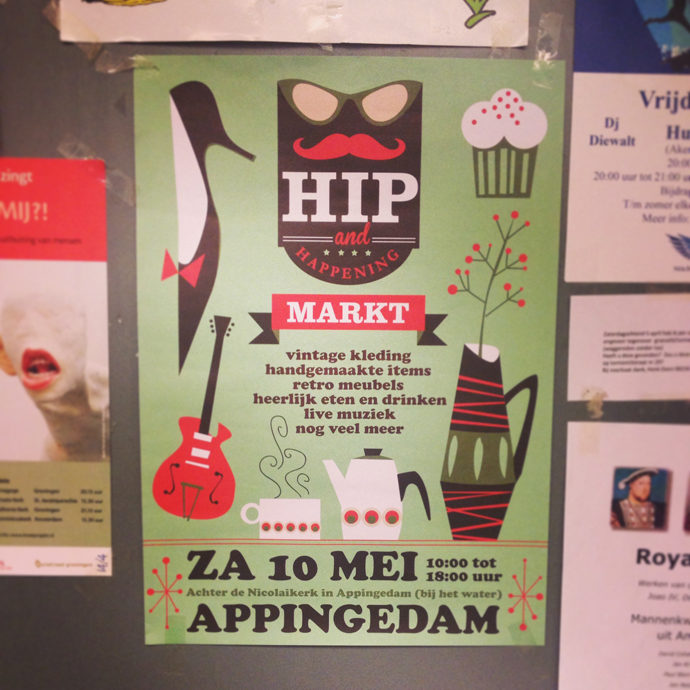 Poster in the supermarket.
In de supermarkt zag ik deze poster hangen. Erg leuk ontwerpje, maar hip and happening in APPINGEDAM? Dat klinkt een beeeeeetje tegenstrijdig. Maar tegelijkertijd klinkt het wel leuk eigenlijk, wie weet krijg ik Tom zover om die kant op te gaan (is alleen wel een half uur rijden vanaf Groningen, ik weet niet of dat de moeite waard is…)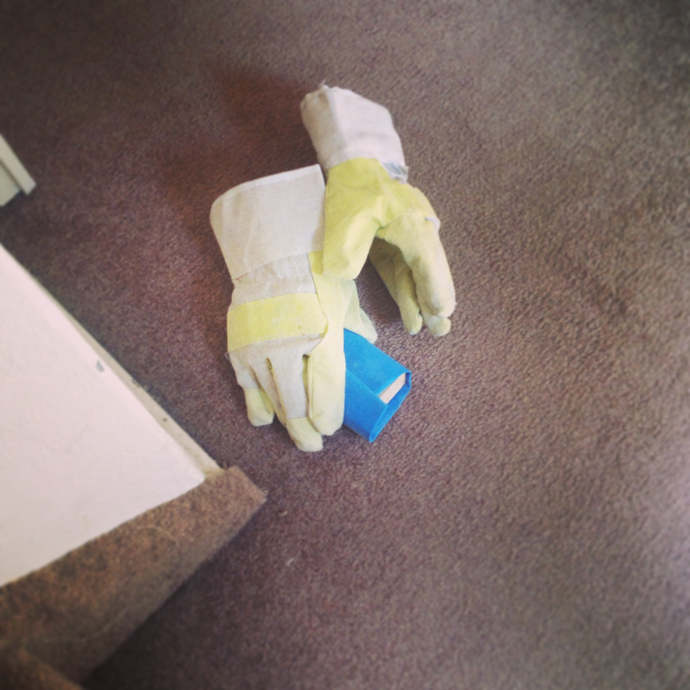 Creepy hands.
Donderdag kwam mijn moeder weer helpen met deuren schilderen. Ik was net bezig met het schuren van een deur toen ze aanbelde. Ik legde mijn spullen neer en rende naar de deur. Toen ik terugkwam zag ik mijn 'handen' op de grond liggen, haha!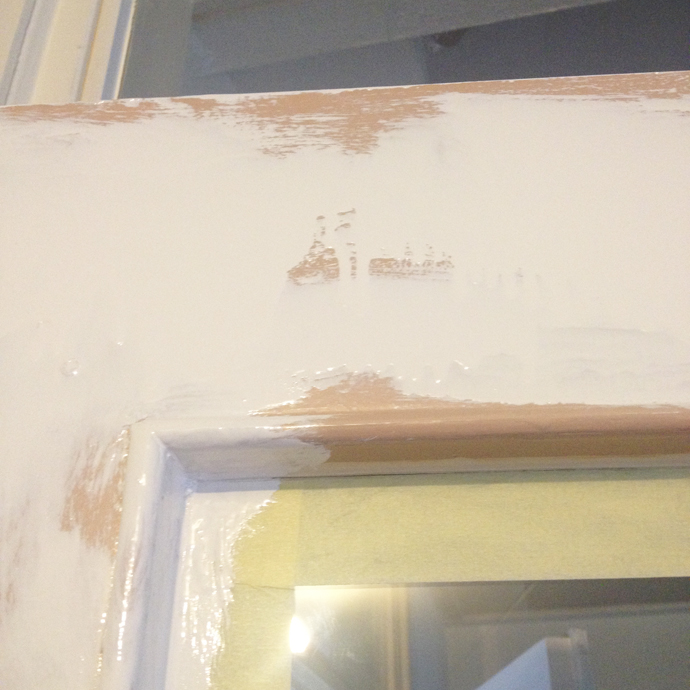 Painting our doors white FINALLY!
Ik wilde nog even vastleggen hoe lelijk de kleur van de deuren hiervoor waren. Best friend Hessel noemt het al meer dan een jaar liefdevol 'steunkousroze' en nu zijn ze EINDELIJK wit. Bedankt mama!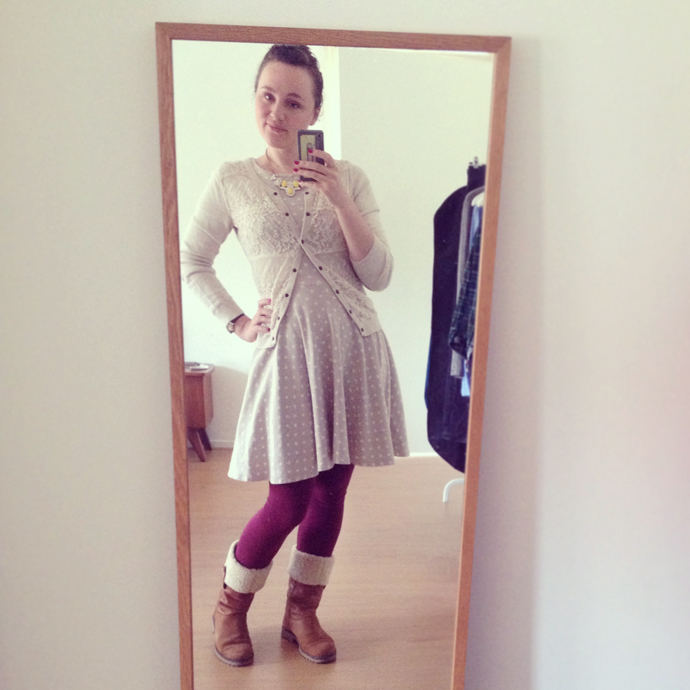 Outfit for a date.
Vrijdag had Tom een vrije dag en gingen we maar weer eens romantisch ontbijten bij de IKEA. Om er toch een beetje een date van te maken (want kom op, ontbijten bij de IKEA is grappig, maar romantisch is het zeker niet) trok ik een leuk jurkje aan MET mijn gele ketting. Die vind ik bijna overal raar bij staan, maar hierbij was hij heel leuk (yay! toch geen miskoop!).
Choosing a paint color and printing coupons.
Zaterdag gingen we een keer goed voorbereid naar de bouwmarkt. We hadden eerder een keer een berg verfsamples meegenomen en hadden ze vakkundig uitgeknipt en op de muur geplakt om er vervolgens van een afstandje naar te gaan staren. Uiteindelijk werd het middelste kleur genaamd 'winter'. Daar kun je echt poëzie mee schrijven hoor, als je al die sample kaartjes achter elkaar aan legt. Er was ook een kleur die 'zeehondje' heette. Maar die was echt te licht, zo jammer!
Toen we onze kleur hadden uitgekozen gingen we op jacht naar coupons (want we hadden nog meer nodig behalve verf). Bij Praxis mag je nu tijdelijk ALLE kortingsbonnen van ALLE andere bouwmarkten ook bij hen inleveren. SCORE! En ja, al deze kortingsbonnen zijn ingeleverd en we hadden in totaal meer dan €17 korting, owww yisss!
Painting our nightstands.
Onze nachtkastjes zetten we gister in de grondverf en gaan we morgen met hoogglans wit afmaken. Ik ben nog op zoek naar gele deurknopjes voor op de kastjes, weet iemand misschien een winkel waar ik die kan kopen? Op internet bestellen kan vast ook, maar dan zit je met verzendkosten voor drie lullige knopjes, dus liever niet als het even kan (spoken like a true cheapskate…).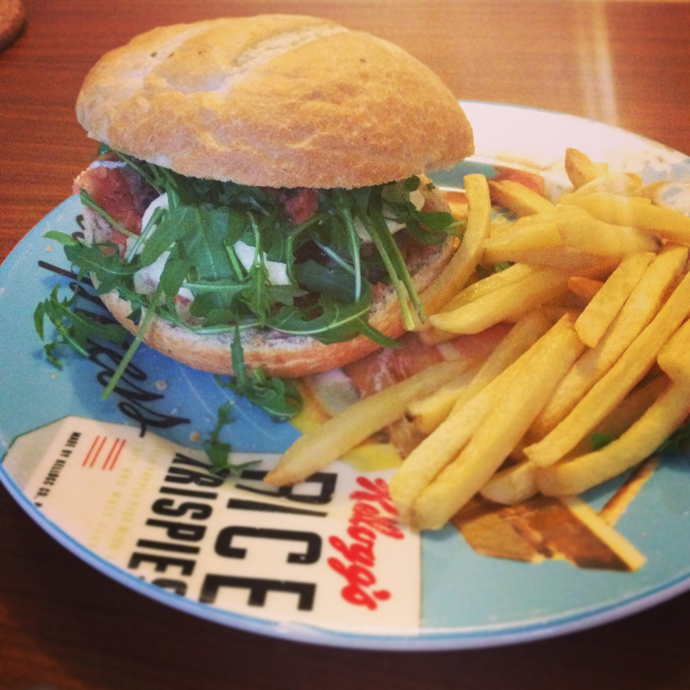 Big heavenly burger.
Zaterdagavond maakte we een hemelse burger (door de reflectie van het bord lijkt het net alsof er hemelse lichtstralen naar beneden schijnen, hihi). Een hamburger met een salsa van tomaten en knoflook, rucola en gesmolten mozzarella. En ovenfrietjes, omdat het kan.
KATTENBONUS!
Just messing around, that's what they're good at.
Lekker rotzooien in beddengoed dat op de grond lag, een close up in de badkuip en meerkat Mo in zijn allermooiste pose. Er staat ook nog een magistrale video van Mo op de teamconfetti instagram, ik weet even niet hoe ik die hier neerzet ( het is zaterdagavond laat terwijl ik dit schrijf, dus dat gaat hem nu even niet worden, dat leer ik later vast nog wel eens). Dus kijk even op onze instagram voor de video van Mo, hij is het waard!
***
Nog een hele fijne zondag en tot volgende week!

Vind je het leuk om te volgen wat Meike en ik de hele week uitspoken? Volg ons dan op instagram.
Liked what you saw? Follow us on instagram.