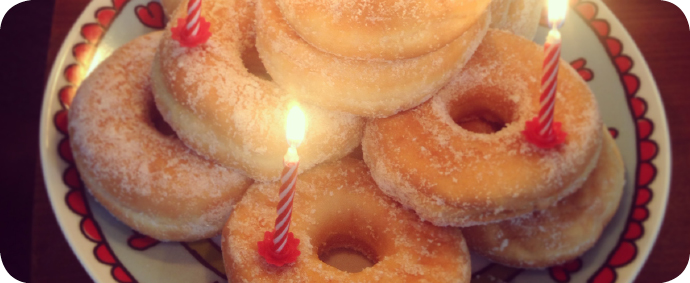 Nom nom nom, this TAG is about food! I made up ten questions, so let's get started!
Nom nom nom! Je raadt het al, deze TAG gaat over eten! Ik heb tien vragen bedacht voor deze TAG. Van je eigen broodje ontwerpen tot aan je favoriete dessert. Let's begin!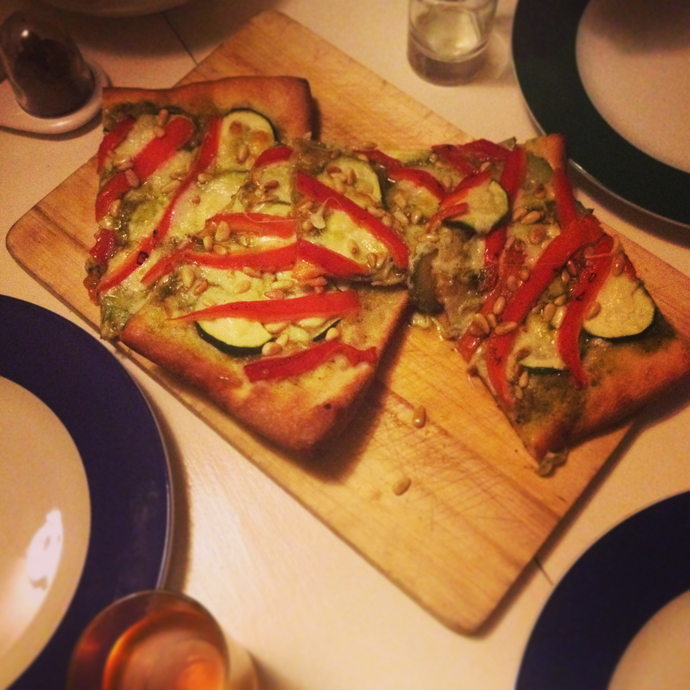 WAT VIND JIJ LEKKER WAT VERDER IEDEREEN VIES VINDT (EN ANDERSOM)?
What do you like what everybody hates (and the other way around)?
Nou vindt niemand dit vies, maar als mensen vol beginnen te raken laten ze dit waarschijnlijk staan: de korstjes van pizza. Ik houd van pizza korstjes. Dus als ik mijn pizza niet helemaal op kan, knabbel ik eerder alle korstjes ervanaf dan dat ik het midden op eet.
I love pizza crusts more than I like the inside.
Waar ik niet van houd terwijl de rest van de wereld er verzot op is, zijn paddenstoelen. De smaak vind ik prima, maar de textuur geeft me de rillingen, squeek squeek!
I don't like mushrooms, they squeek in your mouth.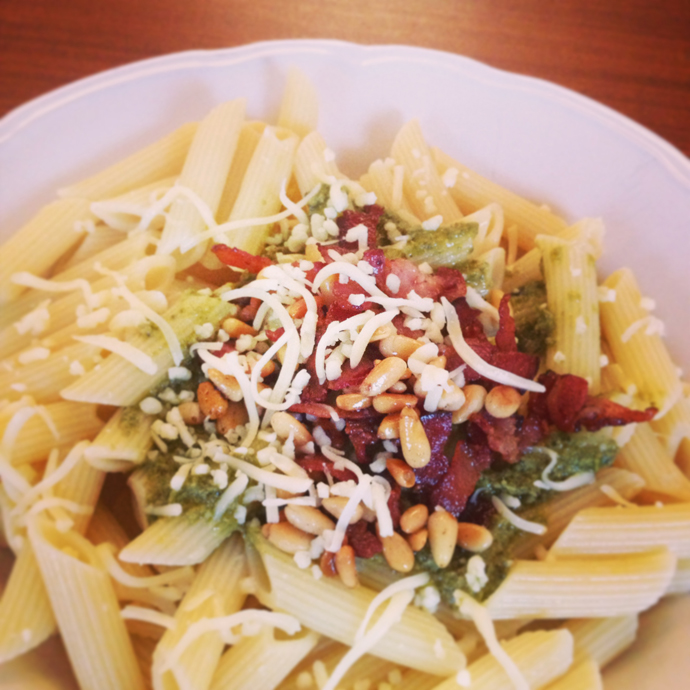 WAT KOOK JE HET LIEFST (EN VEEL TE VAAK)?
What do you cook often?
Pasta pesto, all the way. Ik houd van pasta, ben verzot op pesto, zou het liefst de hele dag door pijnboompitten eten en strooi overal rucola overheen. Al mijn favorieten in een gerecht!
I love all the ingredients of pasta pesto, it's my favorite.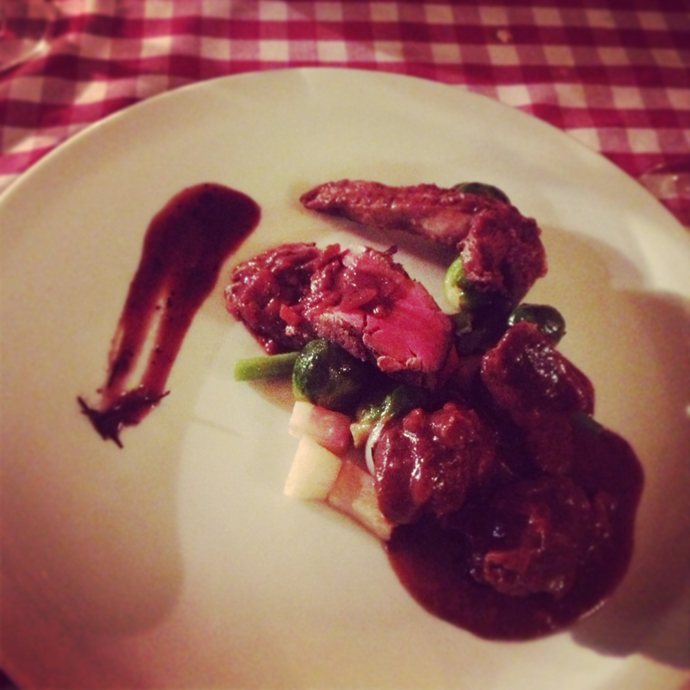 IN WELK RESTAURANT ZOU JE HET LIEFST ELKE DAG ETEN?
What's your favorite restaurant?
The House of Spice in Groningen. Wat kunnen ze daar lekker koken! Het concept is ook bijzonder: elke week (of elke dag?) een nieuw menu. Je mag van tevoren kiezen of je vlees, vis of vegetarisch wil eten. Wat je krijgt is vervolgens een verrassing. Maar het maakt eigenlijk niet uit wat je kiest, alles is heerlijk (en biologisch/uit de streek/seizoen georiënteerd).
The House of Spice in Groningen.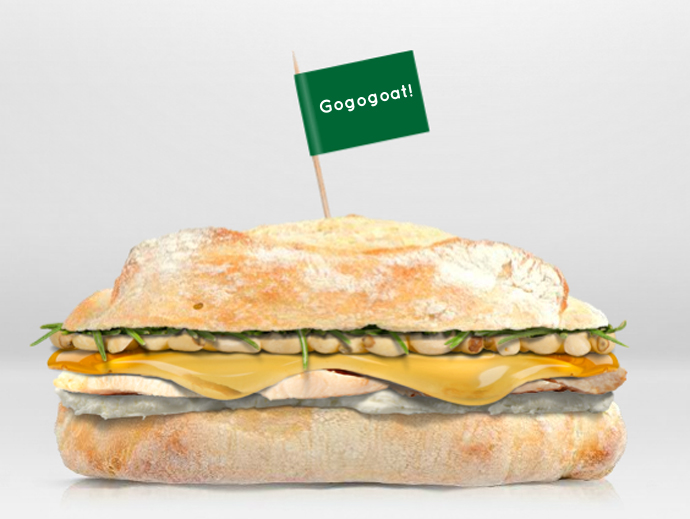 ALS ER EEN BROODJE NAAR JE VERNOEMD ZOU WORDEN, WAT ZOU ER DAN OP ZITTEN EN HOE ZOU HET HETEN?
If you could invent a sandwich, what would you name it and what would be on it?
Ik herinner me de geweldige broodjeswedstrijd van Hema nog waar je je eigen broodje kan samenstellen en een naam kon geven. De wedstrijd is allang afgelopen, maar de website bestaat nog steeds! Mijn broodje heet Gogogoat! Er zit geitenkaas, gebraden kip, honing, pijnboompitten en rozemarijn op. Jammer dat de website niet een echt broodje genereert want ik wil hem nu opeten!
My sandwich is called Gogogoat! and has goatcheese, chicken, honey, pinenuts and rosemary on it.
DEEL EEN HANDIGE KOOKTIP:

Volgens mij ben ik nogal langzaam en omslachtig in de keuken, een gouden tip gaat denk ik uitblijven (dat laat ik aan de mensen die ik ga taggen over, haha). De enige tip die ik heb (hij is echt heel erg saai) is: Als je een ei hebt gekook en hebt laten schrikken (altijd doen), sla je ei dan op je bord op meerdere plekken totdat de hele schil gebarsten is. Zo kun je in een keer de schil eraf halen in plaats van met je nagel stukje voor stukje eraf te peuteren.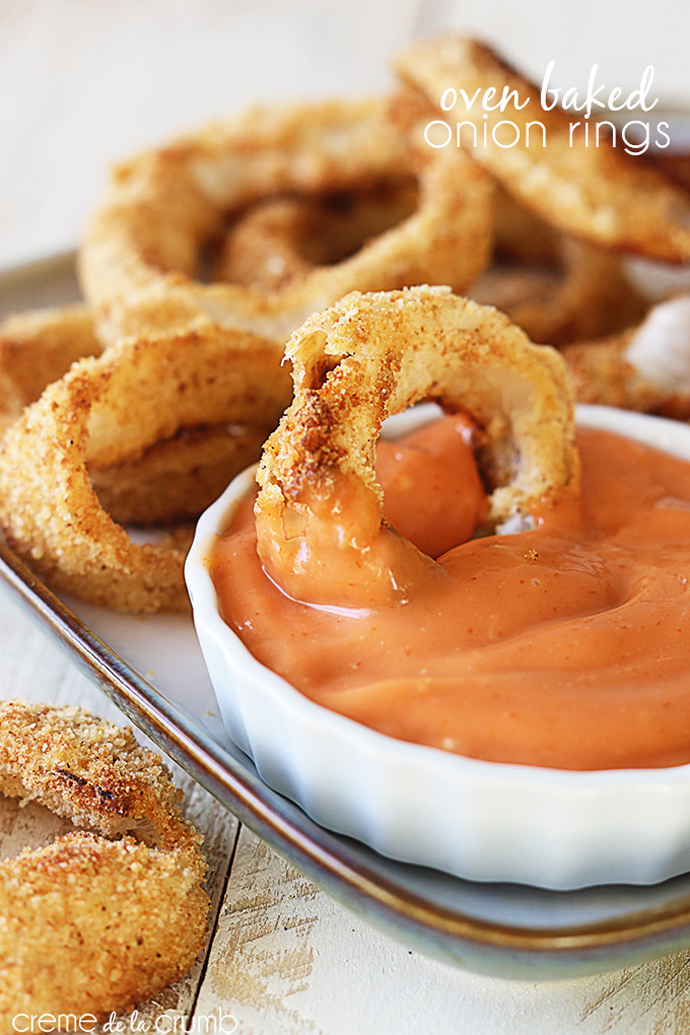 WAT STAAT ER NOG OP JE FOOD BAKING BUCKET LIST?
What's on your food baking bucket list?
Deze onionrings uit de oven ga ik vandaag nog maken! Ik heb sinds kort een liefde voor onionrings ontwikkeld, maar bezit geen frituur (en ben dat ook niet van plan). Ik ben benieuwd of ze zo lekker worden als ze eruit zien!
These onionrings.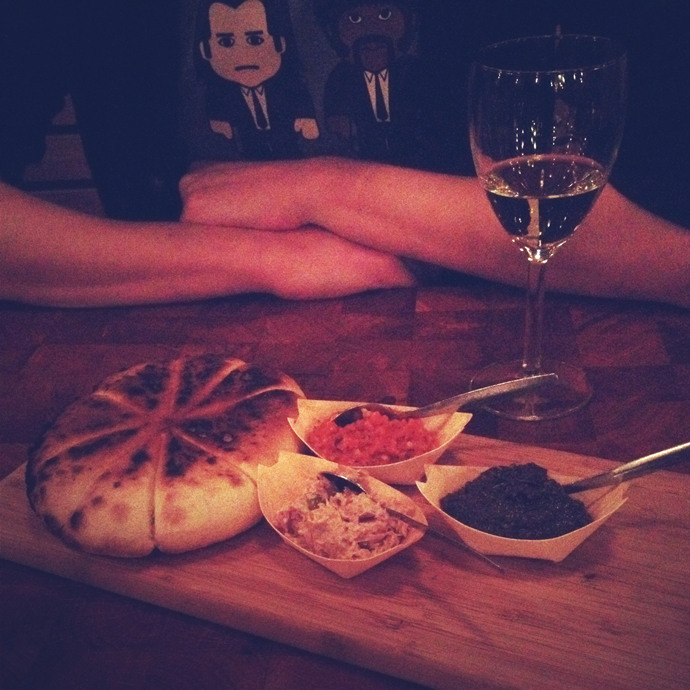 ZELF KOKEN / ETEN BESTELLEN / BUITEN DE DEUR ETEN
What would you rather do: cook your own meals, order in or eat in a restaurant.
Buiten de deur eten! Jammer dat het een beetje te prijzig is om elke dag te doen, anders zou ik alles buiten de deur eten. Als we een weekendje weg zijn of op vakantie gaan, vind ik dat altijd de leukste attracties. Ik hou van restaurantjes uitzoeken in obscure reisgidsjes en voor weinig geld heerlijk eten, terwijl twee straten verderop de andere toeristen een vermogen voor een vieze hotdog betalen.
Nou zijn mijn kookkunsten de afgelopen jaren flink verbeterd en ben ik echt wel in staat iets heel erg lekkers op tafel te zetten, maar er zijn toch altijd mensen die het nog veel beter kunnen…
BEN JE ERGENS ALLERGISCH VOOR?
Are you allergic?
Nee, voor zover ik weet ben ik nergens allergisch voor, lucky me!
No, lucky me!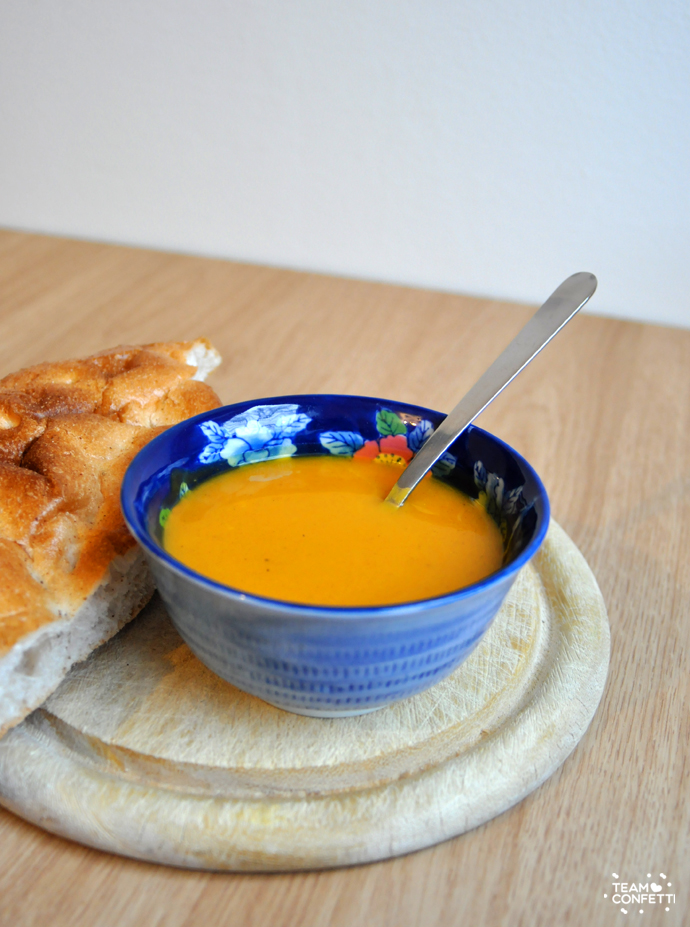 WAT IS JE FOOD OBSESSIE VAN DE AFGELOPEN TIJD/WEKEN/DAGEN?
What's your food obsession right now?
Pompoensoep! Ik ben verslaafd! Hier vind je het recept.
En verder kan ik niet ophouden met denken aan chocoladetruffels. Ik at er eentje op een feestje vorige week en nu zit het in mijn hoofd. Misschien vanmiddag even naar de winkel…
Pumpkinsoup and chocolate truffels.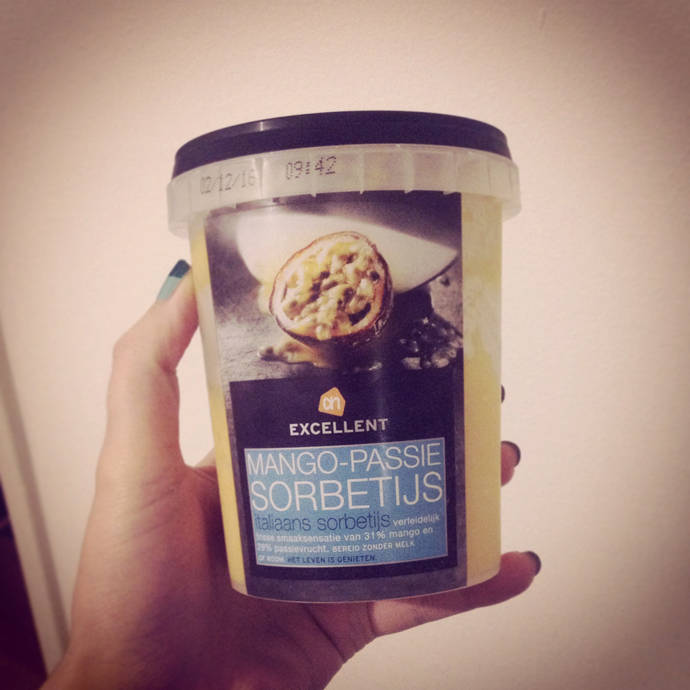 WAT IS JE FAVORIETE TOETJE?
What's your favorite desert?
IJS! Het liefst in een tropische fruitsmaak zoals limoen, passievrucht of mango. Of ijs met warme cake (bijv. brownies) Of Ben and Jerry's Fish Food, mijn favoriet.
Icecream!
***
Nu zou een TAG een TAG niet zijn, als ik niet een paar leuke bloggers zou TAGGEN:
Dilek van PSbyDila.com, omdat ik elke week haar food diary lees.
Iris van ikbenirisniet.nl, omdat ze heel bewust met eten bezig is.
Teske van teskuh.nl, omdat ze net de maand van de keukenprinses heeft afgerond.
Aranka van ByAranka.nl, omdat ze steeds meer lekkere recepten deelt.
Marlous van thelastdaysofspring.nl, omdat ze weet wat lekker is en kookboekreviews schrijft.
Lonneke van Lnnk.nl, omdat ik van haar mooie en frisse eetfoto's vaak van mijn stoel val.
Alyssa van Alyssaa.nl, omdat ze heerlijke bosbvruchtenpannenkoeken bakt.
Heb ik je niet getagd, maar wil je graag deze TAG overnemen? Please do! Ik zou het alleen wel waarderen als je bij je artikel dan een linkje plaatst naar onze blog. Thanks!