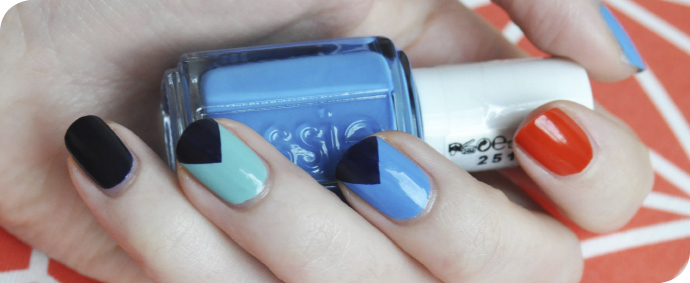 When I was painting my nails yeserday, I was inspired by the IKEA BRÅKIG collection.
Toen ik gister de foto's voor het BRÅKIG artikel aan het bewerken was, werd ik 'geïnspireerd' (ouwe nagelkunstenaar die ik ben) door de leuke kleuren en vormpjes die ik op mijn beeldscherm voorbij zag komen. Ik grabbelde door mijn nagellakverzameling en viste er een paar lakjes uit die daar wel iets van weg hadden…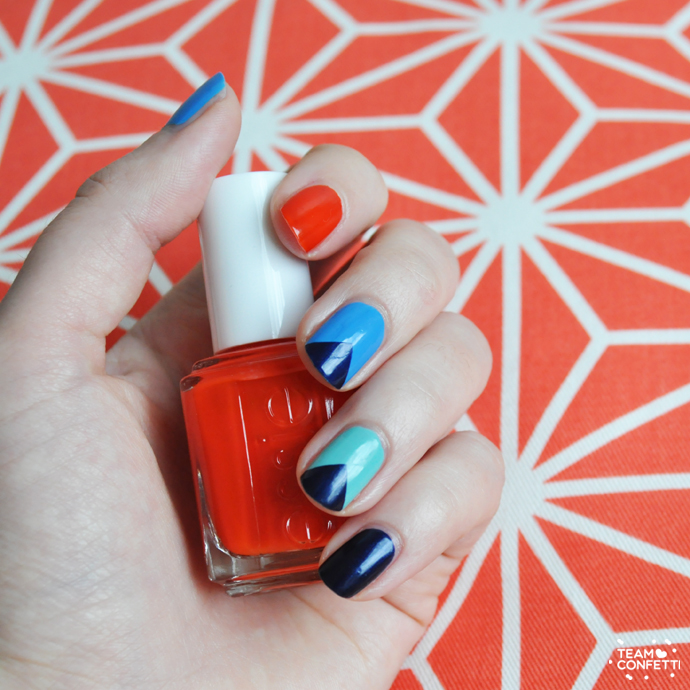 Essie's Meet Me At Sunset.
Allereerst deze rood/oranje kleur van Essie genaamd Meet Me At Sunset. Voor een rood dekt ie eigenlijk niet fantastisch. Ik heb hier twee laagjes, maar er zou eigenlijk nog wel een laagje op kunnen. Alle kleuren die ik op mijn nagels heb zijn trouwens van Essie, blijkbaar hebben ze ook zo gemaakt dat ze perfect met elkaar te combineren zijn.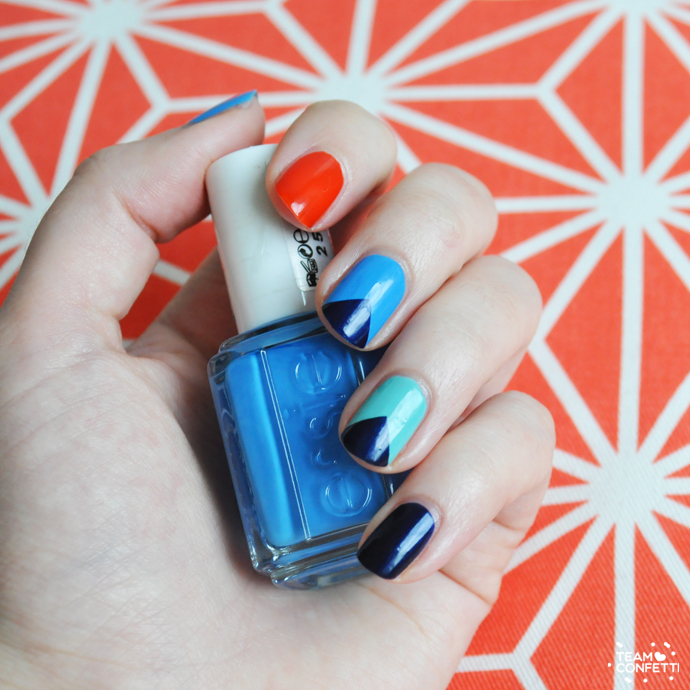 Essie's Avenue Maintain.
De blauwe kleur onder Meet Me At Sunset heet Avenue Maintain en begint een van mijn favorieten te worden. Dekt erg goed en de kleur is prachtig. Niet te donker, niet te licht en niet te kil voor een blauw.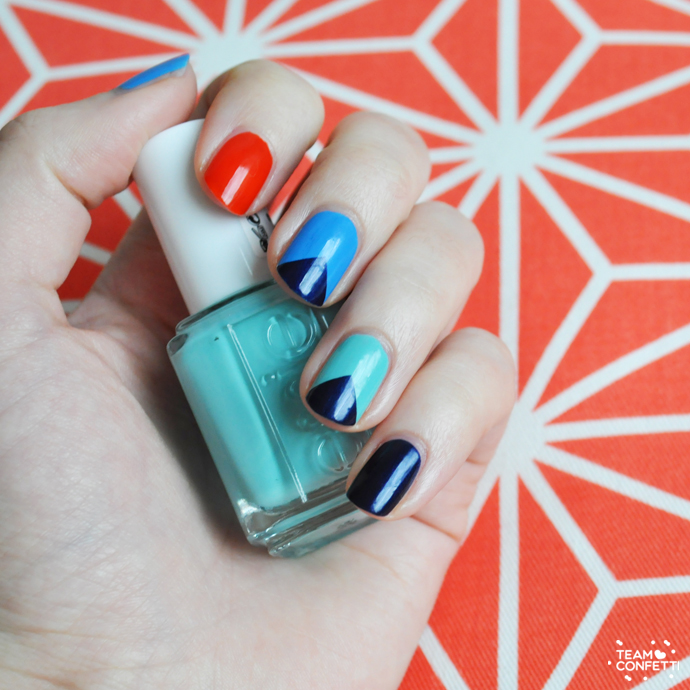 Essie's Where's My Chauffeur.
De mintblauwe kleur heet Where's My Chauffeur en is wederom van Essie. Ook hier had eigenlijk een derde laagje overheen gemoeten om echt mooi te dekken (ik vind drie laagjes teveel, met twee laagjes zou een goede nagellak moeten dekken).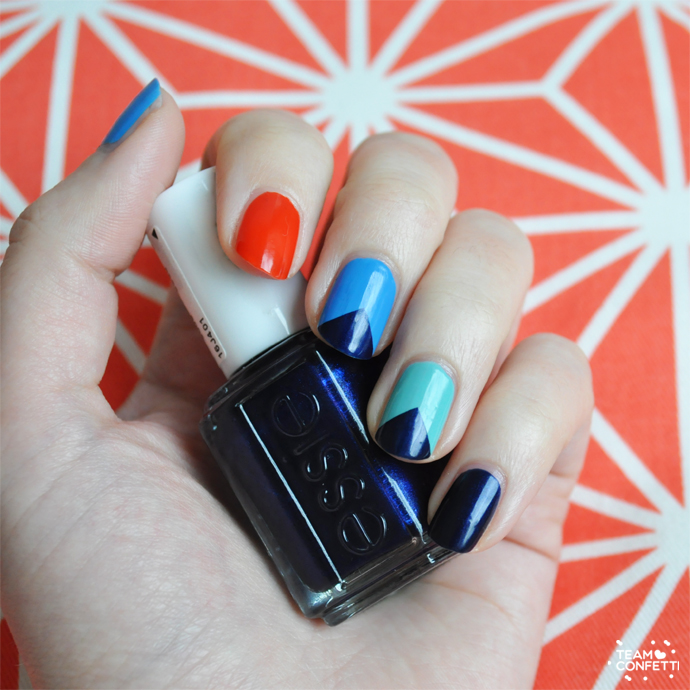 Essie's Midnight Cami.
De donkerblauwe kleur die bijna tegen zwart aan leunt en shimmers bevat, heet heel toepasselijk Midnight Cami. Dekt als een trein, er is maar een laagje nodig. Mooi op zichzelf maar nog mooier in combinatie met een ander kleurtje (zoals je ziet).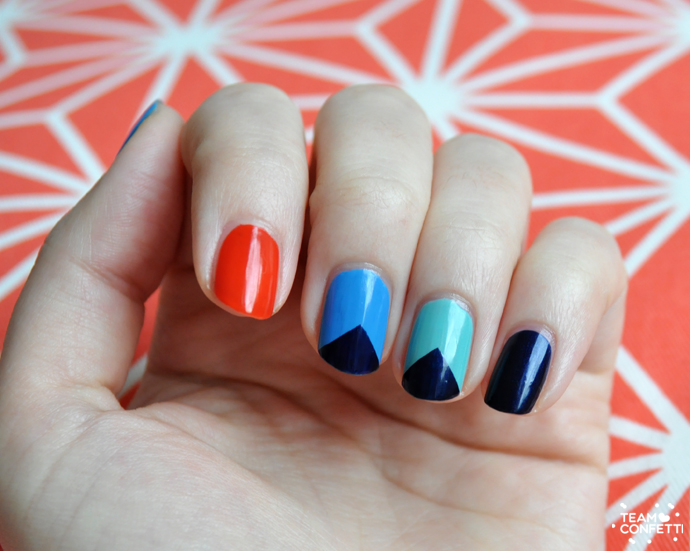 And there you have it, BRÅKIG nagels! Ik heb niet genoeg skills om het patroontje op de achtergrond (BRÅKIG kussenhoes) na te bootsen, maar ik vond de verschillende kleuren en de driehoekjes al een heel leuk effect geven.
***
Essie nagellakken kosten €9,99 en zijn verkrijgbaar bij de meeste filialen van Etos en DA.
***
Wil je meer nailart zien?
Op Pinterest hebben ik een board met alle Nails Of The Week die ik ooit heb gemaakt!
Follow The Nailart board on Pinterest!