Aangezien slapen zó ontzettend veel invloed op je gezondheid en je stress levels heeft, was het niet meer dan logisch dat we dat ook een weekje aan zouden pakken. We wilden beiden vooral een beetje lánger slapen. Tom staat elke ochtend op om 6.00, om lekker vroeg te gaan werken en kreeg daardoor wat slaap te kort. Ik wilde erachter komen hoeveel slaap ik nou écht nodig had (misschien wel negen uur?), maar ik wilde ook wel graag iets eerder opstaan. Het enige wat we daarom afspraken was dat we  elke avond om 22.15 naar bed zouden gaan in plaats van de gebruikelijke 23.30…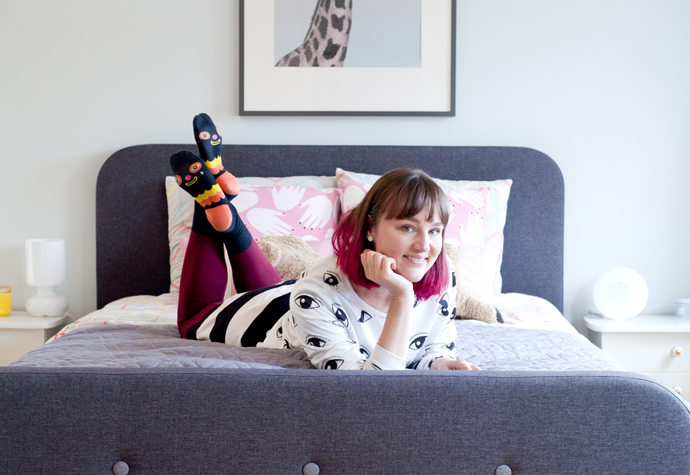 Op zondagavond doen we keurig om kwart over tien het licht uit. Tom slaapt binnen ongeveer een minuut (hij hoeft alleen een deken over zich heen te trekken en hij slaapt) en ik lig nog zo'n anderhalf uur te woelen. Uiteindelijk probeer ik het ritueeltje wat mijn yoga-juf altijd bij ons doet: span je voeten in, ontspan je voeten, span je kuiten in, ontspan je kuiten (en ga zo door totdat je al je lichaamsdelen gehad hebt, tot en met je wenkbrauwen). Misschien kwam het ook omdat het inmiddels kwart voor twaalf was, maar ik viel ervan in slaap. Op maandagochtend werd ik wakker van de wekker en sleepte me een uur eerder dan normaal (half acht) uit bed. Slaapdronken waggelde ik naar beneden, dronk een groot glas water, at mijn ontbijt en na een half uurtje was ik 'onder de levenden'.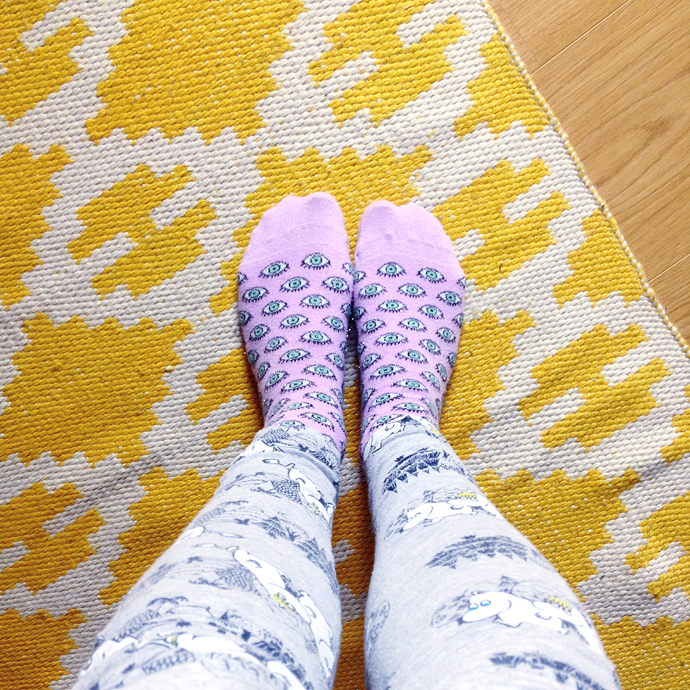 Maandag zou altijd de allerzwaarste opgave zijn van deze week wist ik van tevoren, want op maandag slaapt Tom in Utrecht voor zijn werk (elke week). En als de kat van huis is, gaat dit muisje meestal pas om half twee slapen… En de kat in Utrecht trouwens ook. Er is niemand die tegen ons zegt dat we naar bed moeten en dus gaan we pas slapen als we écht omvallen van vermoeidheid. Maar deze week mocht dat natuurlijk niet. Het koste me álle zelfdiscipline die ik in me had om om twintig over tien het licht uit te doen. Jammer dat het licht buiten nog aan stond en dat de buren een late night wasje aan het draaien waren. Ik draaide gezellig nog uurtje mee terwijl ik naar een voorleesverhaaltje luisterde wat bij kinderen schijnbaar wonderen verricht. Maar bij mij werkte het bijna averechts. Ik zette na het verhaaltje nog een half uur mediterende zeegeluiden op en viel uiteindelijk in slaap…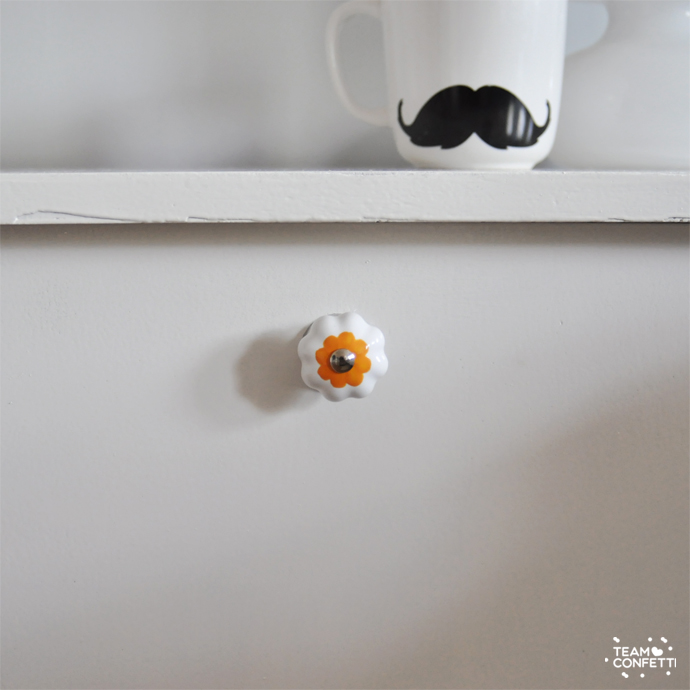 Mijn yogales van dinsdagavond viert vakantie en dus besluit ik in plaats daarvan naar een feelgood film te gaan in het filmhuis om 'zen' te worden. En omdat ik om kwart over tien al in bed moet liggen, stap ik om 18.35 het filmhuis al binnen. Ja, wie vroeg naar bed wil, moet vroeg met zijn avondactiviteiten beginnen. De film (retour en bourgogne) is luchtig en gaat over familie liefde en mooie dingen maken (wijn) en ik kom vol positieve gevoelens en een helder hoofd de bioscoop uitgelopen. Thuis laten we onze telefoontjes úít de slaapkamer, drinken we nog een kopje night time thee en kan het Grote Woelen weer beginnen. Zelfs Tom duurt het een tijdje om in slaap te vallen. Blijkbaar is het nog verdomde lastig om je bedtijd van half twaalf naar kwart over tien te verplaatsen. Ik begin te twijfelen of het wel realistisch was om dat binnen een week voor elkaar te krijgen…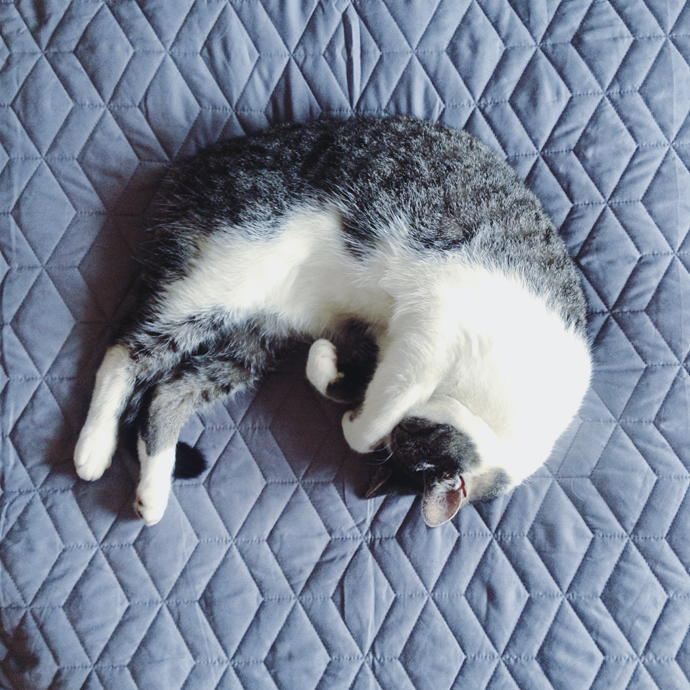 Woensdagavond was een héle rare avond en deze keer verbaasde het me niet dat ik slecht in slaap kon komen. Er is namelijk die avond bij ons in de buurt iemand aangevallen met een bijl. EEN BIJL! Politiewagens en ambulances kwamen en gingen, er liepen overal fotografen, rood/wit gestreepte afzetlinten blokkeerden de weg en Tom, Tetkees en ik hingen de hele avond uit het raam om erachter te komen wat er aan de hand was. Toen het nieuws binnendruppelde dat er iemand aangevallen was met een bijl en de dader nog op vrije voeten was, sloten we alle deuren en ramen en gingen daarna vroeg naar bed. De telefoontjes bleven weer beneden en we lazen nog een boekje en deden iets te laat het licht uit (oeps). Toen ik na een uur nog steeds niet sliep, besloot ik mijn wekker voor de volgende dag een uur eerder te zetten, om half zeven. Ik was het woelen meer dan zat en had het idee dat die negen uur slapen niet voor mij was. Ik was er gewoon niet moe genoeg voor!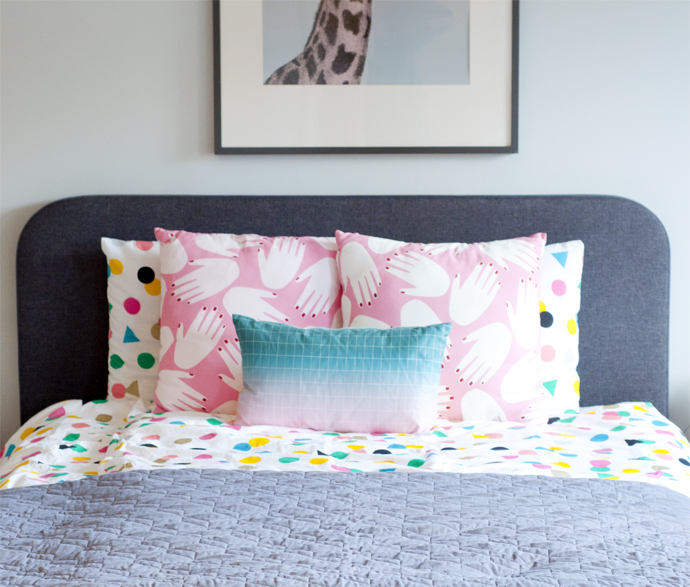 Met oogjes zo klein dat ik bijna niks kon zien, kwam ik op donderdagochtend naar beneden om half zeven (tot grote verbazing van Tom). Maar na een half uurtje acclimatiseren en een kopje thee, was ik klaarwakker. Om écht wat aan mijn vroege opstaan te hebben, ging ik om kwart over zeven al aan de slag voor mijn werk en had ik om 09.00 de helft van mijn to do lijst al afgevinkt. Normaal begin ik dan pas met werken! Het vroege opstaan hielp 's avonds ook heel goed. Ik was bekaf en had helemaal niet het gevoel dat ik een korte avond had, omdat de dag zoveel langer had geleken. Nee, ik viel niet meteen als een blok in slaap, maar ik lag absoluut niet met mijn ogen wijd open het donker in te staren…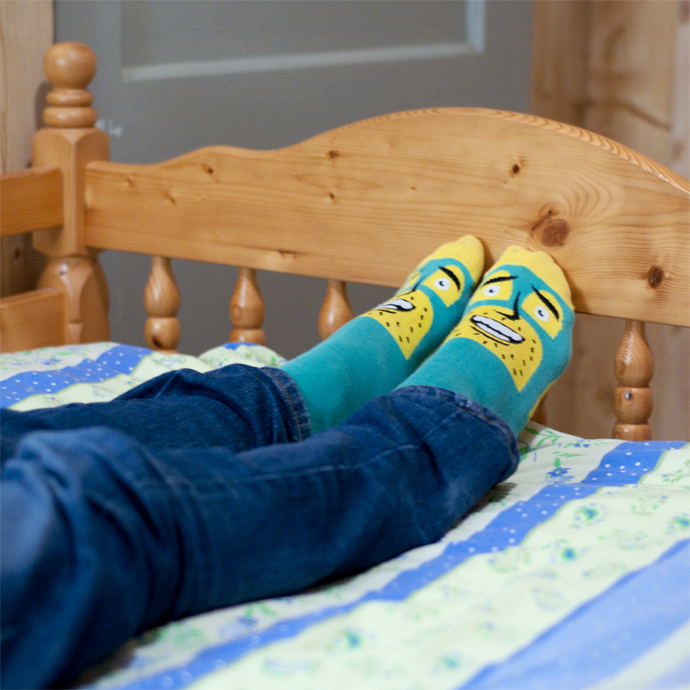 Op vrijdag sprong ik weer om half zeven uit bed maar had geen idee wat ik moest doen. Ik had namelijk al mijn werkzaamheden voor donderdag én vrijdag al af door het vroege opstaan op donderdagochtend. Ik besloot wat recepten te fotograferen voor de blog en 's middags naar Anne te gaan om thee te drinken en koekjes te eten. 's Avonds aten we gezellig bij Tom's ouders, maar waarschuwden we dat we om 21.00 alweer het pand moesten verlaten vanwege ons nieuwe slaapschema. Het voelde wat party-party-pooperig aan om dat te moeten doen, maar omdat we het al vroeg hadden gemeld, hield iedereen onbewust de klok in de gaten en reden we ruim op tijd naar huis zonder dat de avond abrupt tot een einde was gebracht.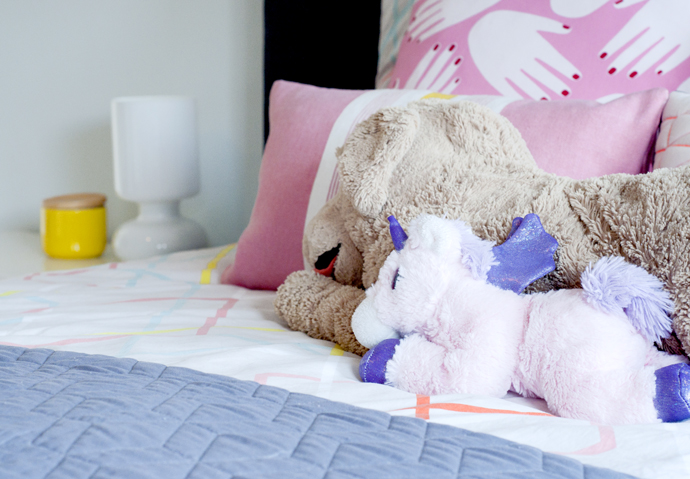 Jahaaaaa, op zaterdag stond ik óók om half zeven op. Het concept uitslapen heb ik al meer dan een jaar achter me gelaten sinds ik heb geleerd dat dat funest is voor je slaapritme. Van maandag tot en met vrijdag bouw je die namelijk met zorg op en in het weekend haal die die weer finaal onderuit door uit te slapen. Dus ik vond het niet zo'n punt om het slaapritme door te zetten in het weekend. MAAR op zaterdagavond weken we wel héél ernstig van ons slaapschema af en met een goede reden: voor de beste zaterdagavond dit jaar (tot nu toe). Tom, Meike en ik zijn namelijk naar de geheime bioscoopvoorstelling van KinoKlandestino geweest. Om half vijf 's middags werd de locatie bekendgemaakt (het stadion van lokale voetbalvereniging Be Quick) en om kwart over tien (toen was het donker genoeg om te projecteren) ging de film draaien: Next Goal Wins. Ik heb in dit artikel niet echt de ruimte om er heel veel over te vertellen, maar ik kan je zeggen dat de hele avond waanzinnig was georganiseerd, de filmkeuze fantastisch was en de sfeer amazing. We hebben elkaar plechtig beloofd dat we nooit meer een editie zullen missen. Het was het helemaal waard om later naar bed te gaan!

Behalve 'meer slaap' hadden we niet echt duidelijke regels of doelen gesteld voor deze week. Aan de ene kant hadden we dat wel wat beter kunnen plannen. Maar aan de andere kant zijn we door maar wat random dingen uit te proberen, achter een paar hele waardevolle dingen gekomen: Tom voelt zich veel beter door de volle acht uur slaap die hij nu krijgt en ik heb meer uren in een dag dan dat ik ik vol kan maken. Ik voelde de druk van werk meteen verminderen omdat ik veel meer tijd had om het te doen en daar werd ik gemotiveerder en relaxter van. Ik had tijd om een hele middag te theeleuten én ik kreeg met gemak een hele pittige deadline af waar ik deze week erg tegen op zag.
Slaap week was dus een groot succes! Ik hoop heel erg dat we dit goed vol kunnen houden. Maar het is inmiddels een heel geruststellende gedachte dat een week genoeg is om een goede gewoonte weer in ere te herstellen. Mochten we dus na een tijdje onze goede gewoontes kwijtraken, dan gooien we er gewoon een Happiness Week tegenaan en binnen zeven dagen zijn we weer op het rechte pad.
♥♥♥
In de Happiness Week van komende week heb ik héél veel zin. We gaan namelijk ons huis weer eens grondig declutteren! Aan het einde van deze week hopen we 100 dingen uit ons huisje te hebben verdreven die vooral ruimte innemen maar niet echt iets toevoegen. We hebben al meerdere keren grondig ons huis ontspult, maar ik weet zeker dat er nog genoeg dingen verstopt zitten waar we beter een ander baasje voor kunnen gaan zoeken…
Wil je mee doen? Dit zijn onze spelregels: op maandag, dinsdag, woensdag, donderdag en vrijdag kiest elke persoon in ons huishouden (twee dus, Tetkees doet niet mee) tien dingen uit die hij/zij niet meer nodig heeft. In ons geval zijn dat dus aan het einde van de week 100 dingen. Op zaterdag brengen we al die dingen naar het vuilnis, de kringloop of naar vrienden/familie (als zij er nog iets aan hebben). En op zondag zetten we alles waar we nog denken een zakcentje aan te kunnen verdienen, op Marktplaats. 
100 lijkt best veel, maar pak dat bakje met pennen of sleutels eens aan en het telt snel bij elkaar op. Hoe streng je bent, mag je zelf bepalen, als je maar tien (voor jou nutteloze) dingen per doordeweekse dag verzamelt en ze je huis uitwerkt in het weekend!