Yassssss, ik mocht weer mijn huis uitmesten. Iets wat een paar jaar geleden een on-aan-te-pakken-klus leek, is nu bijna iets waar je me voor wakker kan maken. Destijds zag ik door de bomen het bos niet meer, maar nu ik vooral lievelingsspullen heb, wordt het steeds makkelijker om de nutteloze/ongeliefde spullen eruit te pikken…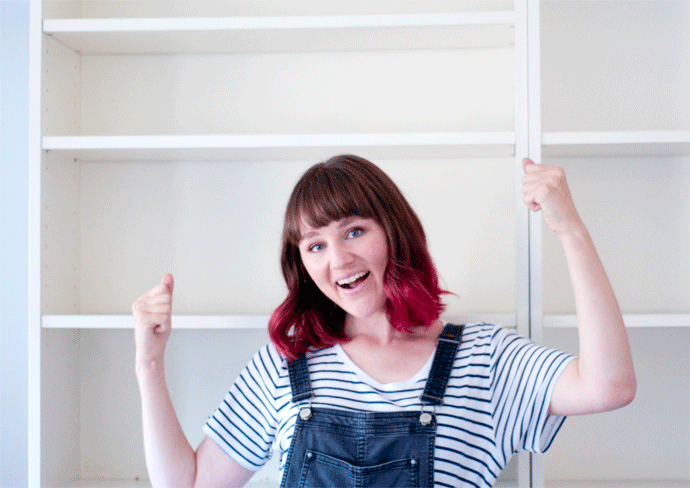 Voordat ik begin met uitmesten, even wat uitleg waarom ik graag mijn spullen filter:
Reden #1
Zodat kastjes en lades niet uitpuilen en ik makkelijk kan opruimen én dingen terug kan vinden. Overzicht in mijn huis scheelt véél tijd en het is makkelijker om te onthouden wat ik heb en waar het ligt. O en stofzuigen is veel leuker met een lege vloer…
Reden #2
Het lijkt me een fijn idee om op een gegeven moment minder ruimte nodig te hebben. We willen binnen een jaar graag verhuizen (ongeveer, we kijken wel hoe het loopt) en in plaats van een nog groter huis, zou ik liever willen downsizen. Hoe meer vierkante meters, hoe duurder een huis is. Ik zou liever op een goede locatie willen wonen of een bijzonder huis willen hebben, zonder de hoofdprijs ervoor te hoeven betalen.
Reden #3
Ik voel me niet op mijn gemak met veel troep om me heen. De cortisol (stresshormoon) stuitert door mijn lijf en ik kan me moeilijk concentreren. Aangezien ik vanuit huis werk en niet elke ochtend een klinisch kantoorgebouw binnen kan stappen, is het dus zaak om het een beetje netjes te houden zodat ik mijn verstand niet verlies.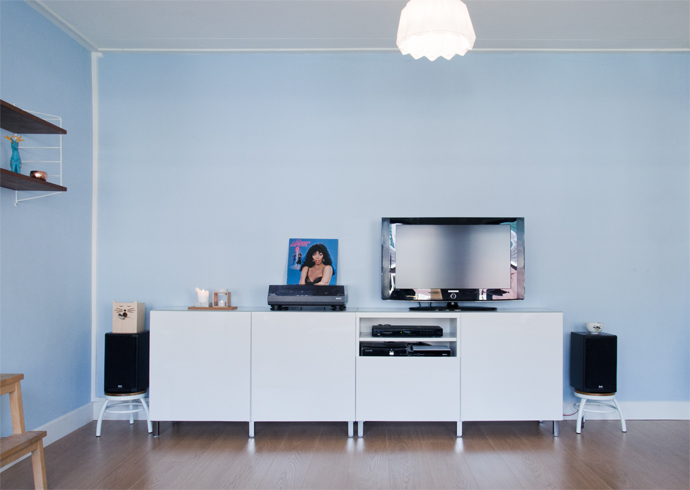 Handenwrijvend begin ik maandagavond aan ons tvmeubel. Die is aan de grote kant omdat we geen inbouwkasten in huis hebben. Het leek ons een paar jaar geleden dus een top idee om niet één, maar twee kasten te kopen waar onze tv op kon staan. Zodat we er lekker veel spullen in konden proppen. Er zitten gelukkig weinig sentimentele items in, dus dat maakt het makkelijk 'wieden'. Aan het einde van mijn weggooi-woede van dag 1 is de helft van deze kastjes leeg…
Na het ontspullen, zet ik de documentaire Minimalism (Netflix) op. Die had ik een tijd geleden al eens gekeken, maar hij is zó goed dat hij heel geschikt is om nog eens te zien. De eerste keer had ik een echt 'Aha!' moment en door hem nogmaals te kijken, weet ik weer waar ik het allemaal voor doe. Echt een aanrader!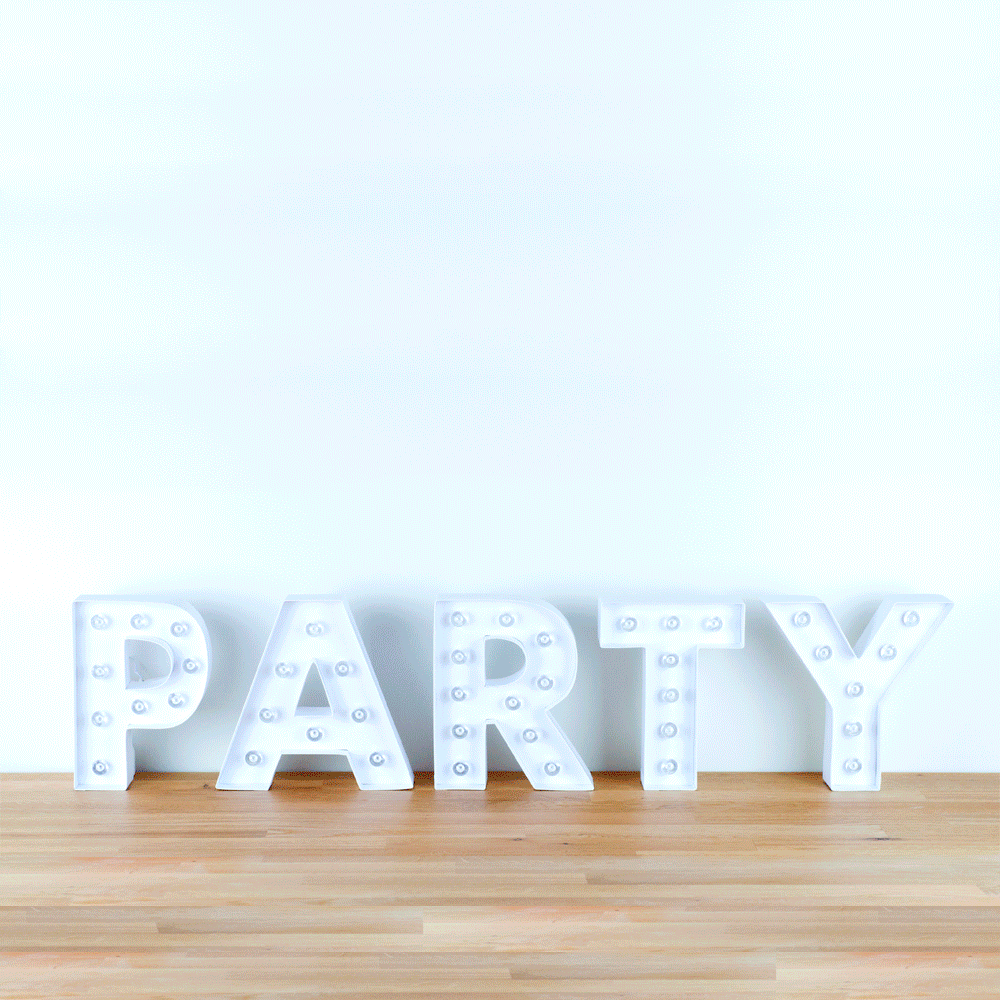 Ik had op maandag al zoveel dingen uit het tv meubel getrokken, dat ik een beetje voorsprong had opgelopen. Tien dingen per dag per persoon was de opdracht en daar zat ik al bijna aan terwijl Tom nog geen vinger uit had hoeven steken. Dus door her en der in huis wat ongebruikte spulletjes op te pikken, was onze daily goal al behaald. Waaronder bovenstaande party lights die ik maakte voor een HEMA animatie. Ze zijn zó leuk, maar ik heb geen plek in huis waar ze echt tot hun recht komen…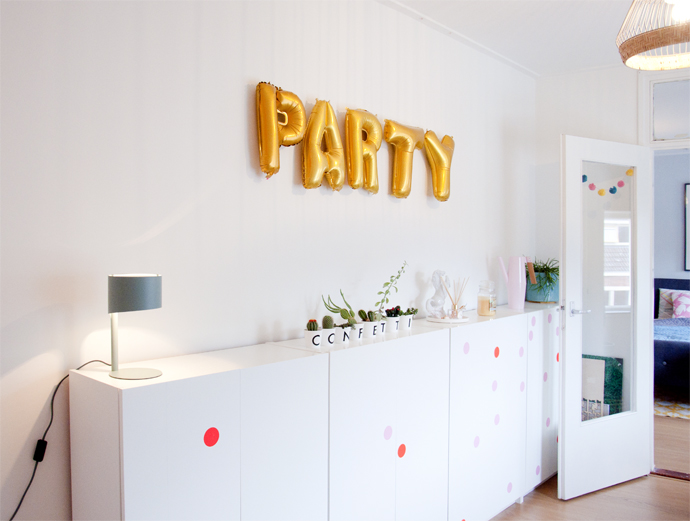 Op woensdag heb ik weer zin om een paar kasten uit te mesten en ik duik mijn Party Office in. Daar vind ik het altijd wat lastiger uitmesten omdat er nogal wat voor-het-geval-dat spullen te vinden zijn. Crafty stuff, dingen die ik in HEMA animaties zou kunnen gebruiken, etc. Ik was de laatste keer heel coulant geweest, maar dit keer ga ik wat ruiger te werk. Vooral projectjes of apparaten waarvan ik steeds tegen mezelf zeg dat ik er ooit iets mee ga doen, moeten het veld ruimen. Het doet even pijn om mijn analoge camera en een hele berg gelaserde houten bedels waar ik ooit nog kettingen van zou maken uit mijn kast te verwijderen. Maar let's face it, ze liggen er al jaren en elke keer als ik ze zie, dan word ik weer herinnerd aan het feit DAT IK ER IETS MEE MOET GAAN DOEN. Soms is de beste oplossing om het gewoon níét te doen en iemand anders de kans geven er iets mee te doen. De bedels kan ik niet echt aan iemand kwijt, maar de camera vast en zeker. En met het idee dat een apparaat waar ik intens van heb gehouden en gebruik van heb gemaakt, binnenkort iemand anders blij gaat maken, kan ik er afstand van doen…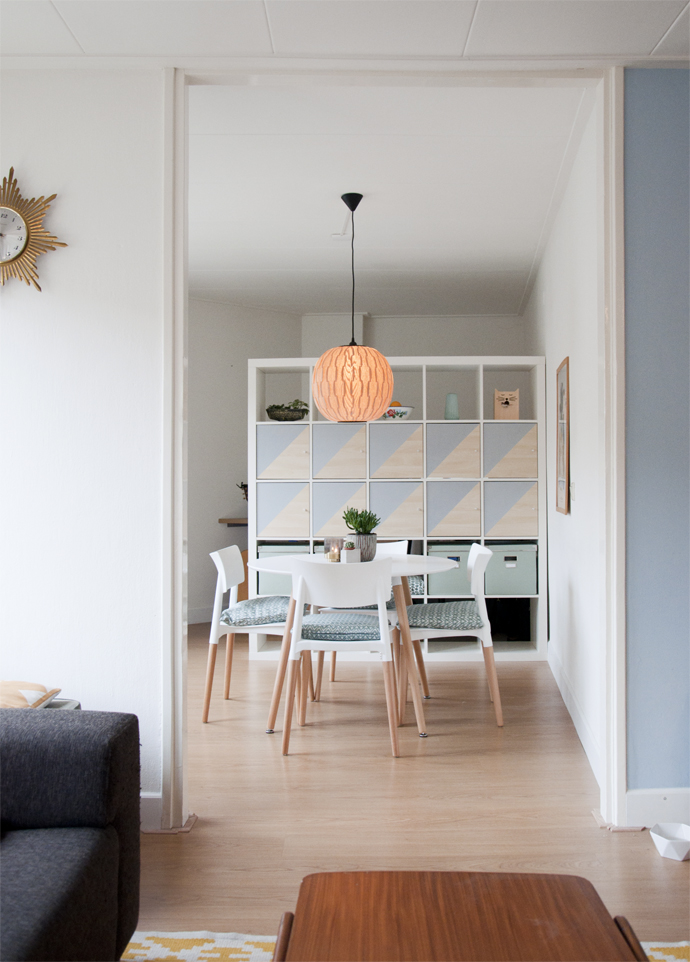 Op donderdag is het tijd voor de vakjeskast in de woonkamer! Een superhandig ding dat de eethoek van Tom's werkruimte scheidt, maar door al die deurtjes is het makkelijk om er spullen in te stoppen en er vervolgens nooit meer naar om te kijken. Ik vind er onder andere een prachtig kleurboek voor volwassenen en potloden in alle kleuren van de regenboog. Ik wilde de hype graag uitproberen omdat het klinkt als zo'n heerlijke activiteit, maar ik werd al snel stijf in de voorovergebogen 'kleur houding' en aangezien mijn werk uit zo'n 80% creatief nadenken bestaat, hoef ik er nóg een creatieve hobby naast. Arriverderci kleurboek!
Tom heeft de afgelopen dagen amper iets hoeven doen omdat ik genoeg declutter voor ons tweeën, maar vandaag gaat hij los. Met pijn in zijn hart doet hij afstand van zijn gitaar die al jaren stof staat te vangen. Ook geeft hij toe dat de LP speler veel te weinig wordt gebruikt om zoveel ruimte in te nemen en verzinnen we samen een plannetje om de twee grote speakers (plus krukjes) die naast het tv-meubel staan te vervangen door één kleintje. Ook gaan Tom's oude laptop én negen usb-sticks op de ontspul-stapel.
Na een kwartier samen declutteren, houd ik eindelijk op met tellen. Want het gaat gewoon té hard met twee man sterk. Ik dacht dat tien spullen per persoon per dag een opgave zou zijn, maar het is eigenlijk veel te weinig. Na tien dingen ben ik nog maar pas begonnen en ik vind het zonde om momentum te verliezen.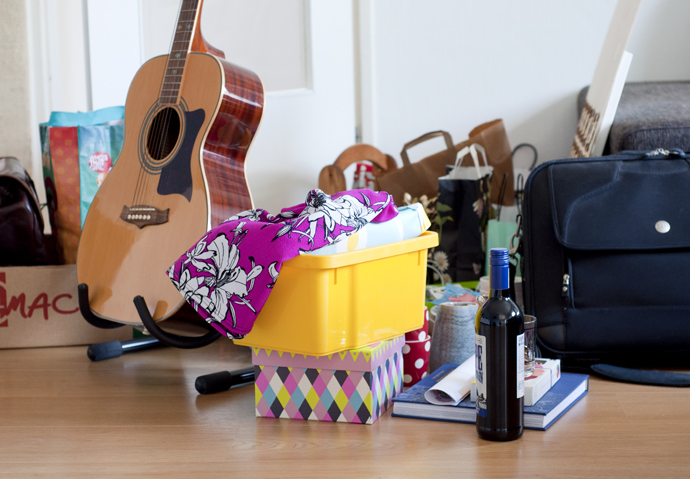 Op vrijdag verzamel ik nog wat bits & pieces om de 'declutter stapel' af te maken (het is inmiddels een soort zee van spullen geworden die langzaam de woonkamer overneemt. Daarna haal ik alles eruit wat kapot is, gooi het weg en geef de rest van de spullen een plekje in de eethoek. Dit is onze tijdelijke gratis winkel waar vrienden op zaterdagochtend mogen komen 'shoppen'.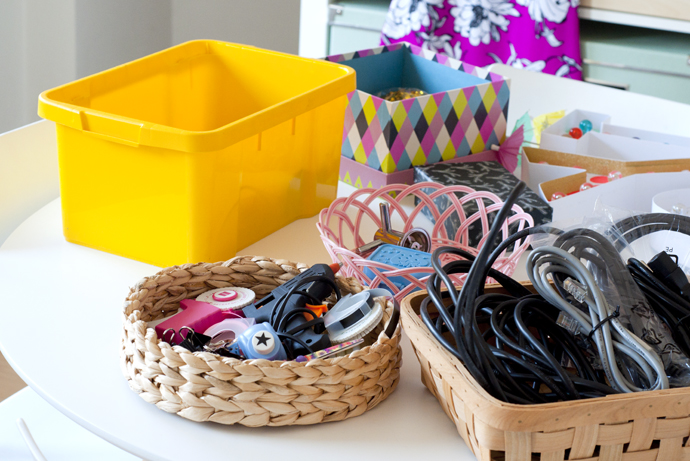 Zaterdagochtend staan we vroeg op (mijn vaste uit-bed tijd is nu half zeven dankzij slaap-week, óók in het weekend) om scones te bakken en thee te zetten voor onze open huis ochtend. Vrienden komen langs, drinken gezellig een kopje thee, smikkelen van de scones met jam en kiezen wat dingen uit onze gratis winkel (aka de berg spullen in onze eethoek) en gaan tevreden weer huiswaarts. Het grootste gedeelte van de stapel ligt er nog, maar we hebben een paar mensen heel erg blij gemaakt. De rest van de middag brengen we de gitaar naar een vriend, rijden we naar de stort om nog wat oud klusmateriaal weg te gooien en tenslotte naar de kringloop voor alles wat nog over is.

Zondag is de laatste dag van de challenge en het enige wat nog hoeft te gebeuren is de dingen waar we nog wat geld mee kunnen verdienen, op marktplaats te zetten. Dit klusje neemt Tom gelukkig op zich want ik vind spullen op marktplaats zetten (en het daadwerkelijk verkopen) een vrij vermoeiend proces (mensen komen eigenlijk zelden opdagen als we een afspraak maken, how rude!) Hopelijk levert het nog wat zakcentjes op voor Brighton…

We zijn met vlag en wimpel geslaagd! Ruim over het doel van de 100 dingen deze week én we hebben de stapel van dingen die weg moesten, niet drie maanden in een hoek van de woonkamer laten verstoffen. Dat is eigenlijk waar het altijd misgaat. Ik kan best goed uitzoeken wat er weg kan, maar het daadwerkelijk wég brengen, daar heb ik nooit zo'n zin in. Dus goed dat ik daar een onderdeel van de challenge van had gemaakt (en we het ook echt hebben gedaan).
Maar is ons huis nu helemaal clutter vrij? Nope. Even vond ik dat jammer, maar dit is wat we in één week on the side voor elkaar konden krijgen en dat was echt een hele goede score. Op een dag hoop ik een huis te hebben met spullen waarvan ik 100% zeker weet dat ze er allemaal zijn met een goede reden én die ik allemaal binnen een minuut kan vinden als ik ze nodig heb. Op een gegeven moment lijkt het me dus wel goed om deze Happiness Week te herhalen en tot die tijd de stroom van spullen die ons huis ingaan, zoveel mogelijk tegen te houden (op spullen die vervangen moeten worden na).
Het lijkt me leuk om binnenkort een artikel te schrijven met tips voor een wat troep-vrijer huis. Waar begin je in vredesnaam en hoe stop je met kopen en krijgen? (Het klinkt heel simpel, maar het is echt best moeilijk, verzamelen zit in de menselijke natuur en er is zoveel moois te krijgen.) Als je nog een vragen hebt op het gebied van ontspullen, let me know!