Over het algemeen ben ik niet het type dat zich de hele dag druk loopt te maken over ongelijkheid tussen mannen en vrouwen. Ik ben daar niet zo mee bezig in het dagelijks leven omdat ik er niet zoveel last van heb. Ik ben getrouwd met Tom, de meest vrouw-vriendelijke-man-op-aarde en tijdens mijn werk stoor ik me er ook zelden aan. Maar toen ik zo nodig een baby moest maken (silly me), nou, toen kwam ik er wel achter…
Dat hele baby maken is natuurlijk al enorm ongelijk. Papa is alleen nodig bij het plezierige-zaadje-planten-gedeelte en daarna is hij off the hook. Mama daarentegen is de pineut. En niemand brengt dat zo mooi in beeld als Brigitte Kaandorp (bekijk het fragment hierboven, echt even doen, het is een meesterlijk stukje cabaret). En alhoewel ik dat zeer onrechtvaardig vond, daar is nou eenmaal écht niks aan te doen. Om die ongelijkheid een beetje recht te trekken, wilde ik als beloning dat Kiki mijn achternaam zou krijgen. Tom is de beroerdste niet en gaf me na twee weken doodziek zijn (het eerste trimester vond ik echt 'genieten') al groot gelijk. 'Jij moet al het zware werk doen, dus als jij haar jouw achternaam wil geven, dan doen we dat.' Zo gezegd, zo gedaan.
Of toch niet?
Als je baby wordt geboren, dan moet je die aangeven bij de gemeente. Weet iedereen. No surprise there. Dus toen we thuiskwamen uit het ziekenhuis, was dat het eerste agenda-puntje. Want daar krijg je maar een paar dagen de tijd voor, dus hurry hurry. Tom zat met zijn laptop in bed om dat klusje even te klaren. Want moderne tijden hebben ervoor gezorgd dat dat ook online kan. 'Hm, wat raar, er is geen vakje wat je aan kunt klikken als de baby de achternaam van de moeder krijgt.' Mompelde Tom terwijl hij druk de pagina op en neer scrolde. 'Even bellen hoor.'
Wat bleek? De gemeente had bewust die optie er niet bijgezet. Als je getrouwd bent dan krijgt de baby namelijk automatisch de achternaam van de vader. Wil je de achternaam van de moeder geven aan je kindje, dan moet je voordat de baby geboren is, een akte van naamkeuze tekenen op het gemeentehuis mét toestemming van de vader. Dat is natuurlijk al van de gekke WANT WIE IS HIER WEL GOD NONDEDJU DIE BABY AAN HET MAKEN?? Maar als je dat niet weet (wisten we dus niet) (niemand weet dat) dan mag je met je gebroken keizersnede lichaam naar het gemeentehuis strompelen binnen drie werkdagen anders dan heb je mooi pech en krijgt baby doodleuk de achternaam van papa…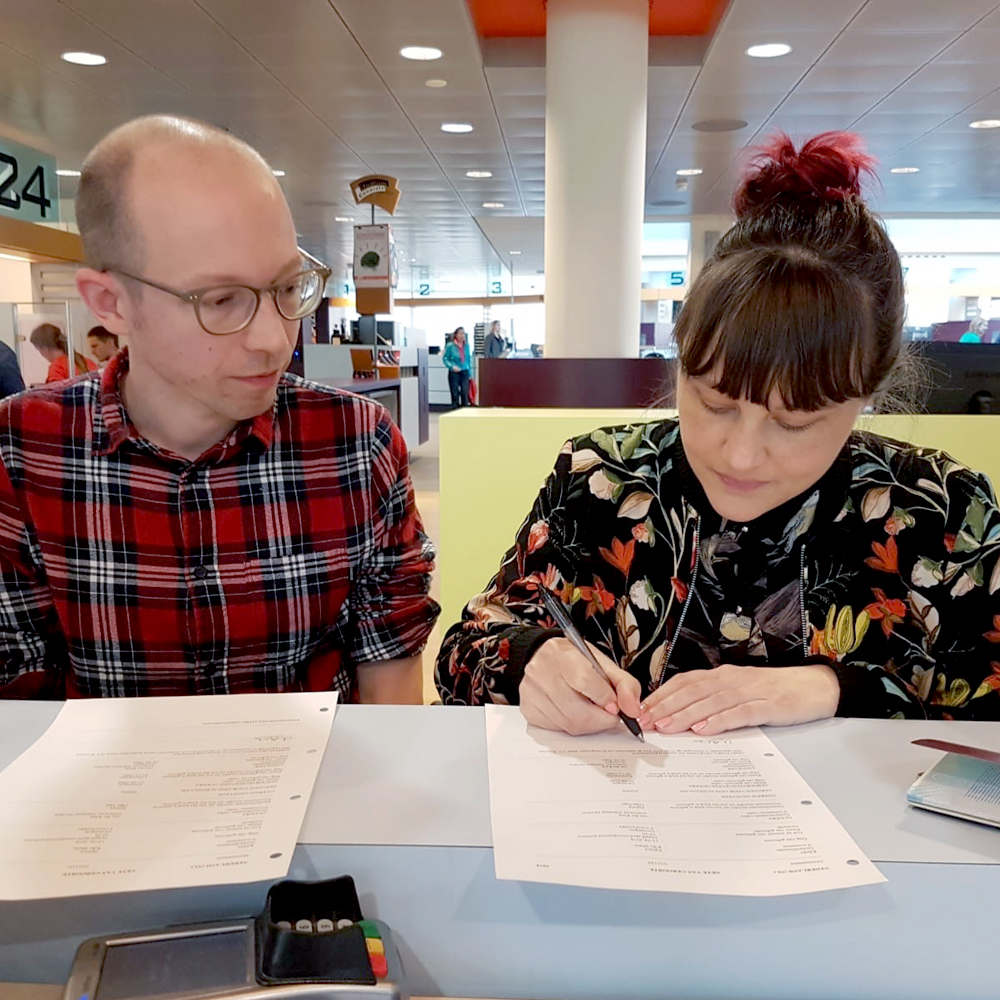 Zoals je op de foto hierboven kunt zien, is me dat gelukt. Ik ben met mijn gebroken keizersnede lichaam naar het gemeentehuis gestrompeld en ik heb mijn eigen kind aangegeven. 'Seksistische rotzakken' gromde ik nog toen ik door de draaideuren schuifelde. Gelukkig sloeg de boosheid om in trots toen ik me kreunend van de pijn (ja, drama jongens, DRAMA) in het stoeltje op het gemeentehuis liet zakken. Het voelde opeens als een mooi voorbeeld voor mijn kleine meisje dat nog niet eens een week oud was.
Want niet alleen hoor ik nu bij de paar procent getrouwde vrouwen met een kindje dat haar meisjesnaam deelt, op het aangifte formulier staan de namen van Kiki's vader én haar moeder (in plaats van alleen haar vader zoals bij een reguliere aangifte). En ondanks dat de bureaucratie in Nederland me een paar pittige hindernissen heeft gegeven, ik ben er dapper overheen geklommen.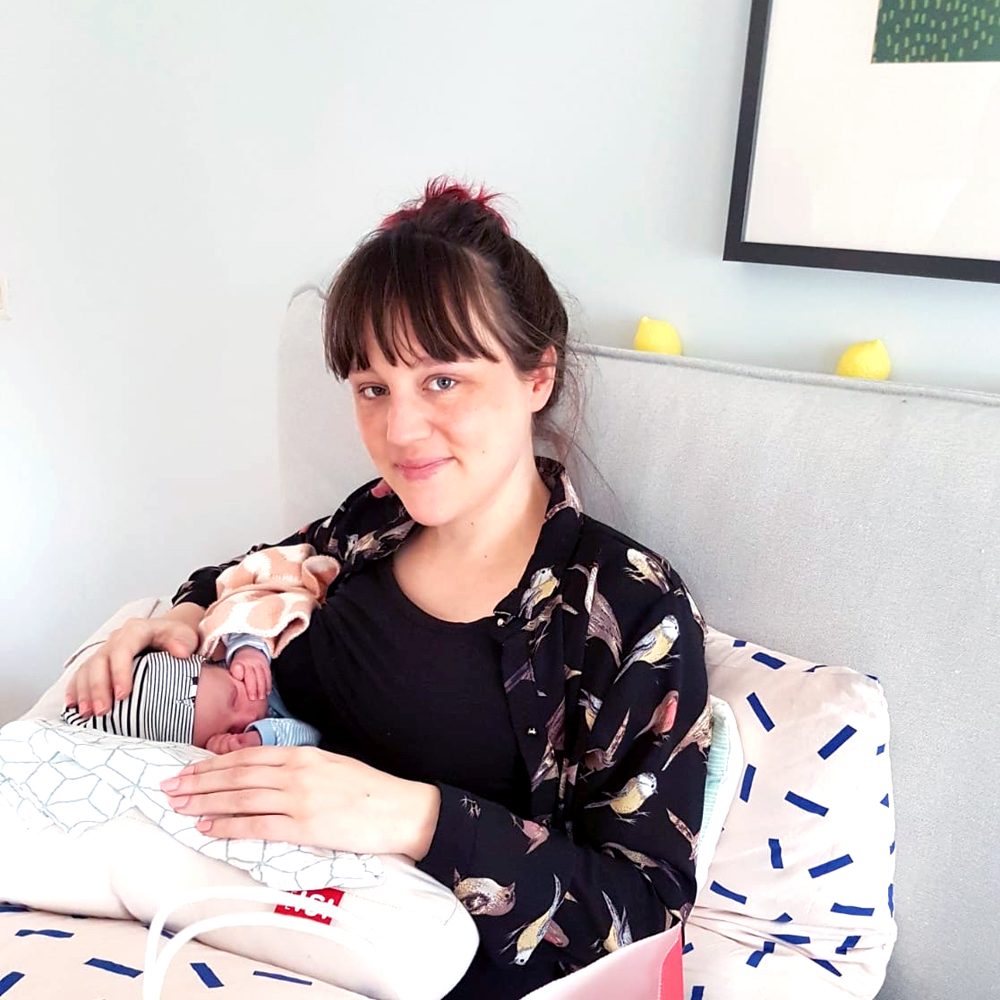 Kiki is nu dus 'een echte Zijlstra' zoals mijn vader dan zegt. 'Echte Zijlstra's' zijn eigenwijs en heel goed in hun werk. Ze gaan hun eigen weg, zijn trots en je kunt ze zelden iets laten doen waar ze niet achter staan. 'Echte Zijlstra's' zijn dapper, hebben een goed gevoel voor humor en zorgen goed voor elkaar.
Kortom, een naam om trots op te zijn…
♥♥♥