Vorige week picknickten we binnen, klusten we een gewéldig bureau in elkaar en scoorde ik een nieuw lichtroze accessoire voor op mijn hoofd… Kijk mee naar weer een spannende aflevering van de Confetti Soap!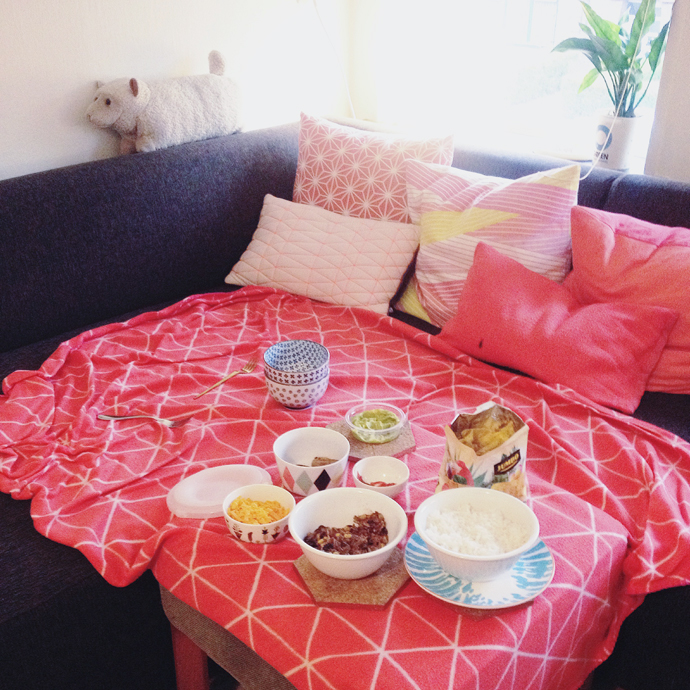 Vorige vorige week vrijdag waren Tom en ik moe en blij dat het weekend was. We warmden alle kliekjes op die nog in de koelkast lagen (plus onion rings uit de vriezer, onze laatste ontdekking op het gebied van vega snackjes) en hielden een picknick op de bank. Want lekker gek enzo.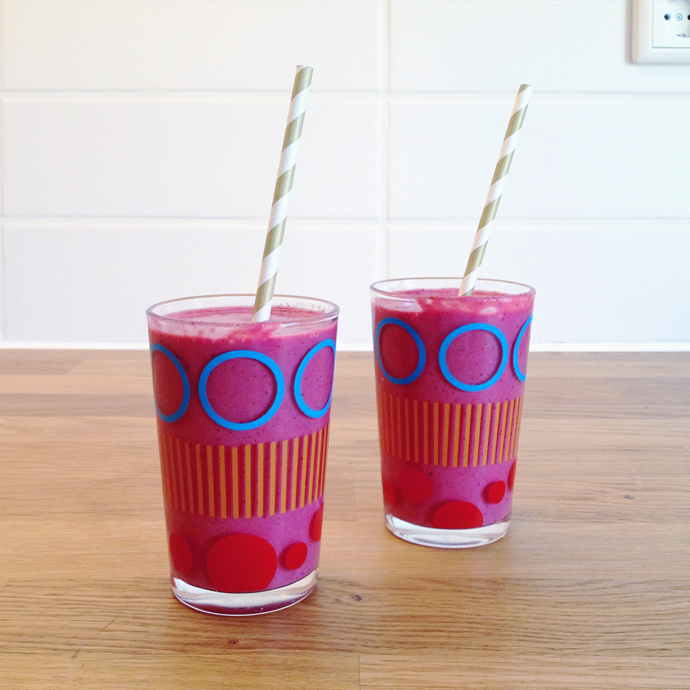 We zijn heel langzaam onze vriezer aan het leegeten omdat hij ontdooit moet worden en dus maakte Tom een HELE lekkere smoothie met appel, yoghurt, bevroren aardbeien, bevroren frambozen en bevroren blauwe bessen. En GEEN prei. Yes!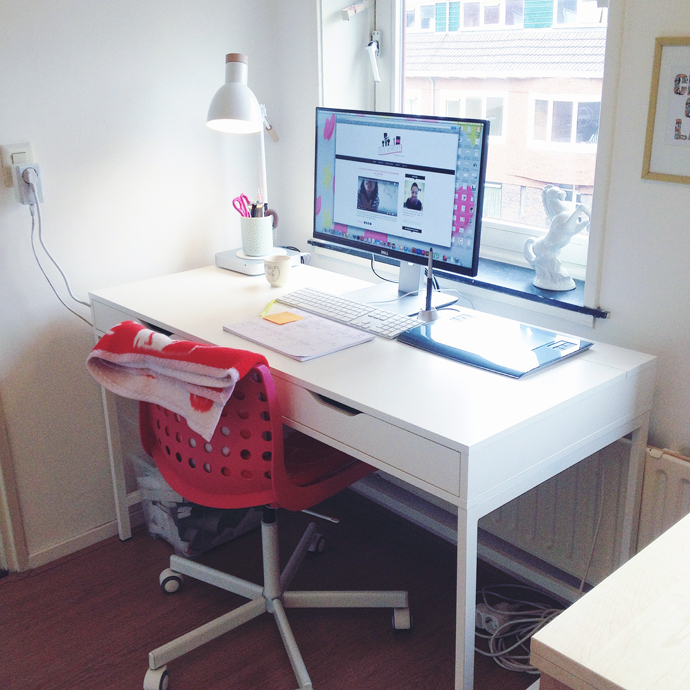 Vorig weekend kocht ik een nieuw bureau en die leek een stuk groter in de winkel, haha. Mijn oude bureau was eigenlijk een uitschuifbare eettafel, dus dit was even wennen. Maar jongens, die lades! Wat een feest. Er zit ook een compartiment in voor een stekkerdoos en gaten achterin waar alle snoeren doorheen kunnen. Klein maar héél fijn dus. En er komt nog zo'n bureau naast te staan (voor mijn webshop activiteiten en knutsel uitspattingen) met wéér van die geweldige lades. Maar dat is voor een volgende keer. Babysteps!
Ik heb vorige week echt wat gemaakt van mijn lunches, ha! Eerst een girly girl lunch met roze hummus en paarse noodles, daarna leftover lunch (taco chicken bowls van budget bytes) en tenslotte een solo lunch bij Ikea met mosterdsoep en een softijsje na. Go me. :)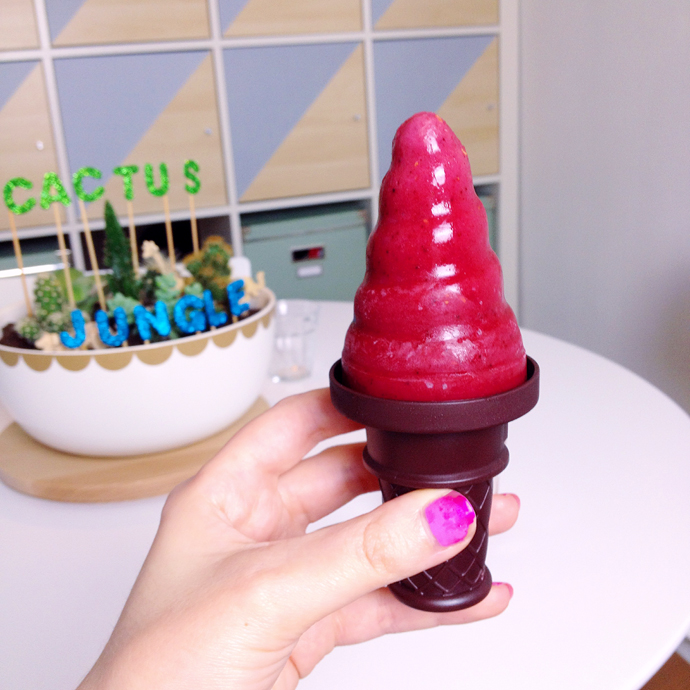 En over ijsjes gesproken. We hadden nog een beetje smoothie over en hebben die gebruikt om een ijsje van te maken met mijn nieuwe -zelf-ijsjes-maken-set. Hm, als smoothie was ie beter, dus we gaan meer ijsjes-recepten uitproberen. Maar het plastic hoorntje is wel echt geweldig toch?
Ik trakteerde mezelf op een lichtroze koptelefoon omdat ik best snel ben afgeleid door geluiden van buiten (de groenteboer onder ons heeft een hele lawaaiige afvalbak en doet af en toe net alsof ie op de markt staat, haha). Ik had niet zoveel eisen behalve dat ie er érg leuk uit moest zien, lekker moest zitten en niet te duur was. Low and behold bestond die koptelefoon. Hij is roze, zit heel comfy én koste maar €14,50 via Bol. Das toch een prikkie?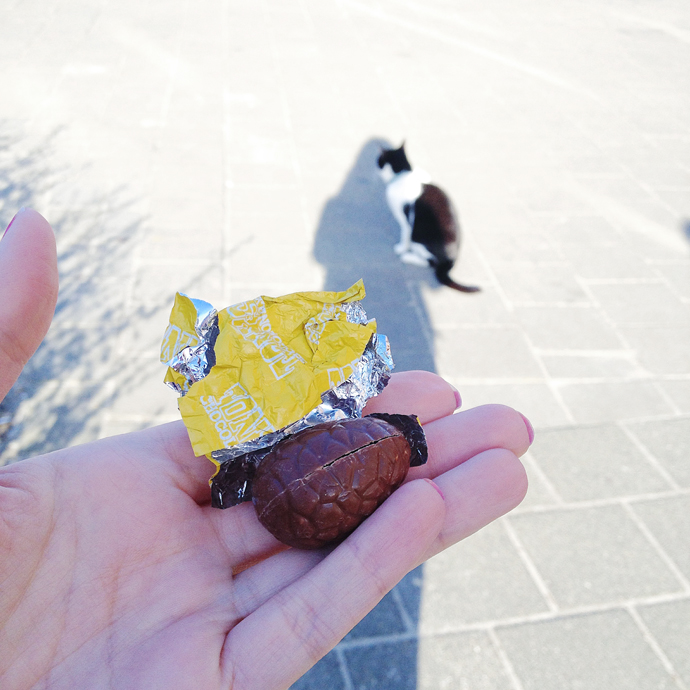 Even een rondje met de katjes lopen want het was mooi weer en ik moest een frisse neus na een dag lang binnen werken. Ik kreeg van Hessel een tijd geleden een doosje paaseieren van Tony's en we doen héél zuinig. Wie wat bewaard die heeft wat. :)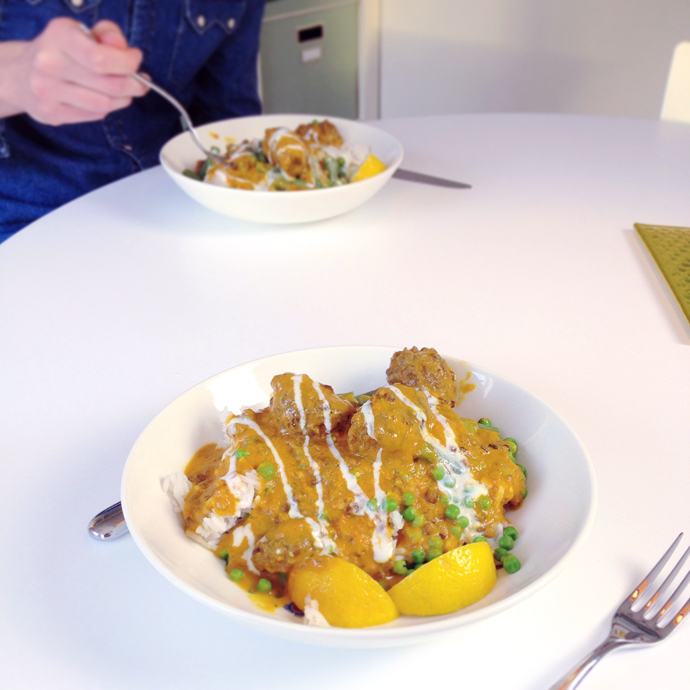 Ik heb het eerder ook al gezegd (met veel enthousiasme) maar Tom kan tegenwoordig heel lekker koken! Dit is kofte met curry van Jamie Oliver, zó lekker. I love you man.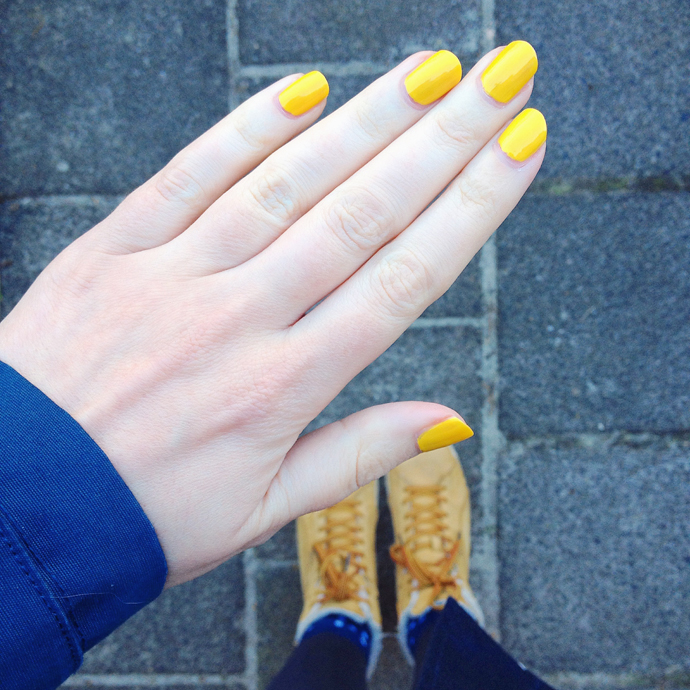 Het zonnetje is tegenwoordig steeds vaker te zien en daarom lakte ik mijn nagels zonnetjes-geel. Het is een lakje van HEMA en na twee laagjes ziet het er zo uit. Geel kan soms heel streperig zijn of raar afsteken tegen mijn huidkleur, maar deze is echt perfect. Aanradertje.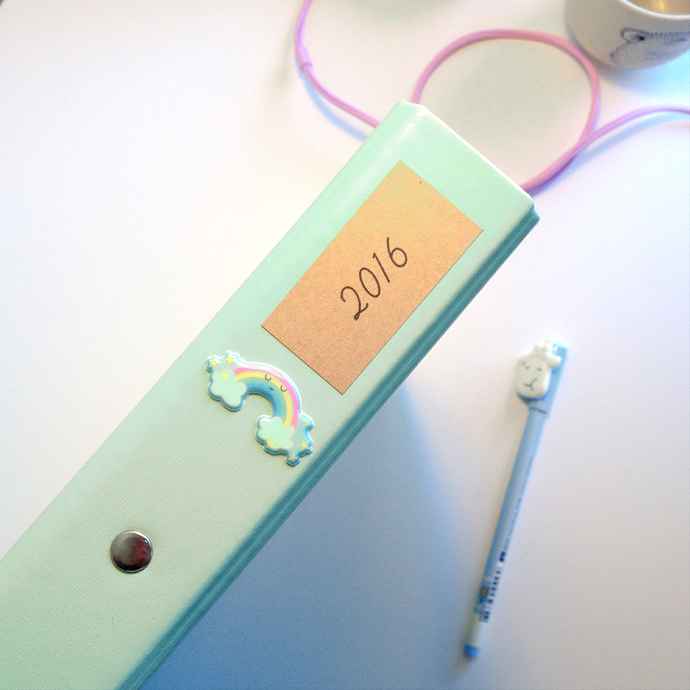 Argh, het is weer btw-tijd. Daar gaat altijd meer tijd inzitten dan me lief is. Maar het dwingt me ook om mijn administratie op orde te brengen en in dit geval ook mijn nieuwe 2016 map in te richten. Met een regenboog op mijn map wordt het vast een heel winstgevend jaar, haha.
KATTENBONUS!
♥♥♥
Vind je het leuk om te zien wat ik de hele week uitspook? Volg Team Confetti dan op instagram.
♥♥♥
Wat zouden jullie in een diepvriesijsje stoppen?