Gastblog door Ingrid – Q&A time! In mijn vorige gastblog vroeg ik jou om je brandende creatieve / girlsboss / work-life vraag aan mij te stellen. Zoals jullie weten probeer ik elke dag een creatieve #girlsboss te zijn en dat is vaak confetti en donuts maar ook wel eens pretty ugly. Aan de hand van jullie vragen geef ik jullie vandaag weer een kijkje in hoe ik dat nou toch doe. Ook maakte ik een paar gezellige GIF'jes om jullie een creatieve inspiratie boost te geven. Dus let's go!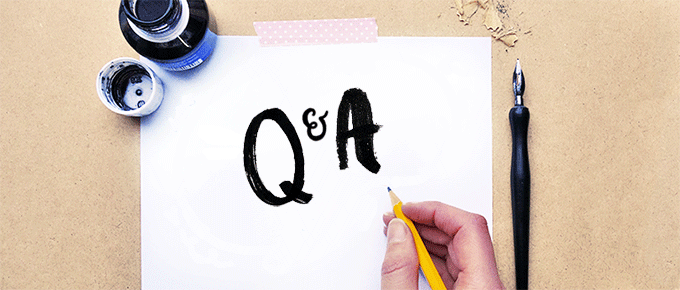 Q: Hoe heb je de moed gevonden om te gaan doen wat je doet? Ik vind het zelf nogal spannend en moeilijk om van mijn creatieve avontuur mijn beroep te maken. 
A: Voor jezelf werken is inderdaad een doorlopend avontuur. Inkomen en werk zijn onzeker, ik zit soms huilend aan mijn bureau (it sometimes just ain't pretty) en worstel met administratie, tarieven en contracten. Maar ik mag elke dag iets moois maken in een vakgebied waar ik écht blij van word. Theo Maassen zei pas over zijn vakgebied: 'Ik hoef nooit te werken en ik ben nooit vrij' en dat is spot on. Ik weet ook hoe het voelt om iets te doen waar je niet blij van wordt en dat is enorm demotiverend voor je hele wezen, dus dat nooit meer. Een tijdje heb ik naast mijn illustratie werk ook parttime gewerkt en dat geeft wat vastigheid. Nu werk ik fulltime freelance en dat kan omdat ik daar thuis de ruimte voor krijg om het in ieder geval te proberen. Ik ben hierin wel realistisch: als blijkt dat ik er tóch geen stabiel genoeg inkomen uit kan halen op de lange termijn, ga ik weer op zoek naar een (parttime) baan-met-loonstrook. Wie weet uit mijn eigen netwerk dat ik nu tijdens het freelancen heb opgebouwd!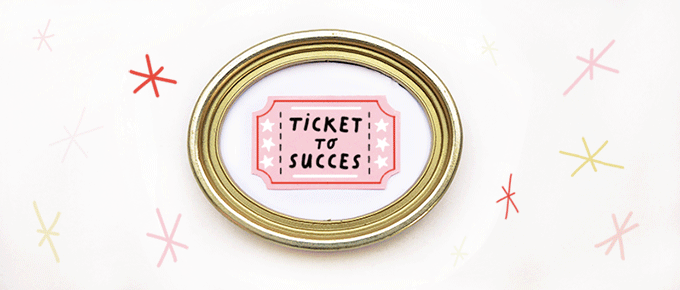 Q: Hoe krijg je en/of houd je een goede discipline wat betreft het werken in je uppie? Het lijkt mij soms best lastig om niet snel afgeleid te worden door Netflix of koffie met de buurvrouw.
A: Oh yes it is. Social media, de berg afwas in de keuken als ik koffie ga halen, álles is afleiding. Routine, plannen en single-tasking zijn voor mij key. Ik zorg voor zoveel mogelijk routine in mijn dag. Ik sta elke dag rond dezelfde tijd op en maak een dagplanning (and sticking with it). Het helpt mij om niet alleen het werk in te plannen, maar ook de momenten/pauzes dat ik iets anders mag doen, huishoudelijke taken, sociale afspraken etc. Zo voorkom ik dat ik op een werkmoment iets anders ga doen: alles staat al geplant! Natuurlijk moet er ook ruimte zijn om taken te wisselen en loopt mijn planning ook in de soep, maar het is wél een stok achter de deur als het eenmaal op papier staat. Ik ben een echt 'lijstjesmeisje'. Heb ik een taak klaar, dan streep ik deze met overgave en een dansje van mijn to-do-list af. Het afstrepen motiveert mij al heel erg om de volgende taak te tackelen. Ik probeer mijn taken één voor één te doen. Het structureren van je dag- en werkritme gebeurd niet overnight en heeft tijd nodig, ik ben ook nog steeds dingen aan het uitproberen.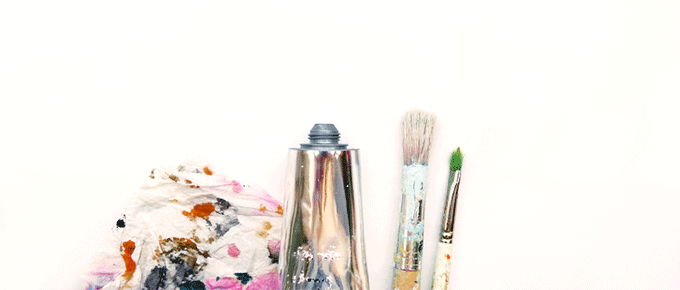 Q: Hoe ga je om met een gebrek aan inspiratie of wat doe je als je niet tevreden bent met je werk en het maar niet wil lukken?
A: Wanneer ik geen inspiratie heb of als ik vast zit, ga ik weg van mijn werkplek om even mijn gedachten te verzetten. Vaak zit je zo krampachtig bovenop een opdracht, dat je de oplossing of ingeving niet meer ziet. Door iets anders te gaan doen kan het zomaar opeens heel helder worden. Soms helpt het bij mij om even te gaan douchen of te gaan slapen. Maar meestal ga ik naar buiten. Als ik niet veel tijd heb ga ik wandelen of fietsen, kijken wat er nieuw is in de winkels of naar de kringloop. Nieuwe objecten, kleuren, vormen, karakters of verhalen op doen. Als ik wat meer tijd heb ga ik langer weg en neem ik soms gewoon een dag vrij om wat leuks te doen of koffie te gaan drinken met een collega. Daar krijg ik vaak instant nieuwe energie en motivatie van. Soms moet je ook gewoon even doorwerken op een tekening. Een ander materiaal gebruiken of rigoureus overnieuw beginnen. Waar de grens ligt weet ik niet, maar zodra ik uit frustratie ga krassen of wanneer de potloden door de kamer vliegen, is het meestal tijd om iets anders te doen :)
Q: Werk je liever in opdracht, met duidelijke richtlijnen, of vind je het fijner om vrij werk te maken en helemaal je eigen gang te gaan? 
A: Het werken in opdracht vind ik leuk! En in mijn ogen ook een essentieel onderdeel van het illustratorschap: daar haal je doorgaans het meeste inkomen uit. Hierbij is het hebben van een briefing met richtlijnen handig: je maakt tenslotte een illustratie die een boodschap communiceert aan een bepaalde doelgroep en dat moet wel goed overkomen. Ik vind het een feestje om met een briefing te werken en om daarbinnen mijn persoonlijke draai aan de illustratie te geven. Vrij werk maken is net zo'n feest want hey: je mag doen wat jíj wilt! Tegelijkertijd ook lastig want dan ben ik zélf my own worst critic. En aan vrij werk verdien je doorgaans gewoon minder. De balans tussen werk in opdracht en het maken van vrij werk is bij mij vaak scheef. Wanneer ik ramvol zit met opdrachten wil ik het liefst freewheelen want dan zit ik in een creatieve flow, maar juist dan is er geen tijd voor vrij werk. Maar wanneer ik vrij ben wil ik ook wel eens een break van het tekenen en doe ik stiekem liever niet-teken-dingen. Sinds een klein jaar heb ik ook mijn eigen kaarten- en printcollectie. Daardoor zit er achter mijn vrije werk iets meer druk en plan ik het maken van 'vrij werk' in bij mijn opdrachten. Zo voorkom ik dat ik het steeds vooruit schuif.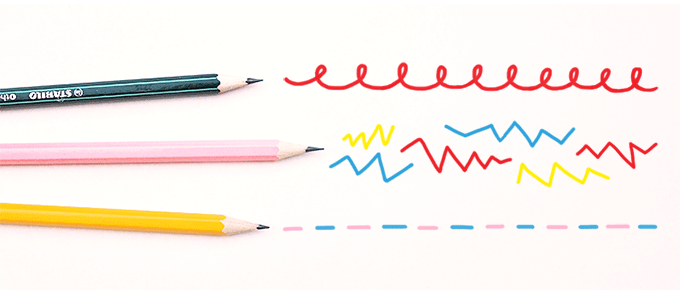 Q: Is het hebben van een eigen stijl belangrijk?
A: Als het goed is, wordt je uiteindelijk door opdrachtgevers gevraagd om het werk dat je maakt. Met je stijl of handschrift kun je je onderscheiden van het grote aanbod illustratoren en ontwerpers. Dus ja, dit is best belangrijk! Iedereen heeft wel iets eigens en dit kun je ontwikkelen en stimuleren door veel te tekenen. Probeer verschillende materialen en technieken uit, maak er jouw favoriete mix van en blijf dicht bij jezelf. Ik heb veel geëxperimenteerd tijdens mijn twee studies, maar jij kan dat ook gewoon thuis doen! Ga aan de slag en ga gewoon dingen maken. Laat los dat het 'perfect' of 'goed' moet worden. Vraag aan andere mensen om jouw werk te omschrijven. Anderen zien vaak eerder specifieke kenmerken waaraan ze jouw werk kunnen herkennen. Maak die kenmerken je  steeds meer eigen en/of vergroot ze uit. Uiteindelijk kun je zo een mooi portfolio opbouwen.
♥♥♥
Bedankt voor jullie leuke en best lastige vragen. Freelancen en het creatieve ondernemerschap bevat zoveel facetten waardoor het soms zo abstract en moeilijk kan lijken maar laat je daardoor niet tegenhouden! Het is zó leuk om te doen wat je het liefste doet, go for it!
Heb jij na deze Q&A nog meer vragen? Stel je vraag in de comments hieronder en ik zal ze beantwoorden! Ook kun je je vraag stellen op mijn Instagram. Hier zal ik de komende tijd ook wat Q&A's gaan houden.
♥♥♥
Onder de jullie die een vraag hebben gesteld heb ik een setje Teken-ing kaarten verloot. De winnaar heeft inmiddels een mailtje gehad!
♥♥♥
Ingrid Wuyster is illustrator / ontwerper en maakt veel moois onder de naam Teken-ing.
Eén keer in de vier weken blogt ze voor teamconfetti.nl.