Afgelopen week bezocht ik een foodfestival (altijd leuk), bestelde ik iets met een unicorn erop en lag Tetkees wederom in een onwaarschijnlijk schattige houding op bed. Ja, alweer, ja.
Vorige week zaterdag reden we een rondje door de stad om wat boodschapjes en leuke dingen te doen. Eerste stop: Foodhallen van het noorden. Huh? Jaja, Groningen is nu zo'n wereldstad dat ze hun eigen Foodhallen hebben. Voor één weekend. De locatie was het oude gebouw van het Dagblad van het Noorden. Dat klonk veelbelovend, maar viel een beetje tegen. Maar het was binnen, er waren gratis parkeerplekken én gratis entree. Én broodjes pulled pork. Dus mij hoor je niet klagen. Ik vraag me af of bij deze het foodfestivalseizoen alweer begonnen is…? Ik hoop het!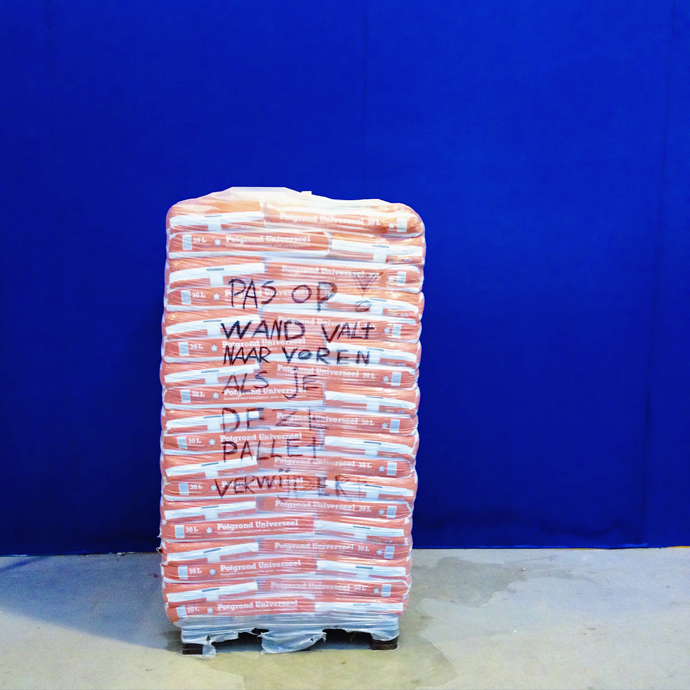 Volgende stop: Tuinland. Voor vlooienbandjes en mini vetplantjes. De kerstcollectie was nog niet helemaal afgebroken en we kwamen er deze interessante waarschuwing tegen. Shopping on the edge!
Volgens mij zijn we het er allemaal wel over eens dat het POEPweer is. Warme choco in kerstmanmokken moet je dan drinken. Met mini marshmallows. Dan voel je je minstens vijf minuten beter. En laten we ook de kerstchocolade niet vergeten. Deze kocht ik in de uitverkoop van Seasalt Cornwall. En hij was GODDELIJK. Maar ja, alweer op én uitverkocht.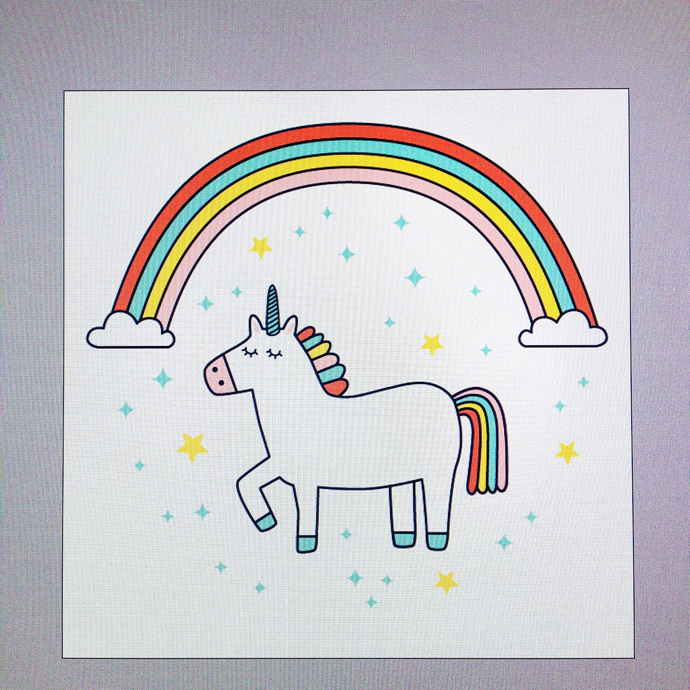 Voor een artikel dat binnenkort online staat, maakte ik dit ontwerpje. Instagram ontplofte een beetje toen ik deze foto van mijn beeldscherm online zette. Tja, unicorns hè? Magical…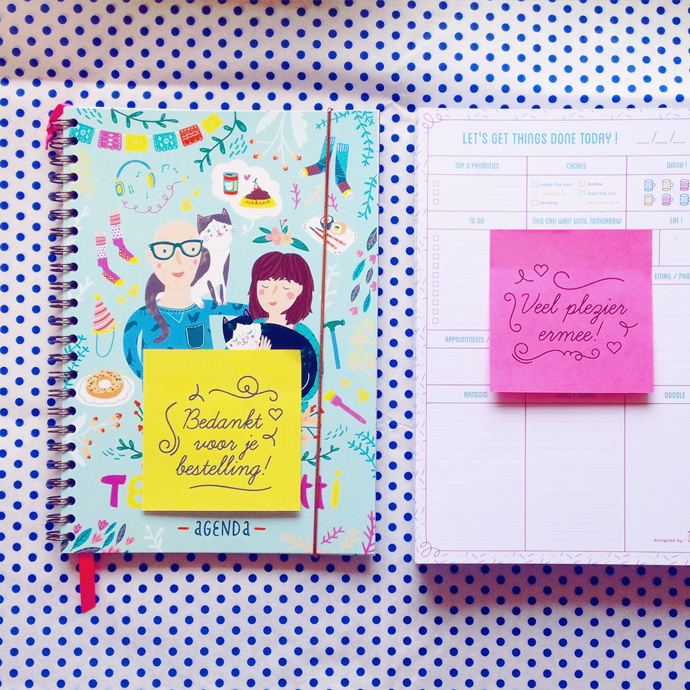 Elke week pak ik met plezier pakketjes uit mijn webshop in. Mijn eigen artikel over printable sticky notes bracht me op dit idee. Printable thank you notes! Vrolijk en effectief. :)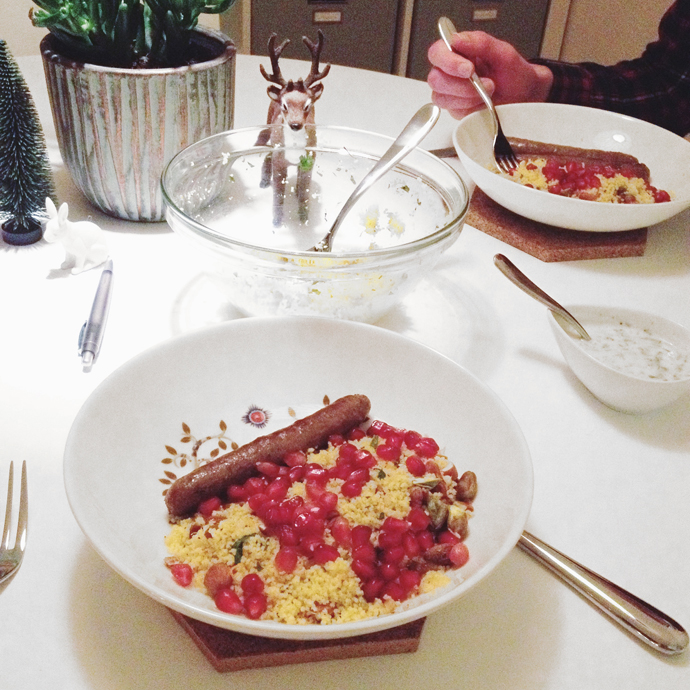 YES. Ik kook weer. Het lijkt wel alsof ik steeds meer energie krijg om nieuwe dingen te maken en te verzinnen. En niet alleen op het gebied van koken. Het zou kunnen dat dit komt door de twee challenge weken van Note to Self die ik inmiddels heb afgerond. Ik heb daar zoveel bruikbare tips en inspiratie van gekregen. Kortom: ik raad ze van harte aan (meedoen kan op elk moment).
Time to relax. Met een kat en een donut in bad. Kon niet beter.
Als blogger krijg ik soms perspakketjes. Vaak zijn dat leuke kleinigheidjes die ik meteen vol liefde op social media kwak, maar soms… What the hell #johnnydoodle? Wat moet ik met een hamer? Dit pakketje bleek uit meerdere onderdelen te bestaan, ik moest mijn 'brievenbus in de gaten houden'. Honestly? Ik vind dit zo'n verspilling van tijd en geld. Maar goed, we zullen zien…
Waar ik WEL blij mee was, was mijn nieuwe multi-cooker. Ik had nog tegoed over van Otto.nl (hard voor gewerkt, thank you very much) en vorige week was ik toe aan een beetje retail therapy. Ik had eigenlijk al een tijdje een slow cooker op mijn wishlist staan. Die hadden ze bij Otto niet, maar wel dit interessante geval. Ik heb hem tot nu toe gebruikt om rendang mee te maken (ja, dat moest minstens drie uur koken) en rijst. Godsamme wat een heerlijke machine. Flikker het erin, druk op een knop en loop weg. Het kookt niet over en als het klaar is, gaat de automatische warmhoudstand aan. Ik ga er nog wat dingen in uitproberen en dan is de kans groot dat er nog een review komt. Want ik ben nu al verliefd…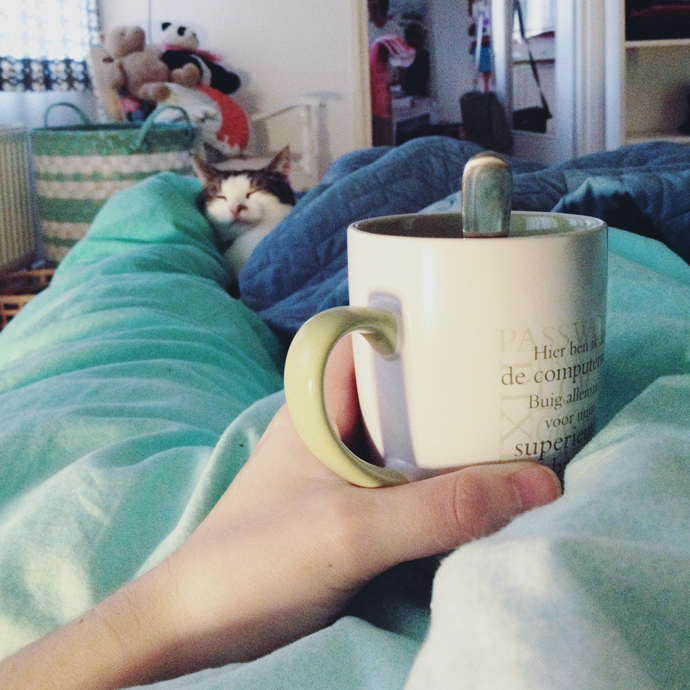 Ik had niet zo lekker geslapen. Dat heb je soms. Gelukkig is Tom er dan om me beter te laten voelen. Ik kreeg een kopje koffie op bed en een kruik in de vorm van Tetkees op mijn voeten. Dan kan ik de wereld wel weer aan, haha.
Vorige week vrijdag kwam mijn állereerste haartutorial online. Maar die kan ik zelf al niet meer doen in mijn haar. Want ik ben ein-de-lijk naar de kapper geweest! Ik moet er nog een beetje mee rotzooien (hoe zit het het mooist met de minste moeite) maar ik ben er heel blij mee.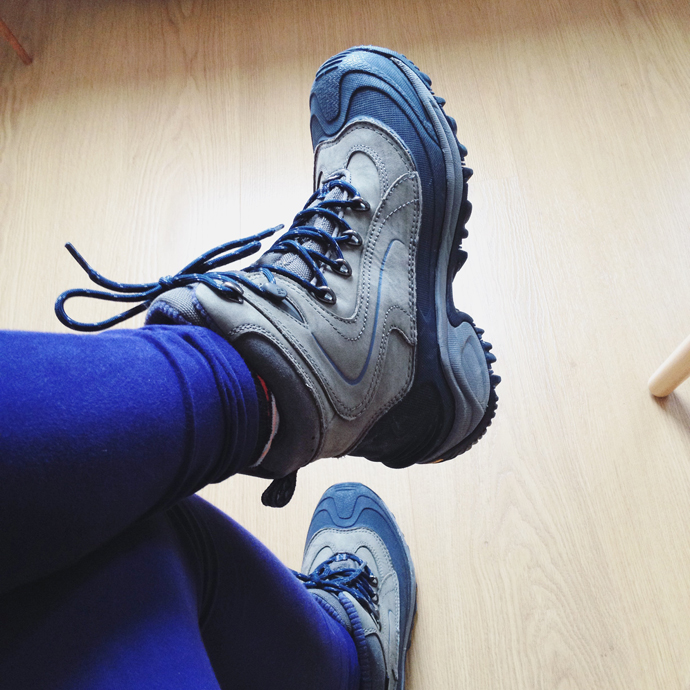 Het regende pakketjes deze week. Ik bestelde wandelschoenen op Marktplaats (je hoeft echt niet alles nieuw te kopen) en holy mother, ze zijn lelijk! Hahahaha. Maar ze zijn ook niet voor de mooi gekocht maar voor waterdichtheid en lang-lopen-heid. Één keer per jaar ga ik namelijk heel ver wandelen (25-30 km) en het is me nog nooit gelukt om zonder blaren de eindbestemming te bereiken. Het bijzondere aan de wandeling is dat het altijd in the middle of nowhere (Gronings platteland) begint, er ontzettend veel sterke drank gedronken wordt (anders halen we het niet) en dat het altijd eindigt met een stamppot buffet. Op papier niks voor mij (want veel alcohol en beweging) maar het is zoooooo leuk en gezellig. Ik heb gelukkig nog een paar weekjes om deze badboys in te lopen…
KATTENBONUS!
♥♥♥
Vind je het leuk om te zien wat ik de hele week uitspook? Volg Team Confetti dan op instagram.