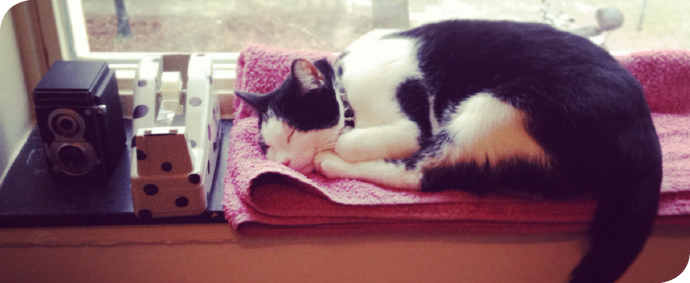 Deze week heb ik veel te lekkere snacks gemaakt, hard aan de blog gewerkt en de kringloopwinkel onveilig gemaakt.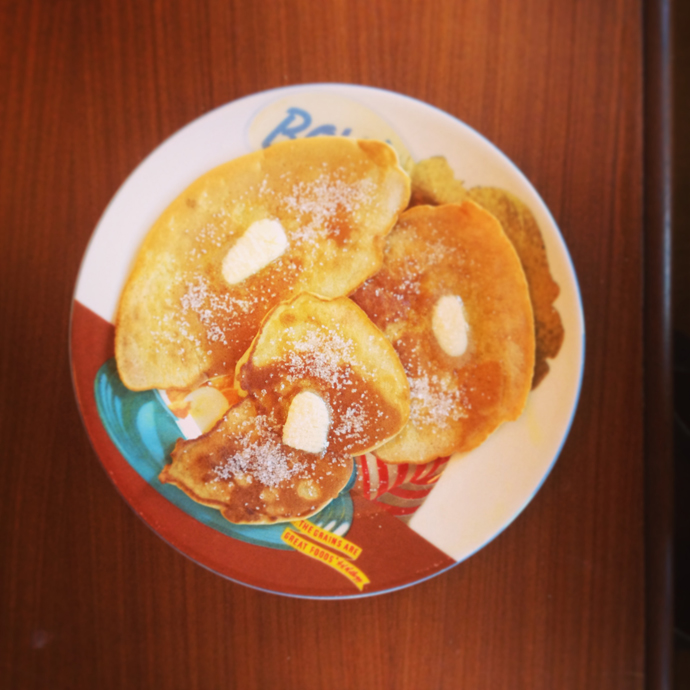 Vorige week zondag ontbeten we met… pancakes! Dit zijn die van Tom, die van mij waren wat minder mooi en mijn klontjes boter waren niet zo perfect geplaatst als de zijne.
Verder heb ik op zondag in mijn pyjama de hele dag een beetje opgeruimd. Mijn werkkamer begint steeds meer vorm aan te nemen. Ik heb een stuk of vier verhuisdozen leeg gemaakt (we zijn een jaar geleden verhuisd, shame on me).
Daarna heb ik mijn eerste 'rijles' van Tom gehad. Ik wilde in elk geval een paar keer een stuur vastgehouden hebben voordat ik echt op les ga (eng!!!). Dus zochten we een groot en leeg parkeerterrein op en startte ik voor het eerst een auto. Klein stukje vooruit, klein stukje achteruit en een paar bochtjes. Vanmiddag gaan we weer. Kijken of ik er dan een fotootje van kan maken, was het door de spanning helemaal vergeten.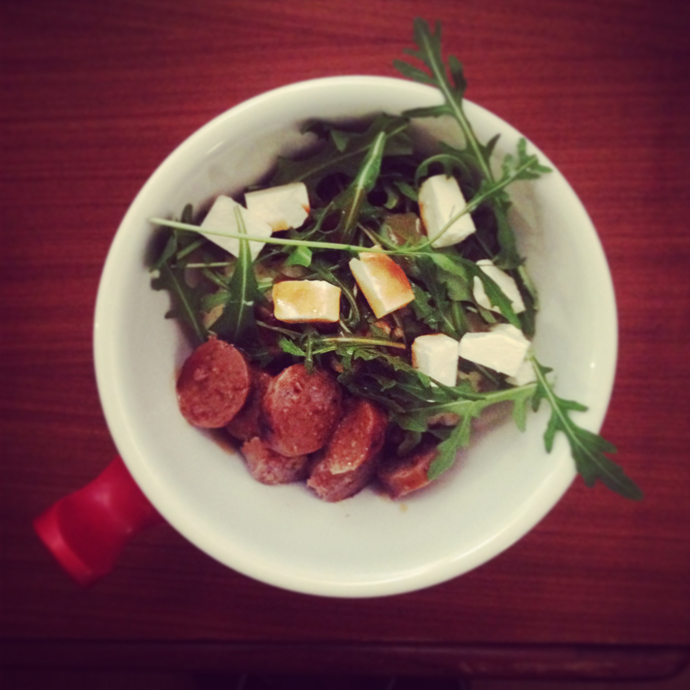 Maandag heb ik de hele dag aan de blog gewerkt en 's avonds aten we rucola stamppot met worst en blokjes witte kaas.
Dinsdag precies dezelfde activiteit en precies hetzelfde avondeten, lekker saai he?
Woensdag was ik in een crazy catlady bui en droeg ik mijn nieuwe meoow trui en mijn kattensokken.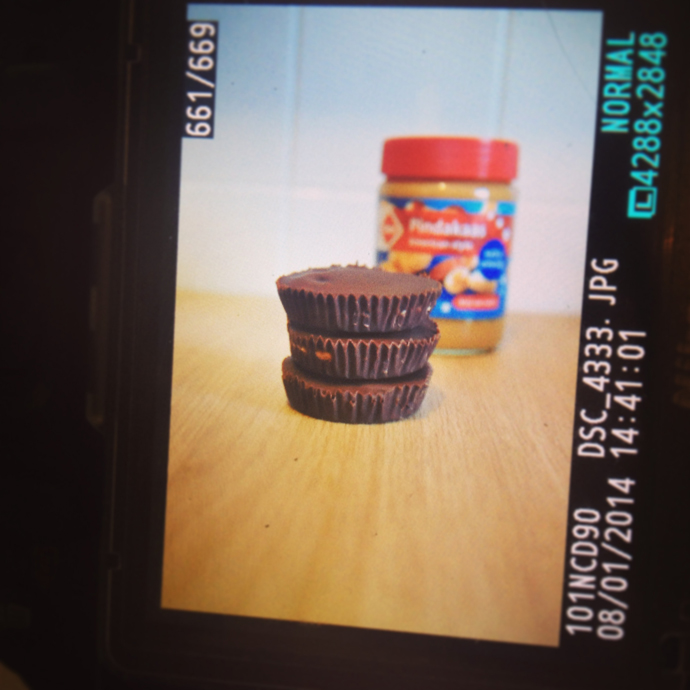 Ook maakte ik peanut butter cups en nog een leuk receptje, maar die zien jullie morgen pas in mijn gastartikel voor Beautyill.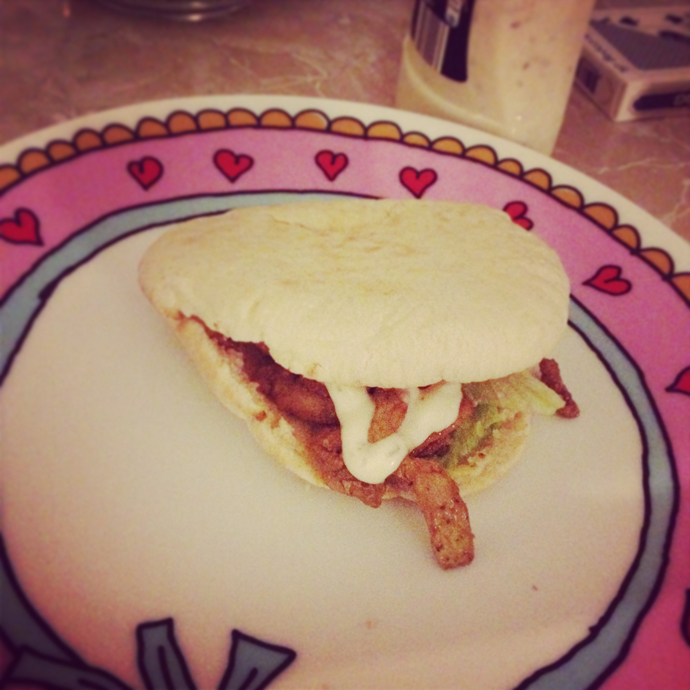 Na 's middags stiekem van de peanut butter cups te hebben gesnoept, kon er 's avonds ook nog wel een broodje shoarma bij. We kunnen niet altijd verstandig bezig zijn.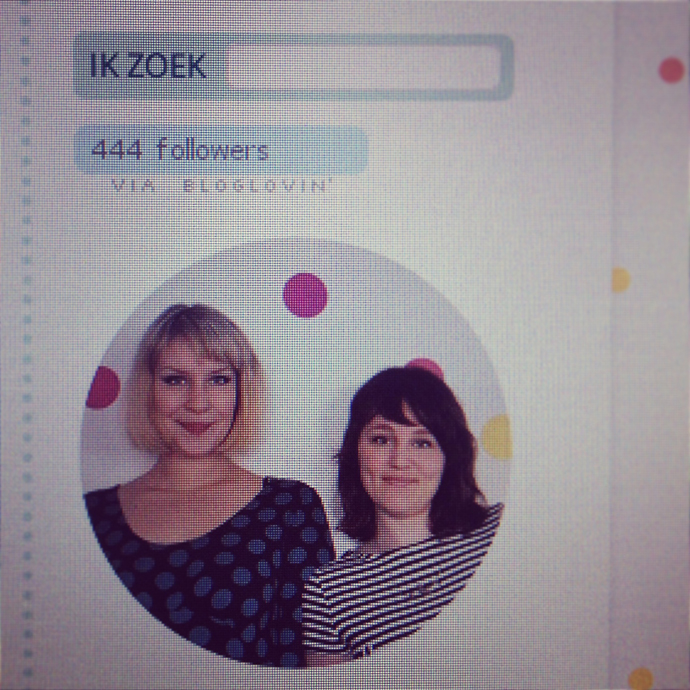 De teller stond op 444, altijd leuk als dat soort cijfers voorbij komen. Wat vinden jullie eigenlijk van onze nieuwe profielfoto?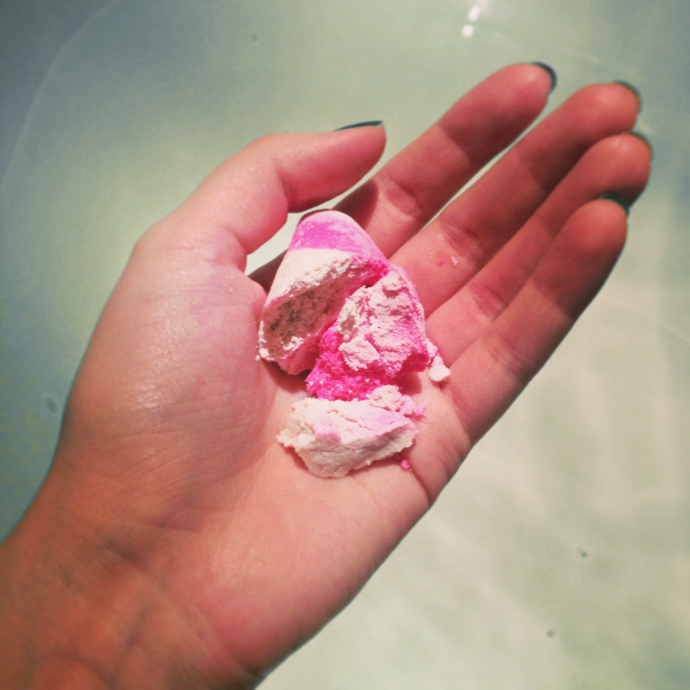 Na het eten kwamen er vrienden van Tom op bezoek om te gaan kaarten (en sjoelen). Ik dook in bad met een stukje Candy Mountain om youtube filmpjes in te halen. Errrrg goed tijdverdrijf.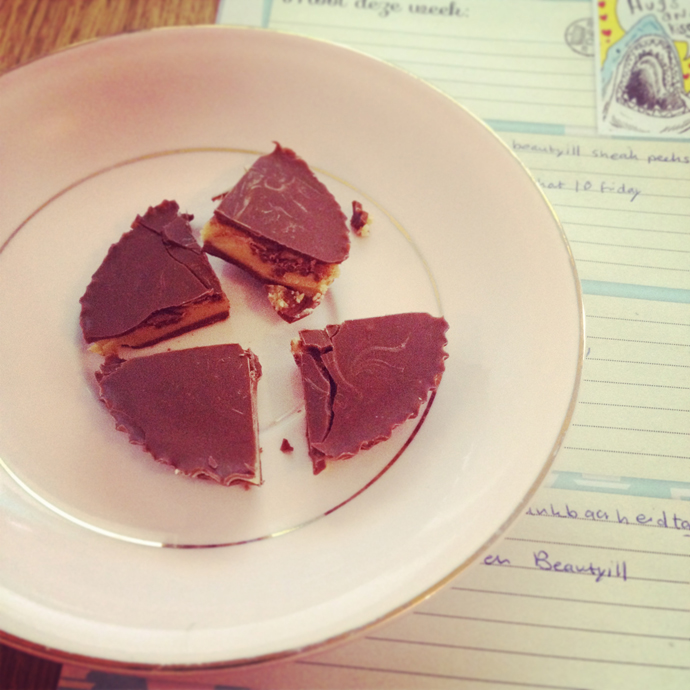 Donderdag weer de hele dag bloggen en tussendoor weer een peanut butter cup opsmikkelen. Ze zijn zo lekker!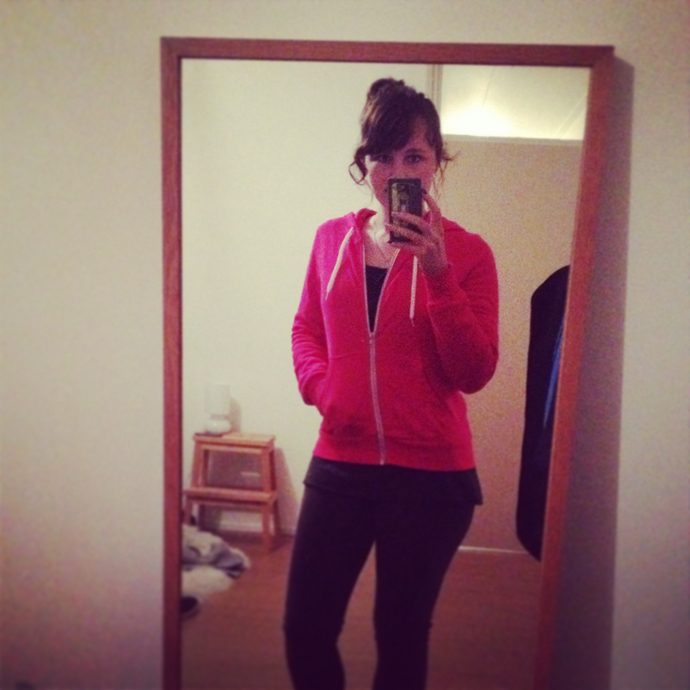 Ik beken. Ik ren. Niet heel hard en niet heel lang, maar toch. Tom en ik hebben een schema voor de ultieme beginners. Deze week moeten we twee keer zeven minuten rennen met daartussenin twee minuten wandelen. En dat moeten we drie keer doen deze week.
Ik ben nog niet bepaald verslaafd aan het rennen, maar ik vind het wel fijn om iets actiefs te doen wat gratis is en wat ik samen met Tom kan doen. We hebben een parkje naast ons huis waar we een rondje omheen kunnen rennen en het neemt niet veel tijd in beslag.
Eerlijk gezegd had ik verwacht dat we het na drie keer al zouden opgeven, maar we houden het al een paar maanden vol. Het wordt dus tijd dat ik eens ging investeren in een paar hardloopschoenen. Heeft iemand tips? Want ik heb er de ballen verstand van.
Na het hardlopen een bordje pasta carbonara om een beetje aan te sterken en daarna: Wie is de mol? O, I love it! Tom vind het een beetje zozo, maar ik heb het altijd een erg leuk programma gevonden. Ik heb zelfs na de uitzending op de iPad verder gekeken.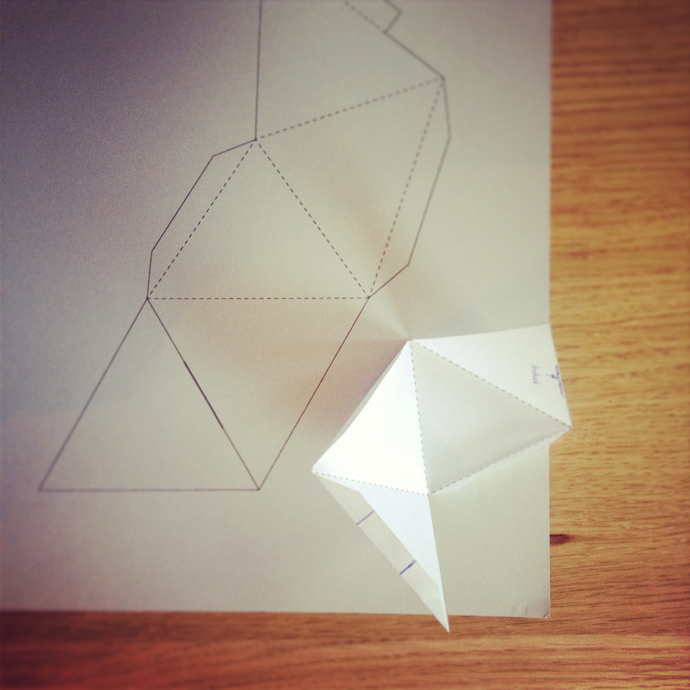 Vrijdag was het een beetje een klooidag. Ik solliciteerde bij een koffietentje (op een dag is er een koffietent die me aan neemt, ik geef niet op!) en probeerde een template te maken voor een free printable. Maar ik kwam er niet uit. Mijn ruimtelijk inzicht is niet best en daar kom ik op dit soort momenten achter. Misschien kom ik er deze week wel uit…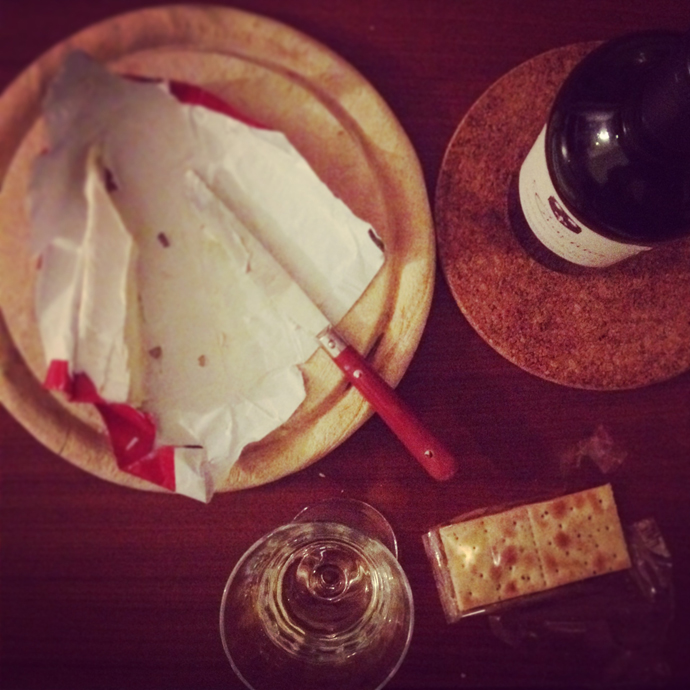 Ik sloot de klooi-dag af met een glaasje wijn en een toostje brie. Vrijdagmiddagborrel op het thuis-kantoor!
Zaterdag brachten we een doosje oude spullen naar de kringloopwinkel en kijken dan ook altijd even rond. Erg leuke spullen deze keer! De schaatsen waren van die oldschool kunstschaatsen en ik heb ze dolenthousiast aan gepast (iets met meisjesdromen). Maar bij een van de twee was het leer geknakt bij de hak en dat is vragen om blaren. Met pijn in mijn hart heb ik ze laten staan (en ze waren maar €6,50, snik).
Wat ik wel mee nam was een koffertje wat een laatje bleek te zijn. Ik vond het zo'n grappig ding en mijn werkkamer kan altijd wel een leuk opbergplekje voor kleine spulletjes gebruiken.
KATTENBONUS
Ze hebben weer lekker op (en in) bed gelegen, met mij een rare selfie gemaakt, elkaar gewassen en allebei-aan-een-andere-kant-van-de-deur gespeeld. Een goede week dus!
***
Nog een hele fijne zondag en tot volgende week!
Vind je het leuk om te volgen wat Meike en ik de hele week uitspoken? Volg ons dan op instagram. Wil je liever weten wat de katjes de hele week doen? Volg dan Mo en Tetkees op instagram.