Afgelopen week sliep ik in een fancy bed, had ik een kaasfeestje in mijn eentje en ging ik met Tom op tafeljacht! Lees het allemaal in een nieuwe aflevering van de Confetti Soap! Woohoo!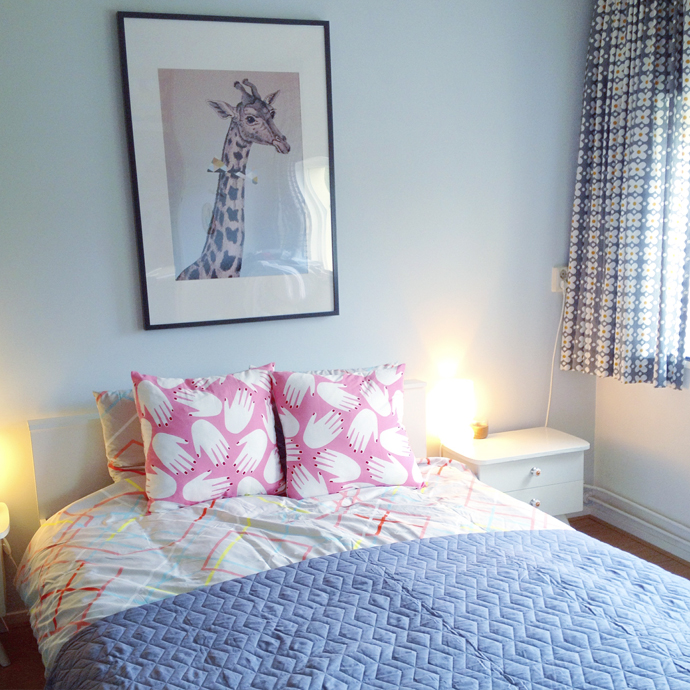 Oh hallo nieuw bed! Nouja, het bed is niet nieuw, maar het 'goed' wel. Nieuwe kussenhoezen van H&M home, nieuwe dekbedovertrekken van IKEA en een quilt van Sostrene Grene. Geen dure merken, maar het leverde wel een bed voor koningen (en koninginnen) op. Zo fiiiiiijn!
Ik heb een beetje een kaas-obsessie de laatste tijd. Kaaskroketten, kaascrackers en… kaasfondue! Aangezien de laatste keer dat ik kaasfondue zelf maakte, het een fiasco was (zo'n zes jaar geleden, Tom krijgt nog steeds de rillingen als hij de gecombineerde woorden 'gesmolten' en 'kaas' hoort), hield ik het bij een pakje (superlekker, mij hoor je niet klagen, ik ben geen kaassnob) met brood en paprika. Het was de laatste avond voordat Tom eindelijk weer thuiskwam en koken voor jezelf is meh. Dus keek ik een chick flick met een pan kaas op de thee-warmhoud-unit. Prima zaterdagavond-besteding als je het mij vraagt. :D
Tom was weer thuis, yaaaaaaay! En dus gingen we pancakes eten bij Pernikkel om het te vieren. Heel stiekem zitten we na te denken over een ronde eettafel in plaats van een rechthoekige. Het ziet er altijd zo gezellig uit bij Pernikkel…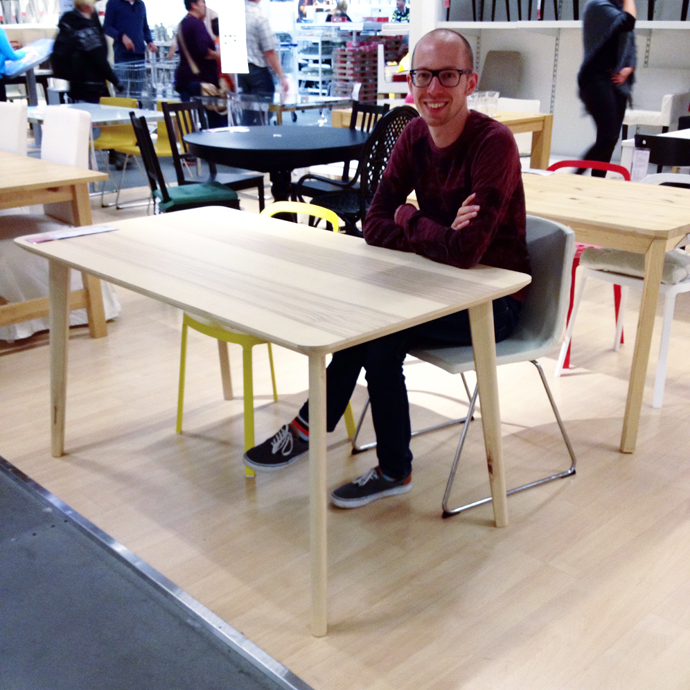 Als het wel een rechthoekige tafel wordt, dan wordt het deze. De Lisboa van Ikea. Simpel, stylish en makkelijk schoon te maken. Gevoelige meubels zijn niet voor ons, wij maken overal krassen en vlekken op. Laatst (tijdens mijn kaasfondue solo party) heb ik nog kaarsvet op onze salontafel, afstandsbediening EN nieuwe vloerkleed geknoeid. We lijken schattig en klein BUT WE WILL DESTROY YOUR HOUSE BY ACCIDENT. Dat je het even weet.
Zondag en maandag (Tom had vrij gevraagd, yesss) hadden we een troep-uit-ons-huis-verwijderen-marathon. VIER (!!!) autoladingen vol ongewenste spullen verlieten ons huis, waarvan de meeste afkomstig uit onze woonkamer. Echt niet te geloven dat we zoveel crap hadden. Holy moly! Zo heftig opruimen voelt als een crashdieet (denk ik, ik doe niet aan diëten, donut please). Je voelt je ZOVEEL lichter erna. Onze katten vonden de complete chaos geen probleem. Mo lag te slapen op een CDmap middenin de woonkamer en Tetkees heeft in alle lege dozen gezeten die hij kon vinden. Onze dierenarts zei ooit dat iets kleins als een stoel verplaatsen een kat al heftig in de stress kan brengen. Nou, daar hebben die van ons gelukkig geen last van. :)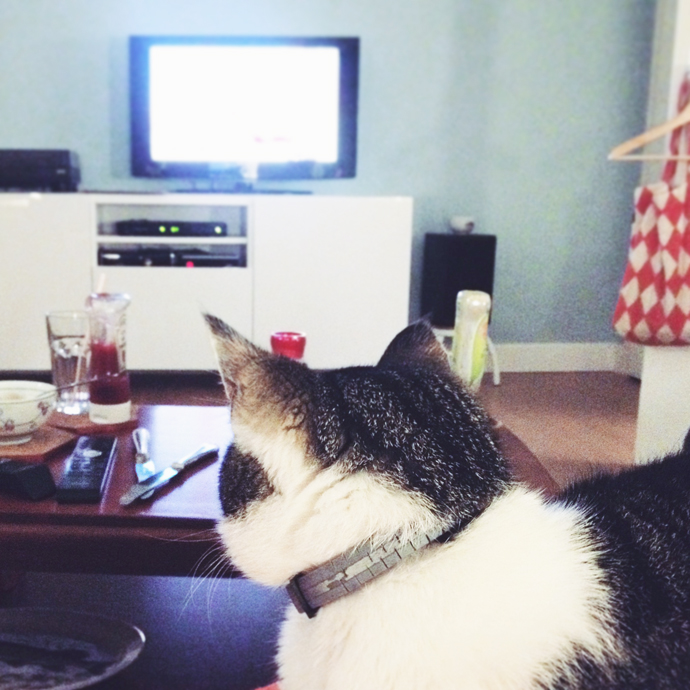 De rest van de week heb ik heel rustig en regelmatig gehouden. Ik ben ontzettend gestrest de laatste tijd en slaap erg slecht. Ik maak me zorgen over dingen waar ik geen controle over heb en heb moeite met me ontspannen. En dus probeer ik mijn werkdagen kalm en overzichtelijk te houden. Basically doe ik net alsof ik een oud omaatje ben die steeds tegen zichzelf zegt: 'rustig aan, goed gedaan, neem nog een kopje thee en een chocolaatje.' Ik werk 's ochtends aan de blog, 's middags aan de agenda (holy hell, wat is dat toch veel werk) en luister tussendoor naar mijn audiobooks terwijl ik de was opvouw en de vaatwasser leeghaal. Bijna elke avond is er wel een nieuwe aflevering van iets op tv (ja jongens, ik kijk rechtstreeks tv in plaats van Netflix of uitzending gemist, heel oma-achtig van me). Op woensdag uiteraard mijn favoriete oma programma gekeken: The great british bake off. En ik zal je zeggen: ik ga er heel lekker op. Ik slaap wat beter, waardeer wat ik doe en geniet van mijn saaie, overzichtelijke dagen. Saai is het nieuwe zwart!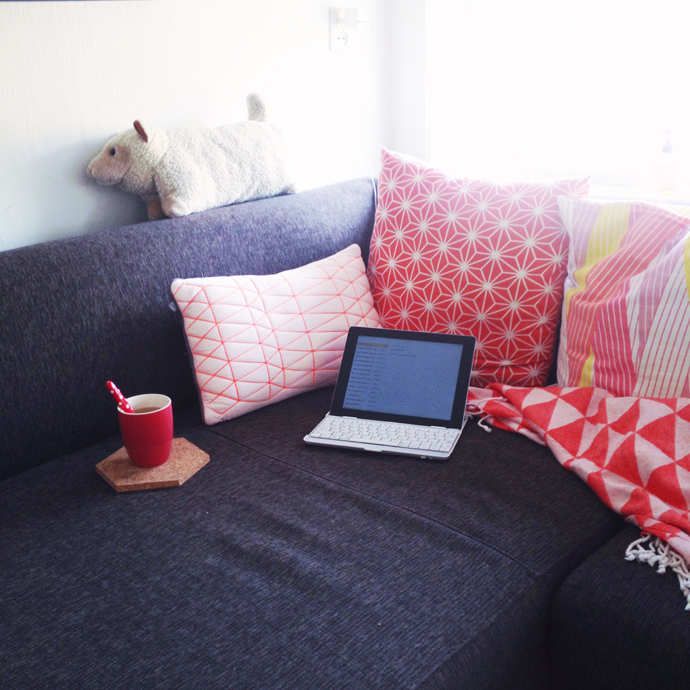 De beloning voor de zachte aanpak voor mezelf, was dat ik vrijdag ziek werd. Ach nee, het is eigenlijk niet zo raar. Het moment dat je jezelf rust gunt, is ook vaak het moment dat je wordt geveld door een griepje. Ik heb altijd dezelfde soort (zere keel, niezen en liters snot) en ik weet wat ik nodig heb: een tissuedoos, neusspray en thee met honing. En werken vanaf de bank. :)
KATTENBONUS!
♥♥♥
Ik heb een heerlijk supersaai weekend (beetje klussen, beetje snotteren, beetje eten) gehad. En jullie?
♥♥♥
Vind je het leuk om te zien wat ik de hele week uitspook? Volg Team Confetti dan op instagram.