This is the second episode of the 100 Things Spring Challenge. Check out how I declutter my house.
Jongens, ik kan jullie eerlijk zeggen: ik ben er klaar mee. Letterlijk en figuurlijk. Het gaat precies op het juiste moment aflopen, deze challenge. Ik heb er veel van geleerd en mijn huis is een stuk leger dan vorig jaar. Kijken jullie mee?
Voor wie pas net is ingeschakeld, wat is de 100 things spring challenge eigenlijk? Het idee is om in drie maanden tijd 100 spullen weg te doen. Er zit wel een addertje onder het gras: Voor elk item dat je koopt/krijgt komt er weer +1 bij. Het begon bij de 100 things summer challenge, daarna kwam de 100 things fall challenge, gevolgd door de 100 things winter challenge. Ik sluit de saga af met de 100 things spring challenge. Lees voor meer info dit artikel.
What's the 100 things spring challenge? The concept is, to get rid of 100 things over the course of three months. But every time you buy something or receive a present, it counts as +1.
Er is een doorbraak geweest. De rommelkamer is geen rommelkamer meer! Waar een jaar geleden de deur niet eens open kon omdat er zoveel dozen stonden, kan ik er nu heen gaan en dingen VINDEN. Even de metamorfose op een rijtje: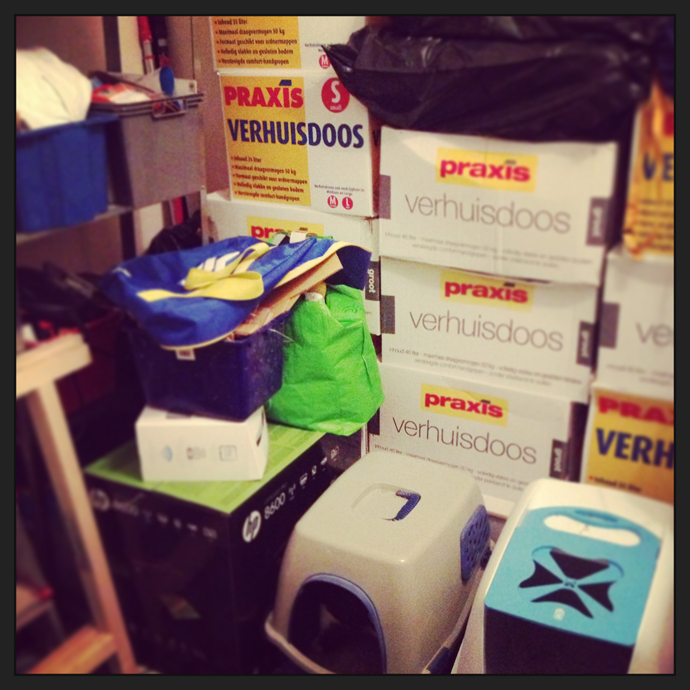 Ik heb geen foto's van hoe het een jaar geleden was, omdat ik de deur niet open kon maken om een foto te maken. Hier is er al aardig wat werk verricht.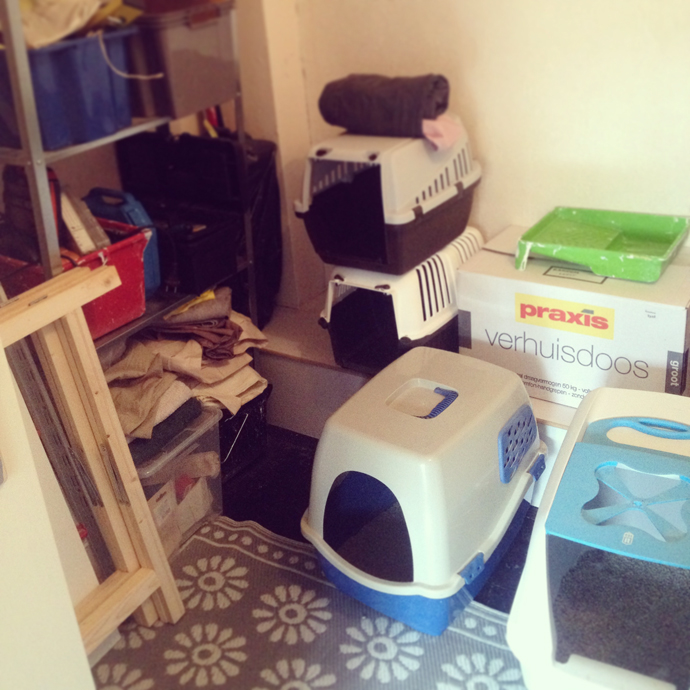 Hier zijn zelfs bijna alle verhuisdozen al weg! Er staat alleen nog veel troep aan de zijkant.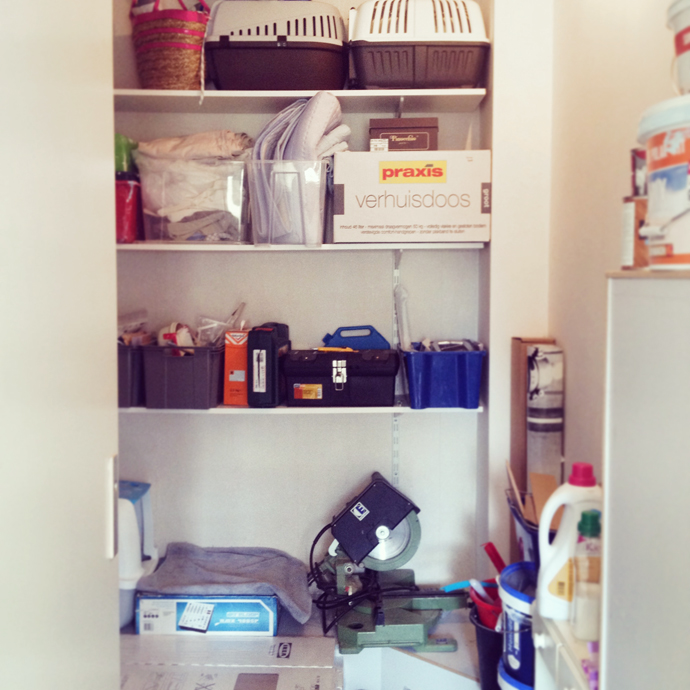 Ziehier het eindresultaat! De vloer was eerst ook nog leeg, maar we kwamen er laatst achter dat ons laminaat van IKEA uit het assortiment ging en dat wilden we nog graag door leggen in de gang. Emergency tripje naar IKEA en een hok vol laminaat als gevolg. Verder heeft nu eindelijk al het gereedschap, schaatsen en kerstspullen een eigen plekje en kunnen we nu alles vinden. Al met al ben ik toch heel tevreden met onze berging (rommelhok is verleden tijd!)
Tijd voor het laatste lijstje!
Dit is er de afgelopen paar maanden ons huis uit gegaan:
Het was even zoeken, maar ik heb het lijstje vol gekregen!
Dit kwam er de afgelopen maanden binnen: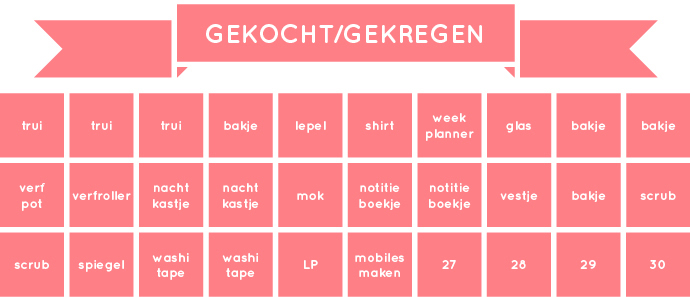 Omdat het einde nabij is, heb ik iets minder goed opgelet wat er binnen kwam en wat er weg ging. Het kan dus zijn dat deze lijstjes iets minder correct zijn als de vorigen. Maar eerlijk gezegd, heb ik de lijstjes ook eigenlijk niet meer nodig. Ik heb mezelf aangeleerd goed op te letten wat ik nodig heb en wat niet. Dat ik op het moment aan een minuscuul budget gebonden ben, helpt daarbij zeker. Creatief zijn met spullen die je al hebt, helpt ook: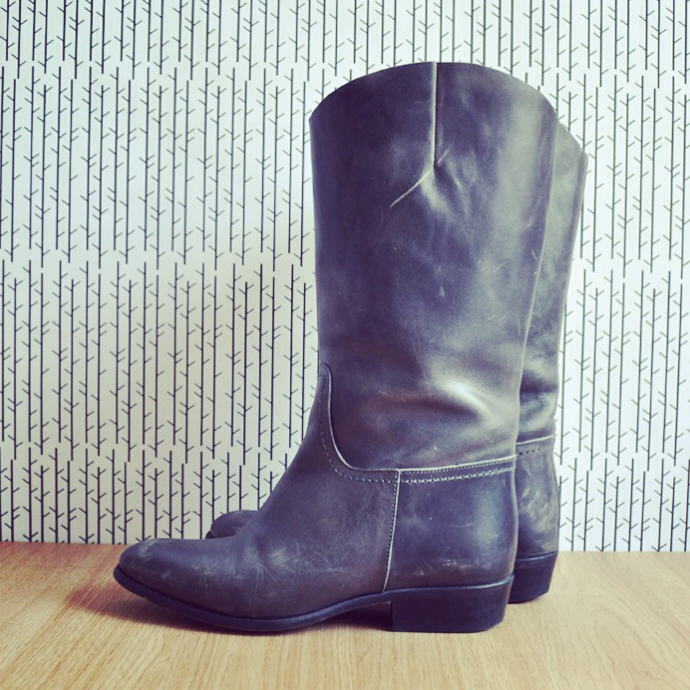 In plaats van nieuwe schoenen te kopen, maakte ik een paar laarsjes die ik al had, wat korter zodat ik ze eindelijk aan kon. Meike is ook erg goed in het verbouwen van spulletjes die ze al heeft, ik wil dat ook meer gaan doen.
Eindresultaat:

OH YEAH! Pfoe!
Officieel heb ik nog een maand te gaan voordat de challenge voorbij is, maar aangezien ik hem bij deze heb gehaald, hou ik vanaf nu op met lijstjes bijhouden. Volgende maand een uitgebreid verslag van hoe ik de challenge het hele jaar heb beleefd, zet ik mijn top tips op een rijtje en ga ik bedenken hoe ik deze lifestyle het beste vast kan houden.
***
Zijn jullie ook bezig met een Spring Cleaning? Wil je mijn declutterschema gebruiken voor je opruimwerkzaamheden, dat kan! Tom maakte vorig jaar het schema beschikbaar voor iedereen.
Klik hier voor meer info en het schema.