Gastblog door Noortje – Van mij mag de kerstperiode zo lang mogelijk duren. Daarom vandaag the making of van mijn kerstkaart 2015 om alvast in de stemming te komen. De beloofde DIY's komen de volgende maand, dan is er iets te knutselen tijdens het verteren van de kerstmaaltijd. Voor nu, zet je favoriete kerstliedje aan want ik heb een heel proces voor jullie klaar staan!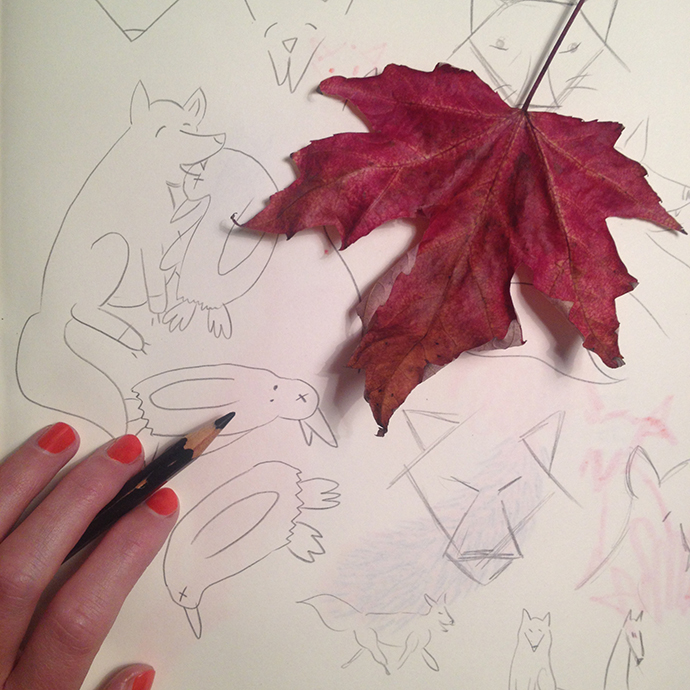 Thema, schetsen en inspiratie.
Degenen die mijn intro hebben gelezen, weten wellicht dat ik in een vossenperiode zit. Het was daarom ook vrij duidelijk dat de kerstkaart in vossenthema zou zijn. Op de dag dat ik begon met schetsen waren er die nacht 14 pinguïns doodgebeten door een vos in Melbourne Zoo Australia. Natuurlijk is dat super sad, maar het zorgde wel voor inspiratie en een beginnetje. ;)
Na een rondje vossenfilmpjes op Youtube en het bladeren door mijn fantastic mr. Fox boek, kwamen daar de volgende schetsen en testjes uit voort. Ook vond ik op straat prachtige bladeren die ik nooit eerder had gezien. Het was meteen duidelijk dat ik die in de kaart wilde gebruiken. Het is niet simpel om organische vormen door te vertalen naar papier. Hiervoor kijk ik heel goed naar foto's van de objecten die ik na wil maken en bestudeer ik vooral het lijnenspel in de vorm en de schaduwval. Vervolgens probeer ik die informatie zo goed mogelijk in het papier te 'kneden'. Voor de kaart wilde ik gaan voor een vos met grafische vormen en niet te veel details.
Testen en bouwen.
Na het schetsen en de eerste testjes, begon ik met het bouwen van de verschillende objecten en maakte ik verschillende combinaties om tot het beste resultaat te komen. Om de details aan het eikeltje toe te voegen heb ik gaatjes geprikt in verschillende ondergrondjes. Karton bleek uiteindelijk het beste te werken. De structuur duw ik erin door het papier over de gaatjes te leggen en er met een satéprikker hard overheen te krassen.

Na al dat gepriegel is het heerlijk om even korte metten te mogen maken met een hard stuk piepschuim. Het is fijn dat het niet netjes hoeft, je ziet het toch niet in het eindresultaat!
Meten is weten
Werken met papier betekent ook veel meten en rekenen. Er moeten verhoudingen omgerekend worden en vormen moeten symmetrisch uitkomen. Oftewel, mijn geodriehoek, passer, en vooruit, mijn macbook zijn mijn beste maatjes. Want hoe leuk het ook is om analoog ovalen te tekenen, designprogramma Illustrator is er toch een stuk beter in…

Kiezen
Een groot gedeelte van mijn werk bestaat uit staren naar mijn illustraties en alle opties afgaan in mijn hoofd. In eerste instantie wilde ik nog twee of drie kleuren kiezen die niet zouden vloeken met de kleuren van de vos. Uiteindelijk kwam ik erachter dat alle kleuren samen (te zien in de foto hierboven) een mooi palet vormden en het er rustig uitzag. Uiteindelijk heb ik ook nog een blauwe achtergrond en een boomstronk toegevoegd zodat de vos in zijn eigen wereldje zat en niet in de lucht zou zweven.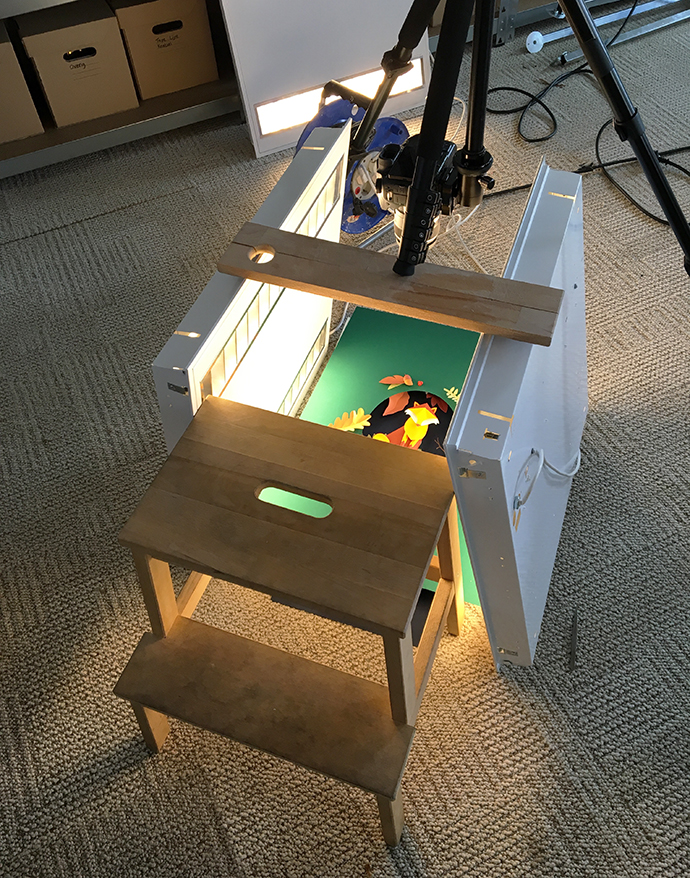 Shooten
De belichting van mijn werk is superbelangrijk voor het uiteindelijke resultaat. 'Waarom fotografeer je dan met behulp van tl lichtbakken?' Hoor ik je denken. Nu, dat komt zo: ik ben al een tijd op zoek naar een goede studiolamp, alleen weet ik niet goed welke ik moet nemen. Elke keer dat ik weer eens een project fotografeer, los ik dat op het laatste moment op met daglicht, een bouwlamp of in dit geval, tl-lichtbakken. Uiteindelijk werkte het prima en kon ik er veel mee variëren. Maar toch, die studiolamp zou mijn leven ietsje makkelijker maken.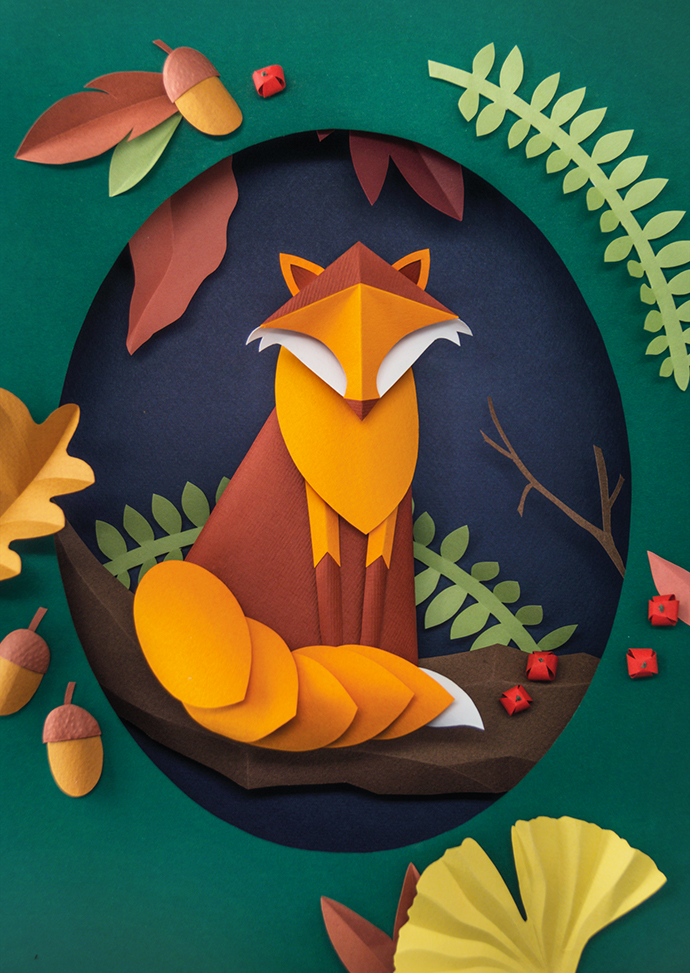 De Kerstkaart
Na alle variaties geprobeerd te hebben is dit dan uiteindelijk mijn kerstkaart geworden!
De belichting is rustig en laat de staart mooi uitkomen, iets dat ik heel belangrijk vond. Het is geen over the top kerstkaart geworden maar wel met een sfeer van kerst door toegevoegde details als de eikeltjes en de besjes.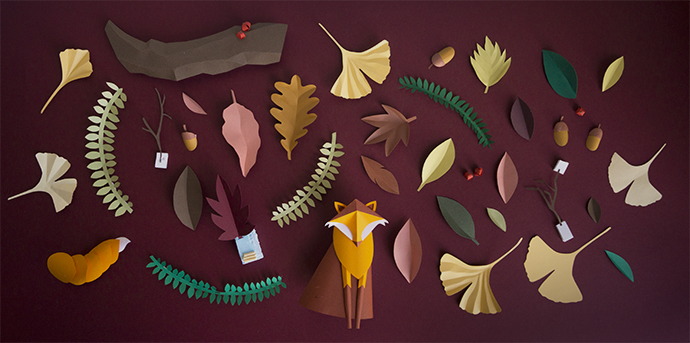 En hier nog even een overzichtsfoto van alle objecten die ik voor de kerstkaart gemaakt heb en mee kon puzzelen. Ik voel weer een patroontje aankomen!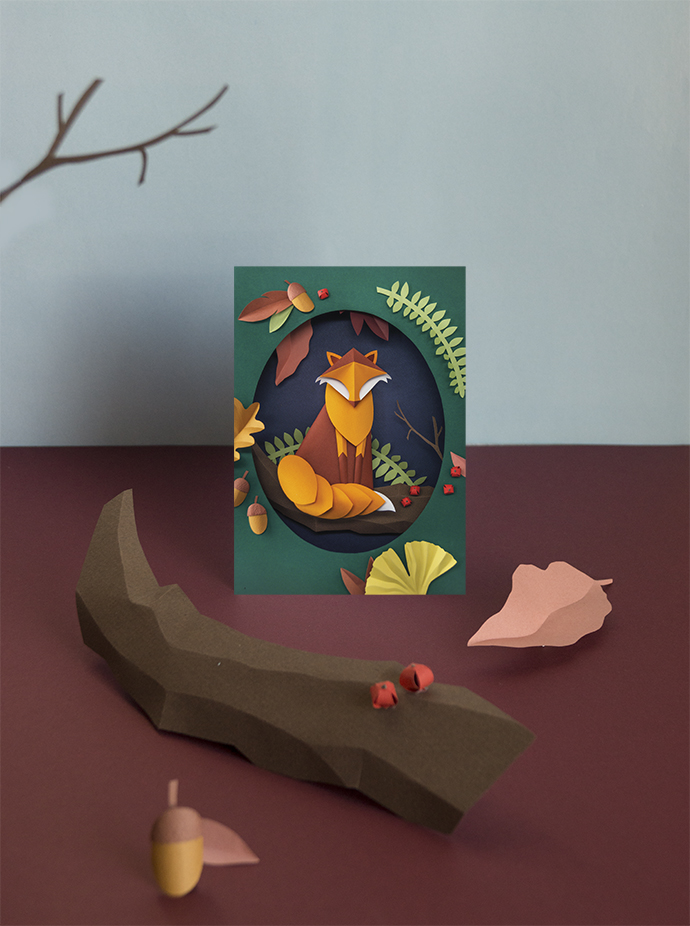 Deze kerstkaart is te koop!
Dit jaar ben ik eindelijk eens op tijd met mijn kerstkaart en dat betekent dat iedereen die zijn vrienden en familie een foxy-christmas toewenst, hem kan bestellen! De kaartjes zijn gevouwen en ik verkoop ze per setje van 5 met donkerrode envelop voor € 8,50 of per 10 voor €15,50 (exclusief verzendkosten). De verzendkosten komen uit tussen de € 2,76 en 3,50 afhankelijk van de hoeveelheid kaarten die je bestelt. Je kunt ze bestellen door te mailen naar noortjebosma@gmail.com. Er is een beperkte oplage beschikbaar, dus wees er gauw bij!
♥♥♥
Ik hoop dat jullie het leuk vonden om iets meer te weten te komen over mijn werkwijze!
♥♥♥
Noortje is een vrolijke illustrator uit Rotterdam met een passie voor papier en kleur. Hier op teamconfetti schrijft ze artikelen waar je iets van kan leren, maar waar je vooral vrolijk van wordt.