Ik hou van patat. Echt. Als ergens friet bij geserveerd wordt (al zou het bij de koffie zijn) dan hoor je mij niet klagen. Alles in de vorm van patat vind ik dus ook automatisch lekker. Dankzij het recept van Kathleen eten Tom en ik nu minstens één keer per week fish & chips met wortelfrietjes. En toen Tom bij de groente afdeling pastinaak vond, vroeg hij of ik wilde proberen om ook daar frietjes van te maken. En dat was een groot succes…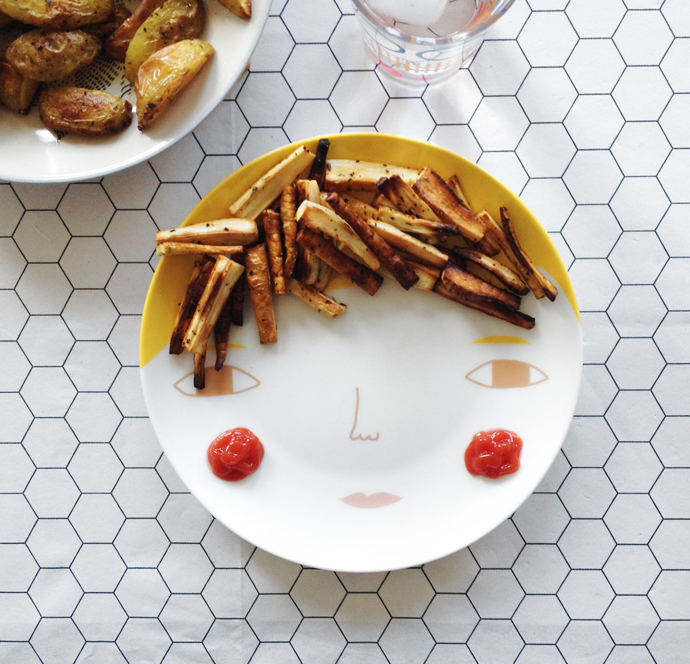 Want hoewel wortelfrietjes en zoete aardappelfrietjes uit de oven vrolijk en oranje zijn, kan het wat lastig zijn om ze knapperig te krijgen. Pastinaak however, wordt heerlijk krokant van buiten en lekker zacht van binnen als je ze in de oven bakt. Helemaal als je ze per ongeluk een paar minuutjes te lang in de oven laat liggen zoals hierboven, ahum… Ze zijn een beetje zoetig en hebben meer smaak dan een gewoon aardappelfrietje (zei ik dat nou echt?! noujaaaa!).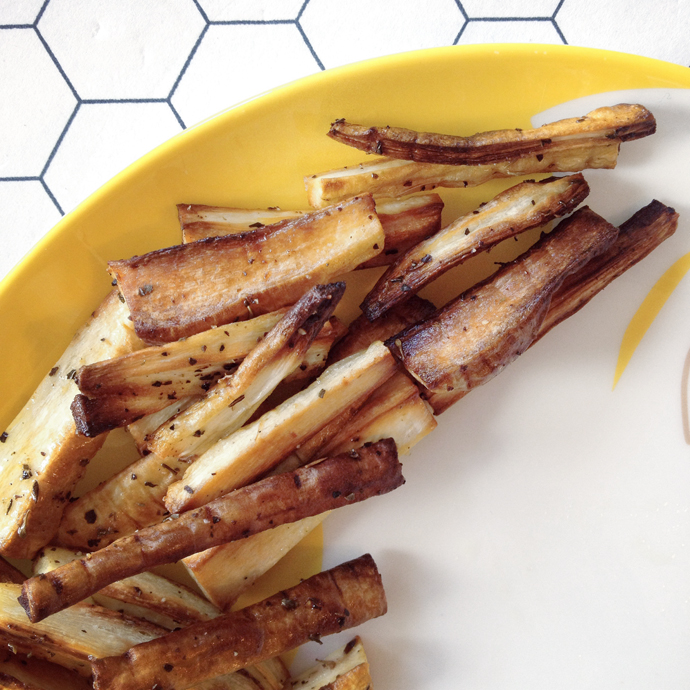 En hoe maak je dat dan, die pastinaakfrietjes? Nou, schaf een zak pastinaken aan en was ze schoon (die van mij waren volgens mij al gewassen, maar better safe than sorry, zand tussen je tanden is VERSCHRIKKELIJK). Snijd de pastinaken in patatten. Pastinaken zijn een beetje gek gevormd, bol van boven en dun als een wortel van onder. Maar ze zijn niet heel hard, dus met wat creatief snijwerk is dat prima te doen. Besprenkel ze Jamie Oliver style met olijfolie (ik heb nu zo'n fles met een tuitje, bij Dille & Kamille gekocht dus ik sprenkel me suf), zout, peper en italiaanse kruiden. Leg ze mooi verspreid op een bakblik met bakpapier en leg ze twintig minuten in een voorverwarmde oven op 210 graden. Zo ongeveer. Elke oven is anders. En houd ze een beetje in de gaten. Als ze mooi bruin zijn, zijn ze klaar (goh).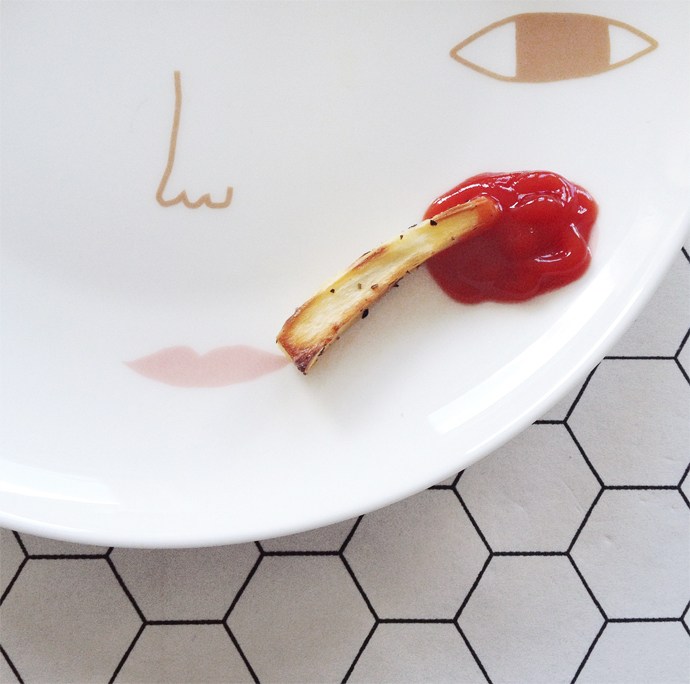 Lekker met ketchup of een ander sausje naar keuze.
☆☆☆
Van welke groenten zou ik nog meer patat kunnen maken…?