Gastblog door Vera – Vandaag is het 8 maart en dat betekent dat het Internationale Vrouwendag is! Nu hoef ik jullie natuurlijk niet meer te vertellen hoe awesome vrouwen (kunnen) zijn, maar ik vind het toch leuk er in dit blog even bij stil te staan. Vandaag vertel ik je wat ins en outs over deze speciale dag én ik heb een leuke printable voor je om je eigen Girl Squad eens in het zonnetje te zetten.
Al 106 jaar oud
Internationale vrouwendag bestaat sinds 1911. Dat is al een hele tijd dus. De basisgedachte achter Internationale Vrouwendag is simpel: gelijke rechten voor mannen en vrouwen. En hoewel het misschien lijkt alsof het verschil tussen mannen en vrouwen vandaag de dag niet meer zo groot is, hebben we nog best een long way to go wat emancipatie betreft. Als je het mij vraagt blijft het dus goed om stil te staan bij de kracht van de vrouw, aangezien deze tijdenlang is onderdrukt en/of weggewuifd, maar er weldegelijk mag zijn! Wat jij?
Vandaag is het de 95ste keer dat deze gelegenheid 'vaste prik' is op 8 maart. Voor 1922 was er geen vastgestelde datum voor Internationale Vrouwendag, hoewel die wel elk jaar werd georganiseerd. De specifieke datum 8 maart is gekozen doordat op die dag in 1917 in Sint Petersburg (Rusland) grote door vrouwen geïnitieerde opstanden plaatsvonden tegen de gruwelen van de oorlogen en de voedseltekorten die daaruit voortkwamen. Die opstanden vormen een mooi symbool voor vrouwen die besloten massaal de leiding te nemen over een bepaalde kwestie. So, 8 maart it is!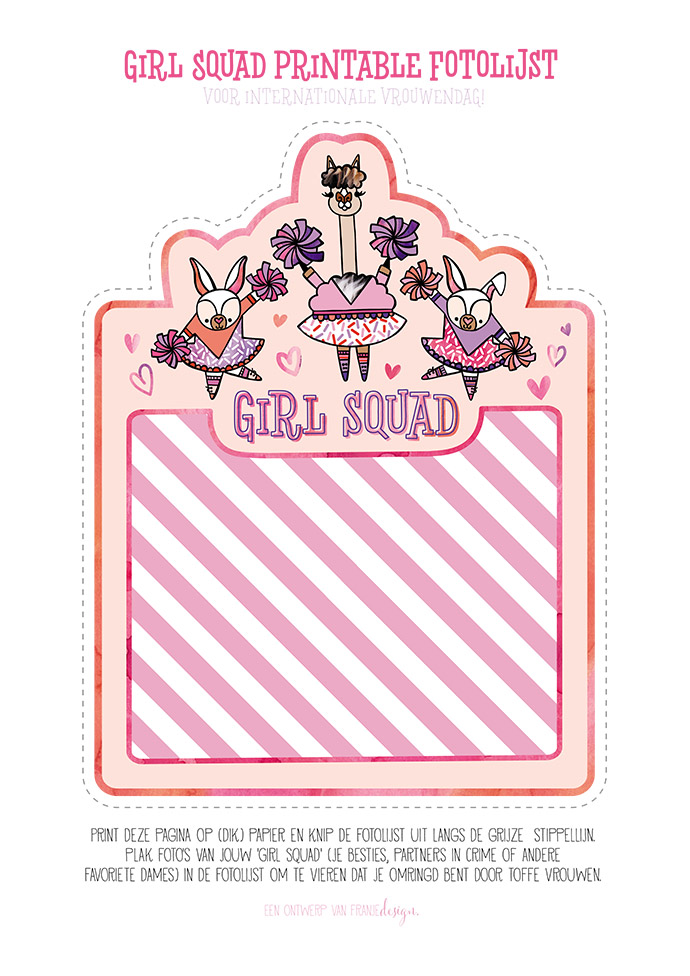 Support your Girl Squad
Zo, dat was het officiële deel van deze blogpost, nu door naar the fun part. Het leek mij namelijk heel leuk om deze Internationale Vrouwendag te gebruiken om wat waardering uit te spreken voor je persoonlijke Girl Squad. En dat kun je doen met deze printable fotolijst. Hoe dan? Nou, print de Printable PDF uit op (bij voorkeur wat dikker) papier, knip hem uit langs de grijze stippellijn en plak er foto's van je Girl Squad in. Dat kunnen je vriendinnen of vrouwelijke collega's/klasgenoten zijn, maar ook je moeder, zussen, tantes of zelfs vrouwelijke huisdieren.
Download jouw printable PDF hier!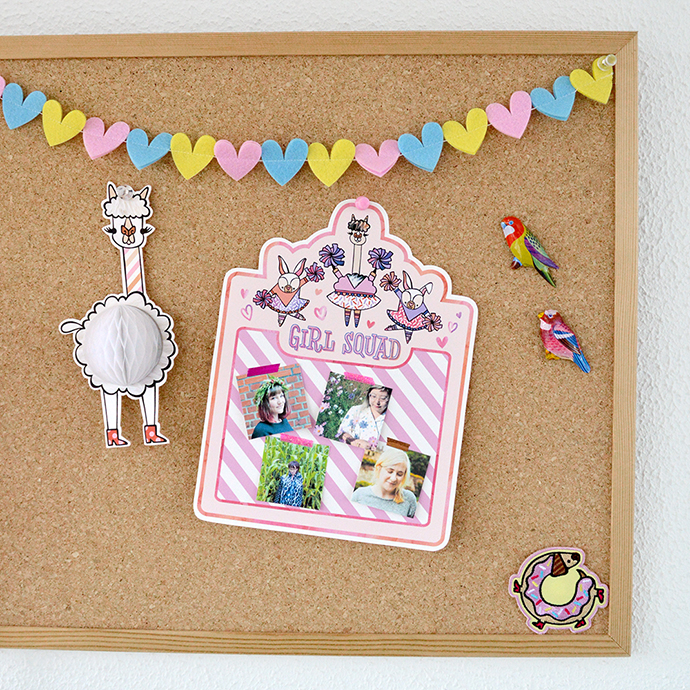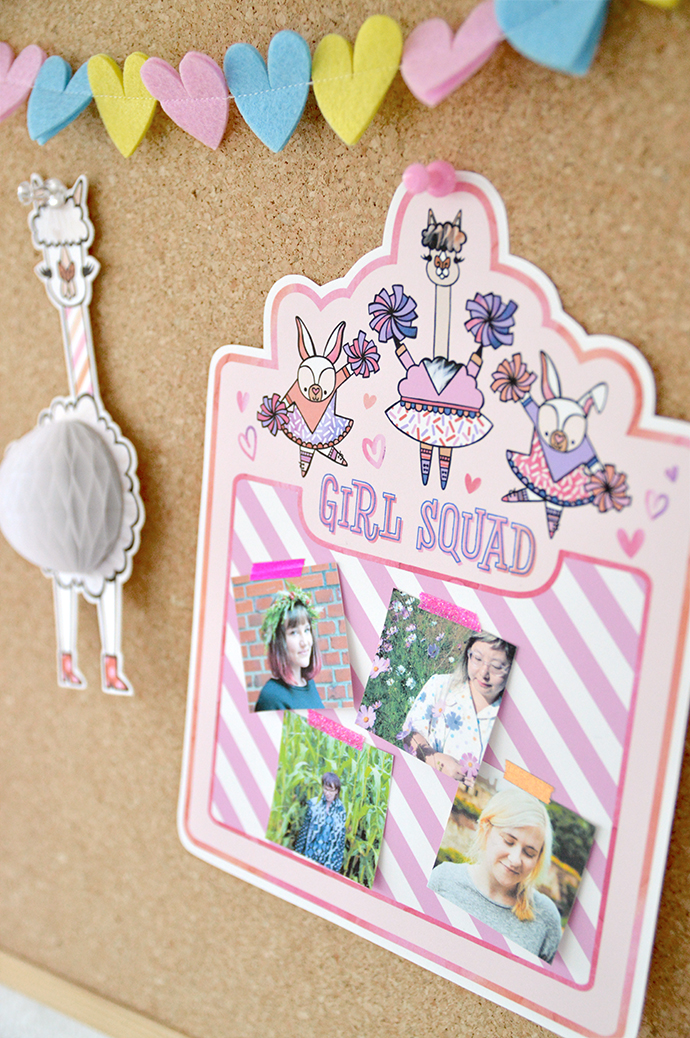 Ik koos ervoor mijn GIRLBOSS Squad te eren in deze fotolijst en er foto's in te plakken van mede Confetti Teamleden Olga, Ingrid, Heis en Tea. De lijst hangt nu in mijn home office op het prikbord en iedere keer als ik er langs loop dan denk ik aan door wat voor toffe vrouwen ik elke dag weer (niet altijd fysiek, maar zeker mentaal) omringd word. Mooi idee om bij stil te staan op Internationale Vrouwendag, toch?
♥♥♥
Wie zou jij in willen lijsten in je Girl Squad fotolijst? Laat het met weten in de comments! En als je je Girl Squad deelt op instagram of twitter; gebruik dan #TeamConfettiSquad zodat ik mee kan kijken. Vind ik leuk!
♥♥♥
Vera blogt één keer in de vier weken voor teamconfetti.nl. Ze is illustrator, allround mooie dingen maakster en ze heeft haar eigen label: Franje Design!
♥♥♥