Gastblog door Heis – Mag ik me even voorstellen? Hallo, ik ben Heis! Afgelopen maand kreeg een mailtje van Olga  – de happy creative director van Team Confetti. Ze vroeg of ik deel wilde nemen aan de Team Confetti gang? Ja, natuurlijk! Ik volg Team Confetti al heel lang. De vrolijke DIY's, liefde voor katjes, unicorns, fleurige illustraties en de daily planner die zo mooi gemaakt is! Allemaal dezelfde interesses – ze voelt als een zus!
Ik ben dus Heis! Ik woon in Rotterdam samen met mijn twee mannen. Met de één heb ik al bijna tien jaar een relatie (ik wacht nog steeds op een huwelijksaanzoek). En mijn andere vriendje is een kat uit het asiel: de Baron. Hij is een Maine Coon die erg van luieren houdt en verlangend naar kleine musjes kijkt vanaf het balkon.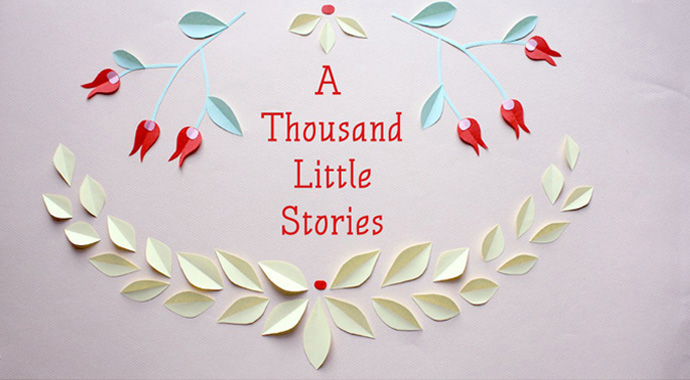 Misschien ken je mij van mijn oude blog genaamd Mejuffrouw Ekster. De naam van mijn blog heb ik ondertussen al een paar keer weer veranderd. Het blijft moeilijk om een one-of-a-kind naam te verzinnen voor je eigen blog. Uiteindelijk ben ik nu heel blij mee met de nieuwe naam A Thousand Little Stories.

Ik woon in een heel fijn licht huurhuisje die voornamelijk gevuld is met tweedehands meubelen. Ik hou van tweedehands meuk! Mijn weekenden bestaan dan ook voornamelijk uit bezoekjes aan de kringloop of een rommelmarkt. Dat je tussen al de grote hoeveelheid spullen iets moois kan vinden voor een klein prijsje, maakt mij gelukkig. Ik heb ondertussen zoveel tweedehands schatten verzameld, dat ik ze nu moet gaan verkopen: neem een kijkje in mijn minishop. Want ik ga in oud schoolgebouw wonen! Hopelijk aan het eind van 2017 want er moet nog veel gebeuren. Vergunningen aanvragen, architect zoeken, mogelijke funderingsproblemen, vergaderingen, enzovoort. Echt een grote-mensen-stap voor mij, samen een huis kopen!

Ik ben veel bezig om mijn huisje leuk in te richten. Ik maak dan ook graag leuke en vooral niet al te moeilijke Do-It-Yourself projecten voor mijn huis zoals papieren origami tulpen. Soms sloof ik mezelf wél uit en dan verzin ik een groot plan!  Bijvoorbeeld tientallen papieren fortune tellers vouwen om de muur op-te-leuken.

Kleine weetjes: ik ben een leuke-kleine-spulletjes-hoarder, ik ben afgestudeerd als grafisch ontwerpster,  ik eet graag een kom warme soep met noedels, probeer nu 15 kilo af te vallen door keihard te sporten, in de ban van homemade siroop, ik kies en betaal ervoor om mijn haren grijs te laten lijken, ik kom uit een groot gezin met zeven zussen en één broertje en ik droom van een eigen moestuintje met een walnotenboom.
♥♥♥
MINI BLOGPOST BONUS: MAAK JE EIGEN VLIERBLOESEMSIROOP!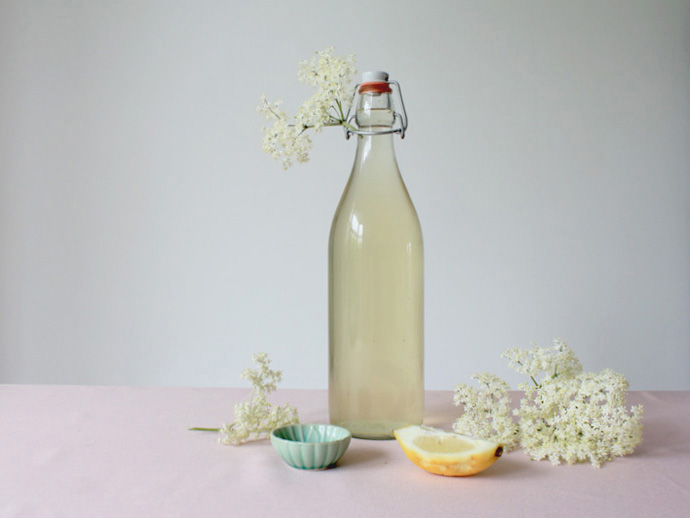 Zoals ik je al eerder vertelde, ben ik in de ban van zelfgemaakte siroop. Een paar weken geleden heb ik voor het eerst vlierbloesemsiroop gemaakt. Het is super easy om te maken. Dit is de laatste week dat je nog vlierbloesem kan plukken. De kleine witte bloemetjes zijn bijna allemaal uitgebloeid. Zoek dus een mooie struik in een groene omgeving, zo ver mogelijk af van het verkeer.
Dit heb je nodig:
15 a 20 vlierbloesemschermen
een grote pan
3 liter water 
2 kilo suiker ( ja, een heleboel)
2 biologisch citroenen
60 gram citroenzuur (te koop bij de toko of Turkse supermarkt)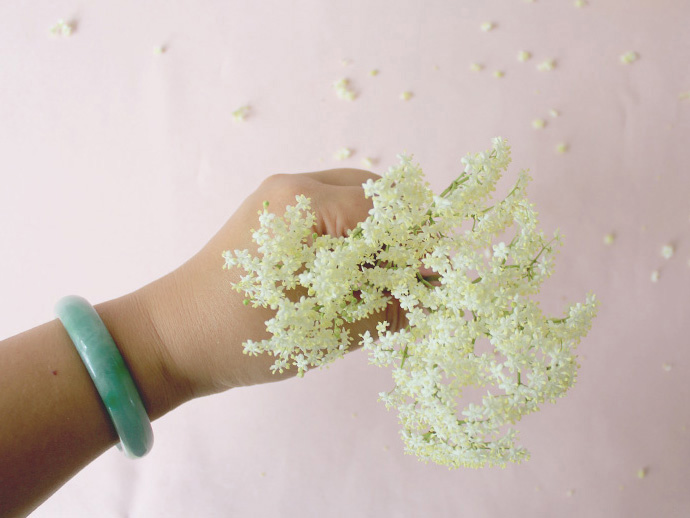 Pluk 15 á 20 vlierbloesemschermen in de vroege ochtend op een droge dag. Schud ze even uit voor de insecten die erin kunnen zitten. Gebruik alleen schermen met mooie frisse en geurige bloesem waarvan alle bloemen uitgekomen zijn.
Pluk niet alle bloemen van de struik – laat wat over voor de bijen, hommels en vogels. En pluk de vlierbloesem niet dichtbij de grond – je weet maar nooit of een hond zijn pootje op heeft getild…
Knip zoveel mogelijk de groene stelen van de bloemen af en leg de bloemen in een ruime pan en was ze niet. Anders was je het stuifmeel weg en die zorgt juist voor de smaak! Vul de pan met 3 liter water, suiker, citroenen in schijfjes en citroenzuur. Roer alles door elkaar en laat het 2 dagen afgedekt staan. Af en toe roeren.
Zoek in de tussentijd naar lege potjes of flessen. Maak ze schoon in een ruime pan met kokend water en twee eetlepels baking soda. Spoel ze daarna wel goed uit.
Zeef de bloemen met een ijzeren zeef of met een kaasdoek. Verhit de siroop tot de suiker helemaal is opgelost. Giet de hete siroop in de schoongemaakte flessen. Door het citroenzuur en de grote hoeveelheid suiker is de siroop een paar maanden houdbaar.
♥♥♥
Heis blogt één keer in de acht weken voor teamconfetti.nl.
Nieuwsgierig naar meer van Heis? Lees haar eigen blog of volg haar op instagram.