Gastblog door Vera – Ondanks dat het officieel niet meer 'mag', begin ik vandaag toch gewoon met jullie allemaal een gelukkig nieuwjaar te wensen. Ik hoop van harte dat dit jaar al jullie dromen uitkomen en dat 2016 een hoop mooie dingen voor je in het verschiet heeft liggen.
Ja jongens, het is dus weer januari. De maand waarin de goede voornemens eigenlijk net zo snel weer sneuvelen als dat ze waren opgesteld. Voor mij is dat niet anders. Elk jaar maak ik een lijstje met dingen die ik aan het einde van het jaar bereikt wil hebben of die door het jaar heen een gewoonte zouden moeten worden. Denk je dat daar ooit wat van terecht komt? Ik dacht het dus niet. Vorig jaar wilde ik elke dag beginnen met een halfuur lezen voordat ik aan het werk zou gaan. Aantal dagen dat ik dat heb gedaan: 0. Ook zou ik vorig jaar ein-de-lijk gaan verhuizen. Waar denk je dat ik nu woon? Precies, daar waar ik al vijf jaar zit. Zodoende zijn goede voornemens bij mij nogal een deprimerend fenomeen geworden.
Daarom ben ik degene die het fenomeen 'Memory Jar' heeft uitgevonden eeuwig dankbaar. Voor wie dit verschijnsel niet kent hier nog even de bedoeling ervan in een notendop: In plaats van goede voornemens op te stellen, zet je ergens een (glazen) pot in je huis. Elke keer als je gedurende het jaar iets leuks/bijzonders/ontroerends meemaakt schrijf je die gebeurtenis op een briefje en dat briefje doe je in de pot: de 'Memory Jar' dus. Op oudejaarsdag haal je al deze briefjes uit de pot en lees je wat voor bijzondere dingen je allemaal hebt meegemaakt het afgelopen jaar.
Awesome idee! Maar een jaar is lang en ik weet van mezelf dat wanneer ik ergens een oersaaie glazen pot heb staan, dat ik hem waarschijnlijk na 2 maanden zo beu ben dat de pot met herinneringen en al in de prullenbak verdwijnt. Daarom heb ik vandaag voor jullie drie manieren om je Memory Jar onweerstaanbaar leuk te maken en er op die manier mede voor te zorgen dat jij op oudejaarsdag met veel plezier je hoogtepunten van 2016 terugleest. Ready? Here we go!
#1 MASKING TAPE MADNESS
Benodigdheden
☆ (grote) glazen pot
☆ maskingtape
☆ fantasie (optioneel)
Masking tape is het nieuwe zwart en dat betekent dat iedereen er wel een paar rolletjes van heeft liggen. Dus trek de leukste exemplaren uit de kast en ga los op die pot. Ik heb een minimalistisch strepenpatroontje gemaakt, maar wie houdt je tegen je innerlijke Mondriaan los te laten op de pot? Simpel? Ja! Succesvol? Absoluut!
#2 ACRYLSTIFTEN GALORE
Benodigdheden
☆ (grote) glazen pot
☆ acrylstiften (te koop bij de betere kunstmaterialenwinkel) of 'gewone' acrylverf en een kwastje
☆ papier en potlood (optioneel)
Ik ben enorm fan van acrylstiften. Hoewel ik best een vaste hand heb, ben ik niet zo goed in strakke lijnen maken met een kwast. Deze acrylverf in stiftvorm is dus een uitkomst voor iedereen die daar ook last van heeft. Je kunt met deze methode volledig freestylen en uit de losse pols een tekening maken op de pot, maar je kunt ook een schets maken op papier en deze in de pot doen om hem vervolgens aan de buitenkant met je acryl(stift) over te trekken. Ben je klaar, dan haal je je schets eruit en tadaaaaaa: niemand zag ooit dat je dit niet totally feestyle hebt gedaan. Ben je niet zo'n tekenaar? Knip dan een leuk beeld of quote uit een tijdschrift en trek die op dezelfde manier over. Of ben je een fantastisch handletteraar? Ga dan los met een mooie quote. Kleine voetnoot: De acrylverf is op glas niet echt slijtvast, dus pas op met scherpe/lange nagels en zet je pot op een plaats waar hij weinig aangeraakt of verplaatst wordt.
#3 FREE PRINTABLE
Benodigdheden
☆ (grote) glazen pot
☆ printer met inkt
☆ papier
☆ schaar
☆ lijm
☆ free printable.
Nee hoor, niet-creatievelingen, ik ben jullie niet vergeten! Vind je nou echt dat je zelf helemaal niks kunt, dan is dat A) niet waar en B) geen probleem, want deze laatste optie is voor die mensen en voor de luilakken onder ons. Want deze tijger-cheerleader kun je HIER namelijk gewoon downloaden. Print hem uit (op wat dikker papier), knip hem uit langs de stippellijn en plak hem op je pot. Easy peasy!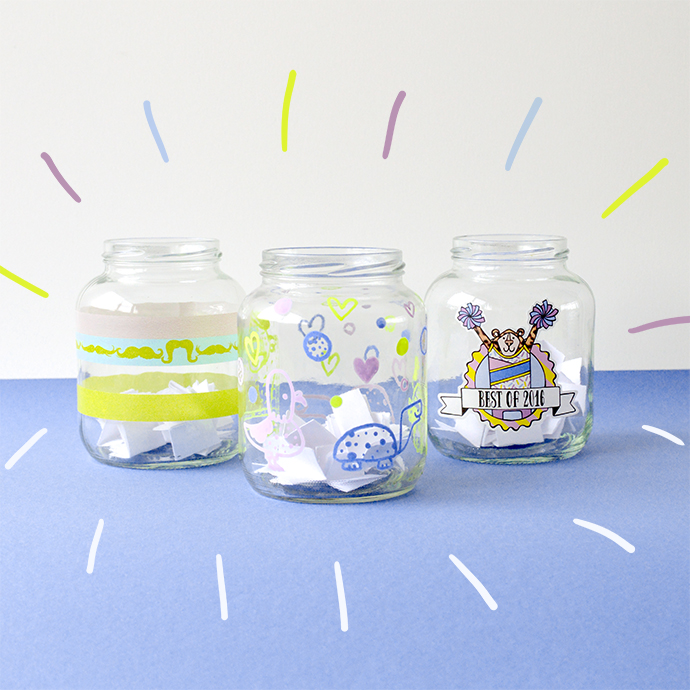 ☆☆☆
Nu kan het verzamelen beginnen! Ga jij een Memory Jar bijhouden dit jaar? En zo ja: welke van bovenstaande opties spreekt jou het meeste aan? Laat het me weten in de comments!
☆☆☆
Vera blogt één keer in de vier weken voor teamconfetti.nl. Ze is illustrator, allround mooie dingen maakster en ze heeft haar eigen label: Franje Design!