Gastblog door Noortje – Alweer een hele tijd terug kwam ik lijstjes tegen van Fundamental Berlin die ik er te gek uit vond zien. De manier waarop het metaal gevouwen is deed me direct denken aan papier. Waarop bij mij het idee ontstond om zelf dit soort lijstjes te maken! Het is toch net even wat verrassender dan gewoon een foto aan de muur hangen en iets origineler dan de normale lijst. Daarom heb ik vandaag voor jullie drie free printables van lijstjes die je zelf van allerlei soorten papier kan fabriceren. Natuurlijk zijn de mogelijkheden eindeloos en kun je ook je eigen cut-outs bedenken…
Hierboven zijn de benodigdheden te zien. Wat niet op de foto staat, is een snijmat. Maar je zou ook een stuk dik karton kunnen gebruiken. Ik heb voor zilver- en goudkleurig papier gekozen om het effect van een lijstje na te bootsen. Het gouden papier hierboven was eigenlijk net iets te dik waardoor de vouwranden een beetje inscheurden. Wil je dit absoluut voorkomen, kies dan voor papier dat wel stevig is maar dat je ook nog makkelijk kan vouwen. Verder heb je natuurlijk foto's nodig! Ik koos voor foto's die ik gemaakt heb tijdens een vakantie vorig jaar, ik was er nog niet aan toegekomen om er iets mee te doen en dit leek me een mooie gelegenheid.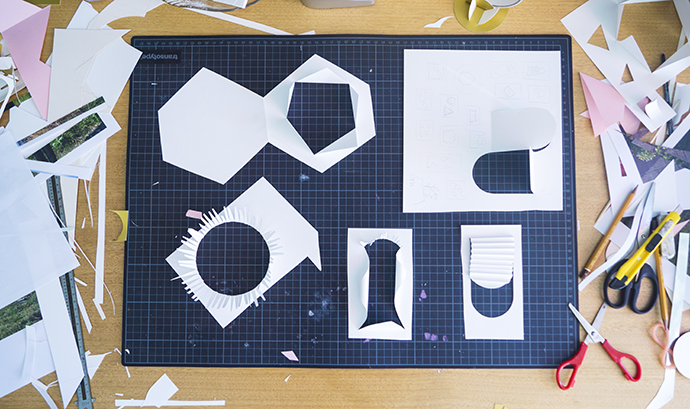 Ik heb van alles geprobeerd maar uiteindelijk zijn er drie templates uitgekomen die je hier kunt downloaden. Print je favoriete template uit en neem deze over op het papier naar keuze. Dit kun je doen door het uit te knippen en het over te trekken op het gekozen papier. Snijd vervolgens de vouwlijnen eerst in voordat je ze omvouwt, anders krijg je hele lelijke bobbelranden. Ik heb de templates expres op A4 formaat gemaakt. Wanneer je nu je eigen foto's afdrukt, passen ze in de templates. Zoek met behulp van de templates naar de beste uitsnede van je foto's. Door ermee te schuiven kom je tot verrassende composities. Zet vervolgens de template in elkaar en knip de foto uit. Voeg ze bij elkaar en tada, je hebt je eigen originele fotolijst! Vervolgens kan je de lijst nog ophangen of neerzetten.
Ik vind vooral de foto in de zilveren lijst heel verrassend geworden. In eerste instantie wilde ik in het rondje mijn gezicht en handen laten zien maar door het template op deze manier te schuiven, werd de foto een beetje geheimzinnig en interessant om naar te kijken. Uiteindelijk heb ik ook voor een roze lijstje gekozen omdat ik nou eenmaal van die kleur houd en roze is gewoon altijd een goed idee.
Ik hoop dat jullie het leuk vonden om te zien dat je op een hele simpele manier een lijstje kan maken om een saai plekje op te leuken of een bijzonder moment een mooi plaatsje in huis te geven.
Ik print zelf eigenlijk nooit foto's, laat staan dat ik ze ophang. Maar op deze manier vind ik het zeker de moeite waard!
♥♥♥
Noortje is een vrolijke illustrator uit Rotterdam met een passie voor papier en kleur. Hier op teamconfetti schrijft ze artikelen waar je iets van kan leren, maar waar je vooral vrolijk van wordt.