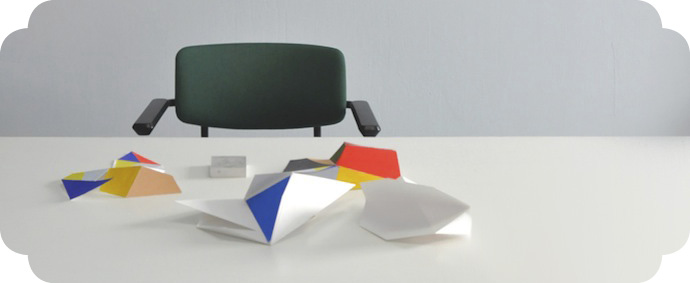 This is the beautiful studio space of the artist duo City as Archive.
Deze keer nemen we jullie mee naar de mooie studio van City as Archive, vier hoog, verstopt achter een van de oudste poortjes van de stad Groningen…
Het Groningse kunstenaarsduo City as Archive, bestaat uit Liesel Bonhage & Johanna Hondelink. Zij combineren kunst, design en architectuur voor locatiegebonden werk. Naast dat we een kijkje in hun studio mochten nemen, stelden we ze ook nog een paar vragen:
Wat is het fijnste aan deze studio?
"Onze studio bevindt zich in het centrum van Groningen, verstopt achter een van de oudste poortjes van de stad. We zitten vier verdiepingen hoog en hebben een uitzicht over de stad en de klok van de A-kerk, handig om op tijd te zijn voor afspraken. Zo zien we de stad van boven, mooie luchten en om 12:00 uur hebben we een privé concert vanuit de Martinitoren."
Hoe ziet een werkdag eruit voor jullie?
"De dag begint met een pot thee en het beantwoorden van mails. Afhankelijk van lopende projecten gaan we daarmee aan de slag op de computer of achter onze werktafel. Rond 12 uur is het tijd om te lunchen. We hebben onze eigen kruidentuin waarin we in de lente en zomer ook sla laten groeien. Een goede uitgebreide lunch met onze ganggenoten is erg belangrijk. Na de lunch werken we weer aan projecten. Sinds kort hebben we een flex-studiogenoot erbij gekregen, Ashlee van This Cool Kid gaat elke woensdag bij ons aan de slag. Ondernemende collega's zorgen dat wij geïnspireerd blijven en werkt goed voor nieuwe impulsen."
Waar zijn jullie momenteel mee bezig?
"Momenteel zijn we druk met een eigen geïnitieerd project It's a Small City. De website, gemaakt door WeLoveItWhenaPlanComesTogehter, is net klaar en zal binnen kort online gaan. Ook zijn wij gevraagd om op een originele wijze de wayfinding binnen de parkeergarage van het Martini Ziekenhuis te verbeteren. Dit project staat op het punt uitgevoerd te worden.
Het is inspirerend om andere creatieven te ontmoeten en we gaan daarom graag op pad. Zo breiden we onze netwerk uit en mogelijkheden voor samenwerkingen."
 Bedankt Liesel & Johanna!
Benieuwd geworden naar het werk van City of Archive? Neem snel een kijkje op hun website:
www.cityasarchive.nl
***
Ben of ken jij iemand met een mooi atelier of huis en lijkt het je leuk om ook eens op onze blog te staan? Stuur ons dan gerust een mailtje!