Pas geleden maakte ik een photoshopschets van hoe ik graag zou willen dat onze eethoek eruit komt te zien. En jongens en meisjes, de eerste stap is gezet! En alhoewel dit niet een hele ingewikkelde hack is, vond ik hem wel de moeite waard om te laten zien. Want: groot resultaat!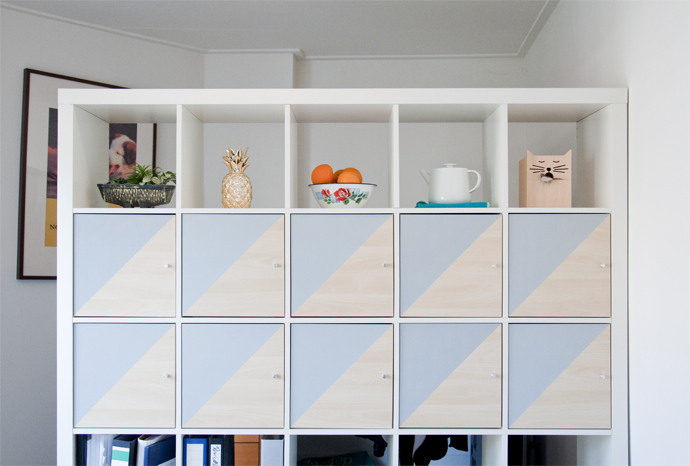 Tadaaaaaaa! Dit is het resultaat van een zaterdagje aanpoten. Voor deze DIY heb je nodig: 10 kallax kastjes (of nouja, zoveel kallax kastjes als je wil), verf, tape, een roller en een schuurapparaat.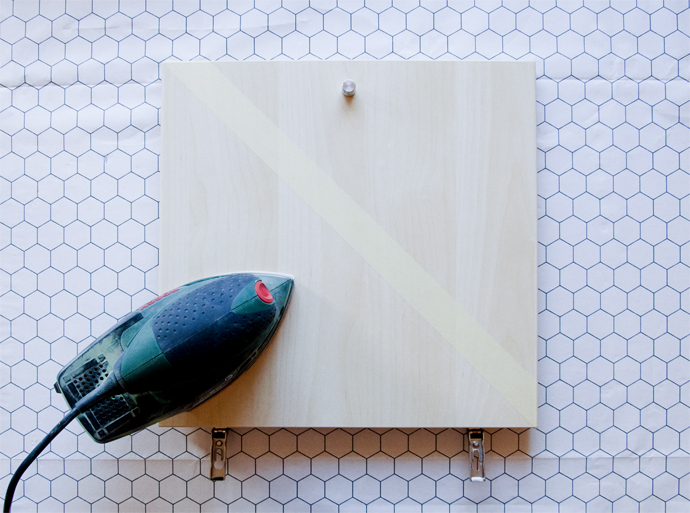 STAP 1: AFPLAKKEN EN SCHUREN
Op de deurtjes van een kallax kastje zit een laminaatlaagje. En laminaatlaagjes zijn niet je beste vriend als je ze wil schilderen. In tegendeel. Ik wilde een driehoek op mijn deurtje en plakte daarom voor het schuren mijn deurtje al af. Ga je eerst schuren, dan beschadig je de kant van het deurtje waar je niet gaat schilderen. En dat is niet zo mooi. Eerst plakken, dan schuren, dan verven. Ik kwam er ook achter dat een beetje schuren met een schuurpapiertje ook niet the way to go is. Hardcore schuren is het advies, anders gaat de verf niet hechten.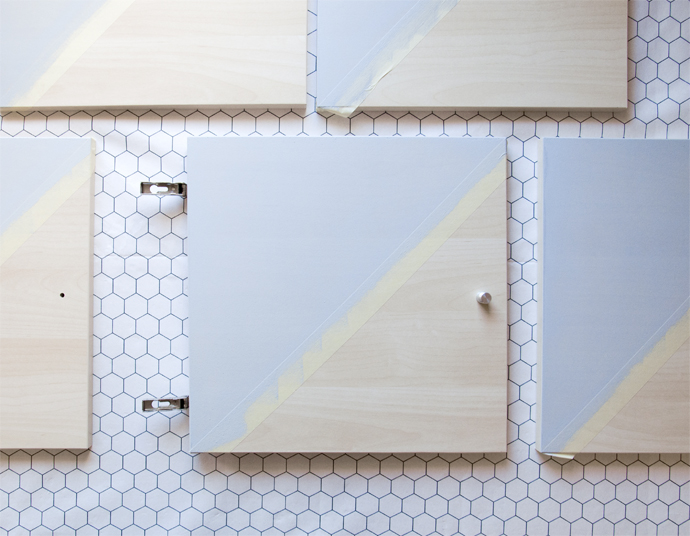 STAP 2: VERVEN.
Ik gebruikte hiervoor een klein lakrollertje en schilderde twee dunne laagjes. Op onze deurtjes zit matte verf op terpentine basis wat verrassend snel stofdroog was. Er zit een paar uur tussen het schilderen van de laagjes in. De tape kun je het beste verwijderen zodra het tweede laagje net droog is. Wacht niet te lang (zoals een hele nacht) want dan wordt de rand wat rafelig. Geen ramp, maar hoe strakker, hoe beter.
And that's it!
Bevestig de deurtjes voorzichtig. Alhoewel de verf er mooi opzit, is het wel gevoelig voor krassen. Ik heb daarom het gedeelte waar we veel aanzitten (de kant van het knopje) niet geschilderd. Dan is de kans wat groter dat het er lang, mooi op blijft zitten.
Dit was stap 1 van het opknappen van onze eethoek en de volgende stappen volgen snel. Dit is een hoekje van ons huis wat we lekker snel af willen maken. En volgens mij wordt het heel mooi. Yay!
***
Wie heeft er weleens eerder een Ikea hack gemaakt?