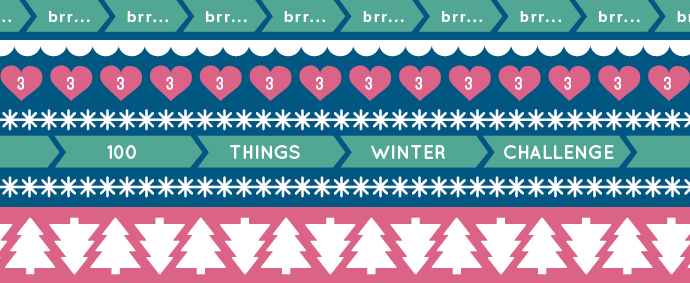 This is the last update of the 100 things winter challenge, check out how many things I threw away!
Ik moest nog wel even mijn best doen om de laatste aflevering van de 100 things winter challenge tot een goed einde te brengen. Maar het is me gelukt! Ondanks de goodiebags, alle cadeautjes en mijn eigen shopdrang heb ik meer dan 100 dingen weg gedaan!
Wat is de 100 things winter challenge? Het idee is om in drie maanden tijd 100 spullen weg te gooien. Er zit wel een addertje onder het gras: Voor elk item dat je koopt/krijgt komt er weer +1 bij. Het begon bij de 100 things summer challenge, daarna kwam de 100 things fall challenge en ik sluit bij deze de 100 things winter challenge af. Lees voor meer info dit artikel.
What's the 100 things winter challenge? The concept is, to throw 100 things away over the course of three months. But every time you buy something or receive a present, it counts as +1.
Het wordt steeds moeilijker om dingen te vinden die weg kunnen. In het begin pakte ik een doos, een kastje of een rommelhoekje, sorteerde alles en gooide alles weg wat ik niet nodig had. Nu heb ik bijna al die hoekjes, lades en dozen wel gehad. Dus nu moet ik nog een keer op al die plekken kijken of ik misschien iets over het hoofd heb gezien (en dat is bijna altijd het geval). Het gaat niet meer zo snel als in het begin. De frommeltjes die eigenlijk stuk, niet meer bruikbaar of gewoon te oud waren, maar een grote emotionele waarde hadden, mochten eerst nog even blijven. Maar nu moeten die er ook aan gaan geloven en dat is een stuk moeilijker…
It's getting harder and harder to complete this challenge. I got rid of the easy stuff, but now it's time to get rid of stuff that has an emotional value.
Het levert voor de challenge niet zoveel op (ondergoed telt niet) maar het verbeeldt wel mooi hoe ik alle lades, kastje en dozen aan heb gepakt de afgelopen maanden.
Laten we kijken naar alles wat ik deze winter in totaal heb weg gedaan:
Everything I threw/gave away past winter:
Als ik deze lijst zie, kan ik me niet eens voorstellen dat ik nog spullen over heb! Wat een lijst zeg… En ik heb nog een hele hoop spullen over. Want er zijn afgelopen winter ook flink wat spulletjes mijn huis weer ingeslopen:
Everything I received/bought past winter: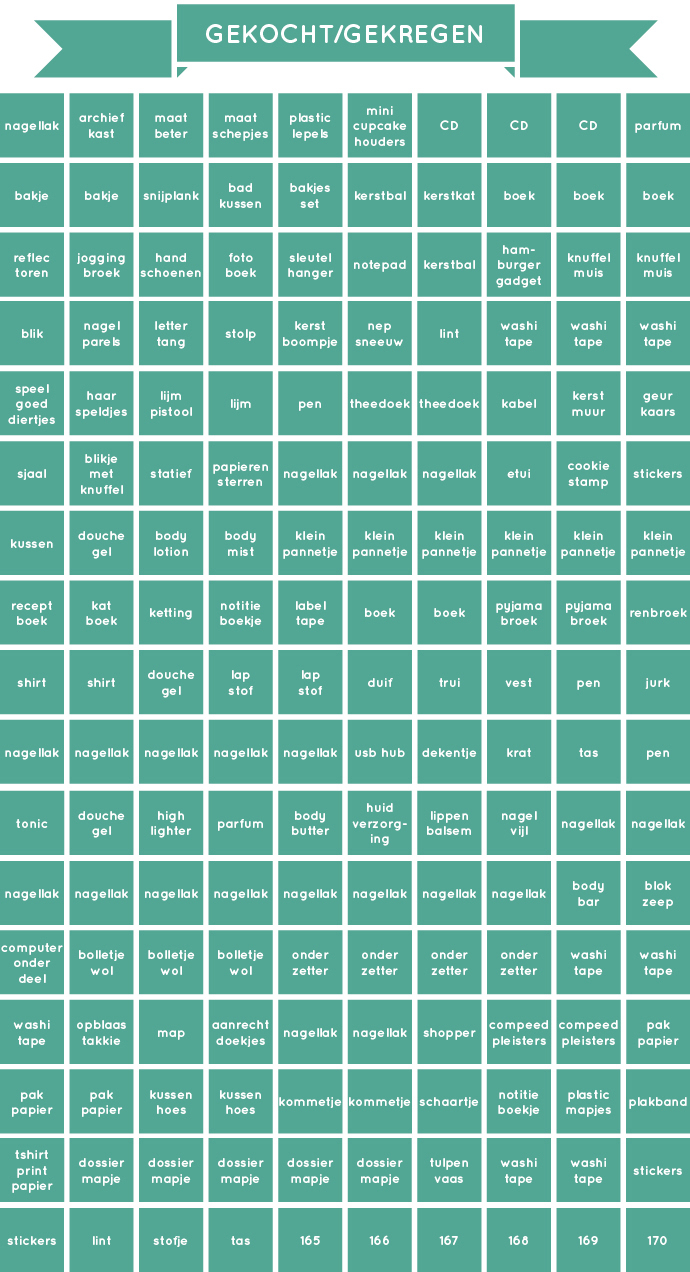 Hieronder een paar hoogtepunten van wat er bij is gekomen:
Leuke Sinterklaascadeautjes. De rest van mijn Sinterklaascadeautjes vind je hier.
Click here to check the rest of my Sinterklaas presents.
Ik kreeg ook ONTZETTEND veel leuke dingen voor mijn verjaardag. De rest vind je hier.
Click here to check the rest of my birthdaypresents.
Ook ontving ik een leuke goodiebox van Helen als dank voor de artikelen die ik voor haar schreef. De rest van de goodiebox kun je hier bekijken.
Click here to check the rest of Helen's goodiebox.
Allemaal leuk en aardig, maar wat is de totaalscore?!

Can I get a woop woop? De winterchallenge is voltooid! Hierna volgt de allerlaatste challenge: De Spring Challenge. In maart, april en mei doe ik voor de laatste keer 100 spullen weg en dan ben ik klaar! En de laatste Challenge wordt echt de zwaarste, dus wil ik jullie graag oproepen om met me mee te doen! Een beetje spring cleaning kan nooit kwaad toch? Wil je meedoen en ook zo'n schema invullen? Dat kan! Tom maakte vorig jaar het schema beschikbaar voor iedereen.
Klik hier voor meer info en het schema.
Now it's time to start with the last challenge: the 100 things spring challenge!
Please join me in my 100 things mission and get rid of some stuff!
Heel veel opruim plezier!
Happy cleaning!