Ik ben een audiobook addict. Dat is volgens mij wel bekend. Ik verslond vorig jaar het ene boek na het andere, maar op een shady manier (bad Olga, I know). Naast dat het niet helemaal netjes voelde, waren er ook maar een beperkt aantal boeken beschikbaar. Ik deed dus een dansje toen ik de app van Storytel ontdekte. Voor €9,99 per maand kan ik nu onbeperkt boeken luisteren. Vandaag leg ik uit hoe de app werkt, heb ik vijf luistertips en ik heb ook nog eens 30 dagen gratis luisteren voor Team Confetti bezoekers geregeld!
Storytel
Oftewel, audiobook heaven! Naar mijn weten is dit het enige abonnement waarbij je de hele bibliotheek kan luisteren, offline en online. Bij de Amerikaanse concurrent Audible moet je $14,99 betalen voor één boek per maand en die hebben uiteraard geen Nederlandse boeken. Natuurlijk kun je ook naar de gewone bieb, maar daar krijg je een hele bups CD's mee en het aanbod is beperkt. Voor mij was het dus een no-brainer en ik heb direct een abonnement genomen. En in iets meer dan twee maanden heb ik al 15 boeken geluisterd! Holy moly! Als ik die had moeten lezen, dan had ik daar serieus jaaaaaren over gedaan.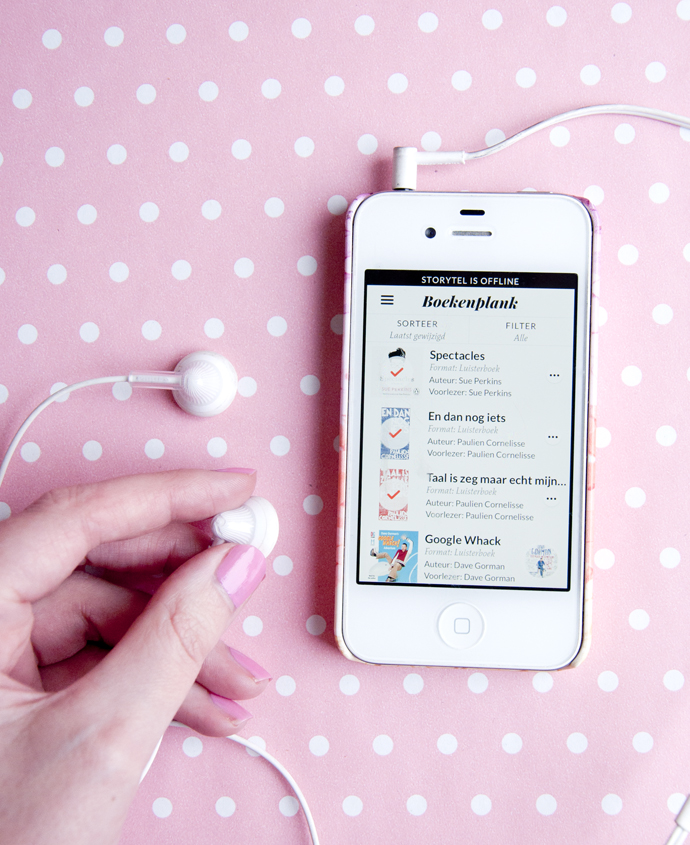 De App
De luisterboeken van Storytel luister je via je iPhone, iPad of Android (gewoon vanaf je computer kan ook, maar dat is minder handig). Er is keuze uit duizenden luisterboeken (en ze hebben ook nog een e-book afdeling) in het Engels of Nederlands. Die kan je vinden door bij de aanbevelingen te kijken, door gewoon te zoeken of bij de categorieën te kijken. Als je een boek ziet dat je leuk lijkt, zet je hem op je 'boekenplank'. Op die boekenplank kun je vijf boeken tegelijkertijd offline luisteren (online is onbeperkt volgens mij). En vijf is zat, believe me. De app onthoudt waar je bent gebleven, ook als je tussendoor naar een ander boek heb geluisterd. Tenslotte kun je nog een timer aanzetten voor als je bijvoorbeeld in bed ligt te luisteren.
Tips
Hieronder heb ik vijf boeken uitgelicht omdat ze divers zijn, maar ik heb er dus nog tien geluisterd! De volgende boeken vond ik ook echt aanraders: Spectacles door Sue Perkins, The Rosie Project en The Rosie Effect door Graeme Simsion, Moab Is My Washpot en The Fry Chronicles door Stephen Fry en Dave Gorman Vs the Rest of the World door Dave Gorman. En ik ben net begonnen aan The Organized Mind door Daniel Levitin. En die is heel interessant.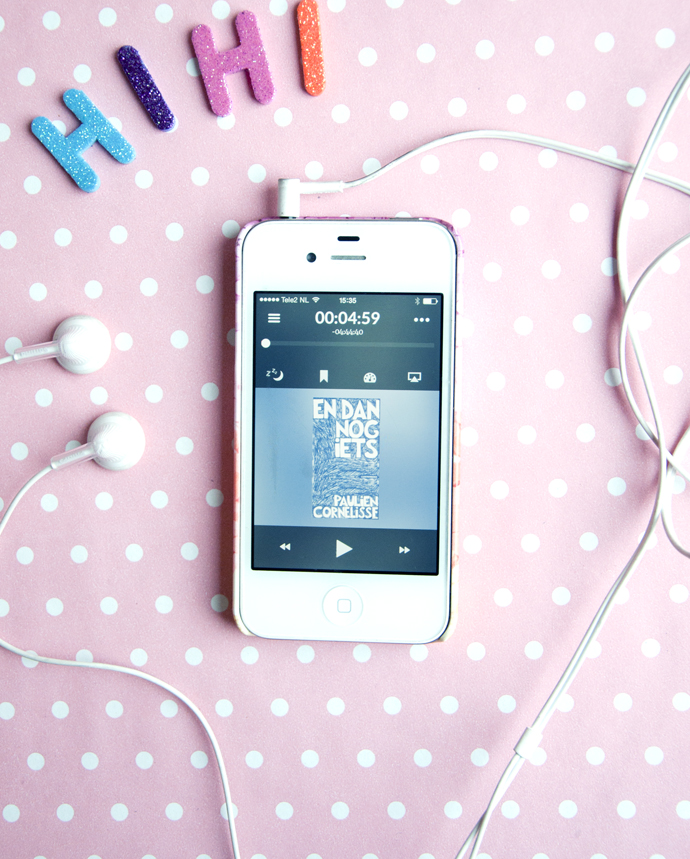 Taal is zeg maar echt mijn ding & En dan nog iets van Paulien Cornelisse
Nee, ik heb niet onder een steen gelegen, deze boeken had ik al gelezen (met mijn oogballen ja) en staan zelfs bij mij in de kast. Maar dat is alweer een tijdje geleden en ik was benieuwd hoe het zou zijn als Paulien de boeken zelf zou voorlezen. En dat is FANTASTISCH. 1000 x leuker dan lezen, dat garandeer ik je. En omdat de kleine zinnetjes en stripjes tussendoor voorlezen 'stom is' (Paulien d'r woorden, niet de mijne) zit er aan het einde van elk boek een bonustrack. Met name de bonustrack van Taal is zeg maar echt maar echt mijn ding is echt goud waard.
♥♥♥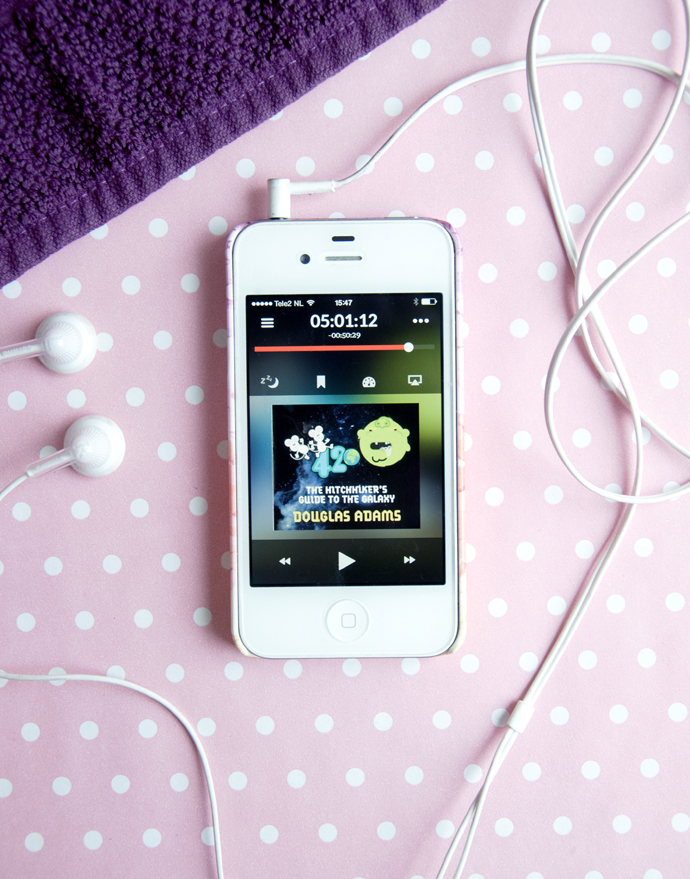 The Hitchhikers Guide to the Galaxy door Douglas Adams
Dit boek is een echte nerd-klassieker en hij is zooooo leeeeeeeeuk! En flauw. En onzinnig. 
Het boek gaat over de aardbewoner Arthur Dent, die samen met zijn beste vriend Ford Prefect net op tijd meelift met een ruimteschip voordat de aarde wordt opgeblazen om ruimte te maken voor een 'hyperspace bypass'.
Het boek wordt voorgelezen door meestervoorlezer Stephen Fry (hij las ook Harry Potter voor en zijn eigen biografieën) en als je het uit hebt, kun je tegen elke nerd '42' 'don't panic' en 'so long and thanks for all the fish' roepen en je kan niks meer verkeerd doen. Dit is het eerste boek van een trilogie van vijf (dat is hoe flauw de humor is).
♥♥♥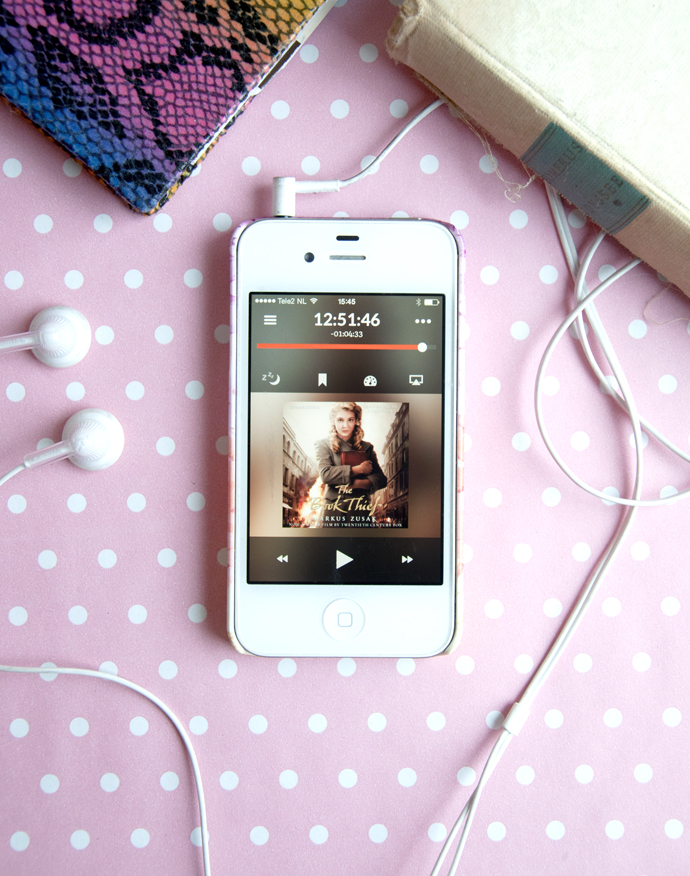 The Book Thief door Markus Zusak
Ok, even wat serieuzer. The Book Thief gaat over de 9-jarige Liesel die ten tijde van de tweede wereldoorlog terechtkomt bij een bijzonder stel pleegouders. Het is heel poëtisch en beeldend geschreven en wordt verteld vanuit het oogpunt van de Dood. Dat klinkt niet heel gezellig, maar dit is een ontzettend mooi, ontroerend boek. Grappig, meeslepend en tragisch tegelijkertijd. Echt een aanrader.
♥♥♥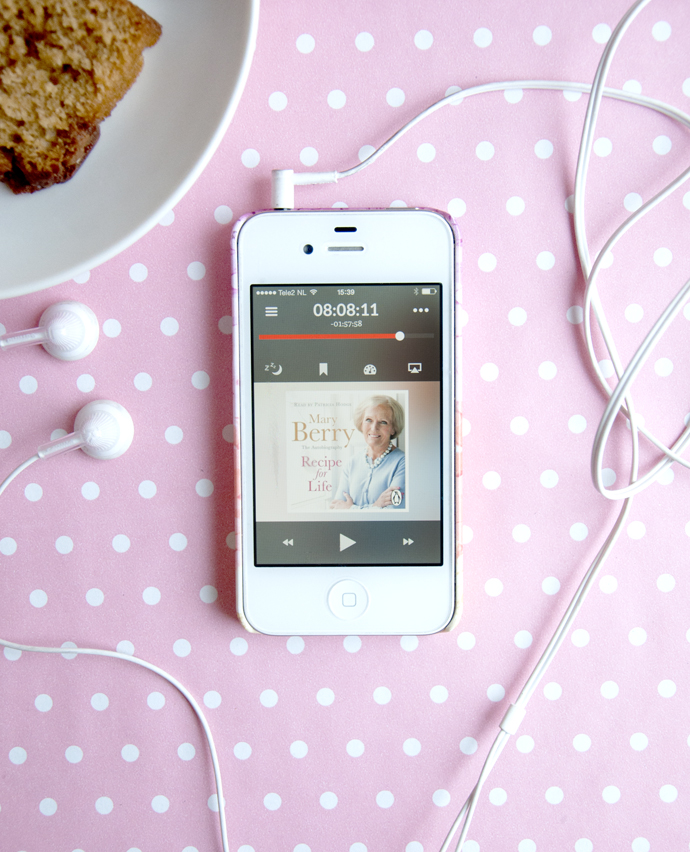 Recipe for Life door Mary Berry
De oplettende lezer heeft dit luisterboek al eerder voorbij zien komen hier op teamconfetti.nl. Mary Berry is jurylid van het allerbeste televisieprogramma aller tijden: The Great British Bake Off. Verder kende ik haar niet, maar ze blijkt een flinke geschiedenis te hebben als tijdschrift- en tv-kokkin. Ze vertelt over haar leven op een ontzettend gezellige en dankbare manier (ze zegt wel 1000 x 'I was so lucky') terwijl ze ook erg vervelende dingen heeft meegemaakt. Dit boek is ontzettend knus en ontspannend, maar geeft ook genoeg inspiratie als je een hele harde werker bent. Want Mary, dat is een echte #girlboss hoor.
♥♥♥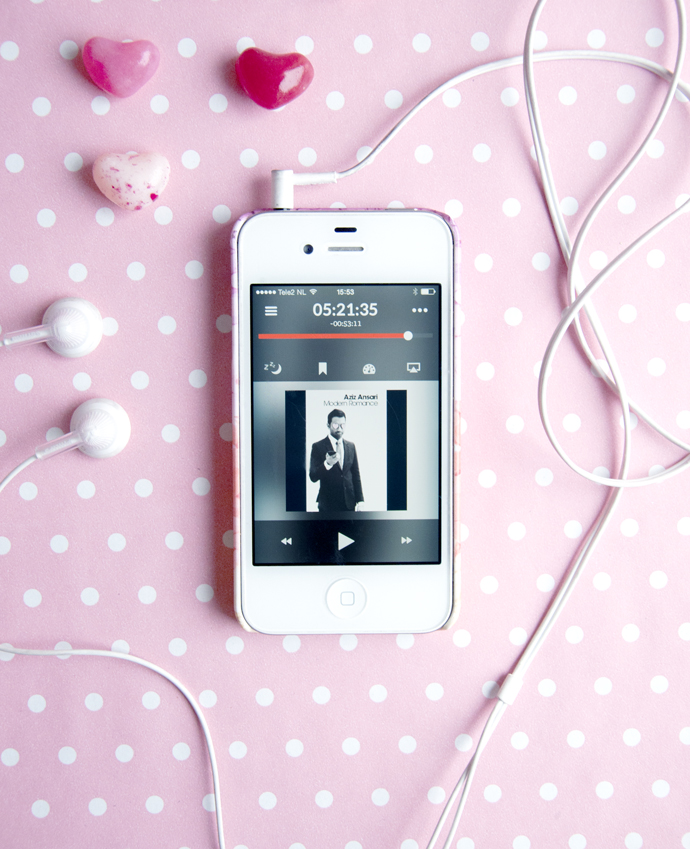 Modern Romance door Aziz Ansari
Tenslotte een wetenschappelijk boek, geschreven door komiek Aziz Anzari. Kort door de bocht genomen, vergelijkt hij de datingwereld van nu met die van vroeger. Wat zijn de verschillen? Wat was vroeger beter, wat kan nu wat vroeger niet kon? Wat kun je het beste op je dating profiel zetten en hoe maak je een goede eerste indruk? Dit zuigt hij niet allemaal uit zijn eigen duim, met een hele groep wetenschappers legt hij de datingwereld onder de loep. Nu is het al bijna 8 jaar (volgende week is het zover) DIK AAN met Tom, dus je zou denken dat deze info voor mij niet heel interessant zou zijn. Maar toch vond ik het heel boeiend. Want deze info kun je ook gebruiken bij andere relaties en het is ook nog een geschiedenislesje. En Aziz is hilarisch, laten we dat niet vergeten.
♥♥♥
EXTRA LANGE PROEFPERIODE VOOR TEAM CONFETTI FANS
De lieve mensen van Storytel hebben speciaal voor jullie een uitzondering gemaakt. Normaal mag je namelijk 14 dagen gratis luisteren naar de boeken van Storytel voordat je abonnement ingaat. Maar als je naar de website www.storytel.nl/teamconfetti gaat, dan mag je maarliefst 30 dagen gratis luisteren!
Goed om te weten: na 30 dagen wordt je abonnement automatisch verlengd in een betaald abonnement van €9,99 per maand. Je kunt je abonnement te allen tijden stopzetten via de website. Dit aanbod is alleen geldig voor nieuwe abonnees. Storytel zal je via e-mail op de hoogte houden over aanbiedingen en ander nieuws.
♥♥♥
En? Luisteren jullie met me mee?