'Eh, maar hoe dan?' hoor ik jullie denken. Nou, in plaats van kilo's kaas zit er vooral heel veel pompoen in (jum). En zo kun je het als hoofdgerecht eten in plaats van bijgerecht. Comfort food barstensvol met smaak en semi guilt free (er zit ook heus een klontje boter en een handje kaas doorheen, maar dat moet kunnen)! Let's get crackin'!
Ik heb niet zo'n geniaal kookbrein dat ik dit recept helemaal zelf heb verzonnen. Het originele recept komt van A pinch of yum. Dus als je liever het originele recept bekijkt in het Engels, check dan vooral haar site. Maar blijf je liever hangen om het recept in het Nederlands te lezen, dan vind ik dat ook heel gezellig. ;)
DIT HEB JE NODIG:
– één flespompoen
– 1 1/4 liter groente (of kippen)bouillon
– een klontje boter
– een ui, in ringetjes gesneden
– een handje geraspte kaas naar keuze
– een flinke scheut melk
– zout en peper
– pak pasta (welke je maar in huis hebt / je het lekkerst vindt)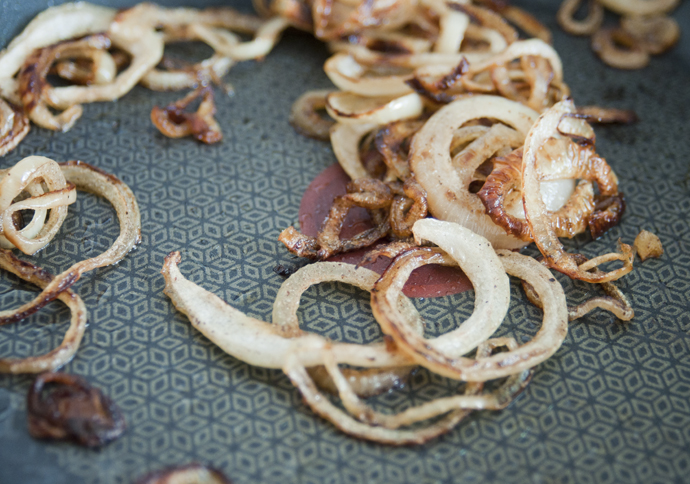 Bak de uienringen in een klontje boter op laag vuur voor ongeveer twintig minuten. In de tussentijd kun je de flespompoen schillen en in blokjes snijden. Vergeet de pitten niet te verwijderen! Hier gaat de meeste tijd inzitten, dus als je het samen kan doen is dat gezelliger en is het sneller klaar.
Kook de pasta, giet af en zet opzij. Het is niet erg als die een beetje afkoelt, er gaat straks hete saus overheen. Kook de pompoen in de bouillon voor ongeveer zeven minuten (prik erin met een vork, dan weet je zeker dat ze gaar zijn). Schep vooooooor het afgieten met een kopje wat bouillon uit de pan. Ok, nu mag je afgieten.
Je kunt een blender gebruiken om de pompoen te pureren, maar ik heb geen goede ervaringen met hete dingen in de blender. Dan knalt door het stoom de deksel eraf en zit je pompoen overal. Ik gebruik dus liever een staafmixer.
Gooi eerst de melk, een beetje bouillon en wat zout bij de pompoen en begin voorzichtig met staafmixen. De kans is groot dat er wat spetters knaloranje prut door je keuken gaan vliegen, dus een schort is aan te raden (had ik natuurlijk niet gedaan, zucht).
Roer nog een handje geraspte kaas door de saus, doe de pasta in de borden en giet de liquid gold die mac and cheese saus heet eroverheen.
EN ZEER BELANGRIJK: dit eet je niet aan tafel, maar op de bank. Onder een dekentje terwijl je een film of goede serie kijkt. En dan maar dan naar binnen schuiven.
ENJOY!