Het was alweer een tijdje geleden dat ik het internet afspeurde voor mooie vondsten en het kriebelde. En dus zette ik mijn speurneus-pet op en zocht de leukste, de mooiste en de vrolijkste zaken om jullie blij mee te maken op deze maandagochtend. Enjoy!
Cool Collaborative Office over at Homepolish.
So faaaaaancy, dit gedeelde kantoor. Ik ben gek op dit soort styling voor mijn hele huis (alleen heb ik veel te veel nick-nacks om zo'n soort serene ruimte te creëren) maar ben stiekem ook heel blij met mijn eigen
#partyoffice. ;)
♥♥♥
Unicorn piñata makeover by Oh happy day.
Pinata's zijn van die magische dingen die we hier eigenlijk niet kennen. Too bad, want dat zou wel een beetje vuurwerk in het gemiddelde kinderfeestje stoppen. En unicorns zijn altijd goed. Ik maakte zelf een keer een simpele pinata, de DIY vind je hier.
♥♥♥
Carnival cake by Bethcakes.
Dit is de mooiste taart die ik OOIT heb gezien! Die laagjes ook! Als iemand zich ooit nog geroepen voelt om helemaal uit zijn bol te gaan de volgende keer dat ik jarig ben, be my guest.
Cool stuff by Cate Anevski.
Een kat EN een zeemeermin? Ik ben erbij.
♥♥♥
Prints by People I've loved.
Ik ben normaal niet heel erg onder de indruk van posters met quotes, maar die met 'things will work out' zou ik heel graag in mijn huis willen hebben. Simpel en geruststellend. :)
♥♥♥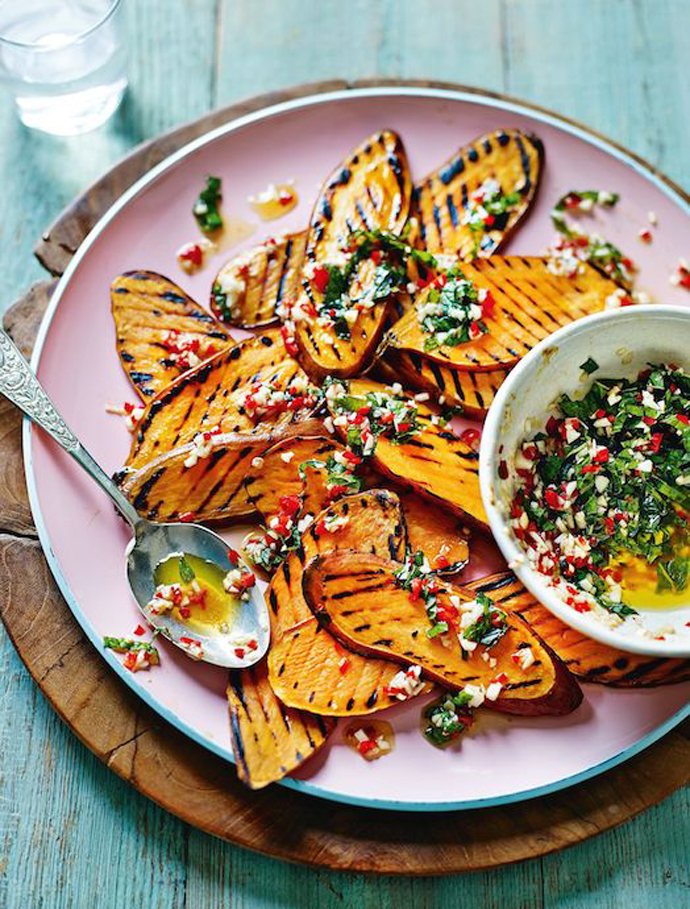 Sweet potato with mint chilli and smoked garlic.
Ik ben gek op zoete aardappel en deze combinatie klinkt heel lekker!
♥♥♥
Artwork by Tim Colmant.
Weer een geniale kunstenaar ontdekt! I love me some eighties invloeden. Ik ben helemaal geïnspireerd om in deze stijl nog een paar achtergrondpatroontjes te maken voor de agenda.
♥♥♥
Een hele fijne maandag allemaal!
♥♥♥
Warning: preg_match(): Compilation failed: invalid range in character class at offset 4 in /customers/a/8/1/teamconfetti.nl/httpd.www/wp-content/plugins/pinterest-pin-it-button/includes/simple_html_dom.php on line 1364 Warning: preg_match(): Compilation failed: invalid range in character class at offset 4 in /customers/a/8/1/teamconfetti.nl/httpd.www/wp-content/plugins/pinterest-pin-it-button/includes/simple_html_dom.php on line 1364 Warning: preg_match(): Compilation failed: invalid range in character class at offset 4 in /customers/a/8/1/teamconfetti.nl/httpd.www/wp-content/plugins/pinterest-pin-it-button/includes/simple_html_dom.php on line 1364 Warning: preg_match(): Compilation failed: invalid range in character class at offset 4 in /customers/a/8/1/teamconfetti.nl/httpd.www/wp-content/plugins/pinterest-pin-it-button/includes/simple_html_dom.php on line 1364 Warning: preg_match(): Compilation failed: invalid range in character class at offset 4 in /customers/a/8/1/teamconfetti.nl/httpd.www/wp-content/plugins/pinterest-pin-it-button/includes/simple_html_dom.php on line 1364 Warning: preg_match(): Compilation failed: invalid range in character class at offset 4 in /customers/a/8/1/teamconfetti.nl/httpd.www/wp-content/plugins/pinterest-pin-it-button/includes/simple_html_dom.php on line 1364 Warning: preg_match(): Compilation failed: invalid range in character class at offset 4 in /customers/a/8/1/teamconfetti.nl/httpd.www/wp-content/plugins/pinterest-pin-it-button/includes/simple_html_dom.php on line 1364 Warning: preg_match(): Compilation failed: invalid range in character class at offset 4 in /customers/a/8/1/teamconfetti.nl/httpd.www/wp-content/plugins/pinterest-pin-it-button/includes/simple_html_dom.php on line 1364 Warning: preg_match(): Compilation failed: invalid range in character class at offset 4 in /customers/a/8/1/teamconfetti.nl/httpd.www/wp-content/plugins/pinterest-pin-it-button/includes/simple_html_dom.php on line 1364 Warning: preg_match(): Compilation failed: invalid range in character class at offset 4 in /customers/a/8/1/teamconfetti.nl/httpd.www/wp-content/plugins/pinterest-pin-it-button/includes/simple_html_dom.php on line 1364 Warning: preg_match(): Compilation failed: invalid range in character class at offset 4 in /customers/a/8/1/teamconfetti.nl/httpd.www/wp-content/plugins/pinterest-pin-it-button/includes/simple_html_dom.php on line 1364 Warning: preg_match(): Compilation failed: invalid range in character class at offset 4 in /customers/a/8/1/teamconfetti.nl/httpd.www/wp-content/plugins/pinterest-pin-it-button/includes/simple_html_dom.php on line 1364 Warning: preg_match(): Compilation failed: invalid range in character class at offset 4 in /customers/a/8/1/teamconfetti.nl/httpd.www/wp-content/plugins/pinterest-pin-it-button/includes/simple_html_dom.php on line 1364 Warning: preg_match(): Compilation failed: invalid range in character class at offset 4 in /customers/a/8/1/teamconfetti.nl/httpd.www/wp-content/plugins/pinterest-pin-it-button/includes/simple_html_dom.php on line 1364 Warning: preg_match(): Compilation failed: invalid range in character class at offset 4 in /customers/a/8/1/teamconfetti.nl/httpd.www/wp-content/plugins/pinterest-pin-it-button/includes/simple_html_dom.php on line 1364 Warning: preg_match(): Compilation failed: invalid range in character class at offset 4 in /customers/a/8/1/teamconfetti.nl/httpd.www/wp-content/plugins/pinterest-pin-it-button/includes/simple_html_dom.php on line 1364 Warning: preg_match(): Compilation failed: invalid range in character class at offset 4 in /customers/a/8/1/teamconfetti.nl/httpd.www/wp-content/plugins/pinterest-pin-it-button/includes/simple_html_dom.php on line 1364 Warning: preg_match(): Compilation failed: invalid range in character class at offset 4 in /customers/a/8/1/teamconfetti.nl/httpd.www/wp-content/plugins/pinterest-pin-it-button/includes/simple_html_dom.php on line 1364 Warning: preg_match(): Compilation failed: invalid range in character class at offset 4 in /customers/a/8/1/teamconfetti.nl/httpd.www/wp-content/plugins/pinterest-pin-it-button/includes/simple_html_dom.php on line 1364 Warning: preg_match(): Compilation failed: invalid range in character class at offset 4 in /customers/a/8/1/teamconfetti.nl/httpd.www/wp-content/plugins/pinterest-pin-it-button/includes/simple_html_dom.php on line 1364 Warning: preg_match(): Compilation failed: invalid range in character class at offset 4 in /customers/a/8/1/teamconfetti.nl/httpd.www/wp-content/plugins/pinterest-pin-it-button/includes/simple_html_dom.php on line 1364 Warning: preg_match(): Compilation failed: invalid range in character class at offset 4 in /customers/a/8/1/teamconfetti.nl/httpd.www/wp-content/plugins/pinterest-pin-it-button/includes/simple_html_dom.php on line 1364 Warning: preg_match(): Compilation failed: invalid range in character class at offset 4 in /customers/a/8/1/teamconfetti.nl/httpd.www/wp-content/plugins/pinterest-pin-it-button/includes/simple_html_dom.php on line 1364 Warning: preg_match(): Compilation failed: invalid range in character class at offset 4 in /customers/a/8/1/teamconfetti.nl/httpd.www/wp-content/plugins/pinterest-pin-it-button/includes/simple_html_dom.php on line 1364 Warning: preg_match(): Compilation failed: invalid range in character class at offset 4 in /customers/a/8/1/teamconfetti.nl/httpd.www/wp-content/plugins/pinterest-pin-it-button/includes/simple_html_dom.php on line 1364 Warning: preg_match(): Compilation failed: invalid range in character class at offset 4 in /customers/a/8/1/teamconfetti.nl/httpd.www/wp-content/plugins/pinterest-pin-it-button/includes/simple_html_dom.php on line 1364 Warning: preg_match(): Compilation failed: invalid range in character class at offset 4 in /customers/a/8/1/teamconfetti.nl/httpd.www/wp-content/plugins/pinterest-pin-it-button/includes/simple_html_dom.php on line 1364 Warning: preg_match(): Compilation failed: invalid range in character class at offset 4 in /customers/a/8/1/teamconfetti.nl/httpd.www/wp-content/plugins/pinterest-pin-it-button/includes/simple_html_dom.php on line 1364 Warning: preg_match(): Compilation failed: invalid range in character class at offset 4 in /customers/a/8/1/teamconfetti.nl/httpd.www/wp-content/plugins/pinterest-pin-it-button/includes/simple_html_dom.php on line 1364 Warning: preg_match(): Compilation failed: invalid range in character class at offset 4 in /customers/a/8/1/teamconfetti.nl/httpd.www/wp-content/plugins/pinterest-pin-it-button/includes/simple_html_dom.php on line 1364 Warning: preg_match(): Compilation failed: invalid range in character class at offset 4 in /customers/a/8/1/teamconfetti.nl/httpd.www/wp-content/plugins/pinterest-pin-it-button/includes/simple_html_dom.php on line 1364 Warning: preg_match(): Compilation failed: invalid range in character class at offset 4 in /customers/a/8/1/teamconfetti.nl/httpd.www/wp-content/plugins/pinterest-pin-it-button/includes/simple_html_dom.php on line 1364 Warning: preg_match(): Compilation failed: invalid range in character class at offset 4 in /customers/a/8/1/teamconfetti.nl/httpd.www/wp-content/plugins/pinterest-pin-it-button/includes/simple_html_dom.php on line 1364 Warning: preg_match(): Compilation failed: invalid range in character class at offset 4 in /customers/a/8/1/teamconfetti.nl/httpd.www/wp-content/plugins/pinterest-pin-it-button/includes/simple_html_dom.php on line 1364 Warning: preg_match(): Compilation failed: invalid range in character class at offset 4 in /customers/a/8/1/teamconfetti.nl/httpd.www/wp-content/plugins/pinterest-pin-it-button/includes/simple_html_dom.php on line 1364 Warning: preg_match(): Compilation failed: invalid range in character class at offset 4 in /customers/a/8/1/teamconfetti.nl/httpd.www/wp-content/plugins/pinterest-pin-it-button/includes/simple_html_dom.php on line 1364 Warning: preg_match(): Compilation failed: invalid range in character class at offset 4 in /customers/a/8/1/teamconfetti.nl/httpd.www/wp-content/plugins/pinterest-pin-it-button/includes/simple_html_dom.php on line 1364 Warning: preg_match(): Compilation failed: invalid range in character class at offset 4 in /customers/a/8/1/teamconfetti.nl/httpd.www/wp-content/plugins/pinterest-pin-it-button/includes/simple_html_dom.php on line 1364 Warning: preg_match(): Compilation failed: invalid range in character class at offset 4 in /customers/a/8/1/teamconfetti.nl/httpd.www/wp-content/plugins/pinterest-pin-it-button/includes/simple_html_dom.php on line 1364 Warning: preg_match(): Compilation failed: invalid range in character class at offset 4 in /customers/a/8/1/teamconfetti.nl/httpd.www/wp-content/plugins/pinterest-pin-it-button/includes/simple_html_dom.php on line 1364 Warning: preg_match(): Compilation failed: invalid range in character class at offset 4 in /customers/a/8/1/teamconfetti.nl/httpd.www/wp-content/plugins/pinterest-pin-it-button/includes/simple_html_dom.php on line 1364 Warning: preg_match(): Compilation failed: invalid range in character class at offset 4 in /customers/a/8/1/teamconfetti.nl/httpd.www/wp-content/plugins/pinterest-pin-it-button/includes/simple_html_dom.php on line 1364 Warning: preg_match(): Compilation failed: invalid range in character class at offset 4 in /customers/a/8/1/teamconfetti.nl/httpd.www/wp-content/plugins/pinterest-pin-it-button/includes/simple_html_dom.php on line 1364 Warning: preg_match(): Compilation failed: invalid range in character class at offset 4 in /customers/a/8/1/teamconfetti.nl/httpd.www/wp-content/plugins/pinterest-pin-it-button/includes/simple_html_dom.php on line 1364 Warning: preg_match(): Compilation failed: invalid range in character class at offset 4 in /customers/a/8/1/teamconfetti.nl/httpd.www/wp-content/plugins/pinterest-pin-it-button/includes/simple_html_dom.php on line 1364 Warning: preg_match(): Compilation failed: invalid range in character class at offset 4 in /customers/a/8/1/teamconfetti.nl/httpd.www/wp-content/plugins/pinterest-pin-it-button/includes/simple_html_dom.php on line 1364 Warning: preg_match(): Compilation failed: invalid range in character class at offset 4 in /customers/a/8/1/teamconfetti.nl/httpd.www/wp-content/plugins/pinterest-pin-it-button/includes/simple_html_dom.php on line 1364 Warning: preg_match(): Compilation failed: invalid range in character class at offset 4 in /customers/a/8/1/teamconfetti.nl/httpd.www/wp-content/plugins/pinterest-pin-it-button/includes/simple_html_dom.php on line 1364 Warning: preg_match(): Compilation failed: invalid range in character class at offset 4 in /customers/a/8/1/teamconfetti.nl/httpd.www/wp-content/plugins/pinterest-pin-it-button/includes/simple_html_dom.php on line 1364 Warning: preg_match(): Compilation failed: invalid range in character class at offset 4 in /customers/a/8/1/teamconfetti.nl/httpd.www/wp-content/plugins/pinterest-pin-it-button/includes/simple_html_dom.php on line 1364 Warning: preg_match(): Compilation failed: invalid range in character class at offset 4 in /customers/a/8/1/teamconfetti.nl/httpd.www/wp-content/plugins/pinterest-pin-it-button/includes/simple_html_dom.php on line 1364 Warning: preg_match(): Compilation failed: invalid range in character class at offset 4 in /customers/a/8/1/teamconfetti.nl/httpd.www/wp-content/plugins/pinterest-pin-it-button/includes/simple_html_dom.php on line 1364 Warning: preg_match(): Compilation failed: invalid range in character class at offset 4 in /customers/a/8/1/teamconfetti.nl/httpd.www/wp-content/plugins/pinterest-pin-it-button/includes/simple_html_dom.php on line 1364 Warning: preg_match(): Compilation failed: invalid range in character class at offset 4 in /customers/a/8/1/teamconfetti.nl/httpd.www/wp-content/plugins/pinterest-pin-it-button/includes/simple_html_dom.php on line 1364 Warning: preg_match(): Compilation failed: invalid range in character class at offset 4 in /customers/a/8/1/teamconfetti.nl/httpd.www/wp-content/plugins/pinterest-pin-it-button/includes/simple_html_dom.php on line 1364 Warning: preg_match(): Compilation failed: invalid range in character class at offset 4 in /customers/a/8/1/teamconfetti.nl/httpd.www/wp-content/plugins/pinterest-pin-it-button/includes/simple_html_dom.php on line 1364 Warning: preg_match(): Compilation failed: invalid range in character class at offset 4 in /customers/a/8/1/teamconfetti.nl/httpd.www/wp-content/plugins/pinterest-pin-it-button/includes/simple_html_dom.php on line 1364 Warning: preg_match(): Compilation failed: invalid range in character class at offset 4 in /customers/a/8/1/teamconfetti.nl/httpd.www/wp-content/plugins/pinterest-pin-it-button/includes/simple_html_dom.php on line 1364 Warning: preg_match(): Compilation failed: invalid range in character class at offset 4 in /customers/a/8/1/teamconfetti.nl/httpd.www/wp-content/plugins/pinterest-pin-it-button/includes/simple_html_dom.php on line 1364 Warning: preg_match(): Compilation failed: invalid range in character class at offset 4 in /customers/a/8/1/teamconfetti.nl/httpd.www/wp-content/plugins/pinterest-pin-it-button/includes/simple_html_dom.php on line 1364 Warning: preg_match(): Compilation failed: invalid range in character class at offset 4 in /customers/a/8/1/teamconfetti.nl/httpd.www/wp-content/plugins/pinterest-pin-it-button/includes/simple_html_dom.php on line 1364 Warning: preg_match(): Compilation failed: invalid range in character class at offset 4 in /customers/a/8/1/teamconfetti.nl/httpd.www/wp-content/plugins/pinterest-pin-it-button/includes/simple_html_dom.php on line 1364 Warning: preg_match(): Compilation failed: invalid range in character class at offset 4 in /customers/a/8/1/teamconfetti.nl/httpd.www/wp-content/plugins/pinterest-pin-it-button/includes/simple_html_dom.php on line 1364 Warning: preg_match(): Compilation failed: invalid range in character class at offset 4 in /customers/a/8/1/teamconfetti.nl/httpd.www/wp-content/plugins/pinterest-pin-it-button/includes/simple_html_dom.php on line 1364 Warning: preg_match(): Compilation failed: invalid range in character class at offset 4 in /customers/a/8/1/teamconfetti.nl/httpd.www/wp-content/plugins/pinterest-pin-it-button/includes/simple_html_dom.php on line 1364 Warning: preg_match(): Compilation failed: invalid range in character class at offset 4 in /customers/a/8/1/teamconfetti.nl/httpd.www/wp-content/plugins/pinterest-pin-it-button/includes/simple_html_dom.php on line 1364 Warning: preg_match(): Compilation failed: invalid range in character class at offset 4 in /customers/a/8/1/teamconfetti.nl/httpd.www/wp-content/plugins/pinterest-pin-it-button/includes/simple_html_dom.php on line 1364 Warning: preg_match(): Compilation failed: invalid range in character class at offset 4 in /customers/a/8/1/teamconfetti.nl/httpd.www/wp-content/plugins/pinterest-pin-it-button/includes/simple_html_dom.php on line 1364 Warning: preg_match(): Compilation failed: invalid range in character class at offset 4 in /customers/a/8/1/teamconfetti.nl/httpd.www/wp-content/plugins/pinterest-pin-it-button/includes/simple_html_dom.php on line 1364 Warning: preg_match(): Compilation failed: invalid range in character class at offset 4 in /customers/a/8/1/teamconfetti.nl/httpd.www/wp-content/plugins/pinterest-pin-it-button/includes/simple_html_dom.php on line 1364 Warning: preg_match(): Compilation failed: invalid range in character class at offset 4 in /customers/a/8/1/teamconfetti.nl/httpd.www/wp-content/plugins/pinterest-pin-it-button/includes/simple_html_dom.php on line 1364 Warning: preg_match(): Compilation failed: invalid range in character class at offset 4 in /customers/a/8/1/teamconfetti.nl/httpd.www/wp-content/plugins/pinterest-pin-it-button/includes/simple_html_dom.php on line 1364 Warning: preg_match(): Compilation failed: invalid range in character class at offset 4 in /customers/a/8/1/teamconfetti.nl/httpd.www/wp-content/plugins/pinterest-pin-it-button/includes/simple_html_dom.php on line 1364 Warning: preg_match(): Compilation failed: invalid range in character class at offset 4 in /customers/a/8/1/teamconfetti.nl/httpd.www/wp-content/plugins/pinterest-pin-it-button/includes/simple_html_dom.php on line 1364 Warning: preg_match(): Compilation failed: invalid range in character class at offset 4 in /customers/a/8/1/teamconfetti.nl/httpd.www/wp-content/plugins/pinterest-pin-it-button/includes/simple_html_dom.php on line 1364 Warning: preg_match(): Compilation failed: invalid range in character class at offset 4 in /customers/a/8/1/teamconfetti.nl/httpd.www/wp-content/plugins/pinterest-pin-it-button/includes/simple_html_dom.php on line 1364 Warning: preg_match(): Compilation failed: invalid range in character class at offset 4 in /customers/a/8/1/teamconfetti.nl/httpd.www/wp-content/plugins/pinterest-pin-it-button/includes/simple_html_dom.php on line 1364 Warning: preg_match(): Compilation failed: invalid range in character class at offset 4 in /customers/a/8/1/teamconfetti.nl/httpd.www/wp-content/plugins/pinterest-pin-it-button/includes/simple_html_dom.php on line 1364 Warning: preg_match(): Compilation failed: invalid range in character class at offset 4 in /customers/a/8/1/teamconfetti.nl/httpd.www/wp-content/plugins/pinterest-pin-it-button/includes/simple_html_dom.php on line 1364 Warning: preg_match(): Compilation failed: invalid range in character class at offset 4 in /customers/a/8/1/teamconfetti.nl/httpd.www/wp-content/plugins/pinterest-pin-it-button/includes/simple_html_dom.php on line 1364 Warning: preg_match(): Compilation failed: invalid range in character class at offset 4 in /customers/a/8/1/teamconfetti.nl/httpd.www/wp-content/plugins/pinterest-pin-it-button/includes/simple_html_dom.php on line 1364 Warning: preg_match(): Compilation failed: invalid range in character class at offset 4 in /customers/a/8/1/teamconfetti.nl/httpd.www/wp-content/plugins/pinterest-pin-it-button/includes/simple_html_dom.php on line 1364 Warning: preg_match(): Compilation failed: invalid range in character class at offset 4 in /customers/a/8/1/teamconfetti.nl/httpd.www/wp-content/plugins/pinterest-pin-it-button/includes/simple_html_dom.php on line 1364 Warning: preg_match(): Compilation failed: invalid range in character class at offset 4 in /customers/a/8/1/teamconfetti.nl/httpd.www/wp-content/plugins/pinterest-pin-it-button/includes/simple_html_dom.php on line 1364 Warning: preg_match(): Compilation failed: invalid range in character class at offset 4 in /customers/a/8/1/teamconfetti.nl/httpd.www/wp-content/plugins/pinterest-pin-it-button/includes/simple_html_dom.php on line 1364 Warning: preg_match(): Compilation failed: invalid range in character class at offset 4 in /customers/a/8/1/teamconfetti.nl/httpd.www/wp-content/plugins/pinterest-pin-it-button/includes/simple_html_dom.php on line 1364 Warning: preg_match(): Compilation failed: invalid range in character class at offset 4 in /customers/a/8/1/teamconfetti.nl/httpd.www/wp-content/plugins/pinterest-pin-it-button/includes/simple_html_dom.php on line 1364 Warning: preg_match(): Compilation failed: invalid range in character class at offset 4 in /customers/a/8/1/teamconfetti.nl/httpd.www/wp-content/plugins/pinterest-pin-it-button/includes/simple_html_dom.php on line 1364 Warning: preg_match(): Compilation failed: invalid range in character class at offset 4 in /customers/a/8/1/teamconfetti.nl/httpd.www/wp-content/plugins/pinterest-pin-it-button/includes/simple_html_dom.php on line 1364 Warning: preg_match(): Compilation failed: invalid range in character class at offset 4 in /customers/a/8/1/teamconfetti.nl/httpd.www/wp-content/plugins/pinterest-pin-it-button/includes/simple_html_dom.php on line 1364 Warning: preg_match(): Compilation failed: invalid range in character class at offset 4 in /customers/a/8/1/teamconfetti.nl/httpd.www/wp-content/plugins/pinterest-pin-it-button/includes/simple_html_dom.php on line 1364 Warning: preg_match(): Compilation failed: invalid range in character class at offset 4 in /customers/a/8/1/teamconfetti.nl/httpd.www/wp-content/plugins/pinterest-pin-it-button/includes/simple_html_dom.php on line 1364 Warning: preg_match(): Compilation failed: invalid range in character class at offset 4 in /customers/a/8/1/teamconfetti.nl/httpd.www/wp-content/plugins/pinterest-pin-it-button/includes/simple_html_dom.php on line 1364 Warning: preg_match(): Compilation failed: invalid range in character class at offset 4 in /customers/a/8/1/teamconfetti.nl/httpd.www/wp-content/plugins/pinterest-pin-it-button/includes/simple_html_dom.php on line 1364 Warning: preg_match(): Compilation failed: invalid range in character class at offset 4 in /customers/a/8/1/teamconfetti.nl/httpd.www/wp-content/plugins/pinterest-pin-it-button/includes/simple_html_dom.php on line 1364 Warning: preg_match(): Compilation failed: invalid range in character class at offset 4 in /customers/a/8/1/teamconfetti.nl/httpd.www/wp-content/plugins/pinterest-pin-it-button/includes/simple_html_dom.php on line 1364 Warning: preg_match(): Compilation failed: invalid range in character class at offset 4 in /customers/a/8/1/teamconfetti.nl/httpd.www/wp-content/plugins/pinterest-pin-it-button/includes/simple_html_dom.php on line 1364 Warning: preg_match(): Compilation failed: invalid range in character class at offset 4 in /customers/a/8/1/teamconfetti.nl/httpd.www/wp-content/plugins/pinterest-pin-it-button/includes/simple_html_dom.php on line 1364 Warning: preg_match(): Compilation failed: invalid range in character class at offset 4 in /customers/a/8/1/teamconfetti.nl/httpd.www/wp-content/plugins/pinterest-pin-it-button/includes/simple_html_dom.php on line 1364 Warning: preg_match(): Compilation failed: invalid range in character class at offset 4 in /customers/a/8/1/teamconfetti.nl/httpd.www/wp-content/plugins/pinterest-pin-it-button/includes/simple_html_dom.php on line 1364 Warning: preg_match(): Compilation failed: invalid range in character class at offset 4 in /customers/a/8/1/teamconfetti.nl/httpd.www/wp-content/plugins/pinterest-pin-it-button/includes/simple_html_dom.php on line 1364 Warning: preg_match(): Compilation failed: invalid range in character class at offset 4 in /customers/a/8/1/teamconfetti.nl/httpd.www/wp-content/plugins/pinterest-pin-it-button/includes/simple_html_dom.php on line 1364 Warning: preg_match(): Compilation failed: invalid range in character class at offset 4 in /customers/a/8/1/teamconfetti.nl/httpd.www/wp-content/plugins/pinterest-pin-it-button/includes/simple_html_dom.php on line 1364 Warning: preg_match(): Compilation failed: invalid range in character class at offset 4 in /customers/a/8/1/teamconfetti.nl/httpd.www/wp-content/plugins/pinterest-pin-it-button/includes/simple_html_dom.php on line 1364 Warning: preg_match(): Compilation failed: invalid range in character class at offset 4 in /customers/a/8/1/teamconfetti.nl/httpd.www/wp-content/plugins/pinterest-pin-it-button/includes/simple_html_dom.php on line 1364 Warning: preg_match(): Compilation failed: invalid range in character class at offset 4 in /customers/a/8/1/teamconfetti.nl/httpd.www/wp-content/plugins/pinterest-pin-it-button/includes/simple_html_dom.php on line 1364 Warning: preg_match(): Compilation failed: invalid range in character class at offset 4 in /customers/a/8/1/teamconfetti.nl/httpd.www/wp-content/plugins/pinterest-pin-it-button/includes/simple_html_dom.php on line 1364 Warning: preg_match(): Compilation failed: invalid range in character class at offset 4 in /customers/a/8/1/teamconfetti.nl/httpd.www/wp-content/plugins/pinterest-pin-it-button/includes/simple_html_dom.php on line 1364 Warning: preg_match(): Compilation failed: invalid range in character class at offset 4 in /customers/a/8/1/teamconfetti.nl/httpd.www/wp-content/plugins/pinterest-pin-it-button/includes/simple_html_dom.php on line 1364 Warning: preg_match(): Compilation failed: invalid range in character class at offset 4 in /customers/a/8/1/teamconfetti.nl/httpd.www/wp-content/plugins/pinterest-pin-it-button/includes/simple_html_dom.php on line 1364 Warning: preg_match(): Compilation failed: invalid range in character class at offset 4 in /customers/a/8/1/teamconfetti.nl/httpd.www/wp-content/plugins/pinterest-pin-it-button/includes/simple_html_dom.php on line 1364 Warning: preg_match(): Compilation failed: invalid range in character class at offset 4 in /customers/a/8/1/teamconfetti.nl/httpd.www/wp-content/plugins/pinterest-pin-it-button/includes/simple_html_dom.php on line 1364 Warning: preg_match(): Compilation failed: invalid range in character class at offset 4 in /customers/a/8/1/teamconfetti.nl/httpd.www/wp-content/plugins/pinterest-pin-it-button/includes/simple_html_dom.php on line 1364 Warning: preg_match(): Compilation failed: invalid range in character class at offset 4 in /customers/a/8/1/teamconfetti.nl/httpd.www/wp-content/plugins/pinterest-pin-it-button/includes/simple_html_dom.php on line 1364 Warning: preg_match(): Compilation failed: invalid range in character class at offset 4 in /customers/a/8/1/teamconfetti.nl/httpd.www/wp-content/plugins/pinterest-pin-it-button/includes/simple_html_dom.php on line 1364 Warning: preg_match(): Compilation failed: invalid range in character class at offset 4 in /customers/a/8/1/teamconfetti.nl/httpd.www/wp-content/plugins/pinterest-pin-it-button/includes/simple_html_dom.php on line 1364 Warning: preg_match(): Compilation failed: invalid range in character class at offset 4 in /customers/a/8/1/teamconfetti.nl/httpd.www/wp-content/plugins/pinterest-pin-it-button/includes/simple_html_dom.php on line 1364 Warning: preg_match(): Compilation failed: invalid range in character class at offset 4 in /customers/a/8/1/teamconfetti.nl/httpd.www/wp-content/plugins/pinterest-pin-it-button/includes/simple_html_dom.php on line 1364 Warning: preg_match(): Compilation failed: invalid range in character class at offset 4 in /customers/a/8/1/teamconfetti.nl/httpd.www/wp-content/plugins/pinterest-pin-it-button/includes/simple_html_dom.php on line 1364 Warning: preg_match(): Compilation failed: invalid range in character class at offset 4 in /customers/a/8/1/teamconfetti.nl/httpd.www/wp-content/plugins/pinterest-pin-it-button/includes/simple_html_dom.php on line 1364 Warning: preg_match(): Compilation failed: invalid range in character class at offset 4 in /customers/a/8/1/teamconfetti.nl/httpd.www/wp-content/plugins/pinterest-pin-it-button/includes/simple_html_dom.php on line 1364 Warning: preg_match(): Compilation failed: invalid range in character class at offset 4 in /customers/a/8/1/teamconfetti.nl/httpd.www/wp-content/plugins/pinterest-pin-it-button/includes/simple_html_dom.php on line 1364 Warning: preg_match(): Compilation failed: invalid range in character class at offset 4 in /customers/a/8/1/teamconfetti.nl/httpd.www/wp-content/plugins/pinterest-pin-it-button/includes/simple_html_dom.php on line 1364 Warning: preg_match(): Compilation failed: invalid range in character class at offset 4 in /customers/a/8/1/teamconfetti.nl/httpd.www/wp-content/plugins/pinterest-pin-it-button/includes/simple_html_dom.php on line 1364 Warning: preg_match(): Compilation failed: invalid range in character class at offset 4 in /customers/a/8/1/teamconfetti.nl/httpd.www/wp-content/plugins/pinterest-pin-it-button/includes/simple_html_dom.php on line 1364 Warning: preg_match(): Compilation failed: invalid range in character class at offset 4 in /customers/a/8/1/teamconfetti.nl/httpd.www/wp-content/plugins/pinterest-pin-it-button/includes/simple_html_dom.php on line 1364 Warning: preg_match(): Compilation failed: invalid range in character class at offset 4 in /customers/a/8/1/teamconfetti.nl/httpd.www/wp-content/plugins/pinterest-pin-it-button/includes/simple_html_dom.php on line 1364 Warning: preg_match(): Compilation failed: invalid range in character class at offset 4 in /customers/a/8/1/teamconfetti.nl/httpd.www/wp-content/plugins/pinterest-pin-it-button/includes/simple_html_dom.php on line 1364 Warning: preg_match(): Compilation failed: invalid range in character class at offset 4 in /customers/a/8/1/teamconfetti.nl/httpd.www/wp-content/plugins/pinterest-pin-it-button/includes/simple_html_dom.php on line 1364 Warning: preg_match(): Compilation failed: invalid range in character class at offset 4 in /customers/a/8/1/teamconfetti.nl/httpd.www/wp-content/plugins/pinterest-pin-it-button/includes/simple_html_dom.php on line 1364 Warning: preg_match(): Compilation failed: invalid range in character class at offset 4 in /customers/a/8/1/teamconfetti.nl/httpd.www/wp-content/plugins/pinterest-pin-it-button/includes/simple_html_dom.php on line 1364 Warning: preg_match(): Compilation failed: invalid range in character class at offset 4 in /customers/a/8/1/teamconfetti.nl/httpd.www/wp-content/plugins/pinterest-pin-it-button/includes/simple_html_dom.php on line 1364 Warning: preg_match(): Compilation failed: invalid range in character class at offset 4 in /customers/a/8/1/teamconfetti.nl/httpd.www/wp-content/plugins/pinterest-pin-it-button/includes/simple_html_dom.php on line 1364 Warning: preg_match(): Compilation failed: invalid range in character class at offset 4 in /customers/a/8/1/teamconfetti.nl/httpd.www/wp-content/plugins/pinterest-pin-it-button/includes/simple_html_dom.php on line 1364 Warning: preg_match(): Compilation failed: invalid range in character class at offset 4 in /customers/a/8/1/teamconfetti.nl/httpd.www/wp-content/plugins/pinterest-pin-it-button/includes/simple_html_dom.php on line 1364 Warning: preg_match(): Compilation failed: invalid range in character class at offset 4 in /customers/a/8/1/teamconfetti.nl/httpd.www/wp-content/plugins/pinterest-pin-it-button/includes/simple_html_dom.php on line 1364 Warning: preg_match(): Compilation failed: invalid range in character class at offset 4 in /customers/a/8/1/teamconfetti.nl/httpd.www/wp-content/plugins/pinterest-pin-it-button/includes/simple_html_dom.php on line 1364 Warning: preg_match(): Compilation failed: invalid range in character class at offset 4 in /customers/a/8/1/teamconfetti.nl/httpd.www/wp-content/plugins/pinterest-pin-it-button/includes/simple_html_dom.php on line 1364 Warning: preg_match(): Compilation failed: invalid range in character class at offset 4 in /customers/a/8/1/teamconfetti.nl/httpd.www/wp-content/plugins/pinterest-pin-it-button/includes/simple_html_dom.php on line 1364 Warning: preg_match(): Compilation failed: invalid range in character class at offset 4 in /customers/a/8/1/teamconfetti.nl/httpd.www/wp-content/plugins/pinterest-pin-it-button/includes/simple_html_dom.php on line 1364 Warning: preg_match(): Compilation failed: invalid range in character class at offset 4 in /customers/a/8/1/teamconfetti.nl/httpd.www/wp-content/plugins/pinterest-pin-it-button/includes/simple_html_dom.php on line 1364 Warning: preg_match(): Compilation failed: invalid range in character class at offset 4 in /customers/a/8/1/teamconfetti.nl/httpd.www/wp-content/plugins/pinterest-pin-it-button/includes/simple_html_dom.php on line 1364 Warning: preg_match(): Compilation failed: invalid range in character class at offset 4 in /customers/a/8/1/teamconfetti.nl/httpd.www/wp-content/plugins/pinterest-pin-it-button/includes/simple_html_dom.php on line 1364 Warning: preg_match(): Compilation failed: invalid range in character class at offset 4 in /customers/a/8/1/teamconfetti.nl/httpd.www/wp-content/plugins/pinterest-pin-it-button/includes/simple_html_dom.php on line 1364 Warning: preg_match_all(): Compilation failed: invalid range in character class at offset 4 in /customers/a/8/1/teamconfetti.nl/httpd.www/wp-content/plugins/pinterest-pin-it-button/includes/simple_html_dom.php on line 684 Warning: Invalid argument supplied for foreach() in /customers/a/8/1/teamconfetti.nl/httpd.www/wp-content/plugins/pinterest-pin-it-button/includes/simple_html_dom.php on line 691 Warning: preg_match_all(): Compilation failed: invalid range in character class at offset 4 in /customers/a/8/1/teamconfetti.nl/httpd.www/wp-content/plugins/pinterest-pin-it-button/includes/simple_html_dom.php on line 684 Warning: Invalid argument supplied for foreach() in /customers/a/8/1/teamconfetti.nl/httpd.www/wp-content/plugins/pinterest-pin-it-button/includes/simple_html_dom.php on line 691
Dit vind je vast ook leuk: