Gastblog door Vera – Sommige delen van het land zijn vorige week of gisteren alweer begonnen aan het nieuwe schooljaar en voor 'mijn deel' (het zuiden, FYI) is het aanstaande maandag dan zover. We gaan weer allemaal terug in business as usual modus. Dat kun je jammer vinden, maar ik word er persoonlijk altijd een beetje nostalgisch van. Een nieuw schooljaar voelt voor mij nog steeds als een nieuw begin, ondanks dat ik toch zeker al twee jaar niet meer naar school ga. Ik kan me de dagen nog herinneren dat ik na de vakantie fris en fruitig weer in de schoolbanken zat en de geur van vers gekafte boeken in me opnam. Het feit dat ik dan werd overvallen door een gevoel van paniek (het nieuwe schooljaar was nog zó lang, HELP) laat ik hier uit nostalgisch oogpunt maar even buiten beschouwing.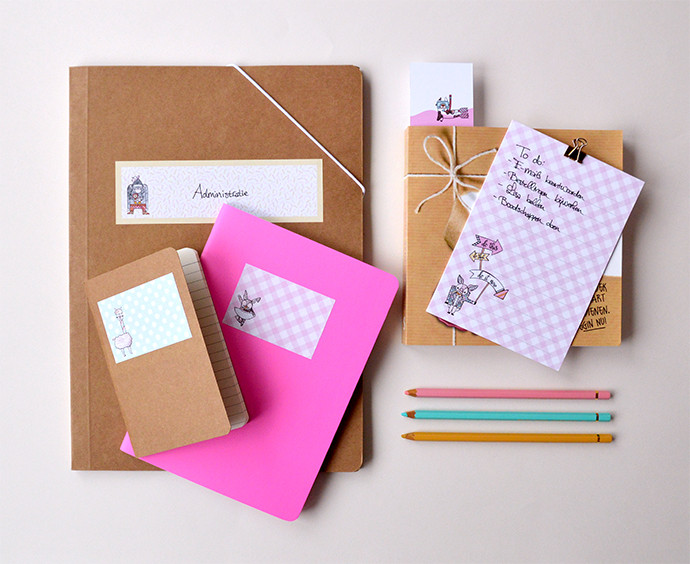 Wat ik misschien wel het állerleukste vond aan het nieuwe schooljaar, was schoolspullen inslaan op de School Campus. Je nieuwe agenda was je statussymbool voor het hele jaar, je kaftpapier definieerde of je bij de hippe kids of de losers hoorde (dat is helaas echt waar en ik koos altijd verkeerd) en de hoogte van je rugzak ten opzichte van je ruggengraat moest precies goed zijn, anders viel je óf in de categorie 'stuud' of in de categorie 'don't give a crap'. Zaken van leven of dood, dat waren het.
Ik ga (soms helaas, maar meestal niet) dus al even niet meer naar school, net als menig bloglezer hier vermoed ik. En dus ook niet naar de School Campus. Al moet ik toegeven dat ik meestal wel even ga kijken om vervolgens te concluderen dat ik er te oud voor ben.
Maar hey; ook wij werkende #GIRLBOSSES hebben ook recht op hippe school/kantoorspullen! Daarom heb ik vandaag een heuse Mini-FranjeDesign-School-Campus voor jullie georganiseerd.  Ahw yeah! Een zevental etiketten, een notitieblaadje en een tweetal boekenleggers up for grabs!
Het enige wat je hoeft te doen is de PDF downloaden en de boel te printen. De pagina met etiketten kun je printen op A4-etiketten (ik koop deze zelf altijd bij de Bruna) of op 'normaal' papier en lekker opplakken met een pritt-stift (hoe highschool wil je het hebben?). Ik ging zelf even 'loesoe' bij de Hema om wat leuke schriftjes en een elastiekmap in te slaan, maar je kunt ze natuurlijk overal opplakken (al plak je ze op de voorraadpotten in je keuken, leef je uit)!
Print de tweede pagina op een wat steviger papier zodat je boekenleggers niet te snel kreuken en klaar ben je. Noodzakelijk voor middelbare-school-hipheid? Dacht het wel! Een musthave voor de stylish kantoordame? Jazeker!
Downloaden dus, die 'Back to School' collectie en vergeet er niet over te instagrammen, vind ik super leuk! Tag me even in je foto, mijn username is @verabertens. Voor iedereen die alweer begonnen is met het nieuwe (school)jaar: heel veel succes en maak de blits met je hippe nieuwe spullen. Voor wie nog moet beginnen; geniet nog even van je laatste paar vakantiedagen en voor jullie allen: Voor je het weet is het weer juni ;).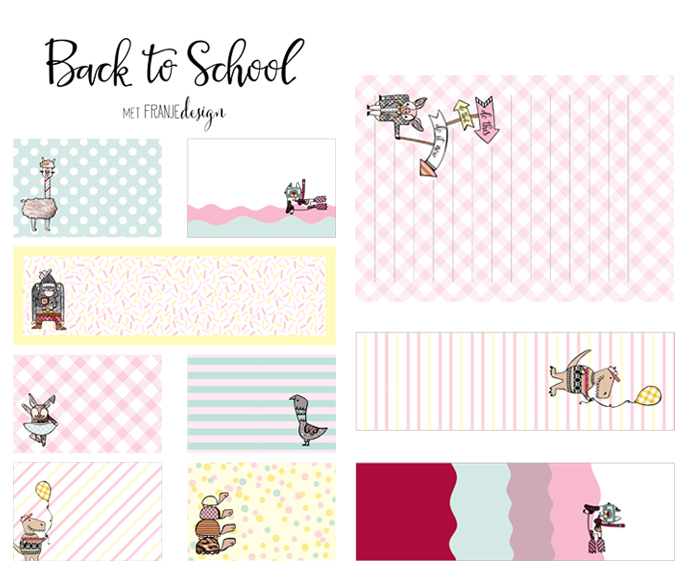 Download jouw gratis Back To School printables HIER.
☆☆☆
P.S: Mocht je je Back to School collectie helemaal compleet willen maken, dan heb ik ook nog een heel leuke (al zeg ik het zelf) weekplanner in de aanbieding. Niet gratis, wel een must-have.
Shop hem HIER.
☆☆☆
Vera blogt één keer in de vier weken voor teamconfetti.nl. Ze is illustrator, allround mooie dingen maakster en ze heeft haar eigen label: Franje Design!