I hereby present the Grand Final Eurovision Bingo 2014! Have fun!
Daar is ie dan, de Eurovision Bingo voor de Finale! Ik heb me uiteraard vergist in hoeveel het werk het is om DRIE bingo's te maken. Dat ga ik volgend jaar anders aanpakken, haha. Maar als ik foto's zie van lezers die klaarzitten voor de tv met mijn bingo, dan is het al het werk driedubbeldwars waard.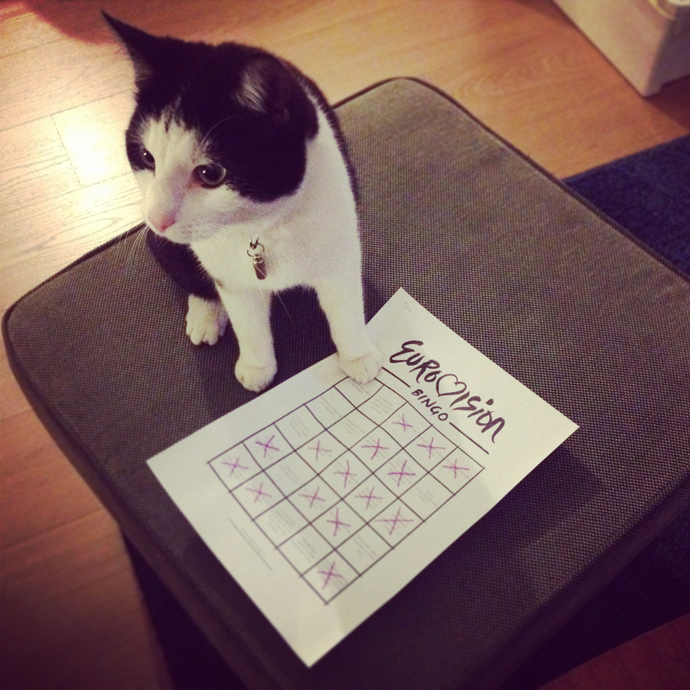 Gisteravond hebben Tom en ik (en Mo de kat) weer vrolijk Eurovision Bingo gespeeld. Ik had hem dit keer iets moeilijker gemaakt (een heus bingo-experiment) wat het iets spannender maakte. Het duurde bijna de hele uitzending, maar Tom had als eerste de bingo te pakken!
Omdat Nederland gister niet mee deed (en we al in de finale staan) gok ik dat er gister niet ontzettend veel mensen (met bingo) hebben gekeken. Morgen daarentegen zitten er denk ik heeeeeel veel mensen voor de buis (hopelijk compleet met veren in het haar en een glitter outfit). Dat feestje maak je compleet met deze Songfestival Bingo! Succes gegarandeerd! Bij ons komen er morgen maarliefst DRIE jongens kijken. Ik denk dat ik ze zonder de bingo niet zover had kunnen krijgen…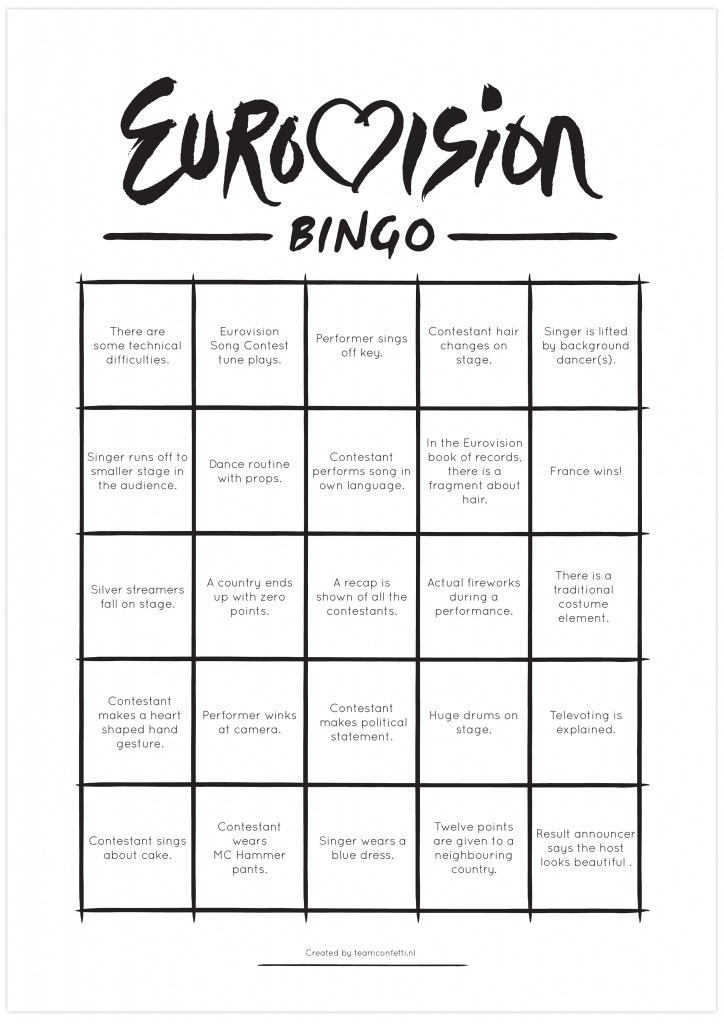 This is a sneak peek, the rest of the Bingo cards are below. 
Ik ben zo gek geweest om beide voorrondes NOG een keer te kijken (ik heb wel doorgespoeld hoor) om zo de perfecte bingo voor jullie te maken. Hierboven alvast een sneak peek, de rest van de bingo-kaarten kun je onderaan dit artikel downloaden en printen!
De Bingo bestaat uit tien verschillende Bingo kaarten
(er kunnen dus tot tien mensen mee spelen).
Just to be clear, this Bingo was made especially for the grand final on may 10th.
There are ten different game cards included in the PDF. 
KLIK HIER OM DE EUROVISION BINGO TE DOWNLOADEN.
KLICK HERE TO GO TO THE EUROVISION BINGO PDF.
***
Wie is jouw favoriet (naast Nederland)?
Who's your favourite?