Gastblog door Ingrid – Je ziet het goed: bij mij in huis is het al vroeg kerst dit jaar! En ik weet het, Sinterklaas is nog nét niet in het land maar ik kan eigenlijk al niet wachten tot het kerst is. Ik verheug mij er alweer op om mijn woonkamer leuk te versieren (sorry vriendlief). Maar omdat ik geen plek heb voor een enorme kerstboom, zoek ik altijd naar andere manieren om een beetje kerst in mijn huis te brengen. Daarom heb ik dit keer een kerstige printable voor jullie geïllustreerd om je eigen adventskalender te maken. Zo is je huis vanaf 1 december gelijk helemaal gehuld in kerstsfeer!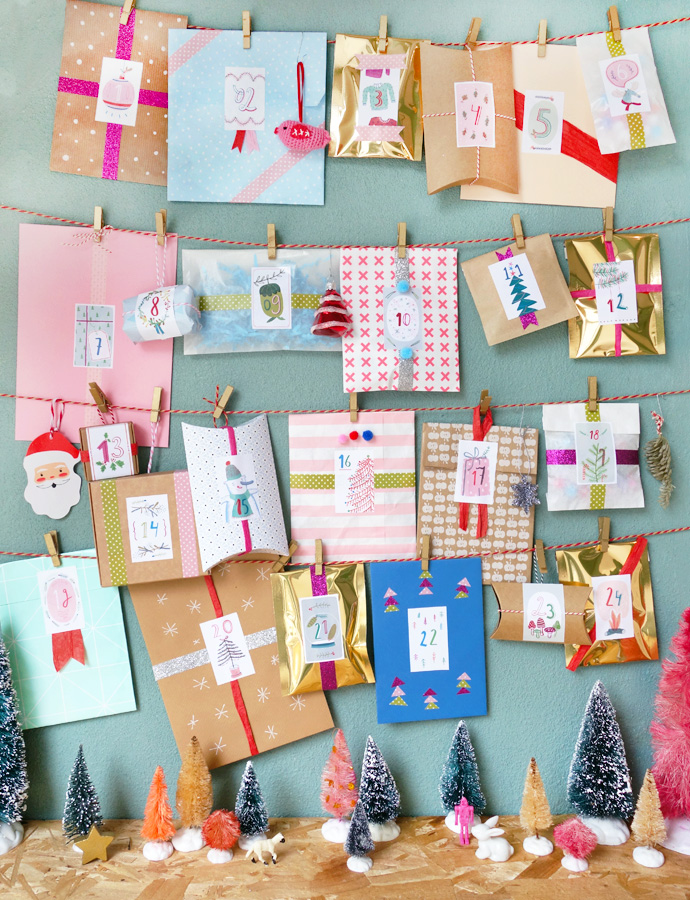 Je kent ze vast wel van vroeger, de adventskalenders met vakjes waarbij je elke dag een vakje mag open maken om zo af te tellen tot eerst kerstdag. Uit het vakje komt dan een chocolaatje. De verwachting van het aftellen en de spanning van wat er achter zo'n vakje zit, is natuurlijk heel leuk.
Maar eerlijk is eerlijk, zo'n mini chocolaatje is grappig maar dat kan volgens mij ook leuker (én lekkerder). Daarom heb ik een adventskalender gemaakt van kleine zakjes, doosjes en enveloppen waarin je kleine cadeautjes of wat lekkers kan stoppen.
Moeilijk? Helemaal niet! Oké, je moet wel 24 cadeautjes verzinnen maar dat hoeft niet groot of lastig te zijn. En om het je nóg makkelijker te maken heb ik speciaal voor jullie een printable gemaakt met alle nummers zodat je makkelijk kunt aftellen. Het enige wat jij nog hoeft te doen is de printable uitprinten, kleine doosjes en zakjes bij elkaar te scharrelen en alles leuk in te pakken.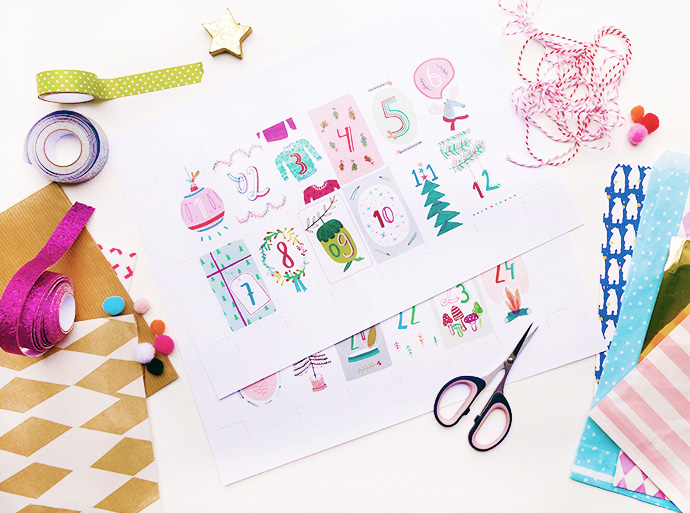 Wat heb je nodig?
♥  De printable, download hem hier.
✄ Printer met stickerpapier of A4 papier.
♥  Cadeauzakjes, enveloppen, doosjes, cadeaudoosjes etc.
✄ Maskingtape, stickertjes en andere decoratie.
♥ Touw en/of knijpers om de pakjes op te hangen.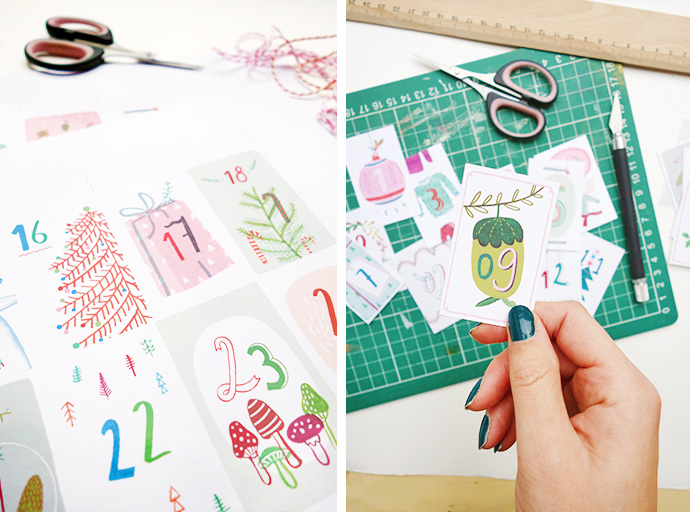 Zoek alle doosjes, zakjes en enveloppen bij elkaar die je wilt gebruiken en print de printable uit. Ik heb de printable afgedrukt in kleur én op stickerpapier zodat ik de nummers gelijk kon opplakken. Je kunt de printable natuurlijk ook gewoon afdrukken op gewoon papier en met de hand op de pakjes plakken of tapen. Knip of snijd de nummers los langs de stippellijnen. Als het goed is heb je nu 24 losse nummers die je kunt gebruiken.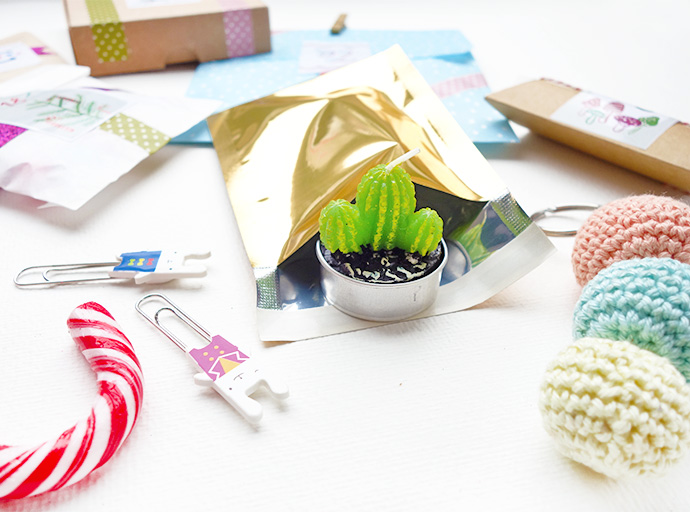 Voordat je de pakjes gaat versieren en decoreren met de nummers van de printable, vul je de pakjes eerst met je verzonnen cadeautjes. Dit kan van alles zijn, een candy cane, een lief kaartje, een mooi potlood of kerstkransjes, yum! Maak het vooral niet te moeilijk maar zorg voor kleine attenties die leuk zijn om te krijgen.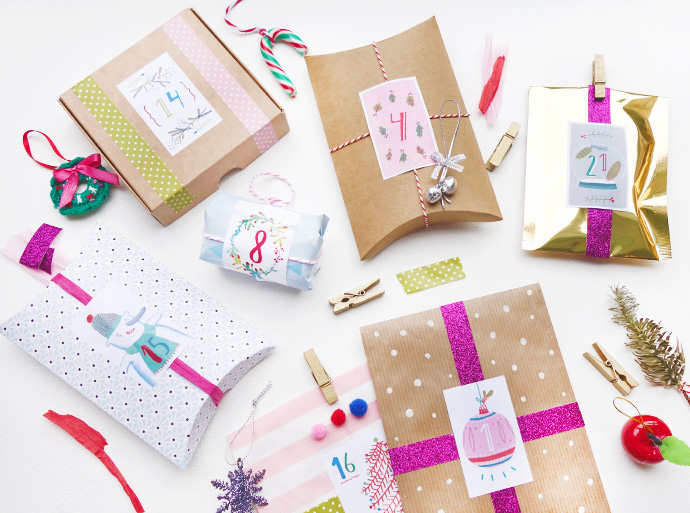 Ik gebruikte allerlei soorten verpakkingen. Doosjes die ik nog had liggen, cadeauzakjes, gekleurde enveloppen etc. Cadeautje nr. 8 zit zelfs verpakt in een lege wc-rol met cadeaupapier eromheen! Ook hier hoef je geen gekke fratsen voor uit te halen, gebruik gewoon wat je hebt liggen. Als alle cadeautje in hun verpakking zitten, kun je helemaal los gaan met touw, maskingtape, stickertjes, glitters en natuurlijk met de nummers van de printable. Bedenk in welke volgorde je de cadeautjes wilt laten uitpakken en geef elk pakje een nummer dat correspondeert met de dagen in december.
Wanneer alle pakjes af zijn, kun je ze een plekje gaan geven! Ik hing de pakjes uiteindelijk op aan touwtjes aan de muur. Maar je kunt ze ook in de kerstboom hangen of gewoon leuk neer zetten op een kast, leuk toch?!
Een zelfgemaakte adventskalender vind ik erg sfeervol om de decembermaand mee te beginnen. Je word direct ondergedompeld in de kerstsfeer én het is een enorm leuke manier om iemand (met een klein gebaar) de hele maand lang te verassen. Hopelijk heb ik je met deze DIY en printable enthousiast gemaakt om het ook eens te proberen? Veel plezier!
♥ ✄ ♥ ✄ ♥ ✄
Ingrid Wuyster is illustrator / ontwerper en maakt veel moois onder de naam Teken-ing.
Eén keer in de vier weken blogt ze voor teamconfetti.nl.