Gastblog door Vera – Op verschillende blogs (en uiteraard bij onze eigen Olga) zie ik wekelijks foto-overzichten langskomen van hoe de week van de blogger in kwestie eruit heeft gezien. Ik vind dat altijd superleuk om te lezen en ik heb enorm veel respect voor het feit dat deze lieve mensen eraan denken om ALLES wat ze in een week doen vast te leggen. Ik deel op mijn blog maandelijks een 'Photo Diary', waarin ik de (instagram) hoogtepunten van de voorbije maand nog eens op een rijtje zet. Maar ik wilde dat ploggen ook wel eens proberen, dus zie hier mijn eerste (en waarschijnlijk enige, maar daarover later meer) week uit het leven van een illustrator.
Maandag.
Vandaag had ik een zakelijke afspraak in Scheveningen. Het was ook nog eens supergoed weer, dus ik besloot mijn papa mee op sleeptouw te nemen! Nadat mijn afspraak was afgelopen, plukte ik paps van het strand en hebben we lekker geluncht in een strandtent. Daarna zijn we even naar Bennies Fifties gewandeld; een SUPERtoffe winkel bomvol met Americana en jukeboxen. De hemel op aarde voor iemand als ik. Uiteraard wilde mijn lama niet thuis achterblijven (doen jullie al mee met de lama-invasie van deze zomer?). We aten nog een (vega)burger aan het strand (waar ik vergat een foto van te maken, oeps!) en daarna namen we de trein weer naar huis.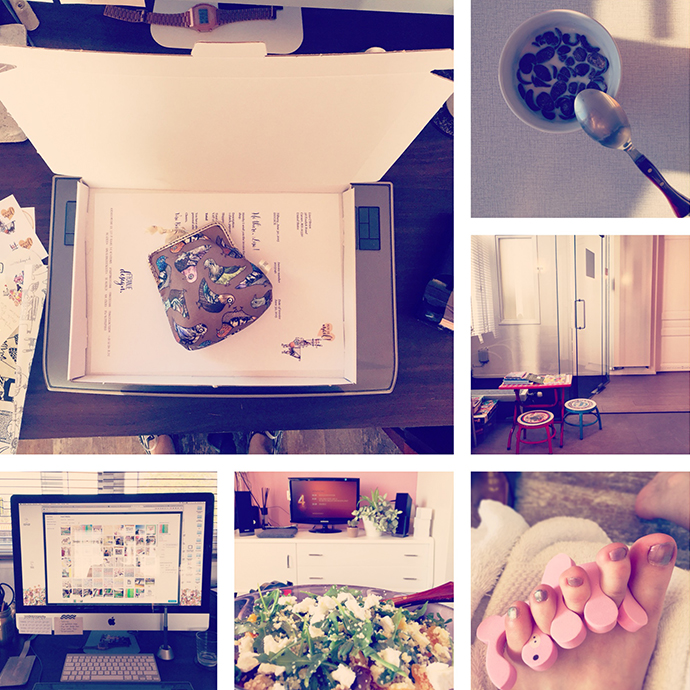 Dinsdag.
Na het ontbijt was het tijd voor een check-up bij de tandarts. Ja jongens, ik ben ook maar een gewone sterveling. Gelukkig was alles in orde en eenmaal weer thuis pakte ik de bestellingen in die gedaan waren in mijn Etsy shop. Nadat die safe and sound op het postkantoor waren afgegeven, schreef en plande ik mijn blogartikelen voor de komende week. Dit doe ik bij voorkeur altijd op één dag, dan hoef ik daar de rest van de week niet meer naar om te kijken. Ik at een couscous-salade als avondeten en ik lakte mijn teennagels voor de televisie. Het zou heet worden deze week en dan moet ik in mijn hippe slippers wel fatsoenlijk voor de dag komen natuurlijk.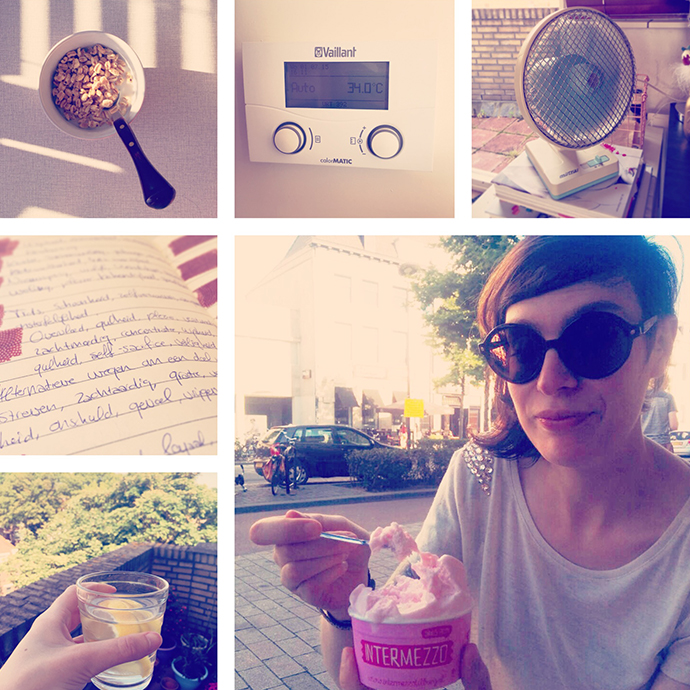 Woensdag.
Uiteraard koos ik 'de week van de hittegolf' uit om tot plogweek te bombarderen. Eentje die (helaas) niet super representatief is (normaal werk ik veel harder, écht!), maar ik doe het ermee. Na het ontbijt (de oplettende kijker zal zien dat ik een cereal meisje ben), ging ik aan de slag met een onderzoekje voor een (nog geheim) nieuw project. Al snel bereikte de binnentemperatuur van mijn huis én werkplek de tropische temperatuur van 34 graden Celsius en kwam van werken niet veel meer terecht. Zelfs niet na een pauze met citroenwater op het balkon. Ik probeerde met mijn 'newfound BFF' (de ventilator) nog wat werk te verzetten, maar ik gaf het snel écht op. Ik zocht toevlucht in het huis van mijn vriend, waar het een stuk frisser was. Samen aten we 's avonds nog een ijsje bij de beste ijssalon van Tilburg.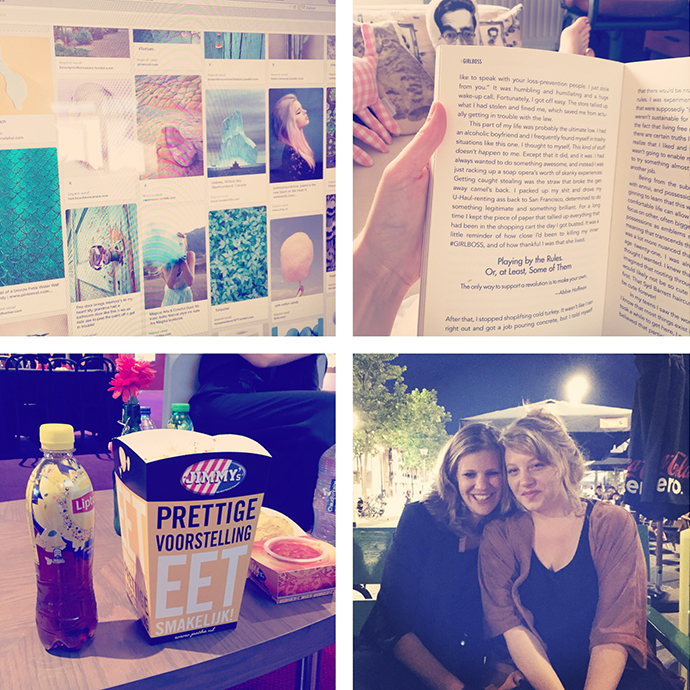 Donderdag.
Is het al donderdag?! Voor mijn gevoel heb ik nog maar weinig nuttigs gedaan deze week. Ik stond extra vroeg op om in de nog relatief koele uurtjes flink de handen uit de mouwen te steken. Ik ging aan de slag met het maken van pinboards voor het nog geheime project. Tegen de middag was het al niet meer om uit te houden bij mij binnen en dus begon ik ein-de-lijk aan het waarmaken van één van mijn goede voornemens van dit jaar; het lezen van een boek. Ik had #GIRLBOSS al een jaar op de plank liggen, maar ik was nog niet verder gekomen dan hoofdstuk 1. De hittegolf was de perfecte aangelegenheid om er eens in te duiken. Ik snap dat ik enorm achter de feiten aanloop, maar wát een tof boek is dit! Écht een aanrader voor iedereen die iets wil bereiken in het leven.
Voor de avond had ik het beste plan ooit; ik zocht samen met mijn twee besties de verkoeling van de bioscoop op! Hallo Airco! Toen de zon eenmaal onder en de film afgelopen was pakten we nog een afzakkertje op het terras.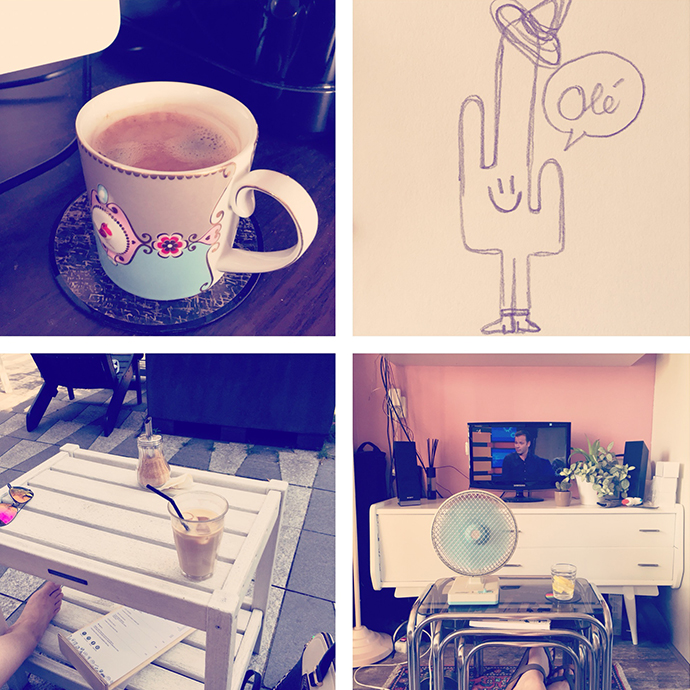 Vrijdag.
Ik begon de dag met een ontbijt (waar ik natuurlijk vergat een foto van te maken, maar het was weer cereal dus zo boeiend was dat nou ook weer niet) en meteen daarna: koffie! Die had ik hard nodig, na een bloedhete nacht. Ik deed een poging tot het schetsen van een paar cactussen (ik ben besmet met het virus, vrees ik), maar toen ik zwetend boven mijn papier zat, werd ik gebeld door een vriendinnetje dat naar Tilburg kwam en vroeg of ik mee op het terras wilde gaan zitten. SOLD! Het was te warm om te werken, terwijl ik van alles te doen had. Heel frustrerend! Eenmaal thuisgekomen na een verkoelende ijskoffie in de stad bracht ik de avond al 'pinterestend' door op de bank met mijn besties Ventilator en Peter van der Vorst (handen omhoog als RTL Boulevard ook jouw tv-guilty-pleasure is).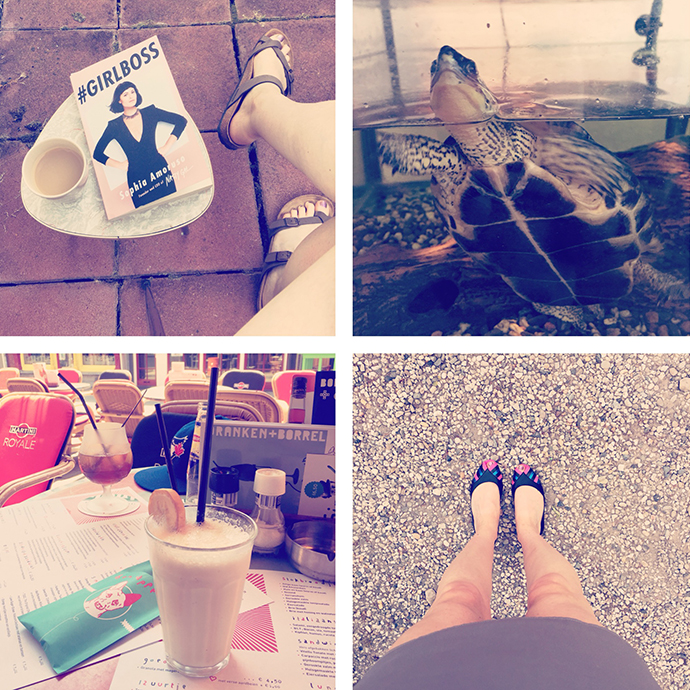 Zaterdag.
In de ochtend staat de zon nog niet op mijn balkon en kon ik (na een wederom zwoele nacht) op mijn gemak wakker worden met mijn boekje en een kop thee. Vroeg in de middag ging ik naar John (mijn vriend, voor wie dat nog niet wist), waar ik enthousiast begroet werd door Miep, onze waterschildpad. John en ik gingen lunchen in de stad omdat we te lui waren om boodschappen te doen (story of my life). Daarna was het tijd om de feestjurk aan te trekken, want we hadden een familiefeestje van John zijn oom en tante.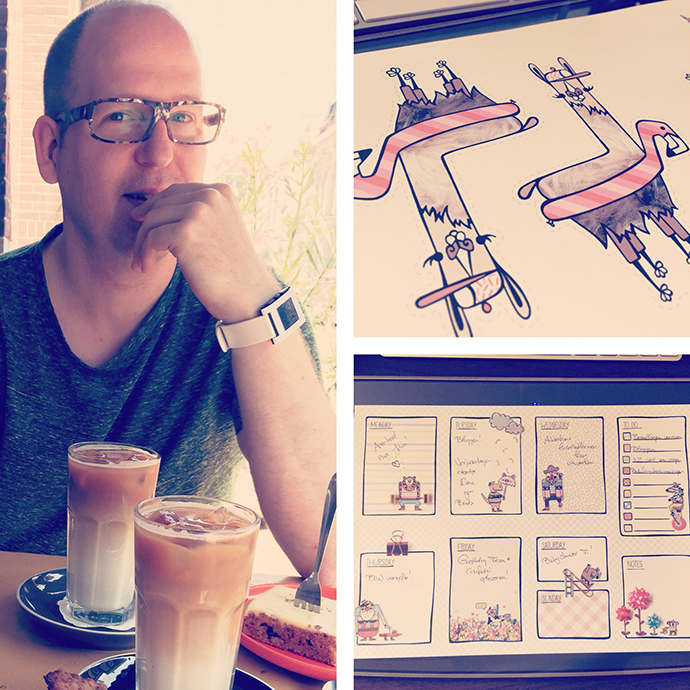 Zondag.
Uiteraard vergat ik een foto te maken van het ontbijt, dat bestond uit crackers met kaas en hardgekookt ei. Eindelijk was het op zondag iets aangenamer qua temperatuur. Vriendlief en ik hadden nog wat te vieren, want John heeft met vlag en wimpel zijn pre-master filosofie gehaald. Tijd voor ijskoffie en taart dus! Maar aangezien de temperaturen weer enigszins normale waarden hadden aangenomen was het ook tijd voor wat werk. Eenmaal thuis maakte ik wat nieuwe vakantie-lama's (als je ze constant bij je hebt zijn ze zo nu en dan aan vervanging toe) en ging ik aan de slag met mijn planning voor de aankomende week; iets wat ik eigenlijk altijd doe op zondag zodat ik weet waar ik aan toe ben voor de aankomende week.
☆☆☆
Tot zover mijn eerste en laatste weekoverzicht-dagboek-plog-geval. Waarom mijn laatste? Omdat ik om de haverklap vergat ergens een foto van te maken. Voornamelijk van eten. Dan had ik het al verorberd op het moment dat ik dacht 'daar had ik een foto van moeten maken'. Reden nummer twee: Ik heb zoveel dingen gefotografeerd waarvan ik me niet kan voorstellen dat ze voor jullie interessant zijn om te zien (correct me if I'm wrong). Het was best leuk, maar ik zie het mezelf niet elke week doen.
Doen jullie wel aan wekelijkse fotodagboeken en wat zijn jullie bevindingen? Vergeten jullie ook altijd van alles of zijn jullie perfecte ploggers? Laat het me weten in de comments!
☆☆☆
Vera blogt één keer in de vier weken voor teamconfetti.nl. Ze is illustrator, allround mooie dingen maakster en ze heeft haar eigen label: Franje Design!