Niet heel ingewikkeld, maar wel ONTZETTEND leuk: een Hot Chocolate Bar. Ik ben altijd al een sucker voor buffetten geweest en voor mijn verjaardag afgelopen zondag wilde ik er eindelijk eens eentje maken. Het is bar koud buiten en daarom viel mijn keuze al snel op warme chocolademelk. Jum!
Want wat is er nou leuker als je bibberend van de kou bij een verjaardagsfeestje binnenkomt? Juist, in de rij aansluiten bij de Hot Chocolate Bar. Het kan zo simpel en zo uitgebreid als je zelf wil en ik had aardig wat smaakjes en versiersels bij elkaar verzameld en in matching bakjes gestopt.
Essentiële onderdelen van een Hot Chocolate Bar zijn een leuke set mokken, warme melk, wat leuke versiering en een bak grote brokken chocolade. Wij hadden nog een paar chocoladeletters in de kast liggen van Sinterklaas die we in stukken hebben gehakt. Een mok hete melk met een groot stuk chocolade voor de basis en dan kan het grote mengen en mixen beginnen…
Chocola en munt is een hele goede combinatie, dus after eight chocolaatjes of mini candy canes (alleen te krijgen rond kersttijd) zijn dan een goed idee. Ook stukjes karamel, verschillende smaakjes chocola (ik had met sinaasappelsmaak) en een scheutje likeur of Berenburg zijn aanraders. Hete melk met maltesers zijn ook heeeeeeeel lekker. Witte chocolade ben ik niet zo'n fan van, maar ik weet dat er een hoop mensen gek op zijn. Ga de snoepafdeling van je supermarkt af en kijk wat je allemaal in hete melk zou kunnen laten smelten. Dat blijkt met best veel dingen te kunnen, haha. Een absolute MUST zijn natuurlijk marshmallows en slagroom.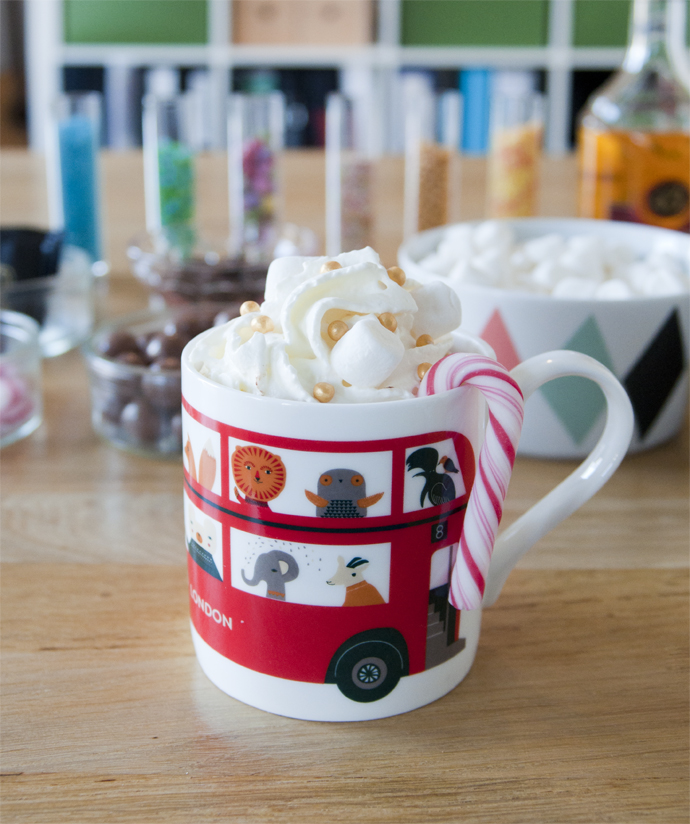 Mijn creatie bestond uit pure chocola, chocola met sinaasappelsmaak, marshmallows, slagroom, gouden pareltjes en een candy cane on the side…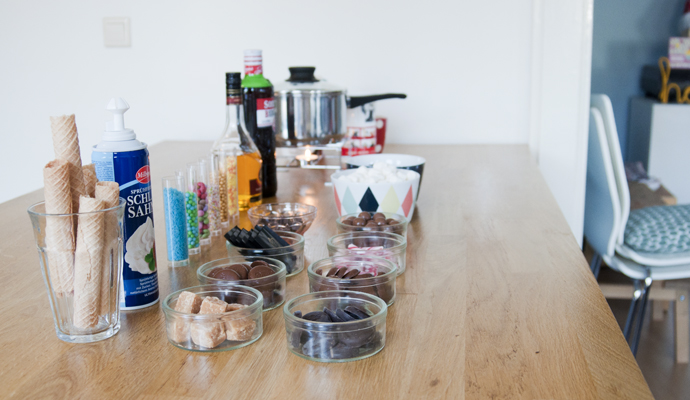 Tom en ik vonden het een groot succes en onze vrienden en familie ook. :) We hebben nog best veel over en kunnen dus de rest van de winter nog wel overbruggen met onze private Hot Chocolate Bar. :D
***
En? Heb ik mensen op ideeën gebracht?