Gastblog door Ingrid – Zoals jullie weten probeer ik elke dag een 'creative girlboss' te zijn. In het kader van 'why the hell not' deed ik in maart mee aan de 'Meet The Maker' challenge op Instagram. Wat dat precies is en hoe het meedoen aan zo'n challenge mij is bevallen, ga ik jullie vandaag vertellen. Ook heb ik jullie hulp nodig en kun je wat winnen, vooral blijven lezen dus. ;)
Op mijn eigen Instagram plaats ik dagelijks foto's van mijn illustraties, schetsen, behind the scenes, inspiratie en fun stuff in mijn leven. Ik zie Instagram een beetje als mijn blog. Maar in tegenstelling tot een echt blog, plaats je bij Instagram een foto met een klein verhaaltje en that's it. Hele lappen tekst bij je foto zetten werkt gewoon niet. Via Instagram krijg ik regelmatig vragen over hoe ik mijn illustraties maak en met welk materiaal, hoe ik als illustrator ben begonnen of hoe je überhaupt iets moet tekenen. Allemaal vragen die ik niet makkelijk in het kort kan beantwoorden. Mensen willen blijkbaar graag meer weten over de ins & outs van mijn werk als illustrator. Superleuk om te merken! En toen kwam de Meet The Maker challenge voorbij.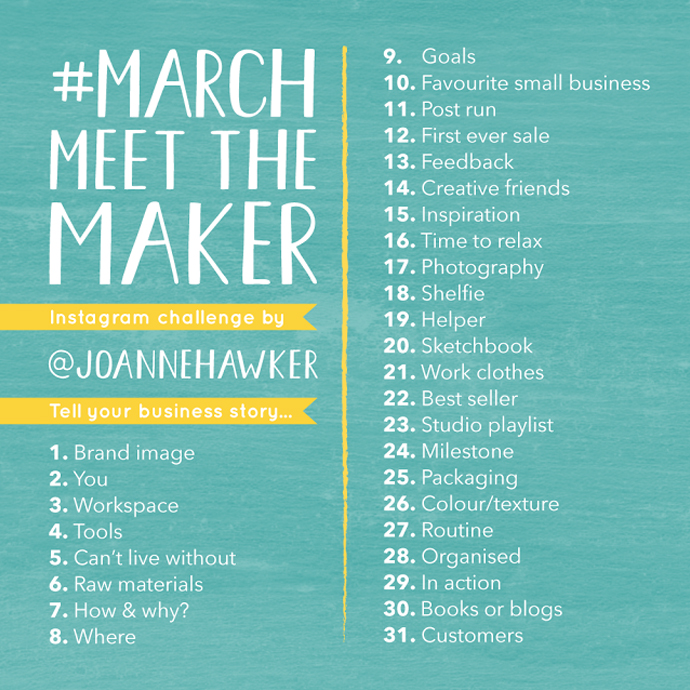 De challenge.
De challenge is bedacht door illustrator en ontwerper Joanne Hawker. De titel verraadt het misschien al: het is een uitdaging voor creatieve bosses om meer over hun bedrijfje/merk/product te vertellen, inzicht te geven in hun werkproces en om 'de maker' te leren kennen. Hoe? Door elke dag in maart een foto te plaatsen op Instagram bij een bepaald onderwerp. Joanne heeft deze onderwerpen zelf bedacht (hierboven zie je het complete lijstje). Bij het plaatsen van de foto vertel je vervolgens een kort verhaaltje over wat het onderwerp voor jou betekent, simpel toch? Ik plaats al elke dag braaf een foto op IG (behalve in het weekend), dus dat ging mij wel lukken.
De foto's en tekeningen.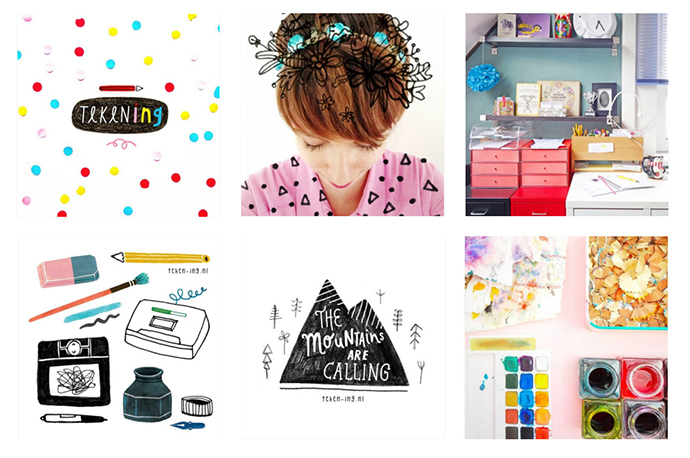 Omdat ik lang twijfelde of ik wel mee zou doen, begon ik zes dagen te laat met de challenge, lekker bezig Ingrid. Ik had dus heel wat in te halen en plaatste in het begin drie foto's per dag.
Van links naar rechts:
#1. Brand image: Mijn nieuwe logo! Deze is nog niet up & running want Tom (van Olga) en ik moeten mijn website nog afmaken. #2. You: (geen commentaar). #3. Workspace: hiervoor hergebruikte ik een foto van mijn studio uit deze blog. #4. Tools: ik tekende de tools die ik dagelijks gebruik: potlood, gum, inkt, pen, kwast, mijn Wacom en scanner/printer. #5 Can't live without: Een persoonlijke met dubbele betekenis. Naar buiten gaan, reizen en avonturen beleven geven mij inspiratie en zorgen er tegelijkertijd voor dat ik veel 'bergen' op de weg zie. Lees de hele uitleg hier. #6: Raw materials: de materialen die ik veel gebruik en zoals ze eruit zien voor ik ermee werk.
So far so good. Ik bedacht dat ik natuurlijk ook gewoon kleine tekeningen kon maken in plaats van foto's, ik ben tenslotte illustrator. Ook kan ik foto's plaatsen uit het archief of die mijn feed nooit hebben gehaald, dus dat deed ik allemaal: work it moment! En in mum van tijd was ik weer een beetje bij.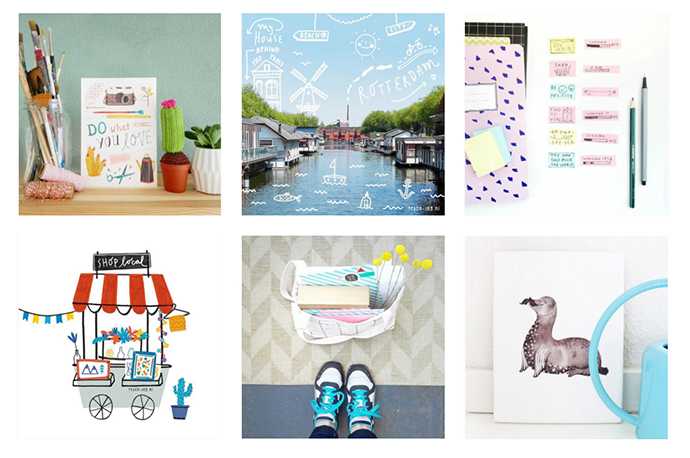 Van links naar rechts:
#7 Why & How: Mijn 'Do What You Love' kaart was een perfect plaatje hiervoor. Het allerbelangrijkste is dat je doet wat je leuk vindt, daar wordt je gelukkig van (lang verhaal, lees het hier). #8 Where: Rotterdam! #9 Goals: Oef, lastige. Ik schreef mijn doelen voor dit jaar op post-its als een reminder voor mijzelf. #10 Favorite small business: Ik maakte deze illustratie en tagde hierin al mijn favoriete adresjes, shops en ontwerpers. #11 Post run: Ik breng bestellingen altijd weg tijdens mijn dagelijkse lunchwandeling. #12 First ever sale: Mijn ABC-dierencanvasjes, waar ik nu ook kaarten van verkoop.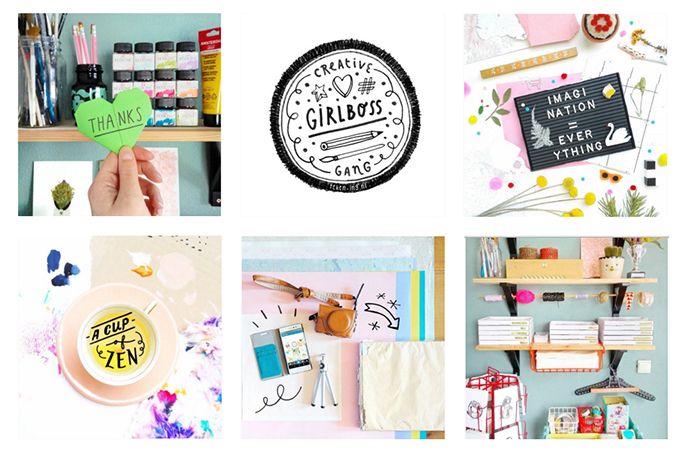 Van links naar rechts:
#13 Feedback: Feedback krijgen zorgt ervoor dat je groeit in je werk. Ik heb veel feedback gehad tijdens mijn studies maar ook nu krijg ik feedback van opdrachtgevers, klanten, collega's en volgers. #14 Creative friends: Ik maakte deze girlboss-badge-doodle voor al mijn creatieve girlboss-vrienden en volgers, dus ook voor jou! (Binnenkort ook te koop als kaart!) #15 Inspiration: Ik verzamel en bewaar alles wat ik mooi vind, dit geeft mij inspiratie. Deze quote staat in mijn office. #16 Relax: Thee is mijn happy place. Ik word er rustig van en kan er goed bij nadenken. Ik drink dan ook heeeeel veeeeel thee. #17 Photography: Dit zijn de tools waarmee ik mijn foto's maak, backdrops, telefoon, camera, statief en mijn geheime tool. Klik hier om te lezen wat het is! #18 Shelfie: Een aantal van de planken in mijn studio. Mijn wrapping station, een deel van de kaart voorraad en nick nacks.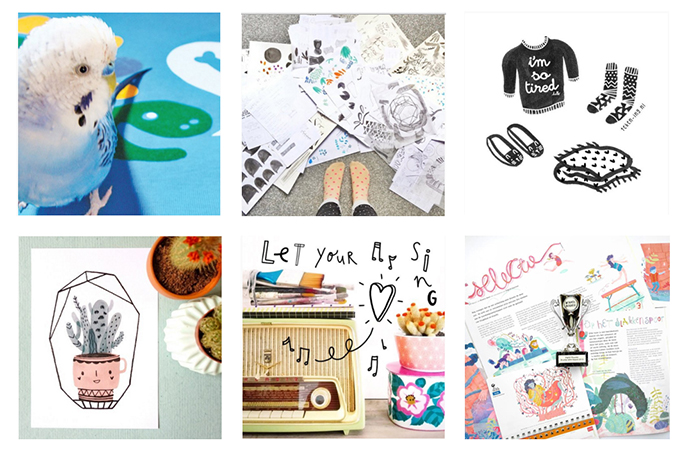 Van links naar rechts:
#19 Helper: Dit is mijn lieve blauwe parkiet die helaas vorig jaar is overleden. Hij zat altijd op mijn schouder als ik aan het werk was, I miss him heaps :( #20 Sketchbook: Schetsboeken gebruik ik niet, ik vind ze verschrikkelijk. Ze geven mij druk dat het iets moois moet worden en het voelt alsof ik beperkt word. Dus teken ik op losse papiertjes, A4tjes en notitieblaadjes. #21 Work clothes: Mijn illustrators-survival-pack: comfy trui, happy socks, lieve dieren pantoffels en een warm dekentje. Want als je veel stilzit wordt het altijd zo koud! #22 Best Seller: Deze cactus-in-een-kopje-print is by far mijn best selling item uit de shop! #23 Studio playlist: Muziek is ook één van mijn creatieve tools. Het zorgt ervoor dat ik focus krijg, in de flow kom of frustratie van mij af kan zingen. #24 Milestone: Het winnen van de 2e plek in de Boekie-Boekie StartAward is één van mijn 'milestones' (naast het afronden van mijn studies). Ik ben voor 3 prijzen genomineerd geweest maar nooit wat gewonnen. Deze 2e plek voor mijn droomopdrachtgever was dan ook heel speciaal en ik heb al veel mooie dingen voor het tijdschrijft mogen maken!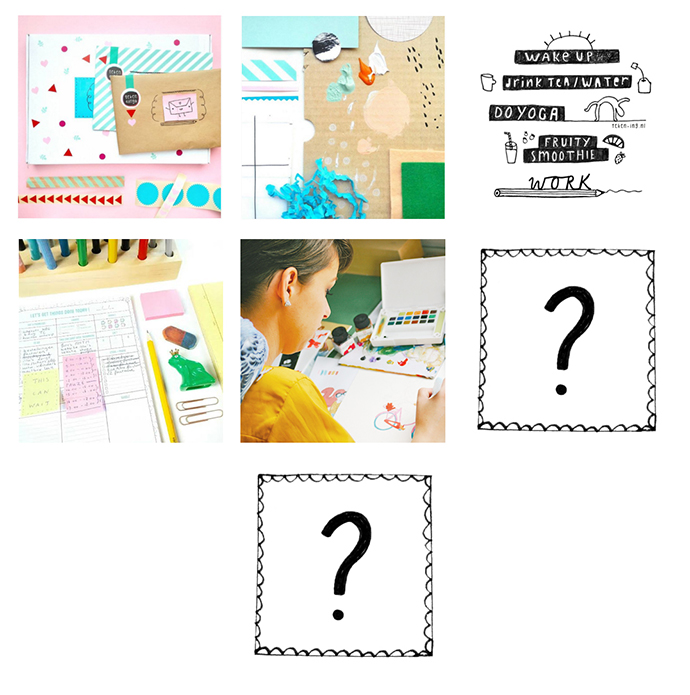 Van links naar rechts:
#25 Packaging: Met mijn huisstijl stickers en gezellige enveloppen maak ik van bestellingen altijd een feestje! #26 Colour/texture: Ik ben all about kleur en texturen. Dit zijn mijn go-to kleuren en patronen. Fun fact: vroeger gebruikte ik nooit zwart in mijn illustraties, nu best vaak! #27 Routine: Mijn ochtend ritueel voordat ik start met werken: zelfde tijd opstaan, glas water, 10 min yoga, smoothie/fruit en thee. #28 Organised: Ik gebruik de Team Confetti to-do planner, mijn weekplanner en de Pomodoro timer om mijn dag goed te organiseren en in te plannen. Ik werk in tijdslots met verplichte pauze om goed te kunnen focussen! #29 In action: Hier zie je mij werken mijn mijn studio met op mijn schouder mijn parkietje <3 #30 Books/blog: ? Deze foto verschijnt op 30 maart. #31 Customers: ? Deze foto verschijnt op 31 maart.
Hierboven heb ik de foto's laten zien die ik maakte of tekende voor deze challenge met een korte uitleg erbij. Wil je meer lezen over het verhaal bij een foto? Ga dan naar mijn Instagram pagina of  klik op de hashtag #teken_ingmeethemaker voor een overzicht van alle foto's. 

Hoe ik de challenge heb ervaren én hoe jij mij kan helpen (+ iets kan winnen):
Ik had er niet veel moeite mee om elke dag een foto te plaatsen of te verzinnen, dat deed ik tenslotte al. Wel vond ik het lastig om vast te zitten aan het onderwerp van die dag, dat voelt heel beperkt en krampachtig en daar werd ik onrustig van. Ik begon met wat achterstand aan de challenge en dat heb ik eigenlijk constant zo gehouden. Ik merkte dat ik het wel fijn vond om wat speelruimte te hebben en niet elke dag de druk te hebben om iets te moeten maken. Wat ik eraan heb gehad? Het geeft mij een mooie reflectie op hoe ik werk, wat ik al heb bereikt en dat ik daar best een beetje trots op mag zijn. #Girlboss. Ook besef ik mij hierdoor dat iedereen op zijn eigen manier werkt en dat het helemaal niet erg is als jij het misschien anders doet. Zo blijken er tóch veel andere illustratoren te zijn die nooit met een schetsboek werken en die ook van zichzelf vinden dat ze niet zo heel goed kunnen tekenen.
Om wél uitgebreider op creatieve vragen in te kunnen gaan heb ik jullie hulp nodig! Heb jij een prangende creatieve / girlboss / work-life vraag of wil je iets weten over hoe ik werk? Stel je vraag dan in de comments hieronder. Je mag je vraag ook mailen via www.teken-ing.nl óf een comment achter laten op één van mijn Instagram foto's (tag mij dan wel even @teken_ing). In één van mijn volgende gastblogs zal ik jullie vragen beantwoorden in een Q & A. Onder alle vragen verloot ik één setje van vier Teken-ing kaarten naar keuze!

♥♥♥
Ingrid Wuyster is illustrator / ontwerper en maakt veel moois onder de naam Teken-ing.
Eén keer in de vier weken blogt ze voor teamconfetti.nl.